State-owned Belarusbank Launches Crypto Exchange Amid Sanctions Against Lukashenko
The biggest bank in Belarus, the state-owned Belarusbank, has announced plans to co-launch a "legal" crypto exchange service that will allow customers in both Belarus and neighboring Russia to buy and sell crypto "using Visa payment cards" at the time when EU approved new sanctions against Belarusian officials, including self-proclaimed president Alexander Lukashenko, who's not recognized by Western countries and is being accused of election fraud and repression.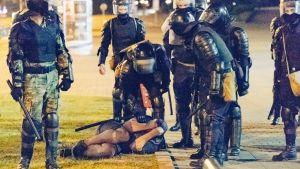 The restrictive measures include travel bans and asset freezes.
Per Prime Press, the bank has teamed up with a crypto firm named White Bird for the new project, and will allow "citizens in Belarus and Russia" to exchange crypto for Belarusian and Russian rubles, as well as USD and euros.
The bank is 99.95% owned by the government's State Property Committee, and has been a partner in White Bird since 2018.
White Bird operates out of the Hi-Tech Park, the hub of Belarus' crypto and blockchain business activities.
And the move follows last month's announcement from a Swiss subsidiary of the Russian, state-owned bank Gazprombank, which claimed it would start offering crypto trading and custody services to "a limited number of selected clients" after receiving regulatory approval.
However, with Moscow signaling this week that it may be ready to jail crypto holders who fail to declare their earnings to the taxman, some will be asking if both the Kremlin and the internationally not recognized Lukashenko government, that has been cracking down on regime-critical protests peaceful protestors since September this year, are really looking to raise money from crypto as brazenly as this, particularly when certain voices in the Russian government seem so opposed to all things crypto-connected.
Dmitriy Zaikov, a Moscow-based crypto investment advisor, told Cryptonews.com,
"Government coffers are hardly overflowing in Minsk or Moscow – or anywhere else in the world – particularly due to the coronavirus pandemic. That said, I hardly think this is part of a concerted effort to raise money from crypto by either government. If anything, it's more like a testing of the waters. Maybe they want to dip a toe in, to see what works and what doesn't."
Meanwhile, experts previously stated that even if Belarus were to find a way to get around sanctions using crypto, this would be little more than a "band-aid," with the economy sucked into recession due to the wider implications of economic sanctions. Similar crypto-powered efforts in Venezuela and Iran, the experts stated, had largely failed to save those nations' economies.
Zaikov's remarks come hot on the heels of comments from another expert close to Russia's crypto legislation talks, who told Cryptonews.com that there was "no one in the State Duma" who understood the crypto markets or "how to make money from them."
_____
Learn more:
Crypto Exchange Currency.com Offers Belarus Employees Vilnius Escape Route
Interest in Crypto Up in Belarus as 'Information War' Rages
Could Belarus Use Bitcoin to Beat US-EU Sanctions?
---