Solana Price Prediction as SOL Blasts Above $30 – Can SOL Reach $100 in 2023 and $1,000 in 2024?
Disclosure: Crypto is a high-risk asset class. This article is provided for informational purposes and does not constitute investment advice. By using this website, you agree to our terms and conditions. We may utilise affiliate links within our content, and receive commission.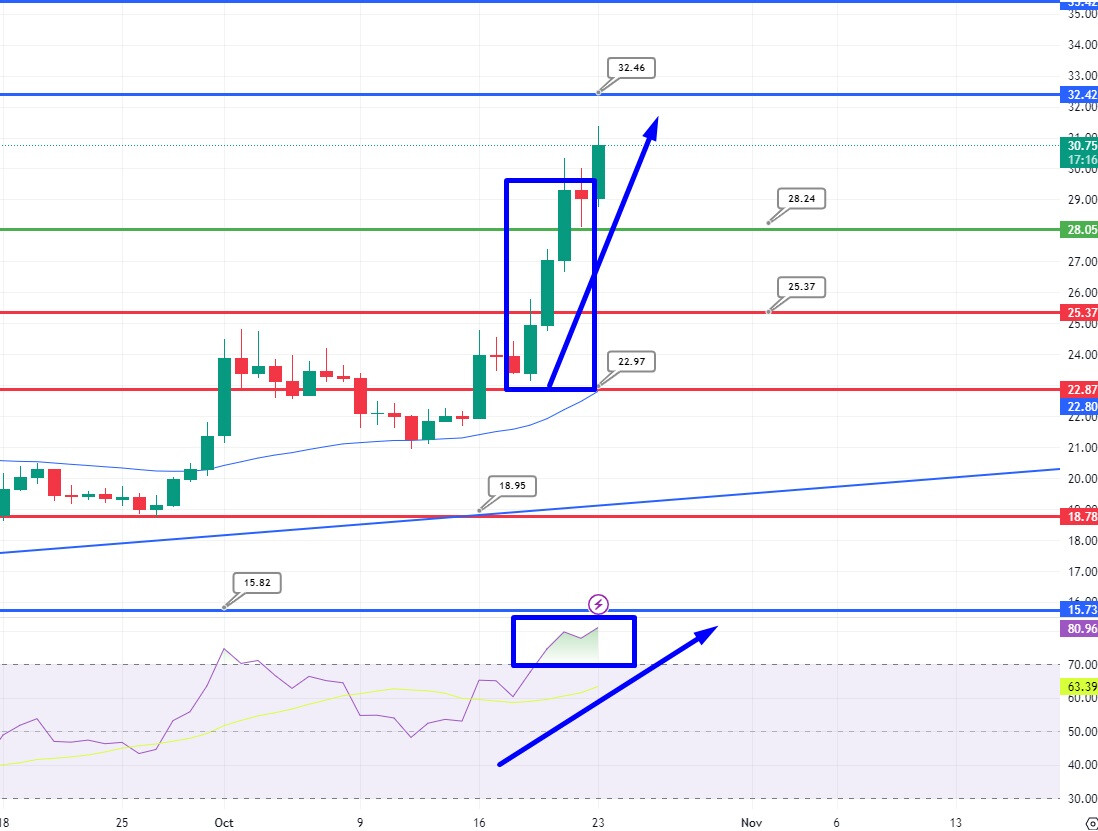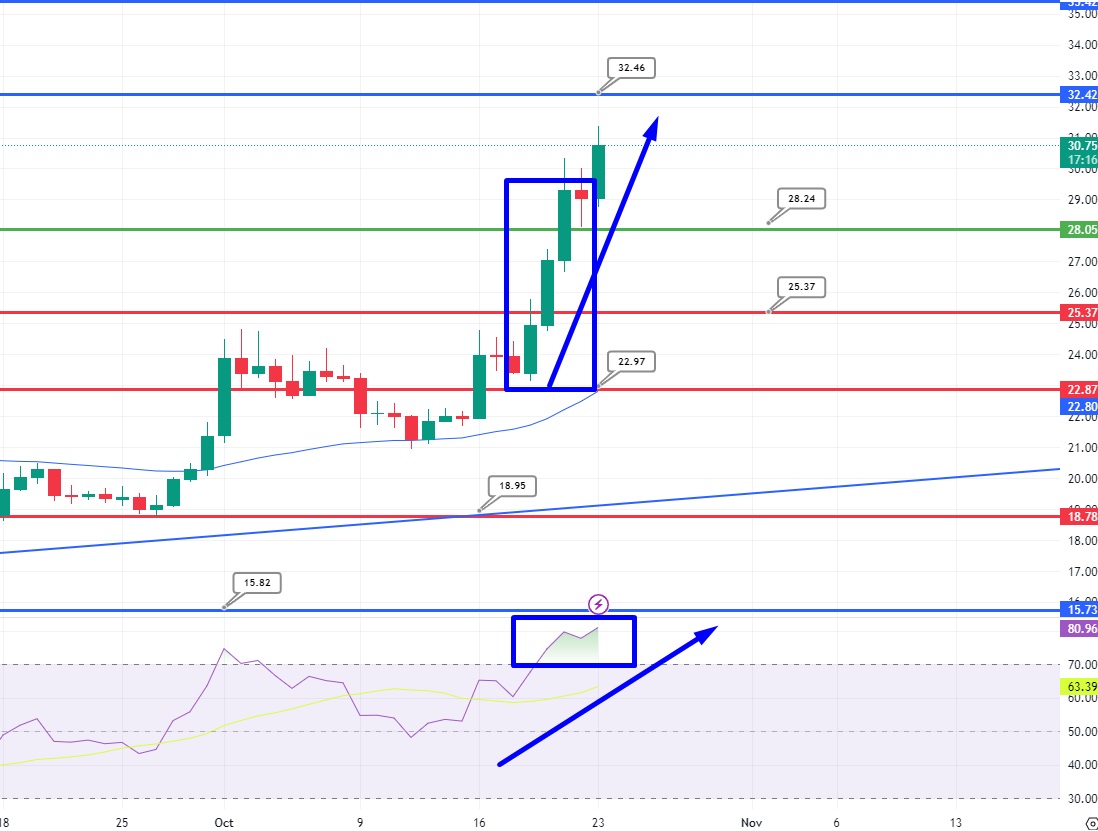 Amidst the dynamic realm of cryptocurrency, Solana (SOL) has recently made waves by surging past the $30 mark, capturing the attention of investors and analysts alike.
As SOL continues its bullish trajectory, many are left wondering: Could this burgeoning crypto potentially touch the lofty heights of $100 in 2023 and even soar to a staggering $1,000 by 2024?
In this analysis, we'll delve deep into the factors driving Solana's momentum, its potential challenges, and the viability of such ambitious price targets.
Solana Price
In the vibrant world of cryptocurrencies, Solana has carved a niche for itself, reflecting significant bullish undertones.
As of today, Solana's price stands at an impressive $30.78, marking a 4.81% surge in the past 24 hours. With a trading volume reaching nearly $960.66 million, it's evident that the crypto community is actively trading and investing in this digital asset.
Currently, Solana occupies the 7th rank on CoinMarketCap, boasting a robust market capitalization of approximately $12.83 billion. The circulating supply is at 416.72 million SOL coins, while its maximum supply remains undisclosed.
For those closely watching the crypto market trends, be sure to check out our recent article on Bitcoin price prediction. Get the latest insights on BTC's potential trajectory.
Solana Price Prediction
On a 4-hour chart timeframe, certain critical price levels are noteworthy. The pivot point for Solana is delineated at $28.24. As we trace the upward trajectory, an immediate resistance lies at $32.46, succeeded by subsequent resistance levels at $35.62 and $38.87.
On the flip side, Solana finds support at $25.37, with deeper cushions at $22.97 and a significant support threshold at $18.95.
Delving into the technical indicators, the Relative Strength Index (RSI) stands out. Currently valued at 81, it clearly surpasses the 70-mark, which is traditionally viewed as the overbought threshold. This could be indicative of an asset that's potentially overpriced and might be due for some correction.
On the other hand, an RSI below 30 is often perceived as an oversold indicator, hinting at a potential price uptick. An RSI greater than 50 radiates a bullish sentiment, while an RSI below 50 leans bearish. Given Solana's RSI is notably above 50, the momentum is distinctly bullish.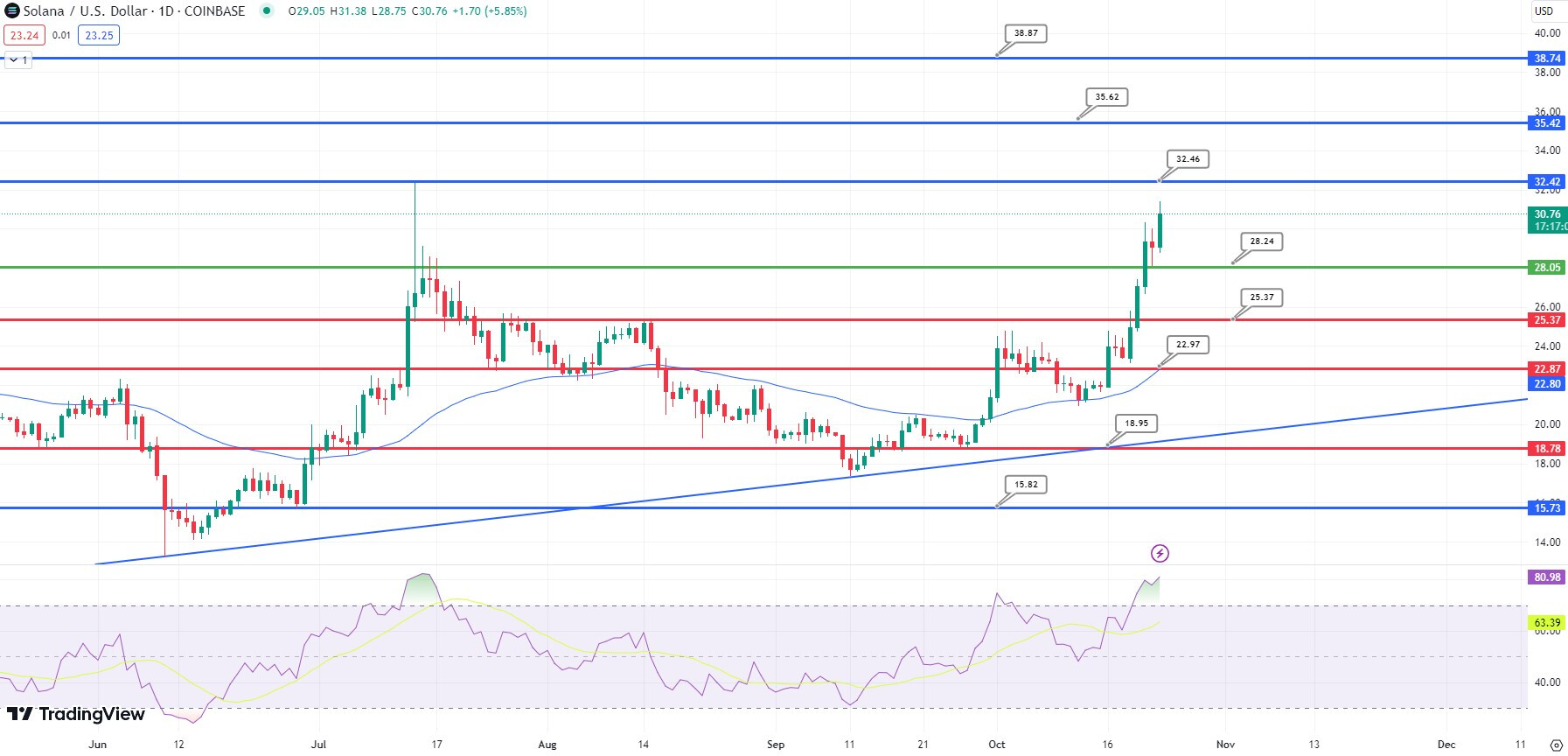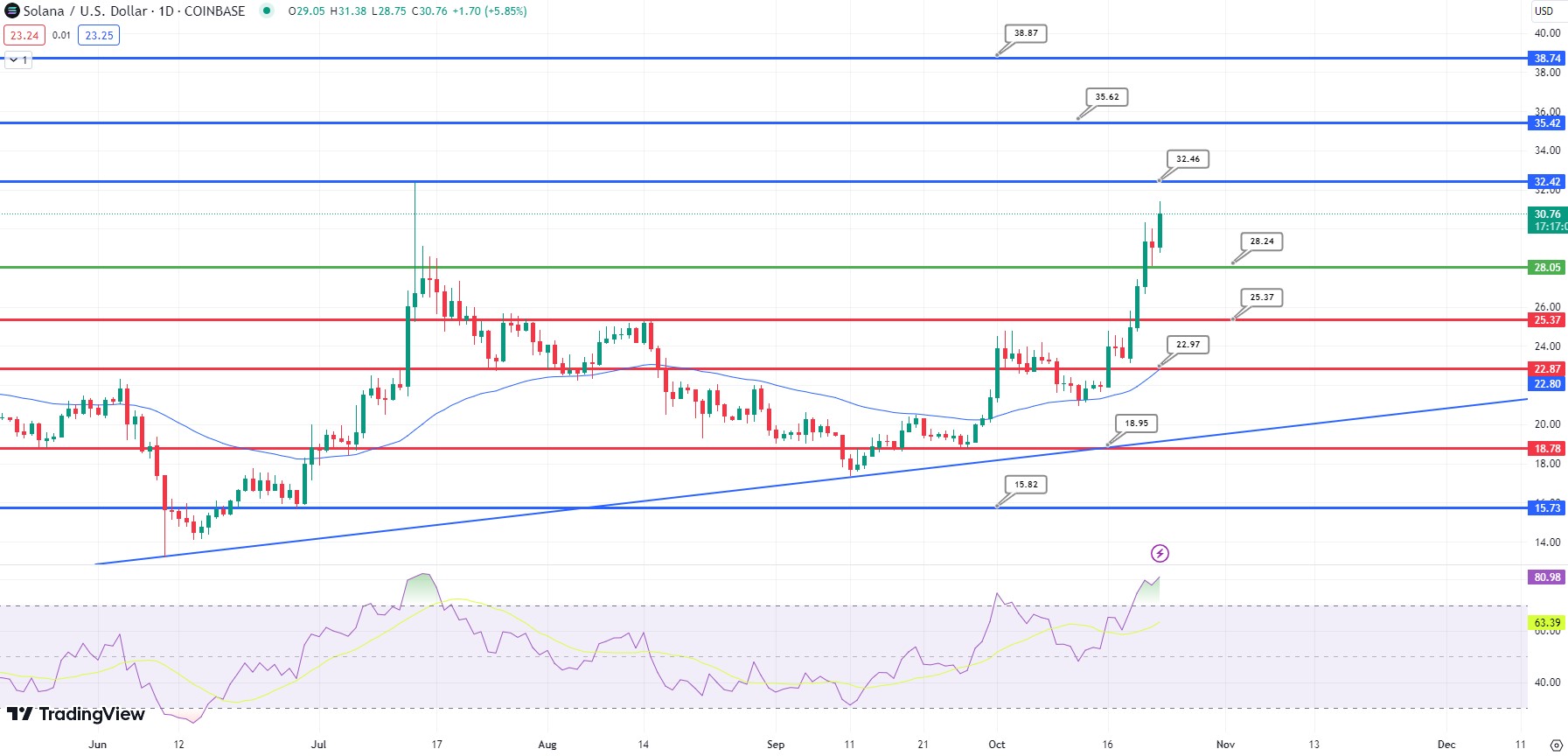 Moreover, the 50-Day Exponential Moving Average (EMA) for Solana is pegged at $15.82. The current price hovering well above the 50 EMA suggests a prevailing short-term bullish trend. In the world of technical analysis, prices above the EMA often indicate positive momentum, while those below can signify potential downtrends.
Chart patterns further illuminate Solana's trajectory. Notably, the "Three White Soldiers" candlestick pattern combined with a "double top pattern breakout" above the $28.25 level lends credence to the ongoing buying trend. This is reinforced by the 50 EMA, which consistently supports this bullish sentiment.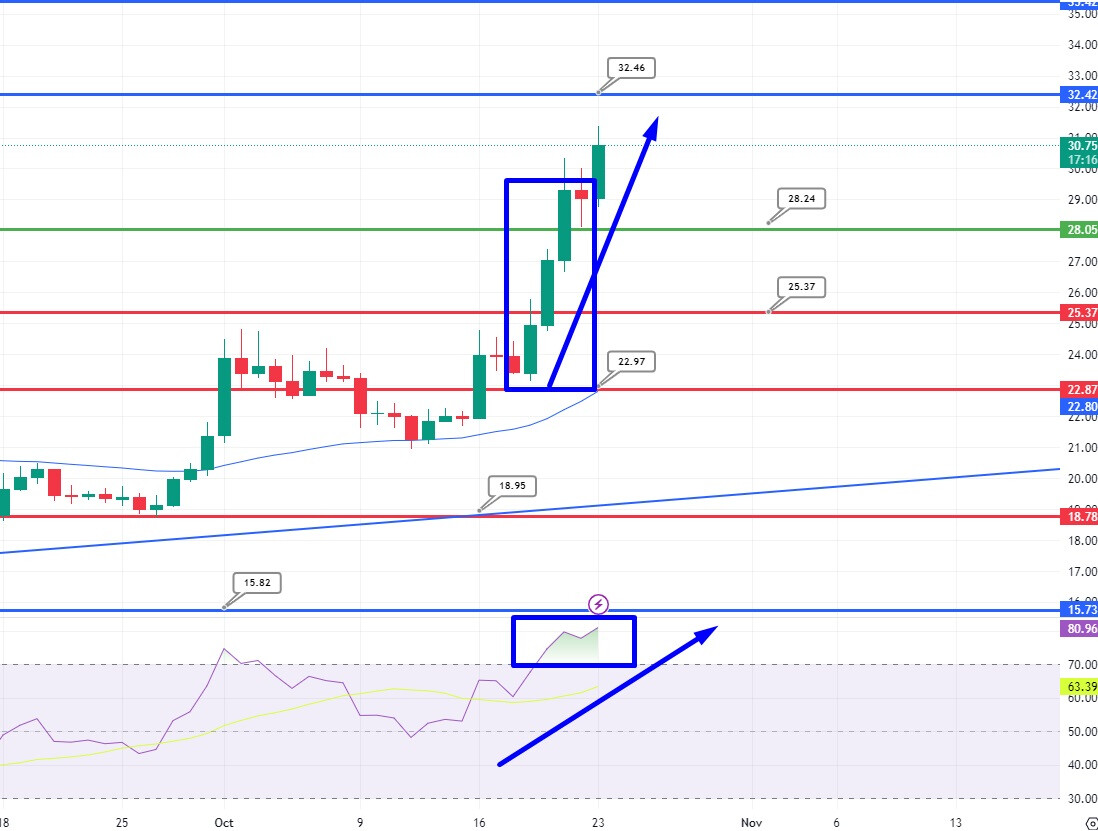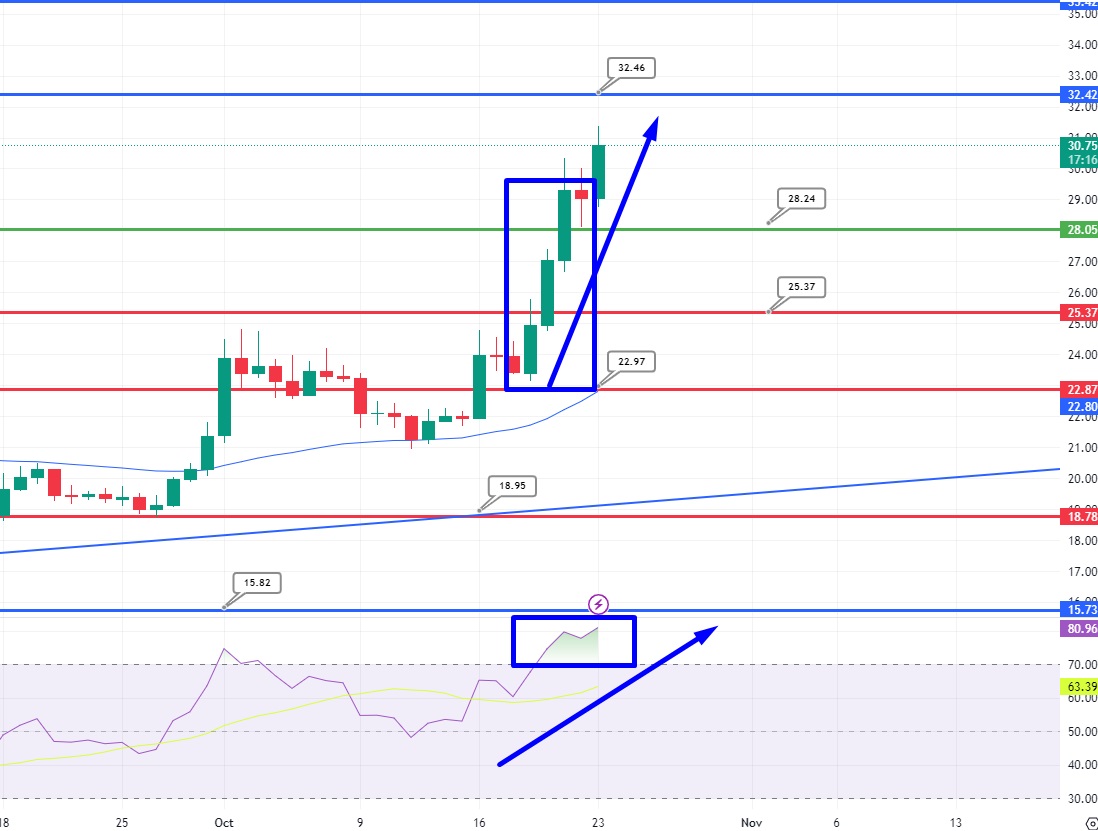 In terms of implications, the patterns and indicators collectively suggest that Solana is on an upward trajectory, and the momentum is expected to continue. Breaking above pivotal patterns and consistently staying above the EMA underlines potential bullish momentum in the near term.
In conclusion, Solana's overarching trend is bullish, especially while it remains above the $28.25 mark. Any movement below this could introduce some bearish dynamics. However, the bullish sentiment is palpable given the current indicators and patterns.
For the short term, we can anticipate Solana to test and potentially breach the $32.46 resistance, offering traders and investors a blend of challenges and opportunities in the days ahead.
Bitcoin Minetrix (BTCMTX): Last Chance Alert
Explore the groundbreaking realm of Bitcoin Minetrix
Dive into the revolutionary world of Bitcoin Minetrix, which introduces a distinctive stake-to-mine approach. As the presale astonishingly crosses the $2.0 million threshold, time is of the essence, with just two days left before a projected price hike.
Mounting Excitement: As Monday, October 23rd marks the end of Stage 2, there's a palpable buzz within the Bitcoin Minetrix community. Delve into the reasons this has become a focal point for astute investors.
Leading with Innovation: With the crypto community eagerly looking forward to Bitcoin's halving come April 2024, Bitcoin Minetrix emerges as a trailblazer in cloud mining.
Stake-to-Earn Paradigm: Engage with the innovative stake-to-earn methodology, which promises potentially exponential returns. This unique proposition has already garnered significant attention, evident from the presale's impressive $1.9 million tally.
Token's Potential: Presently, a single $BTCMTX token is priced attractively at $0.0111. Yet, this could experience an upswing as the presale phase nears its end, fueled by escalating demand.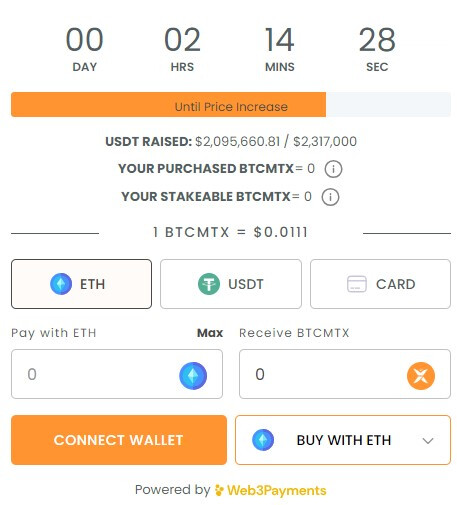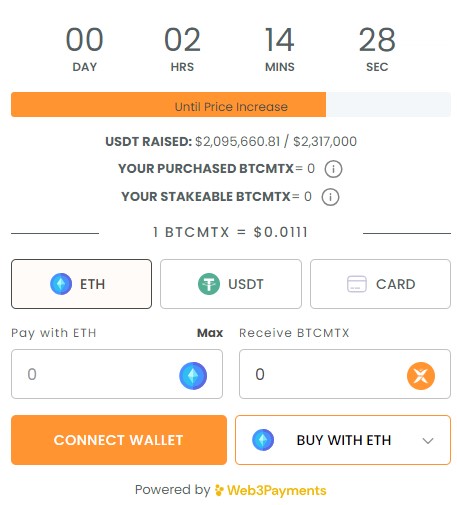 Pioneering Security Through Decentralization: Bitcoin Minetrix is reshaping the Bitcoin mining sphere by incorporating the robustness of smart contract decentralization, elevating security measures in the realm of cloud mining.
Redefining Cloud Mining: Bitcoin Minetrix introduces a distinct stake-to-mine strategy, offering retail enthusiasts a cost-effective gateway into the lucrative world of Bitcoin mining. This approach adeptly sidesteps the prevalent challenges and deceptive practices that have plagued the cloud mining sector.
Clear Vision: The mission of Bitcoin Minetrix is unambiguous – to render Bitcoin mining as an endeavor that is transparent, yields profits, and is within reach for all.
Stay Updated: Join the burgeoning Bitcoin Minetrix community on platforms like X, Discord, and Telegram for the latest updates. Secure your position in this transformative journey by joining the BTCMTX presale today.
Disclaimer: Crypto is a high-risk asset class. This article is provided for informational purposes and does not constitute investment advice. You could lose all of your capital.
---