Shiba Inu Price Prediction as SHIB Outperforms the Market – Time to Buy?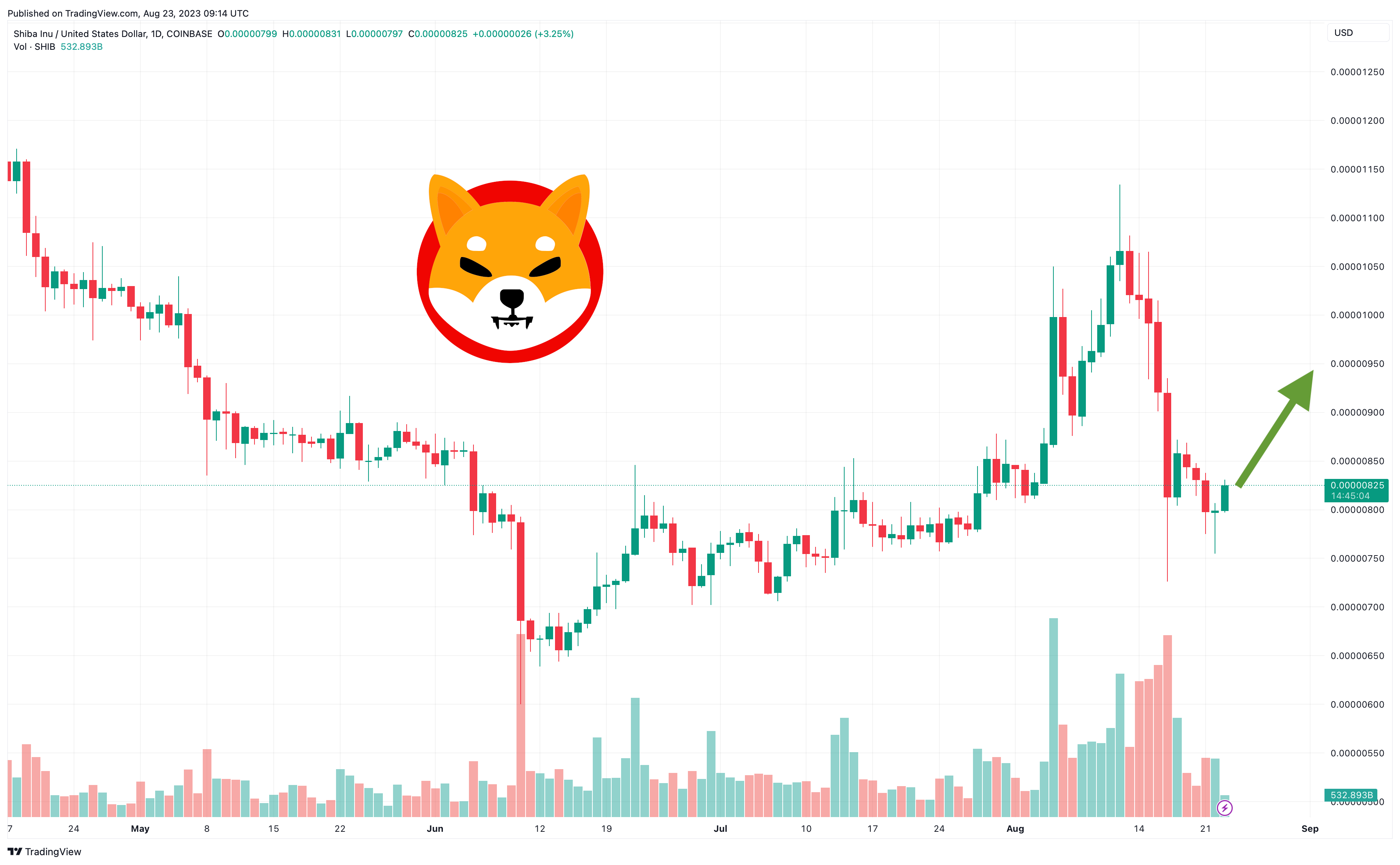 The price of Shiba Inu (SHIB) has gained by a healthy 3.5% in the past 24 hours, with its move to $0.00000827 coming as the cryptocurrency market as a whole dips very slightly today, by 0.2%.
SHIB remains down by 16% in the past week, with its rally today coming as a much-needed correction to recent negativity and overselling, although the coin has risen by 4% in the last 30 days.
Such inconsistent behavior has largely arisen because of the botched initial launch of layer-two network Shibarium, but with the latter ready to be relaunched today, SHIB has already begun the process of recovery.
Shiba Inu Price Prediction as SHIB Outperforms the Market – Time to Buy?
It's clear that, after a few days of falling, SHIB is regaining some momentum and could be in line for further gains.
The coin's 30-day moving average (yellow) has begun rising towards its 200-day average (blue), suggesting an incoming golden cross that can signal breakouts.
This move is being accompanied by a recovery for SHIB's relative strength index (purple), which after sliding to 40 over the weekend has begun picking up again, with plenty of room to rise further before the coin becomes overbought.
It's also encouraging to observe that SHIB's support level (green) has held up and looks ready to begin climbing again, implying that it has indeed bottomed out after recent falls.
As mentioned above, the meme token had been undermined by Shibarium's difficult launch, which involved more than $1 million lost on cross-chain bridges and outages.
However, a blog post from yesterday has revealed that a newly updated and more secure version of Shibarium is ready to go live, a version that has addressed the issues affecting the layer-two network in its initial launch.
This is the cause of SHIB's outperformance of the market today, and if the re-launch of Shibarium is successful, then it's highly likely that the altcoin could rise even further.
From its current position of $0.00000827, it could potentially return to $0.0000090 in the next one or two weeks, before scaling back up to $0.0000150 in one or two months.
And in the longer term, the launch and gradual expansion of Shibarium could result in greater traffic for the Shiba Inu ecosystem, enabling SHIB to lose one or two decimal places in the early part of next year.
Newer Altcoins Are More Promising
It may require a little time and patience for SHIB to see truly substantial gains, although traders could consider diversifying into newer altcoins in the meantime, while they wait for real progress.
And while the wider cryptocurrency market continues to be uncertain, there are good returns to be had among newer tokens, with presale coins in particular being relatively lucrative this year.
Probably the most successful presale of the year belongs to Wall Street Memes (WSM), a new ERC-20 meme token which has raised over $26 million in only a couple of months.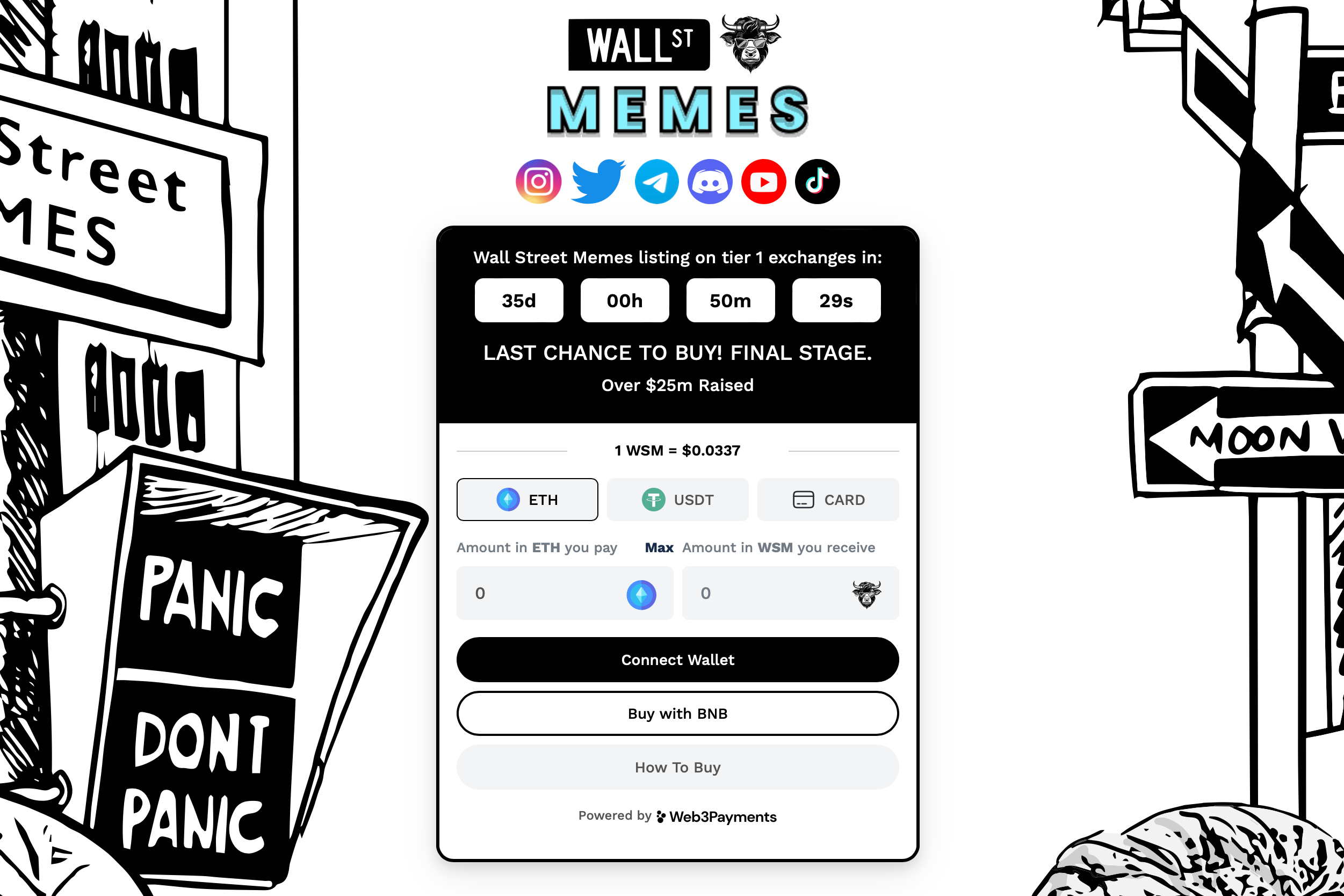 Appearing out of the meme stocks movement that instigated the famous GameStop rally in 2021, Wall Street Memes has the advantage of already having a sizable community around it.
This evident from its Twitter account, which now has more than 260,000 followers, a number of which the vast majority of new meme tokens must be envious.
The coin also boasts decentralized tokenomics, with 50% of its two billion supply going to the presale and another 30% allocated to community rewards.
Such a distribution should help encourage more investors to get involved in WSM, given that they know they'll have a larger stake in the token than they would with most of its peers and rivals.
New buyers can join the sale by visiting the official Wall Street Memes website, with 1 WSM costing $0.0337.
And with WSM set to list in 35 days, investors who buy now could be in line for market-beating profits soon enough.
Disclaimer: Crypto is a high-risk asset class. This article is provided for informational purposes and does not constitute investment advice. You could lose all of your capital.
---