Shiba Inu Price Prediction As SHIB Becomes Top 15 Crypto by Market Cap – Can SHIB Get to 1 Cent?
Disclosure: Crypto is a high-risk asset class. This article is provided for informational purposes and does not constitute investment advice. By using this website, you agree to our terms and conditions. We may utilise affiliate links within our content, and receive commission.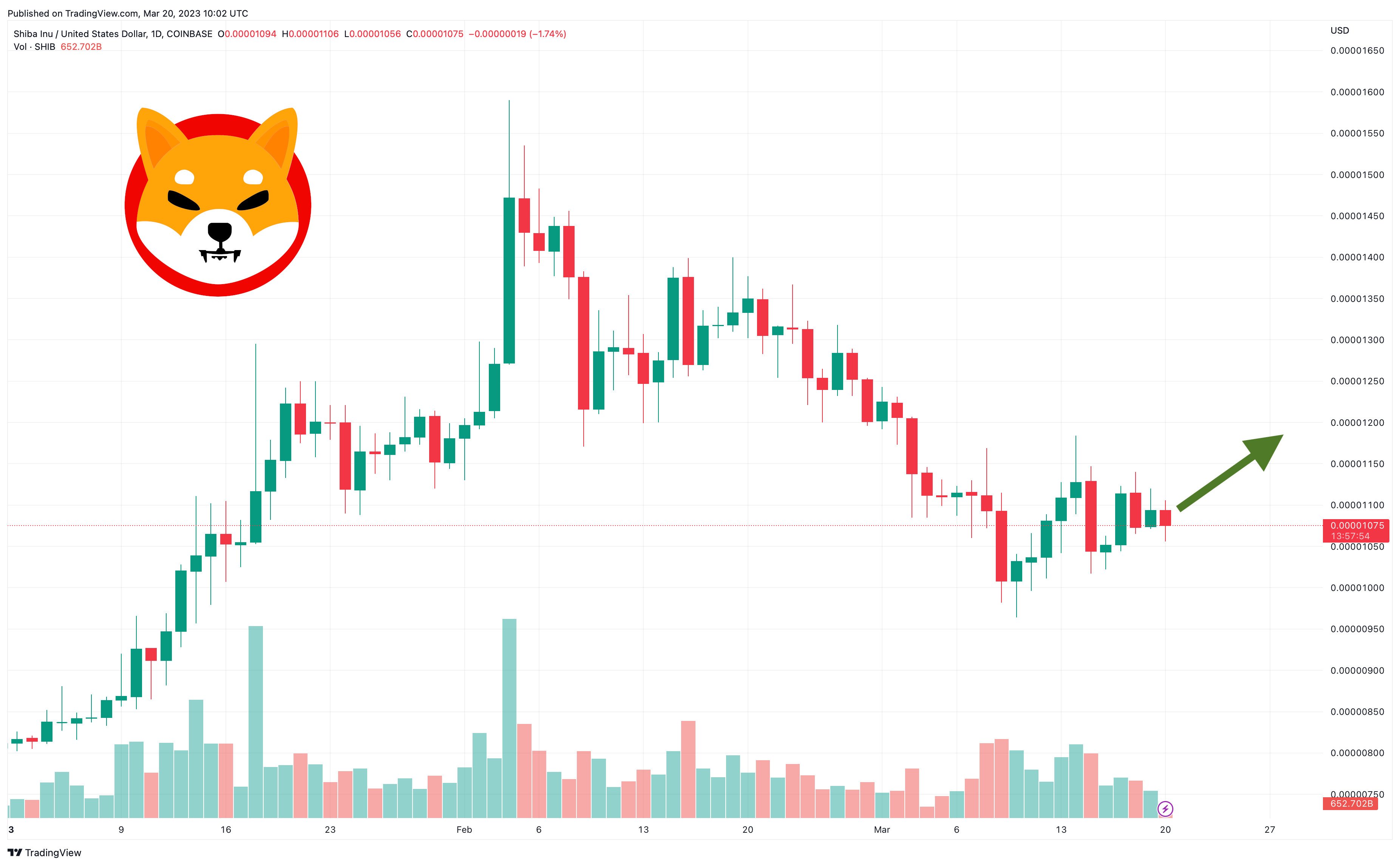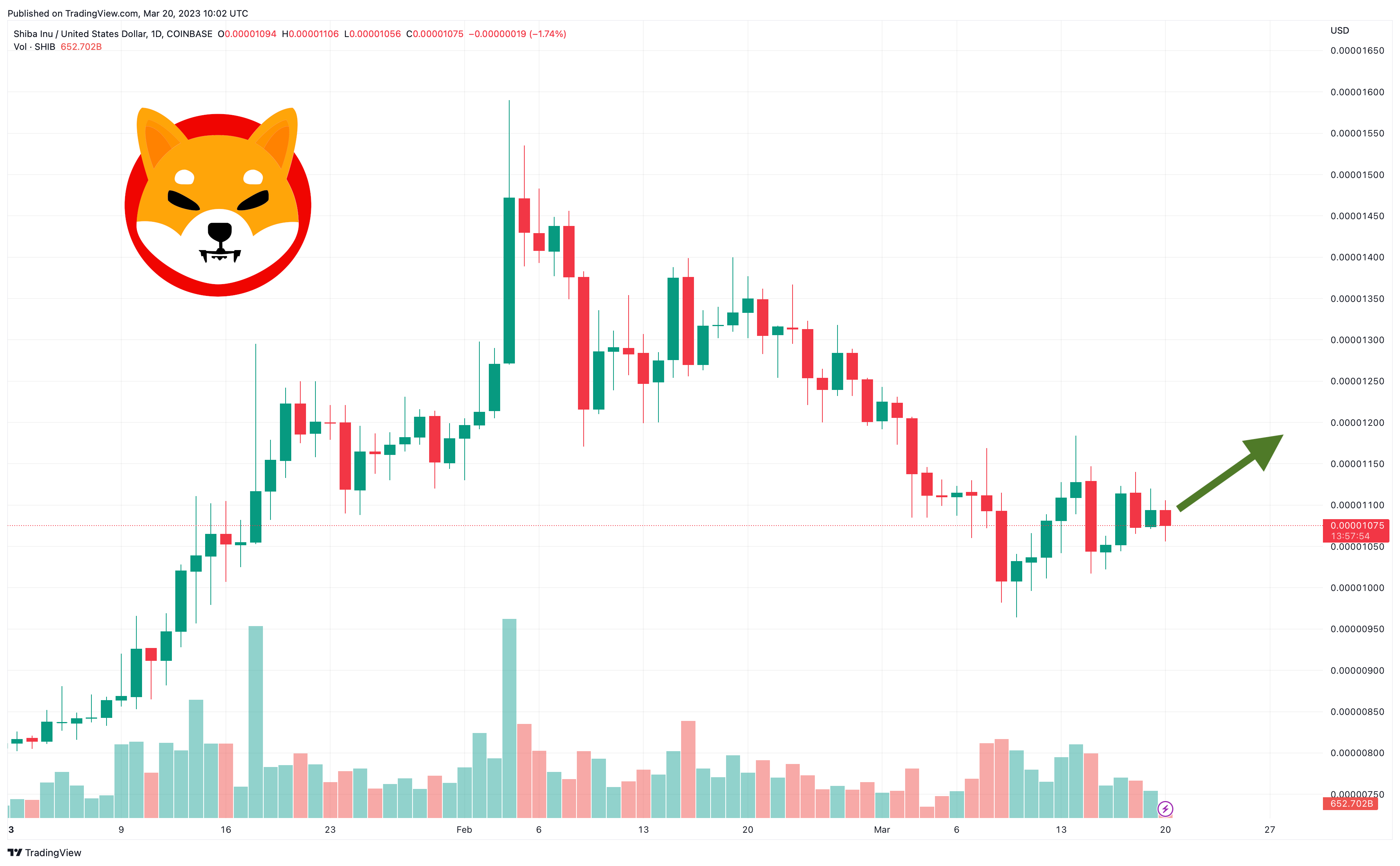 The Shiba Inu price has dipped by 1% in the past 24 hours, dropping to $0.00001087 as the wider cryptocurrency market rises by 2% today.
SHIB has also risen by a modest 0.5% within the last week, and is actually down by 17.5% in the last 30 days, at a time when Bitcoin (BTC) has risen by 28% and 15% within the same timeframes.
Despite this relative underperformance, SHIB has recently become a top-15 cryptocurrency by market cap, with its total value of $6.4 billion, making it the 14th-biggest coin overall.
And with layer-two network Shibarium launching beta last week, the foundation has been laid for SHIB to experience some sizeable gains in the next few months, particularly with the long-awaited SHIB: The Metaverse also revealing a few new updates.
Shiba Inu Price Prediction As SHIB Becomes Top 15 Crypto by Market Cap – Can SHIB Get to 1 Cent?
SHIB's indicators look as though a rally could be imminent, in that both its relative strength index (purple) and 30-day moving average (red) are in depressed positions that are due a positive correction.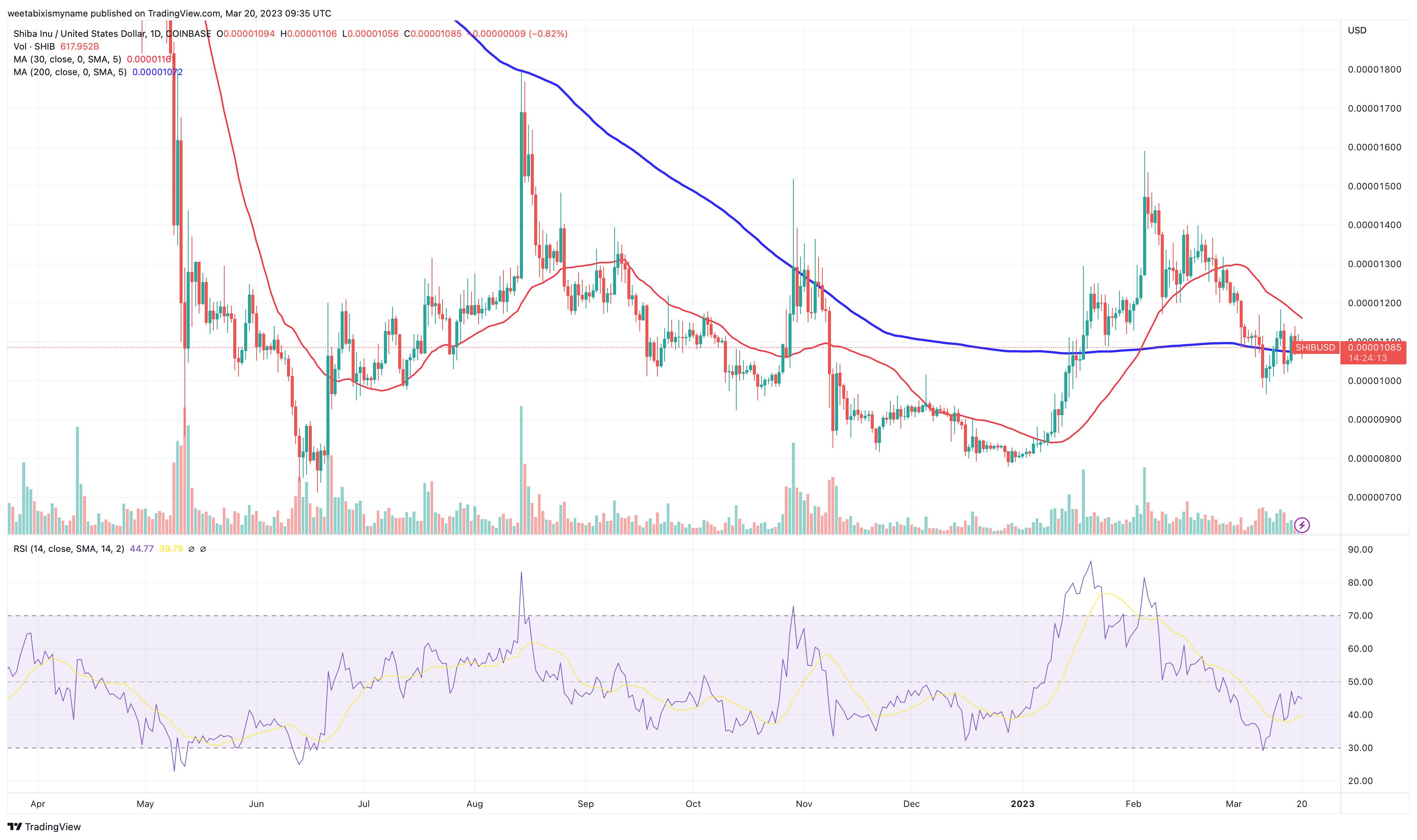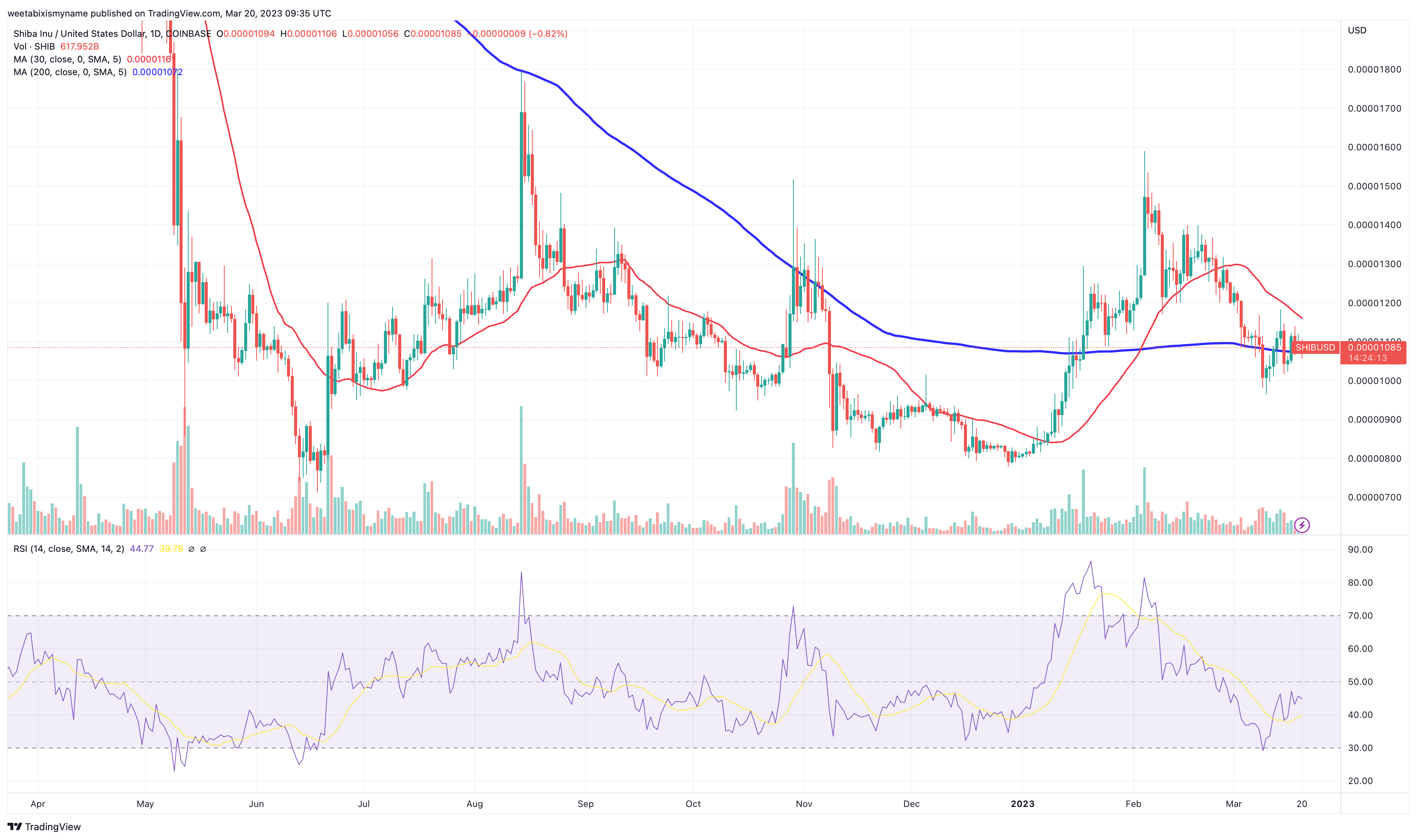 For instance, its RSI dropped as low as 30 earlier in the month, meaning that the coin has been oversold, and with the indicator now rising steadily toward 50, it may not be long before a recovery begins.
Similarly, SHIB's 30-day has been falling for several days, drawing ever closer to an inevitable rebound rally.
It's entirely arguable that because SHIB hasn't seen the big gains enjoyed by BTC, ETH and other major coins in the past week, it's due to rally significantly before long.
And there are various fundamental reasons to believe such an assumption, with the beta launch of Shiba Inu's layer-two network, Shibarium, being the most obvious.
SHIBARIUM EARLY BETA TEST IS LIVE!

Today, more than ever, we see the need for a truly decentralized L2 network that powers the projects of a large, global, decentralized community.

Read more:https://t.co/131BxiS4BS

— Shibarium Network (@ShibariumNet) March 11, 2023
It went live on March 11, with the full public launch of the network likely due in the next few months.
Once fully launched, Shibarium will enable people to use Shiba Inu and the various apps of its ecosystem much more cheaply, with transaction times speeding and scaling up.
As such, it's expected to increase adoption and usage of the Shiba Inu ecosystem, while also boosting demand for SHIB as a result.
Admittedly, the launch of its beta didn't come without issues, with some observers claiming that it had stolen its chain ID from Rinia, an upcoming blockchain that's also currently in the testnet phase.
However, Shibarium's developers quickly responded to these allegations: Kaal Dhairya tweeted that they had picked a chain IDs "randomly" for Shibarium's beta network, and that no duplication was intentional whatsoever.
Without getting into any fist fights I will be redeploying new version of BETA network with a new chain ID
Fresh deployments will be rare in the future but are possible because we will still be in BETA phase.
I wish good luck to the blockchain and hope we can all work together.

— Kaal (@kaaldhairya) March 16, 2023
Dhairya also explained that his team would be redeploying a new Shibarium beta network with a different chain ID, helping to put to bed any suggestion that the layer two's team is just copying other networks.
Despite this rebuttal, SHIB's price hasn't really recovered that much from the slip it had following the emergence of the above accusations and is still underperforming many other major tokens.
Nonetheless, SHIB has moved up the rankings in terms of market cap this month, having moved from 15th earlier in March to 14th about a week or so ago.
This highlights the steady growth it's enjoying, something which may continue once SHIB: The Metaverse has launched.
While no specific launch date is penciled in for this Shiba Inu-themed virtual world, there is a general expectation that it could arrive before the end of the year.
Introducing the NEW https://t.co/sxXfOETCuB website, new @shib_iothemv branding, and the WAGMI Temple Alpha preview! Now you can purchase #shibthemetaverse lands easy as 1-2-3. Let us know what you think #shibarmy! ⛰ pic.twitter.com/wP2H3DsR8h

— Shib (@Shibtoken) March 15, 2023
Its team has recently shared a few updates, including the sharing of early footage of one of the metaverse's distinct areas.
According to developers, SHIB: The Metaverse's world will comprise 100,595 purchasable lands, which will be unlocked over time.
This includes 36,431 lands that will be revealed during its launch phase, which in turn will include 32,124 that will be available for purchase.
These will be categorized into different districts, each with its own particular flavor and graphical style, with the metaverse positioning itself as "the future of entertainment, business, and gaming all rolled into one."
Given the approach of this platform, it remains credible to say that SHIB will witness some substantial price gains as the year progresses.
While it's only around $0.0000108 right now, it could easily post returns to $0.000015 and $0.00002 in the next few months.
Anything is possible in crypto. ✅#SHIB $0.1 🔥🔥🔥🔥

Do you agree?

— SHIB POSSESSOR (@SHIBpossessor) March 17, 2023
In fact, many supporters are holding out for even bigger gains, with some eyeing $0.1 (or even higher).
This is highly ambitious, but if Shiba Inu's planned launches all proceed according to plan, there's little doubt that SHIB will see some enviable returns sooner or later.
Shiba Inu Alternatives
While SHIB does have good fundamentals, it may not see big rises for another few weeks or months.
As such, traders may prefer to look elsewhere for big gains at the moment, with quite a few new altcoins and presale tokens showing some real potential.
The Cryptonews Industry Talk team has studied such coins and created a list of the top 15 cryptocurrencies for 2023, each with good short-term as well as long-term prospects.
This list is regularly updated with new altcoins and ICO projects.
Disclaimer: The Industry Talk section features insights by crypto industry players and is not a part of the editorial content of Cryptonews.com.
---