Shiba Inu Price Prediction as Pro-Ukraine Internet Celebrities Use Shiba Memes to Combat Russian Propaganda – What's Going On?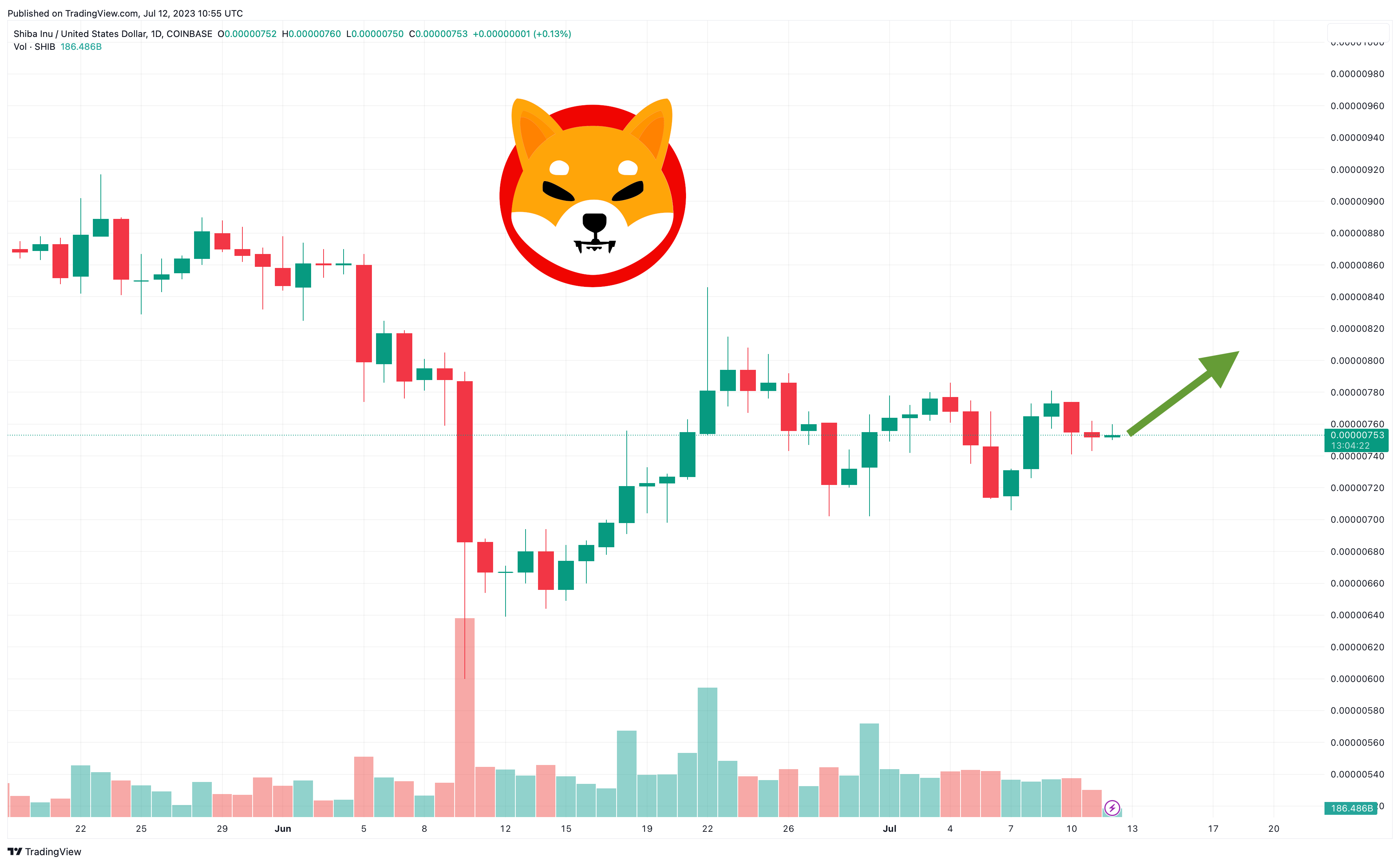 The price of Shiba Inu (SHIB) has barely moved in the past 24 hours, with its current level of $0.00000753 representing a 1% loss in the past week.
SHIB is up by 14% in the last 30 days, though, with its latest movement coming as a number of pro-Ukraine celebrities have been using Shiba Inu memes to combat Russian misinformation online.

Even Estonia's Prime Minister recently tweeted a thank you to the network responsible for such memes.
However, such a usage of Shiba Inu-related memes is not actually new, with the practice stretching back at least a year, meaning that it's unlikely to have a substantial impact on SHIB's price.
But with the ecosystem still awaiting the full launch of layer-two network Shibarium, the meme coin could still be in line for big rallies in the not-too-distant future.
Shiba Inu Price Prediction as Pro-Ukraine Internet Celebrities Use Shiba Memes to Combat Russian Propaganda – What's Going On?
Despite today's lack of real movement, SHIB's indicators are in a comparatively good position, with the possibility of further gains.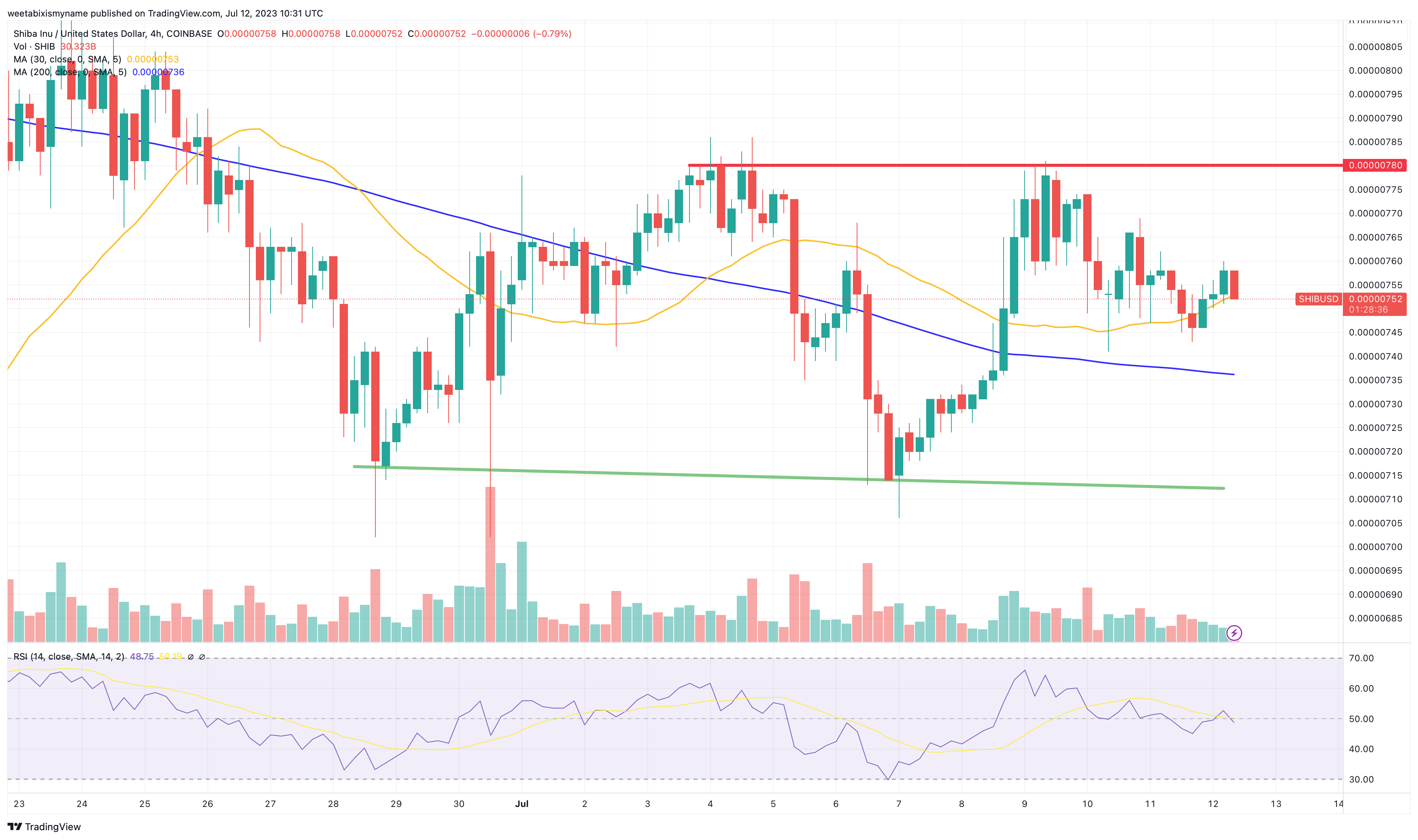 The meme token's 30-day moving average (yellow) has begun rising steeply above its 200-day average (blue), indicating some potential for a breakout.
On the other hand, SHIB's relative strength index (purple) is hovering around the 50 level, meaning that it could potentially go either way.
The uncertainty is accentuated further by the fact that the coin's medium-term support level has fallen slightly in the past couple of weeks, meaning that SHIB may not be able to resist further falls in the near future.
Still, SHIB's medium- and long-term future looks a little more positive, with the aforementioned trend for using Shiba Inu memes likely to have the effect of increasing the meme token's visibility and popularity.
As noted above, Estonia Prime Minister Kaja Kallas recently used a tweet to pay tribute to NAFO (North Atlantic Fellas Organization), a decentralized network of shitposters who have been flooding Russian attempts at propaganda with Shiba Inu memes.
It's possible that this level of recognition for NAFO could help SHIB make some gains, yet it should be underlined that NAFO has been active for well over a year, so it may be rash to bet heavily on a big incoming rally.
Nevertheless, SHIB's more distant future still looks good, with Shibarium making progress en route to its full public launch.
Shibarium is a layer-two network for Shiba Inu that will make it cheaper (and faster) to use the latter, something which could help boost the SHIB ecosystem over the longer term.
Of course, the effect is likely to be gradual, so anyone hoping for a sudden SHIB surge may be disappointed.
The meme token could be expected to reach $0.000010 in the next few weeks, before potentially seeing out the year close to $0.000010.
New High-Potential Meme Token
It's arguable that SHIB has been overshadowed this year by the wave of new meme coins the market has seen in recent months, with said wave looking as though it won't be stopping anytime soon.
While many of the new meme tokens have more or less been junk coins or outright scams, some have shown real sustained growth.
This is particularly the case with those that have had presales, which have enabled some of the best new meme tokens to establish a strong following and community before listing on exchanges.
One very new – and promising – example of such a token is Mr Hankey (HANKEY), an ERC-20 token that has taken the concept of 'shitcoin' quite literally.
Its presale is going live tomorrow, with the coin having a total maximum supply of 1 billion, of which 40% will be up for grabs.
What's promising about Mr Hankey is its meme, with the Mr Hankey character not only being lifted from the ever-popular South Park, but also benefitting from several eminently repeatable and viral catchphrases (e.g. 'Howdy Ho!').
This means it arguably has a better chance of spreading than other new meme tokens, with an early sign of this being provided by the fact that its Twitter account has already racked up more than 4,000 followers within the first 24 hours of its lifespan.
Investors can join its sale when it opens tomorrow by going to the official Mr Hankey website and connecting their software wallets.
The sale will have a hard cap of 400 million HANKEY, with the coin likely to list on exchanges by the close of Q3 2023.
Disclaimer: Crypto is a high-risk asset class. This article is provided for informational purposes and does not constitute investment advice. You could lose all of your capital.
---