Shiba Inu Price Prediction as SHIB Becomes Best Performing Coin of the Week – Can SHIB Hit $1?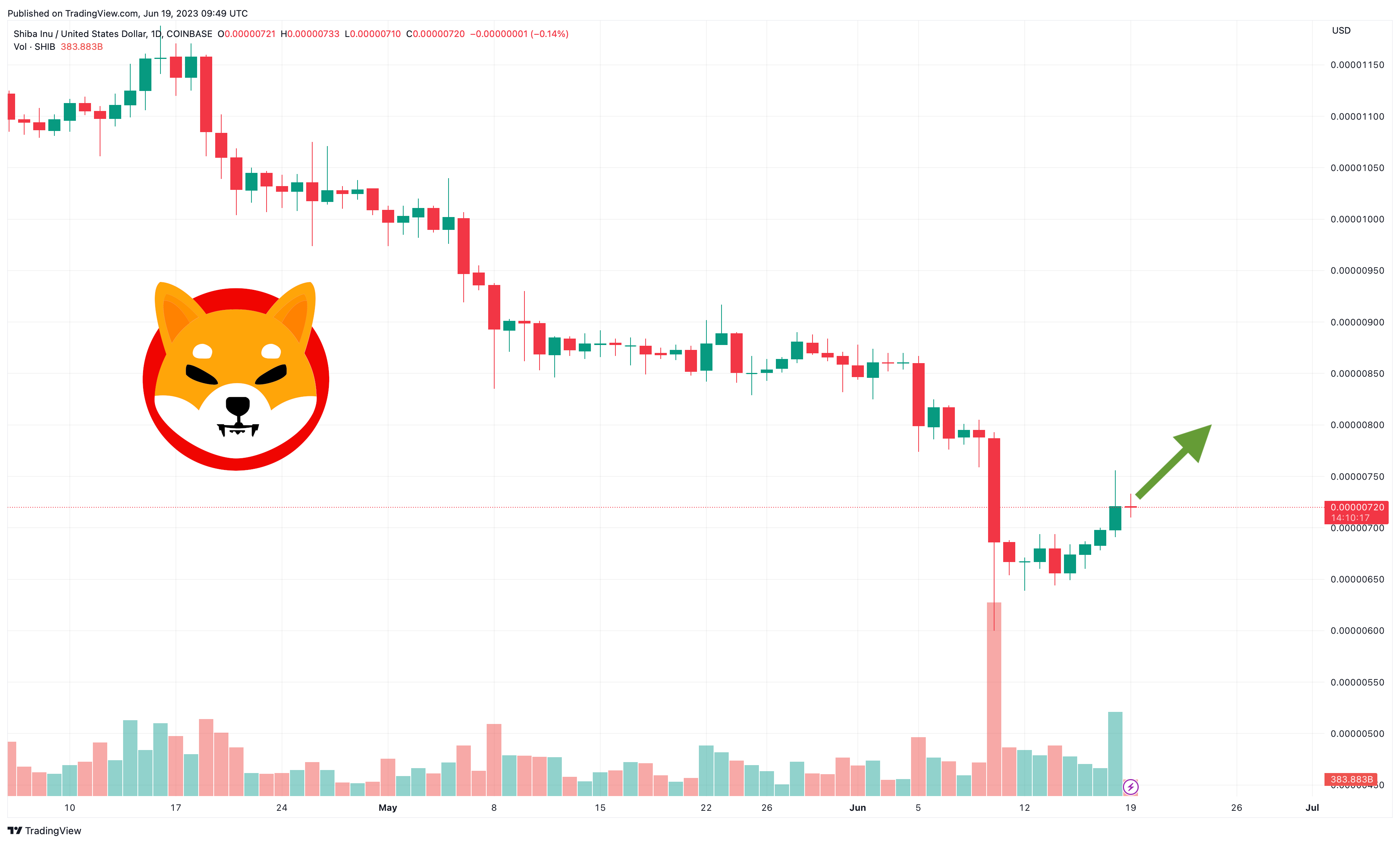 The price of Shiba Inu (SHIB) has barely changed in the past 24 hours, inching up by 0.3% as the cryptocurrency market slides slightly by 0.5%.
Despite not moving much today, SHIB is notably one of the best-performing cryptocurrencies of the past week, having gained by 10% in the last seven days.
This rally has happened on the back of increased anticipation surrounding Shiba Inu's layer-two network Shibarium, with one of the network's lead developers tweeting a cryptic "something physical is coming" tweet last week.
Assuming that Shibarium's full launch is getting closer, SHIB could be in for some big gains, with the altcoin having been oversold for several months now.
Shiba Inu Price Prediction as SHIB Becomes Best Performing Coin of the Week – Can SHIB Hit $1?
SHIB's indicators reflect an altcoin that's beginning to accumulate some serious momentum, with its relative strength index (purple) rising close to 70 today as buyers enter its market.
Likewise, SHIB's 30-day moving average (yellow) has begun rising and looks as though it's on its way to overtaking its 200-day average (blue), implying that the coin has several days of gains left before its current momentum begins to subside.
Complementing this momentum is SHIB's support level (green), which continues to rise and, in the process, enable the coin to attempt jumps in price from increasingly higher bases.
This all paints a very encouraging picture for the altcoin, which had spent much of the past few weeks and months suffering from losses and selloffs, as investors became frustrated waiting for progress on the aforementioned Shibarium network.
However, now it does indeed seem that Shibarium – which is already live in beta form – is inching closer to a full public launch.
This possibility has been raised by the above tweet from Shibarium/Shiba Inu developer 'Shytoshi Kusama,' who has suggested that something (unspecified) will be released in the very near future.
While he may not actually be referring to Shibarium itself, the tweet has certainly whetted the market's appetite, with the Shiba Inu community expecting big things from the layer-two's launch.
Shiba Inu has, up until now, been running on Ethereum, which has often been hit by high transaction fees and wait times.
However, by moving Shiba Inu transactions to its own layer-two network, it's expected that this will enable the meme token to build up its own ecosystem of decentralized apps (dApps).
If so, SHIB will enjoy a steady increase in usage and demand, with the coin potentially rising back up to $0.000010 or 0.000020 in the coming months.
New Meme Token in Town
SHIB holders will have to be patient for such a rally to unfold, especially when there's no fixed release date for Shibarium (or for SHIB: The Metaverse, which is even further down the pipeline).
In the meantime, less patient traders may be interested in diversifying into newer meme coins and presale tokens that show the potential for big rallies in the shorter term.
One prime example of a coin that ticks this box is Wall Street Memes (WSM), a new altcoin emerging out of the meme stocks movement that was responsible for the 2021 GameStop and AMC rallies.
Wall Street Memes launched the presale for its WSM token only a few weeks ago, yet it has already raised more than $8.5 million.
This shows that the new meme token has already built a strong following, and with its Twitter account boasting more than 234,000 followers, it looks as though it could be one of the most popular new meme tokens of the year.
Investors can enter the presale by visiting the official Wall Street Memes website and connecting their crypto wallets.
The sale is currently in its 15th stage, with 1 WSM now costing $0.0295, with this price scheduled to climb to $0.03370000 by the time the final, 30th stage gets underway.
And when the presale closes, WSM's listing on exchanges could propel its price much, much higher, making it one of the most profitable tokens of 2023.
Disclaimer: The Industry Talk section features insights by crypto industry players and is not a part of the editorial content of Cryptonews.com.
---