Ripple Price is Going to Zero as $1 Billion Trading Volume Sends XRP Plummeting 2% While AI Crypto Signals Platform yPredict Rockets Past $2.5 Million – How to Get In Early?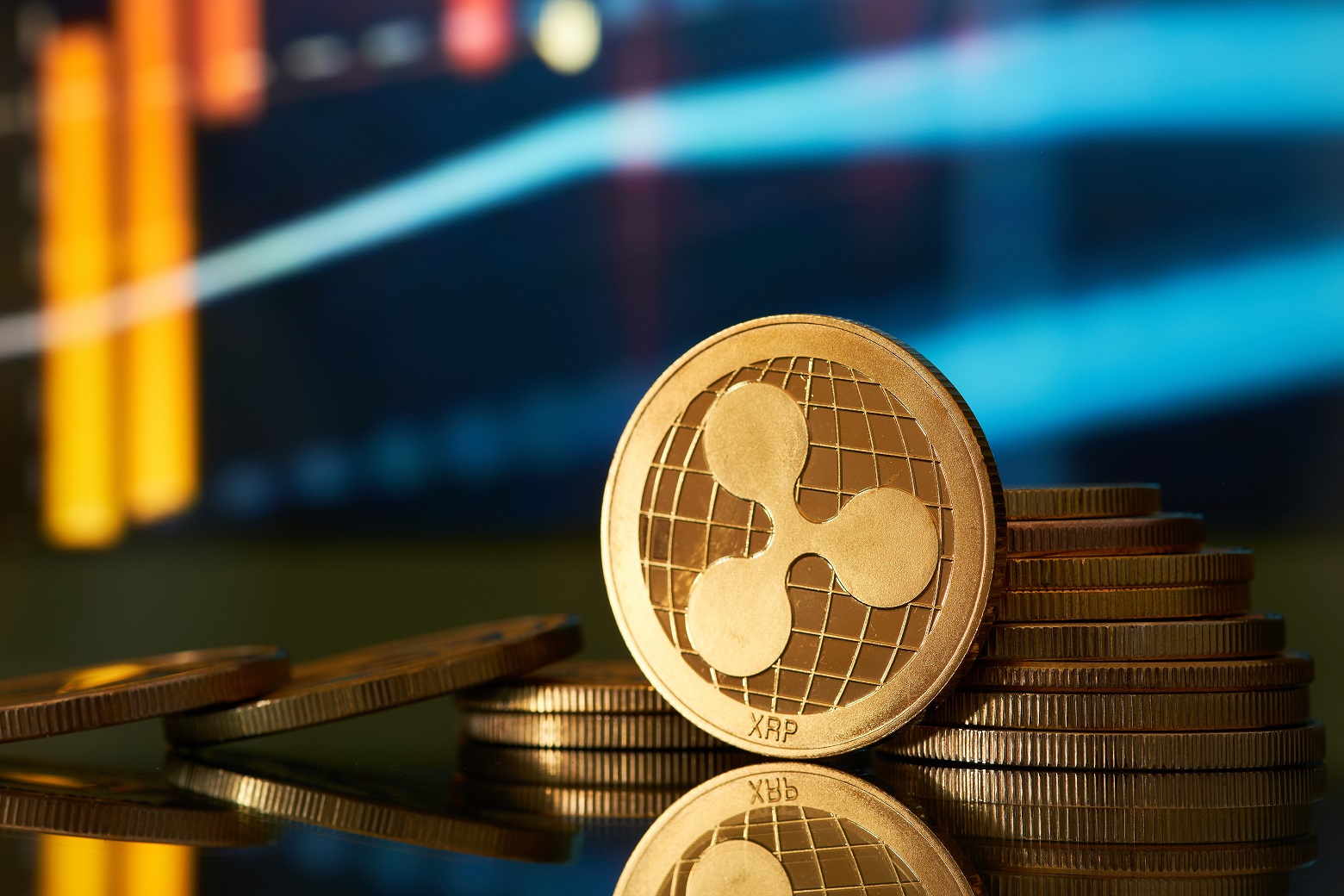 XRP's price has been consolidating above the key psychological level of $0.50 for more than two weeks, coinciding with the Fib 0.382 level at $0.5031. On June 14, XRP broke down from this level, sparking concerns about a potential trend reversal.
Despite finding initial support from the 100-day EMA and the Fib 0.5 level at $0.4779, traders and investors are now keeping a close watch on the technical indicators for any hints of XRP's next move.
XRP Price Prediction and Technical Analysis: Awaiting Direction Amid Consolidation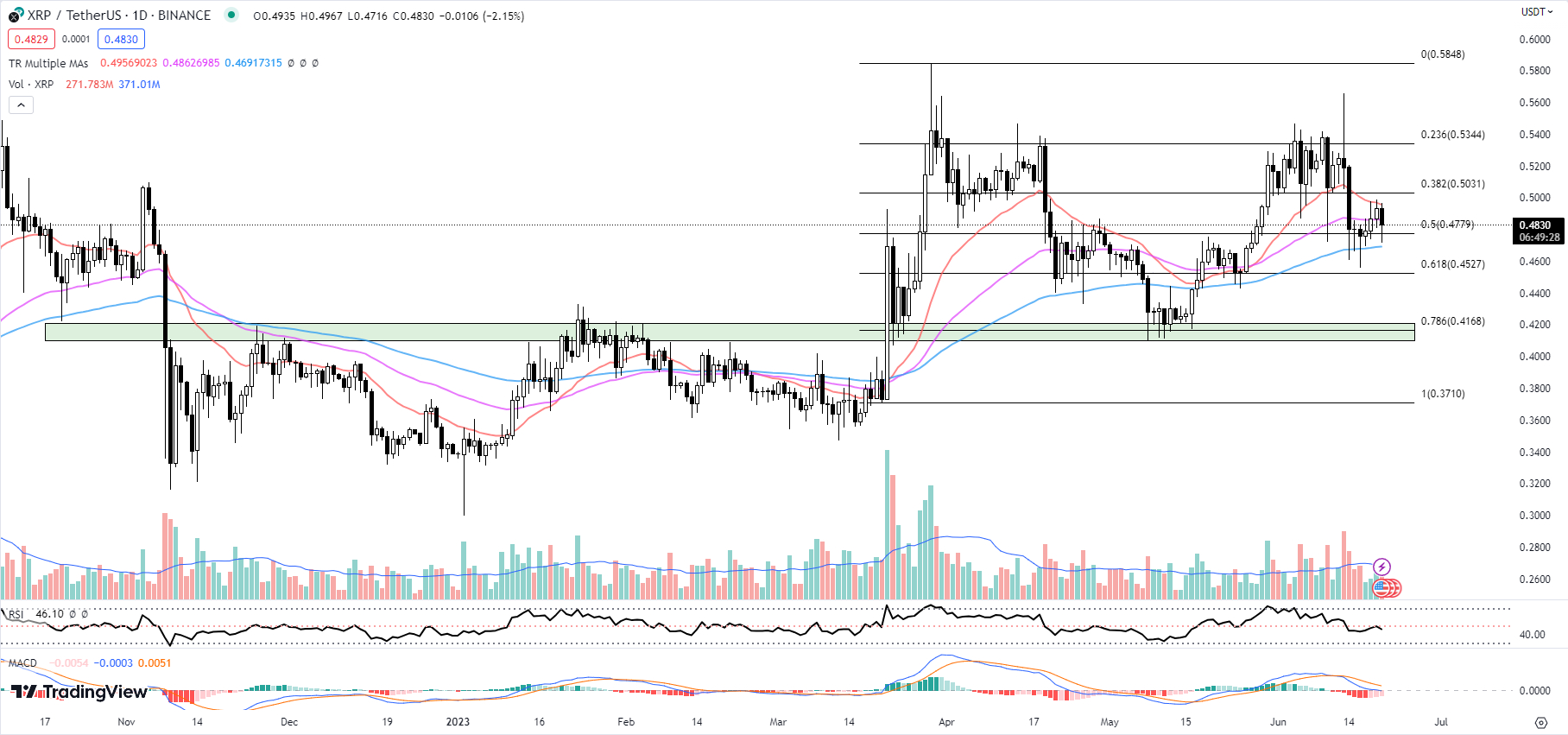 The 20-day EMA, currently sitting at $0.4957, and the 50-day EMA at $0.4863, are acting as immediate resistance levels for XRP.
Further resistance lies at the previously mentioned Fib 0.382 level at $0.5031. A breakout above these resistance levels could signal a bullish continuation.
However, the RSI has dropped to 46.10 from yesterday's 49.42, indicating a potential rejection at the significant RSI 50 level, which could be a bearish signal.
The MACD histogram has slightly improved to -0.0054 from yesterday's -0.0056, but it still remains in negative territory.
This suggests that bearish momentum might not have subsided entirely, leaving traders cautious about the immediate future.
According to CoinMarketCap, Ripple's market cap has decreased by 2.02% to $25 billion, while the trading volume has increased by 18.12% to $1 billion for the past 24 hours.
This increase in volume could be a sign that traders are actively participating in the market, attempting to find a clear direction for XRP.
As of writing, XRP is trading at $0.4830, down by 2.15% so far today. In the immediate future, XRP will encounter support at the Fib 0.5 level at $0.4779, followed by the 100-day EMA.
If XRP fails to hold these support levels, it could face further downside pressure. Conversely, a break above the aforementioned resistance levels would indicate a bullish trend resumption.
While Ripple faces headwinds, yPredict is forging ahead as a trailblazer in the field of AI-driven Web3 technologies.
With its powerful backlink model and growing suite of features, yPredict is positioning itself as a major player in the cryptocurrency and blockchain space, attracting attention from investors and analysts alike and helping to drive innovation and growth.
Introducing yPredict: An Emerging Force in the AI-Powered Web3 Arena
yPredict has introduced its first AI-assisted model, signaling a major breakthrough for the company and providing a valuable resource for crypto investors and traders seeking to stay ahead of the curve.
The yPredict Backlink Model, which is trained on a dataset of 100 million links, can accurately predict the ideal backlink profile needed for a URL to rank for a specific keyword, eliminating guesswork and streamlining the process for users.
Alongside its entry into crypto analytics and price prediction, yPredict is reaching into the field of content solutions for medium to large content teams.
As the platform's public presale crosses the $2.5 million mark, there's a palpable sense of excitement surrounding its potential to meld web3 and AI technology, shaking up multiple industries.
yPredict's AI-Driven Crypto Price Prediction: Handing Traders an Advantage
The rise of generative AI models like ChatGPT has seen a transformative impact across various industries, with financial market price forecasting emerging as a significant area of change.
A recent study highlighted how machine learning-based large language models (LLMs), akin to ChatGPT, can sift through colossal volumes of price data, unearthing trends that may otherwise evade human detection.
This technological edge can arm traders with valuable insights, an advantage yPredict seeks to provide.
According to yPredict's whitepaper, the platform intends to establish a cutting-edge crypto research and trading hub that provides traders and investors access to numerous AI-powered signals, breakouts, pattern recognition, and social/news sentiment features.
Beyond Price Predictions: The Larger yPredict Ecosystem
Although yPredict's price prediction system is undeniably exciting, the platform's offerings extend beyond just crypto price forecasting.
Their system is designed to generate inbound traffic for the broader yPredict ecosystem.
Notably, the platform's technology is being developed using state-of-the-art predictive models and data insights, conceived by the top 1% of AI developers and quants.
yPredict's $YPRED crypto token is a promising utility coin that could make a significant impact in the current market.
It is built on the Polygon blockchain, which offers faster transactions and lower gas fees and is the native currency of yPredict's AI-powered trading platform.
Access to premium features requires a $YPRED-denominated subscription fee, with 10% of these fees being distributed to existing $YPRED token holders.
This arrangement incentivizes investors to hold onto their tokens as they enjoy a passive income stream, potentially mitigating sell pressure in the market.
Disclaimer: The Industry Talk section features insights by crypto industry players and is not a part of the editorial content of Cryptonews.com.
---