Prompted by Booming DeFi, a Bridge Between Bitcoin and Ethereum is Growing
Following a recent massive rise of decentralized finance (DeFi) projects - and because of it - some analysts expect wrapped bitcoin to continue being a growing bridge over which bitcoin (BTC) would be ported to Ethereum (ETH).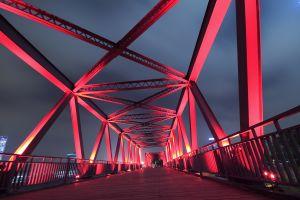 Source: Adobe/Aania
Crypto market data provider Messari noted a stablecoin migration to Ethereum "en masse, making fiat value interoperable with ETH based applications." To this, they added: "Now, drawn by the allure of Ethereum's booming DeFi ecosystem, we're beginning to see a similar trend play out with Bitcoin."
What they go on to describe is a bridge by which BTC holders moved "more than half a billion dollars worth of bitcoin onto Ethereum." The leading bridge here, according to the firm, is wrapped bitcoin provided by major crypto custody company BitGo, wBTC.
As previously reported, wBTC went live on the Ethereum blockchain in January 2019. It's an ERC20 token meant to represent bitcoin and is reportedly backed one-to-one by BTC. It comes with several advantages, such as faster transfer than bitcoin, as well as its integration with the entire Ethereum ecosystem, including dapps (decentralized apps), smart contracts, and yes, the booming DeFi that comes with it. wBTC is held at Bitgo Trust.
Users send BTC to BitGo who custodies it on their behalf and mints corresponding BTC pegged ERC20 tokens on Ethereum. "These BTC-pegged tokens can then be used in various DeFi protocols. Currently, about [USD] 440 million in wBTC has been minted on Ethereum," according to Messari.
And while this is a centralized solution for a wrapped BTC, Keep Network and RenVM entrusted their tBTC and renBTC to a decentralized custodian network. While Keep Network launched in May and then had to pause deposits because of a discovered vulnerability, RenVM "facilitated more than USD 380 million in volume between chains and currently custodies more than USD 130 million in assets (almost entirely in bitcoin)," Messari added.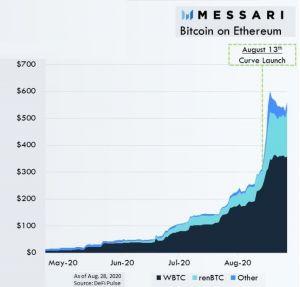 In millions USD. Source: Messari
"This behavior is indicative of what is likely to be the primary use case for interoperability for the foreseeable future. Given that Ethereum is the center of the decentralized financial universe, interoperability in the near term will serve to port different assets to and from Ethereum. With only 0.3% of all bitcoin on Ethereum, the opportunity for decentralized bridges between the two chains is hard to miss," the firm said.
Meanwhile, per Defi Pulse, the total value locked (TVL) in DeFi at the moment is USD 9.5 billion. It has seen a massive rise in the past three months. wBTC sits in the 9th spot, preceded by Balancer, and followed by RenVM. TVL in wBTC is USD 468m, showing a 1,111% rise since mid-June.
At 10:15 UTC, the price of wBTC is USD 11,620, having dropped 5.6% in a day. It appreciated, 1.5% in a week. BTC's price is 11,739. It decreased 1.6% in a day, and increased 3% in a week.
The Cryptoverse did not forget wrapped bitcoin and its potential. And while some wondered what it in fact represents, others thought it could be useful in the yield farming frenzy.
Here are some of the comments:
__
__
---