Pepe Price Pumps 60% But Next Big Meme Coin to Explode Meme Kombat Can 100x For Early Presale Investors After Hitting $700,000
Disclosure: Crypto is a high-risk asset class. This article is provided for informational purposes and does not constitute investment advice. By using this website, you agree to our terms and conditions. We may utilise affiliate links within our content, and receive commission.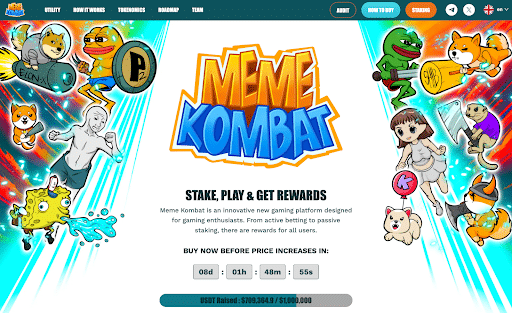 Wednesday, October 25th, 2023 – Pepe's price has pumped 60% to $0.0001155 over the past seven days, but it is the next big meme coin Meme Kombat that is ready to explode 100x after raising $709,000 in its presale.
Since bottoming on October 20, the Pepe price has been on a roll. A succession of green candles has seen meme coin traders pile back into the market, pushing the coin up 14% in the past 24 hours alone. 
The market capitalization of the Pepe coin, which earlier this year threatened to top $1 billion, is now back above $400 million. 
It provides an early indication that the meme coin sector will be one of the altcoin categories at the forefront of the new crypto bull run stirring in the wake of the spot Bitcoin ETF-inspired rally and the Bitcoin halving event to come.
Meme Kombat ($MK) is an all-purpose meme coin because it is building a one-of-a-kind platform for battling meme characters and will therefore likely have wide appeal to all types of meme coin traders and investors. 
$MK is currently priced at $0.1667, but will be rising 10% to $0.183 in Stage 2, which starts on November 2.
The Meme Kombat presale is already three-quarters of the way towards reaching its initial $1 million raise target. Although the site countdown shows that there are only eight days to go before the second stage price rise, the current stage could sell out much sooner than the time allocated. 
You can get a feel for the virality of the project from the fun that the team's artists are already having with the meme characters. 
So whether you are won over by Dogecoin, Shiba Inu, Pepe or Sponge, meme coin watchers will find their character and more represented in Meme Kombat
For degens focused on where to find the next 100x gem Meme Kombat hasKombathas to be front and center. Put succinctly, Meme Kombat captures the latent value of arguably the top-valued sectors in crypto today – gaming and gambling. 
Not only will you be able to battle with meme characters, but you will also be able to wager on the outcome of those head-to-heads.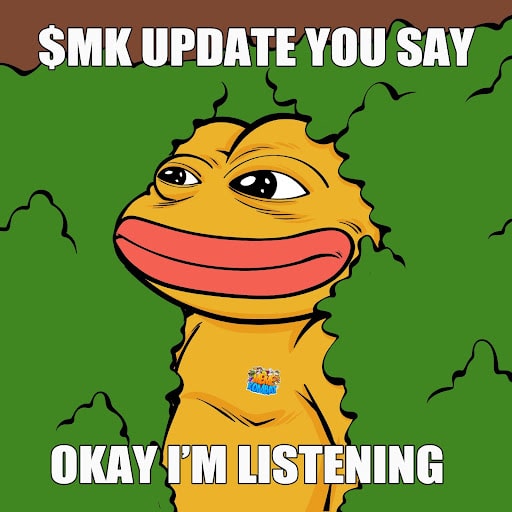 https://x.com/Meme_Kombat/status/1716584544802136267
Pepe price exploded 149,000% – Meme Kombat could easily 100x

According to Coinmarketcap data, the Pepe price is today up 3,336% from its all-time low. But on DEXTools we can see that when it listed on decentralized exchanges, from trough to peak, it returned a massive 149,964% (or 1,490x), assuming you had sold at the top.
Admittedly meme coins are all about virality and community engagement and have almost made it a badge of pride that they don't actually have any utility. 
There is of course value in networks of engaged individuals but as the market enters the next bull cycle, one feature of the maturing nature of the market is investors becoming more demanding in what they expect from a coin, and that includes memes coins. 
Increasingly market participants want to buy into projects that are offering genuinely unique and potentially valuable use cases – there has to be a value differential.
Meme Kombat fits the bill perfectly. It not only hits on the two booming sectors of GameFi and GambleFi, it is also playing in the high-octane meme coin segment, where old and new money is sure to flow in powerful torrents as crypto winter recedes. 
It doesn't require much analysis to immediately see the value proposition in Meme Kombat and how it stacks up when compared to coins like Pepe. 
You can keep up with developments at Meme Kombat on X (formerly Twitter) and Telegram.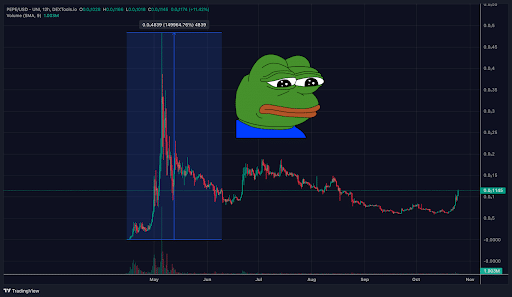 Meme Kombat Season 1 coming soon, featuring all the top meme coins

Meme Kombat's Season 1 will be available after the presale is sold out and the project is launched. 
There are 11 meme characters you can battle with in Season 1: Milady, Baby Doge, Doge, Floki, Kishu, Mong, Pepe, Pepe2, Shiba, Sponge and Wojak.
Players bet on the meme characters and are rewarded with $MK tokens if they back the winners.
Blockchain comes into its own when it comes to gaming and gambling. On the gaming side, there is verifiable randomness and for gambling, its trust and security features are also well suited to the platform's requirements. 
Usually absent from most meme coin projects, in Meme Kombat's case a security audit of its smart contract has been carried out. Prospective buyers will be happy to know that the audit was passed with flying colors, with no major issues detected.
Season 2 meme character cards will be coming sometime in December 2023.
Altogether, 50% of the total token supply is being sold in the presale, 30% for staking and battler rewards, 10% for community rewards, and 10% for decentralized exchange liquidity. 
The total token supply is 120,000,000. The price and token supply has been recently adjusted by a factor of 10, so the price has changed from $1.667 to $0.1667 and the token supply from 12 million to 120 million $MK.
Helping buyers to make their decision is the fact that the Meme Kombat project is doxxed. Founder Matt Whiteman is chief operations officer at Netherlands-based North Technologies, an NFT trading and analytics business.
Whiteman's footprint in the NFT space is thought to be helping Meme Kombat to garner traction in the Web3 venture sector.

You can earn 112% APY by staking Meme Kombat token in presale now 

In contrast to meme coins such as Pepe, Meme Kombat enables token holders to stake-to-earn to get a passive income stream. 
Stakers earn an annual percentage yield (APY) of 112%. Such a high return is possible because the project has allocated 30% of token supply to staking and battle rewards. 
Even better, presale buyers can choose to stake their coins immediately and start earning now.
There is a staking dashboard to show the real-time number of staked coins in the pool launching soon. 
When the full innovative platform is live, token holders will be able to seamlessly stake-to-bet on the battle in the Meme Kombat Arena.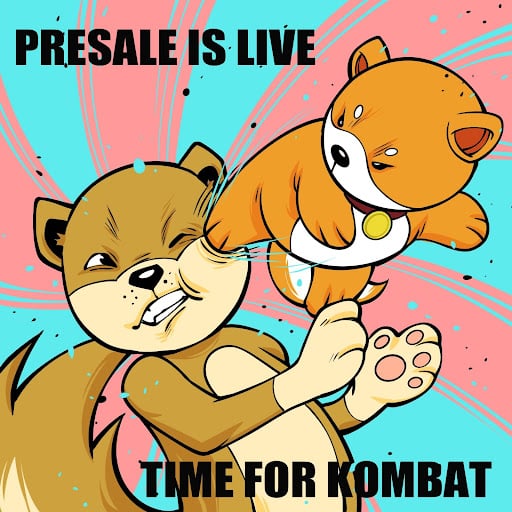 https://x.com/Meme_Kombat/status/1704686195962188244
Key to a successful meme coin is marketing to take it viral and Meme Kombat has that covered

Meme Kombat is all over crypto media. There are no other projects that do what Meme Kombat does, which explains why it has managed to feature across the full spectrum of crypto news websites, and on YouTube too.
The Mem Kombat native token $MK has received coverage on top crypto news outlets, including Cointelegraph, Coinpedia, Decrypt, Coincodex, BeInCrypto, FXStreet, and CryptoPotato. It is also popping up on game sites, with an article recently appearing in Game is Hard.
Cryptonews YouTuber Ari has also just published a video for Cryptonews featuring Meme Kombat. 
Crypto expert on YouTube Joe Parys, who has 382,000 subscribers, has selected Meme Kombat as one of his 'top 5 meme crypto coins for 2024 and beyond'. 
Another YouTuber is well-respected crypto analyst Michael Wrubel with 310,000 subscribers. He is just as bullish on Meme Kombat's potential to carve out a valuable niche.
No Bs Crypto YouTube channel told his 36,000 subscribers that Meme Kombat 'could kill Pepe'. 
Presale reviewer JacobCryptoBury has backed $MK by investing $1,000 of his own hard-earned cash. He thinks the coin could deliver 100x returns for presale buyers.
Stake-to-bet will be a huge revenue driver for Meme Kombat, creating value for $MK token holders

Meme Kombat is at the center of the intersection of gaming and gambling in the cryptocurrency industry. 
By freeing up staked tokens for use as gambling chips, Meme Kombat allows network participants to earn from staking as well as the opportunity to win big in the battle arena.
It is this two-fold offering that makes Meme Kombat such a lucrative and attractive proposition for early investors.
Priced at $0.1667, Meme Kombat token can be purchased today with ETH, BNB or USDT (ERC-20 and BEP-20 versions).
As mentioned, gambling is a booming industry. Data compiled by Statista shows that the online gambling industry's market size is $95 billion for 2023. 
Crypto is at the forefront of the gambling growth story because of the way in which the unique properties of blockchain technology are so well suited for products like gambling that depend on verifiable randomness, trust and transparency.
Merge the gambling with gaming and meme coins and you have the recipe for success that can send Meme Kombat way beyond a $1 billion valuation, leaving Pepe languishing in the dust.
---