Pepe Coin Price Prediction as $500 Million Trading Volume Comes In – On-Chain Data Shows Whales are Accumulating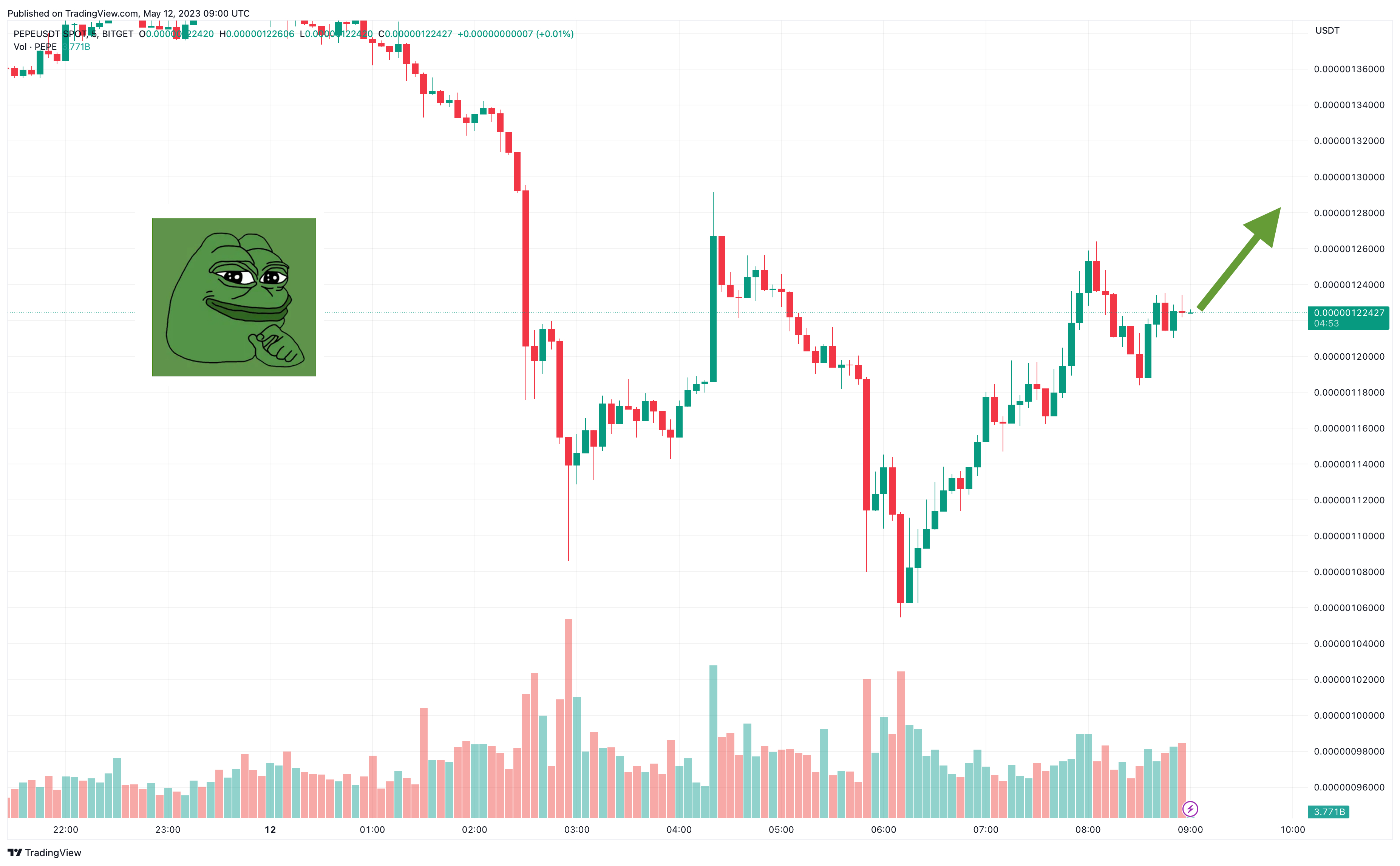 The Pepe Coin price has fallen by 24% in the past 24 hours, with its drop to $0.00000123 coming amid a 3% fall for the cryptocurrency market as a whole.
PEPE's current price means it has dropped by 36% in the last seven days, although it remains up by a very impressive 330% in the last 30.
Its 24-hour trading volume has also seen a recovery towards $600 million after dipping earlier in the week, raising the possibility of further price rises to come.
Likewise, whales continue to buy and hold PEPE, suggesting that it isn't far away from another rally.
Pepe Coin Price Prediction as $500 Million Trading Volume Comes In – On-Chain Data Shows Whales are Accumulating
Things don't look too hot for PEPE at the moment, even with its gain in the past hour, with its indicators in distinctly oversold positions.
The meme token's relative strength index (purple) has fallen below 30, although it rising back to 40 may suggest that it's about to mount a recovery.
At the same time, its short-term moving average (yellow) continues to drop below its long-term average (blue), and it's possible that it continues to fall for a little while before the coin sees a real recovery.
This view is supported by the fact that PEPE's support level (green) has continued to slide over the past few days, something which suggests a dangerous loss of momentum.
It's worth pointing out that the market as a whole has had a rough 24 hours, with its total cap slipping by around 3%, led by a 4% fall for BTC.
It's arguable that the situation isn't as bad for PEPE, given that whales appear to still be accumulating the new meme token, with some taking advantage of its recent falls.
Whale accumulation tends to suggest that a coin will recover sooner or later, with large traders buying at a discount based on the expectation that they're in line to make a significant profit.
It's also worth pointing out that PEPE has benefitted from listings in the past few days from the likes of Binance, KuCoin, and OKX.
There are also rumors that Coinbase may soon be listing PEPE, even if the token's growing community has launched a barrage of criticism at the exchange as a result of an email that referred to Pepe the frog as a "hate symbol."
Regardless of how that particular drama plays out, there's little question that PEPE has already outgrown its dubious beginnings as another trashy meme token issued by anonymous, potentially rug-pulling founders.
It currently has just over 105,000 holders, up from only a few thousand a week or so ago.
Given this momentum, and given the fact that whales are stocking up on the token, PEPE could easily see a recovery to $0.000002 and higher in the next few weeks.
Bigger gains will depend on whether the meme token can attract a few more listings from major exchanges.
SpongeBob May Have Taken Over
It's also possible that PEPE has lost its momentum and that newer altcoins have taken its place as a high-potential meme token.
One of these is SpongeBob (SPONGE), which has already seen gains of well over 2,500% since listing directly on Uniswap on May 4.
A new ERC-20 cryptocurrency, SPONGE has risen by 39% in the past 24 hours alone, based on a new listing on major exchange Gate.io.
This comes in addition to listings on MEXC, LBANK, CoinW and Toobit, with SPONGE's team hinting that other big exchange announcements will follow today's Gate.io news.
Given this quick growth in listings, it's likely that SPONGE will witness strong growth in the short-term as its liquidity expands rapidly and new buyers enter its market.
The meme token has a total maximum supply of 40.4 billion, while it also has more than 11,900 holders, a number that's likely to grow even higher with the Gate.io listing today.
SPONGE's momentum could easily propel it to $0.0001 in the next few days, particularly if more exchange listings follow, while the wider crypto market's recovery could help it lose one or two more decimal places by the end of the year.
---