PancakeSwap Integrates Bril's Portfolio Manager to Diversify Liquidity Pools
Disclosure: Crypto is a high-risk asset class. This article is provided for informational purposes and does not constitute investment advice. By using this website, you agree to our terms and conditions. We may utilise affiliate links within our content, and receive commission.
PancakeSwap's new portfolio manager feature seeks to streamline asset management for its users. Image by JorgeEduardo, Adobe Stock.
As decentralized finance (DeFi) continues to plug along in its quest to capture market share, PancakeSwap, one of the leading decentralized exchanges, has recently taken a step toward optimizing its service offerings. On Monday, PancakeSwap announced a collaboration with DeFi protocol Bril Finance, introducing a portfolio manager function.
This feature seeks to augment the financial strategies of PancakeSwap users by diversifying their investments into various liquidity pools.
The addition of a portfolio manager allows users to deposit single assets into vaults. From there, the assets are automatically distributed to different liquidity pools, providing an enhanced risk-adjusted return on investments. With cryptocurrencies like USDT, BTC, BNB, and Ether eligible for deposits, this development could lead to a transition in how users manage their crypto portfolios on decentralized exchanges.
A Mechanism for Optimized Returns

According to the announcement, the portfolio manager deploys an automatic liquidity provision algorithm with rebalancing features. The collaboration between PancakeSwap and Bril Finance simplifies the asset management process for users. Initial tests claim that this system has already yielded an internal rate of return (IRR) of over 24%, a metric that gauges the compound annual growth rate of an investment.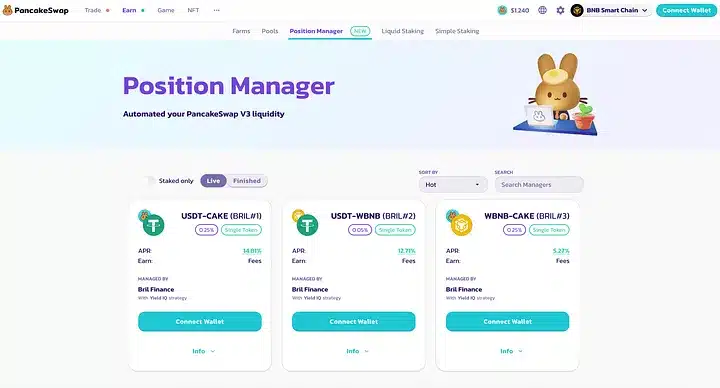 For the first four weeks following the feature's rollout, users will be eligible for additional rewards in the form of PancakeSwap's governance token, CAKE. PancakeSwap will initially be the sole platform offering access to Bril's portfolio management system. This exclusivity highlights PancakeSwap's dominance in the DeFi exchange space and its focus on diversifying and enriching its financial product suite.
Broader Implications for Decentralized Exchanges

"We aim to become a hub for all of DeFi and integrations such as this, allowing us to become a one-stop shop for portfolio management," said PancakeSwap's CEO, colloquially known as the Head Chef. "Bril's automated technology and its integration with PancakeSwap will allow PancakeSwap users to enjoy the core features and functionalities they are already accustomed to and seamlessly earn on their assets in a hands-off manner."
As PancakeSwap is the second-largest decentralized exchange in terms of daily volume, this new feature can be seen as a concerted effort to fortify its market position. The integration of Bril's portfolio manager is a strategic move in advancing not just PancakeSwap, but potentially setting a precedent for other decentralized exchanges.
The integration of a portfolio manager function by PancakeSwap, in collaboration with Bril Finance, represents a strategic shift in how decentralized exchanges are adapting to the evolving needs of their user base. This update not only seeks to optimize returns for individual investors but also underlines the growing sophistication of financial tools available in the DeFi sector.
---