Meme Coin Top Performer $SPONGE Price to Explode – Lists on MEXC Exchange Thursday, Plus Another CEX Announcement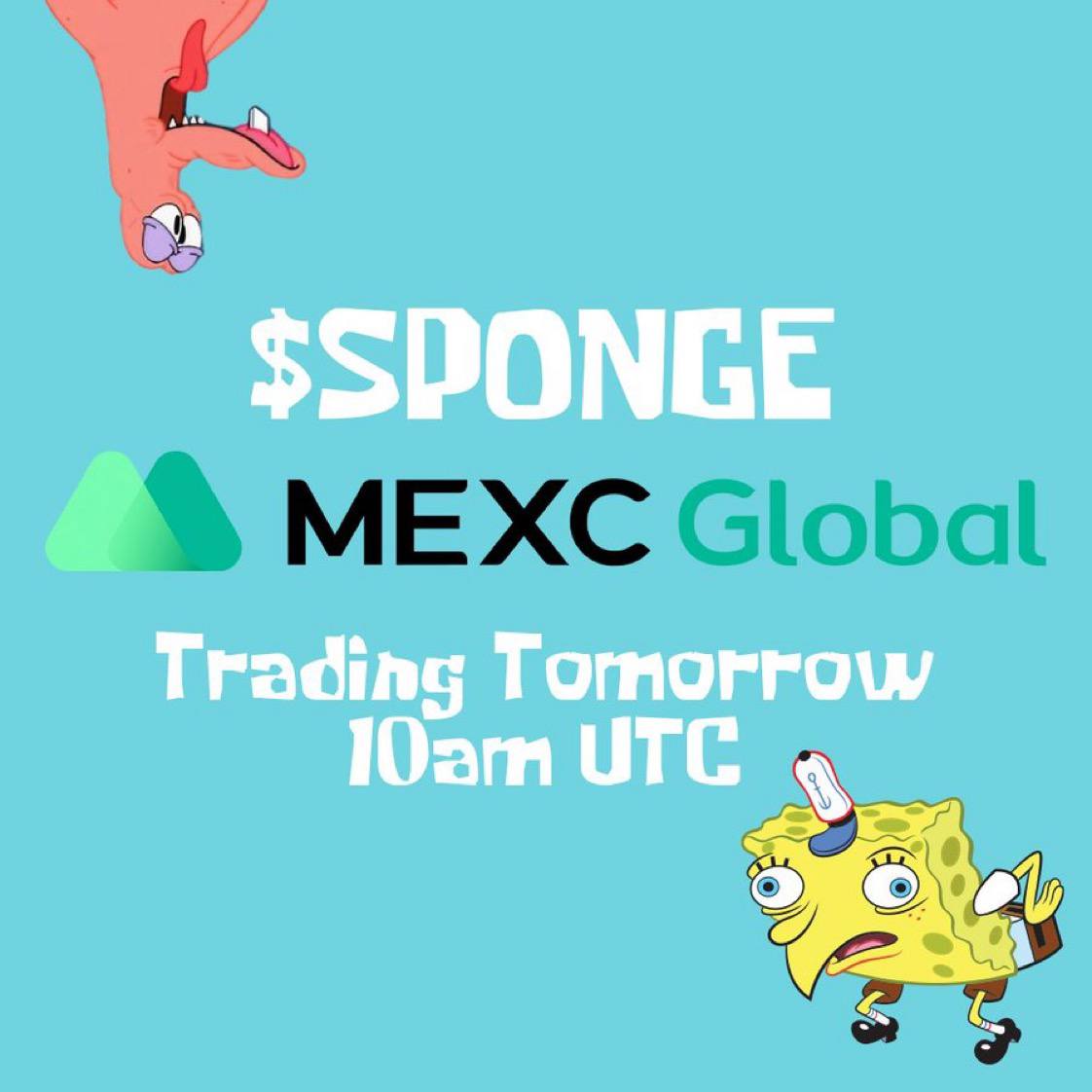 Wednesday May 10th 2023 – Insurgent meme coin $SPONGE lists on MEXC Global tomorrow, plus a listing announcement from one as yet unnamed exchange, in its bid to flip Pepe.
Seychelles-based MEXC Global joins a lengthening roll call of exchanges listing $SPONGE.
Trading of $SPONGE on the eighth-ranked exchange, according to data site CoinGecko, begins tomorrow Thursday, May 11th, at 10:00 UTC.
Meanwhile, $SPONGE trading starts on MEXC on the same date and time.
Entering only its sixth day of trading, $SPONGE, if the unnamed exchange is included, has now brought seven exchanges into its camp: MEXC Global, Poloniex, LBank, CoinW, Toobit, BTCEX and the one expected to be announced tomorrow.
SPONGE is the top-performing meme coin over 7 days
These latest additions to the trading venues for $SPONGE will power further growth in already swelling trading volumes for $SPONGE pairs.
As a result, bulls are getting ready for the next phase of the $SPONGE price surge.
According to CoinMarketCap data, $SPONGE is up 1,038% since its launch on May 4th., making $SPONGE the top-performing meme coin over 7 days.
$SPONGE top trending coin on Uniswap
$SPONGE is one of the most-traded meme coins in the crypto space and continues to hold the truly remarkable accolade of being the most liquid of the new wave of coins at the center of the 2023 meme frenzy.
At the time of writing $SPONGE is trending at No.2 on the influential decentralized exchange trading site Dextools – Pepe had dropped out of the top 10, and Turbo was in eighth.
Additionally, $SPONGE's reputation in the crypto community as measured by the DEXTscore has jumped 11 points overnight, to 98 out of 99.
Unlike Pepe, $SPONGE has truly global reach across all demographics
Although the team behind the project is at pains to point out that $SPONGE has no connection with the cartoon character Spongebob, its stated aim of "paying homage to a meme we all love and recognise" gives it global reach.
Whereas Pepe, for instance, is a well-known character in certain areas of the internet – most notably perhaps among the so-called 'alt right' despite its creator's best wishes, has no such encumbrance.
$SPONGE has a universal fun appeal with its origins in Web2 circa 1999, giving the meme much wider pulling power.
In other words, the growth potential of Pepe is limited while that of $SPONGE is almost unlimited, given its global cultural head space and intergenerational reach.
Twitter Spaces reveals $SPONGE has VC backers with blue chip industry relationships
Indeed, that raises the question of whether the $SPONGE strategy is to merely challenge Pepe or does it have its eyes on a leadership role that eventually challenges Dogecoin and Shiba Inu?
Is $SPONGE's ultimate goal to be crowned the new king of meme coins?
That was certainly the vibe in evidence at a Twitter Spaces event held yesterday and hosted by NFT enthusiast and all-round crypto insider moonpie666 (@mushmoonz). 1,900-plus people tuned in live.
Those of $SPONGE's 10,700-strong community of token holders in attendance were able to glean a little more information about the team – click this link to the Twitter Spaces and listen now.
It transpires that not only is $SPONGE uniquely positioned, as described above, it also has the backing of serious players in crypto.
According to the host, $SPONGE is backed by a deep-pocketed venture firm that has developed a deep-impact marketing strategy to take the coin into the top 100.
$SPONGE team is behind many coins worth hundreds of millions of dollars
The team is described as being the architects of coins that have reached billion-dollar valuations. There was even mention of a relationship with top NFT marketplace OpenSea.
Also the mystery around Elon Musk deepens, with all inquiries regarding the multi-billionaire entrepreneur met with a stonewalling "no comment" response.
Although the lead host in the Spaces event, and others joining him, made clear they were not team members, by dint of doing the Spaces event it is clear they are of course working with the team.
In fact moonpie666 explicitly stated that he personally knows someone high up in the team, which fills him with a lot of confidence about the longevity and seriousness of the project.
The speed at which $SPONGE has gained CEX listings – in two days as compared to the three weeks it took Pepe – also speaks to the well-established industry connections the team already has in place.
It is almost a racing certainty that more, and even bigger, exchange listings are being lined up.
"You need to have high-level relationships like this team does, you need to do the right aspects of launching a coin, you have to have the right marketing strategy, you need to have history. SPONGE team has it all." says moonpie.
The Twitter Spaces revealed that a huge marketing campaign is in the throes of being launched, encompassing all digital marketing formats.
YouTuber makes $100,000 thanks to $SPONGE
There is a lot of money to be made from $SPONGE by early buyers given it is still only days old.
Highlighted in the Spaces was one such buyer, YouTuber Michael Wrubel. Wrubel has made $100,000 on $SPONGE. He has 310,000 subscribers to his channel.
Alpha groups and whales, alongside regular retail buyers, continue to pile into $SPONGE, and its explosive growth on social media is a testament to that.
After just five days, $SPONGE's Twitter account (@spongeoneth) has more than 38,000 followers. The Telegram account has grown to more than 19,000 in five days.
How $SPONGE holders can get in on the airdrop
Meanwhile, on its Discord server, there are more than 2,000 super-engaged individuals, with hundreds online at any one time.
If you are a $SPONGE holder, you are eligible to sign-up for the airdrop.
All you need to do is click the link at the airdrop sign-up page on Discord and then share your Discord, Twitter, email and wallet addresses.
Once all four are connected, you are eligible for the airdrop.
Airdropped tokens will be awarded for three criteria:
Engagement on Discord – you need to achieve 'highly engaged" status.
Amount of $SPONGE purchased
Amount of $SPONGE traded on Uniswap (CEX volume cannot be seen by the $SPONGE systems so not included)
The scores will be reset every week.
The cut-off date (snapshot) for eligibility is yet to be released, which means to be eligible for the airdrop there is no time to lose in becoming a $SPONGE holder.
A while back Elon Musk tweeted about being a $SPONGE, Matt Wallace RTs $SPONGE tweet
Rumors that Shiba Inu folks or even Elon Musk are involved in some level with $SPONGE continue.
The latest installment on that front is the news that he tweeted about being a sponge a little while back.
Now community members are raiding Musk's account to remind him of that fact, to encourage him to show his 'diamond hands' for $SPONGE:
But with Elon Musk buddy Matt Wallace recently starting to follow the $SPONGE Twitter account @spongeoneth, there could indeed be more than meets the eye to the swirling rumors.
The $SPONGE team inserted a cheeky tweet into Matt Wallace's timeline, and he has retweeted it: "Good to see @MattWallace888 has come to absorb some damp!"
As well as having the ear of Elon Musk, Wallace has nearly 1 million followers on Twitter.
$SPONGE price – rocket engines ready for lift-off
Crypto markets in the European session are somewhat becalmed as macro events take center stage, with the latest US CPI inflation data release coming at 08:30 Eastern.
Nevertheless, $SPONGE is showing a falling wedge formation that normally presages a breakout to the upside.
Range-bound trading at this juncture for such a new coin is indicative of strengthening price fundamentals.
Each dip in the price is being snapped up by eager buyers. The current price action is swelling the number of holders overall and broadening out the composition of market participants.
A growing number of regular retail investors are holding out for 100x returns and more besides, judging by the social media chatter, although big-hitting whales are certainly also active in the $SPONGE market.
However, a pump is imminent as more CEX and adoption news keeps coming out.
Buyers of all sizes looking for an entry price for $SPONGE have an excellent opportunity to act now as this near-term consolidation phase will likely end soon.
---