Malaysia Mulling Digital Fiat, Says PM
Malaysia's Prime Minister Dr Mahathir Mohamad has stated that his government is considering launching a digital fiat – but said he is yet to decide what will become of a controversial cryptocurrency- and blockchain-powered political fundraising platform.
The prime minister was speaking to reporters after a visit to Singapore. Per New Straits Times, Mahathir stated, "Generally, we are thinking about [introducing a digital fiat]. Even the government is thinking about it." Mahathir also explained that he was in favor of introducing a cashless society drive, and explained that he had spoken to Indian Prime Minister Narendra Modi about the matter. The Malaysian prime minister said, "When money is not used, corruption is less [widespread]."
Mahathir stated that his government "may accept" the Harapan Coin project, "depending on how well it functions," although he added that he had not yet spoken to the central bank about the matter.
The developers of the Harapan Coin claim they have created the world's first political fundraising platform that makes use of cryptocurrency and blockchain technology. The project has the support of several leading political figures, including its co-founder, the Federal Territories Minister Khalid Samad, who says he wants to demonstrate the platform's abilities to both Mahathir and the central bank.
The country's former prime minister Datuk Seri Najib Razak has asked Samad to disclose more information about the platform, while a leading member of parliament has called for the central bank to issue more general cryptocurrency guidelines before making a decision on Harapan Coin, with civil groups also calling for caution.
The government and financial regulators have been discussing proposed cryptocurrency regulations this year, and in February banned anonymous trading at Malaysian exchanges.
______
Weekly LocalBitcoins, a peer-to-peer bitcoin marketplace, volume (in bitcoin) in Malaysia: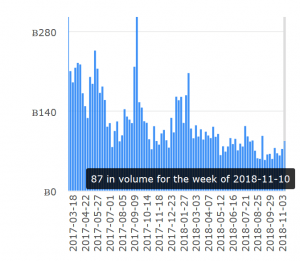 ---