Making Green Waves in the Red Market: One Coin to the Moon This Week
When almost the whole market is in red, only one coin among top 100 cryptocurrencies by market capitalization is up by more than 10% (UTC 02:50 PM) today: Waves. With a price increase of 15% in the past 24 hours, and more than 70% in the past week, Waves is one of the only coins not deterred by the market's downward trend, making it one of the top gainers in the market.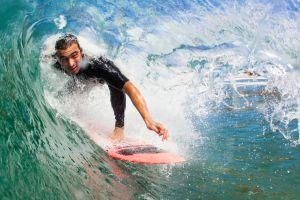 Waves price chart: (UTC 02:50 PM)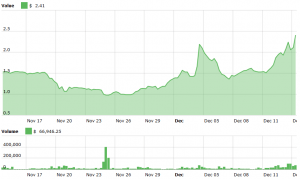 An array of good news in the past week allowed the coin to decouple from the market and soar, gaining bullish momentum that's rarely seen in these instances - but it's still a long way off its all-time high at USD 16.
On December 10th, the company, a developer of a global public blockchain platform, announced they were rolling out a Mozilla Firefox browser plugin, in addition to the Chrome plugin, called the Waves Keeper and used for managing private keys. Waves Founder Sasha Ivanov tweeted last week that the platform will also be releasing and activating 'Waves Smart Assets':
The bullish sentiment, however, has been following Waves for a while now. The coin has been rising since the beginning of December, when the team announced a long-awaited update on the Waves Mobile app, which included a fully integrated decentralized exchange and allowed for purchases of Waves tokens directly with credit cards from within the app, making the token much more accessible with fiat currencies than it has been in the past. So far, the app has more than 100,000 installs in Google's Play Store for Android devices.
Out of the top 50 coins, almost none other comes close to Waves. In terms of 24 hour price gains, only Decred is in the green with around 5%, as others are much closer to zero. When it comes to 7 day price increases, Waves is joined by EOS (10%), Tezos (12%) and QTUM (12%) as the only ones with a double-digit percentage.
Among Top 51-100 coins, some of them shine even brighter. After the 40% drop today, DEX is still up by 23% in the past 7 days, while Bitcoin Private jumped by 40%, TenX by 49%, and Dentacoin by 51% in the same period of time.
---