Waves Turns into Tsunami as it Surged by More than 50%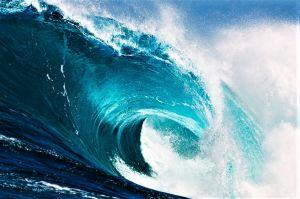 Even in the midst of depressed crypto prices and a stagnant market, one blockchain project is getting attention. Smart contract, decentralized exchange, and token development platform Waves has just seen a surge of interest from investors, despite the stagnation that the rest of the market appears to be stuck in.
It seems that the new wallet release was the trigger behind the current rally in Waves' price, propelling it from USD 1.46 to a high of USD 2.25 (+54%) on Tuesday, before falling back and trimming its gains to 38% (UTC 06:10 AM). In either case, it's the best-performing coin in the top 50 cryptocurrencies by market capitalization.
Waves price chart: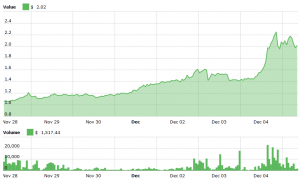 The company has announced a range of positive news recently, including several new exchange listings, a full integration with the Ledger Nano S hardware wallet, and most recently the roll-out of its new Waves Mobile Wallet.
We are excited to announce a long-awaited update of the #Waves Mobile app! Deposit, store and withdraw your #crypto securely, trade your assets on DEX, lease your $WAVES — everything is now available right on your smartphone! Read more about it here: https://t.co/5Qp7YKTa8r pic.twitter.com/y5hsCXj2GV

— Waves Platform (@wavesplatform) December 3, 2018
The Waves Mobile Wallet now includes a fully integrated decentralized exchange and allows for purchases of Waves tokens directly with credit cards from within the app, making the token much more accessible with fiat currencies than it has been in the past. So far, the app has more than 100,000 installs in Google's Play store for Android devices.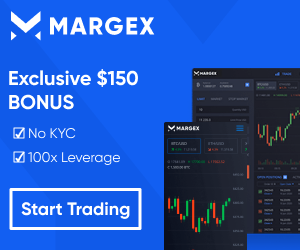 However, the price rally started several days before the news were announced, suggesting that there was a possible trading based on "tips" from insiders in the crypto market. As Cryptonews.com reported on previously, similar suspicions trading activity was also seen prior to the listing of Basic Attention Token (BAT) on Coinbase in late November.
So far, the price rally has been sharp for Waves, which makes it unlikely that it will continue this way in the short-term. Long-term, however, there may be an opportunity for Waves to prove that it can truly match up with its better-known smart contracts competitors Ethereum, EOS, and 0x.
Waves is a platform that was founded by the Russian entrepreneur Alexander Ivanov back in 2016, and has been operating out of its Moscow office ever since.