Litecoin Price Prediction as LTC Falls to $80 Level – Here are the Key Levels to Watch Now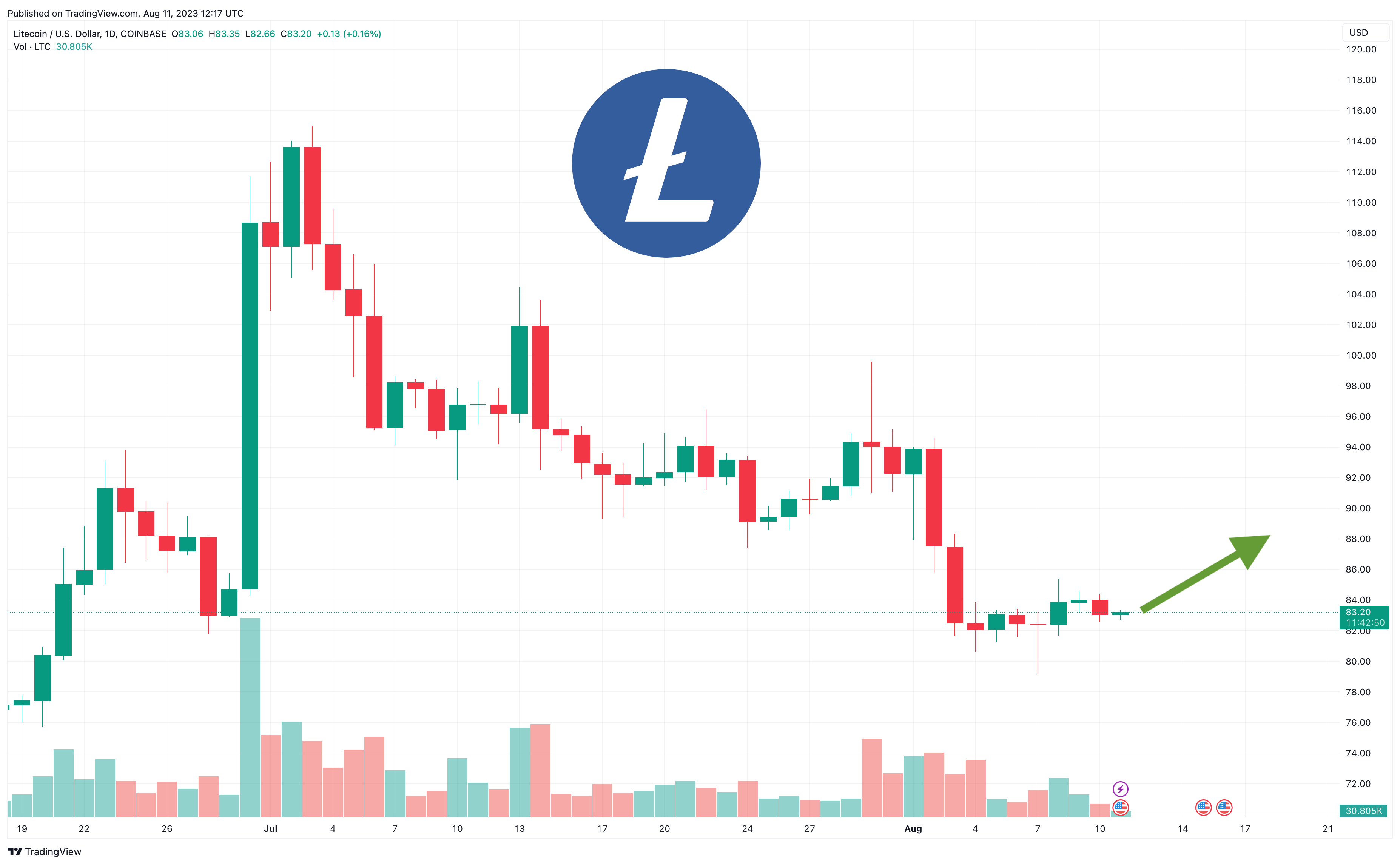 The Litecoin price has dipped by 0.5% in the past 24 hours, with the altcoin's fall to $82.98 also representing a 14% fall in the last 30 days.
LTC's troubles come in the wake of last week's halving, which has failed to set alight the cryptocurrency market, and which seems to have been a classic example of a 'sell the news' event in crypto.
And given the coin's disappointing performance in the wake of this event, it's possible that LTC may fall a little further before it recovers again, although it is showing some signs of growth that may pay dividends in the not-too distant future.
Litecoin Price Prediction as LTC Falls to $80 Level – Here are the Key Levels to Watch Now
LTC's indicators continue to show weakness at the moment, undermining any suggestion that it could see a big bounce anytime soon.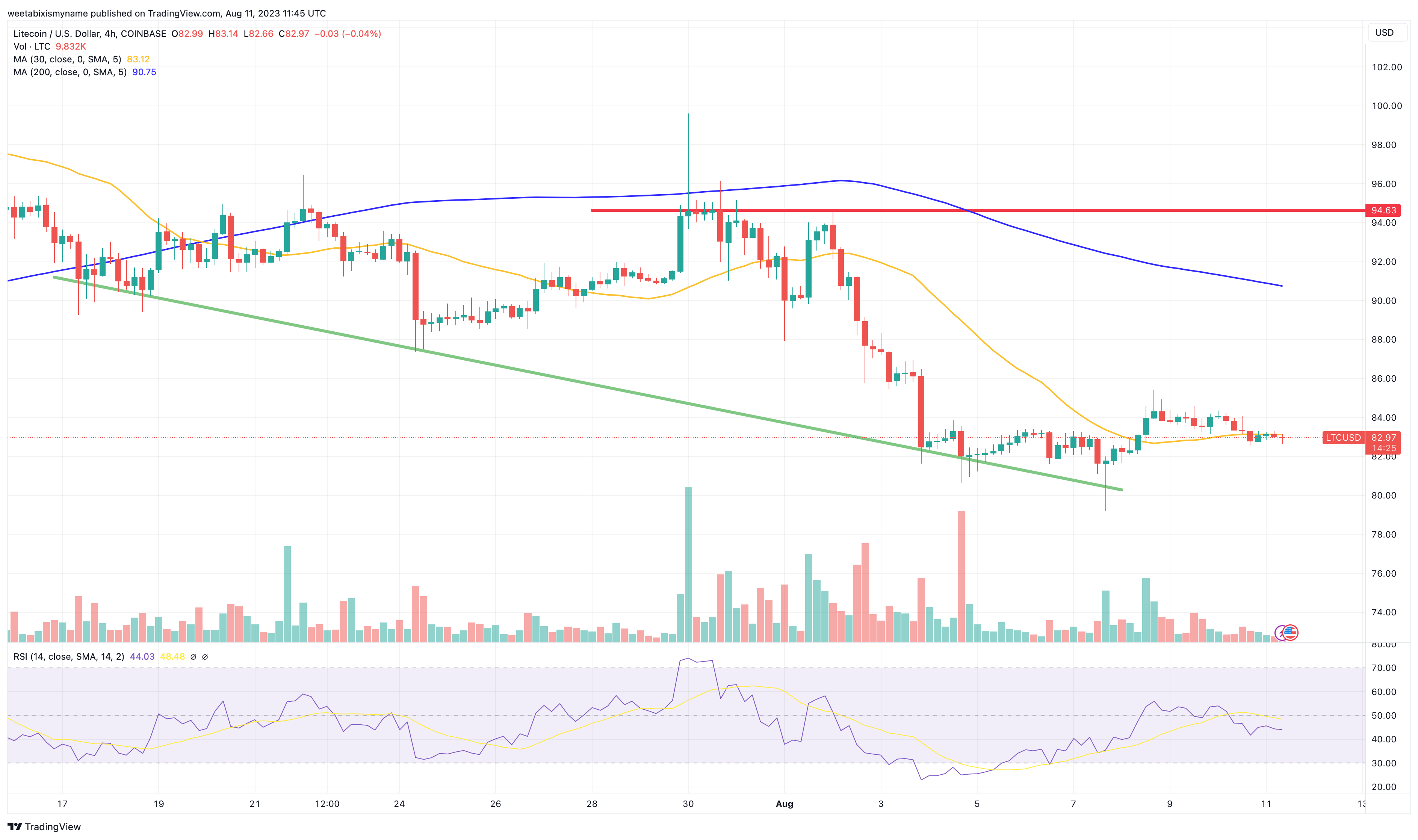 Its relative strength index (purple) has failed to crack the 50 level, and is actually sliding downwards slightly, signalling a further loss of buying interest and momentum.
Likewise, LTC's 30-day moving average (yellow) has stopped falling relative to its longer term 200-day average (blue), yet it looks like it's flatlining, with its failure to climb upwards suggesting that we won't see a major surge in the near future.
It should also be pointed out that the altcoin's support level (green) has fallen consistently since the middle of July, and while its floor seems to have stabilized in the past week, it would be unwise to rule out any further dips in the coming days.
And the thing with Litecoin is that, even with its status as the 14th biggest cryptocurrency in the market (in terms of market cap), there's nothing really fundamental on its horizon that it could lift its price.
As mentioned above, it marked its halving last week, yet the response of its price to this awaited event was to fall.
It were as if holders were disappointed that the coin didn't rise dramatically in response to the halving, and so as a result they offloaded their holdings and cut their losses.
Looking to the future, there's not much on Litecoin's horizon that would suggest an incoming rally.
However, it could still be in line for some steady growth over the next few months, given that it's showing some modest signs of expansion.
For instance, Gate.io this week listed LITE, a token based on the LTC-20 standard that shows how Litecoin is slowly becoming more than just a currency-focused cryptocurrency.
Of course, such developments are relatively minor when Ethereum, for example, currently has a total value locked in of $24 billion, yet they point to a future where Litecoin sees increased usage.
Based on this assumption, LTC may see a gradual recovery after falling close to $80 and perhaps a little lower, with the altcoin potentially returning to $85 or $90 in the next few months.
New Altcoins Have More High-Impact Potential
While LTC is likely to be a slow burner, there are other altcoins with more potential to surge in the shorter term.
This includes presale tokens, which can – if the coin is fundamentally sound and/or has enough community support – rally big upon listing on trading platforms.
A good example of such a coin is XRP20, a new ERC-20 token that has already raised just over $1.9 million in a couple of weeks.
This figure means XRP20 has reached its soft cap, with its sale having a hard cap of $3.68 million, which it's very likely to meet.
What's interesting about XRP20 is that it offers a kind of reboot of XRP but with a few interesting twists.
For instance, while it has the same maximum supply of XRP (100 billion XRP20), its status as an Ethereum-based token means it will also enable its holders to earn a passive income from staking.
On top of this, XRP20's sale is offering the token at a price of $0.000092, a level which the original XRP had in 2014.
This means it's offering investors the chance to make up for having missed out on the chance to buy XRP at the bottom, yet the coin also comes with deflationary tokenomics that should help push its price up higher.
In particular, 10% of XRP20's total supply will be burned over time, with 0.1% of every transaction also being destroyed.
Combined with the ability to stake, such tokenomics should help XRP20 appreciate steadily over time.
New investors can join the coin's presale by going to XRP20's official website and connecting their software wallets.
Disclaimer: Crypto is a high-risk asset class. This article is provided for informational purposes and does not constitute investment advice. You could lose all of your capital.
---