Ledger Valued At USD 1.5B, Plans DeFi Solutions, Own Operating System
France-based major manufacturer of crypto hardware wallet Ledger said it has "ambitious plans" in DeFi and other new services as it raised USD 380m, valuing the company at more than USD 1.5bn.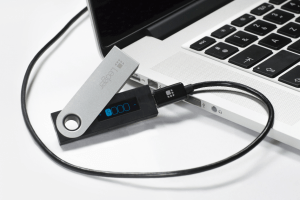 "The Series C fundraising will allow Ledger to realize these ambitious plans by further innovating its hardware products, giving access to new transactional services via Ledger Live such as Decentralized Finance solutions, and significantly expanding its enterprise capabilities," the company said today, adding that it will also invest in its proprietary Operating System, that would allow integrating new third-party services.
The latest Series C round was led by Dan Tapiero's 10T Holdings, with support from existing investors including Cathay Innovation, Draper Esprit, Draper Associates, and others.
The company estimates it secures 15% "of all cryptocurrency assets globally." Ledger said it has sold more than 3m hardware wallets in 190 countries to date, and has more than 1.5m monthly users of its app, Ledger Live.
"This Series C announcement marks the transition of Ledger from the leading digital asset security company to becoming the secure gateway to the entire digital asset ecosystem. This industry is fast becoming mainstream and reshaping the entire financial sector and beyond," Ledger's CEO Pascal Gauthier was quoted as saying in the announcement.
The company raised USD 8.3m in a Series A round in March 2017 and USD 75m in a Series B round in January 2018.
____
Learn more:
- Ledger Promises Funds Insurance As Client Data Leak Expands
- Samsung Adds 3rd-Party Crypto Wallet Support
- Ledger Hack Revisited with Pascal Gauthier & Matt Johnson
- Lawyers Fighting Craig Wright Also File Lawsuit Against Ledger and Shopify
- Trezor Sales 'Have Gone Through the Roof' Ahead Of Suite Launch
- Blockstream Debuts Open-source Hardware Bitcoin Wallet
---