Ledger Nano S Review (2023): Pros and Cons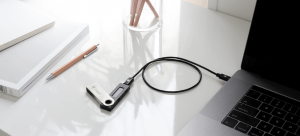 Today we review Ledger Nano S - the best-selling cryptocurrency hardware wallet with more than 1,4 million units sold. It is the most affordable option on the market with reliable encryption and security mechanisms. It will cost you approx USD 59.
In 2019, Ledger released an improved version of Ledger Nano S called Ledger Nano X. So if you wonder whether Ledger Nano S wallet is the most suitable cold storage option for you, this review answers the vast majority of questions that may arise.
Ledger Nano S hardware cryptocurrency wallet is a secure cold storage solution. It is best suited for novice cryptocurrency traders and holders who seek an affordable way to store several cryptocurrencies.
Click here to purchase Nano Ledger S immediately.
Ledger Nano S Review: Unboxing
As you may have seen in the video, the brand-new Ledger Nano S package contains:
Ledger Nano S device
A USB connection cable
A keychain, key lace, and a keyring
3 blank seed recovery sheets
Supported Cryptocurrencies
Ledger devices are known for supporting the most extensive range of cryptocurrencies among the hardware wallets. Ledger Nano S is not an exception - it supports more than 1100 different digital assets, including the most popular coins like:
Many of the assets supported by Ledger Nano S are unsupported by competing hardware wallets like KeepKey or Trezor.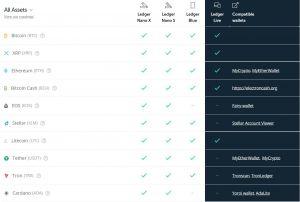 Ledger Nano S supported coins. Click on the image to see the full list of coins supported by Ledger.
Despite the variety of supported crypto assets, the main Ledger Nano S drawback is its limited internal memory. It lets you install only up 3-5 different cryptocurrency wallets (depending on the size of the wallet apps). It makes for a great hardware wallet if you want to store a few distinct types of coins or tokens (for example, BTC and ETH). However, it is an ideal solution for storing your entire altcoin portfolio.
There is a workaround for this issue, though. You can install wallet apps and set up wallets for storing coins and then uninstall them from the Ledger Nano S. Although that sounds counterintuitive, your private keys will remain in the device.
Removing apps after storing coins will help you to save extra space. However, it also means you will have to keep on reinstalling apps whenever you need to access certain wallets, which adds excess friction to the process. Besides, most people are not comfortable deleting their wallet apps with digital holdings. Another device by Ledger, Ledger Nano X, solves this issue entirely and allows you to keep as many cryptocurrencies as you like.
After reviewing Ledger Nano S multi-currency support, it becomes clear that Ledger Nano S is an ideal device for crypto beginners and investors with a limited variety of digital coins. However, it is not a perfect one-stop-shop solution for crypto enthusiasts with a diverse portfolio.
Note that limited internal space has its advantages too. It makes Ledger Nano S more secure, as well as a cheaper cold storage solution for investors who want to alleviate the risk of theft by keeping digital assets in multiple cold wallets and/or locations.

Ledger Nano S Security Features Review
A cryptocurrency hardware wallet is like your bank deposit box where you keep your most precious possessions. You cannot leave it unprotected, and the best way to do it is by employing the highest-grade encryption.
The devices by Ledger have earned consumers' trust and reputation for security. Even if your computer experiences a security breach, Ledger Nano S will keep your digital assets safe. It uses two layers of protection - ST31H320 (protection) and STM32F042 (OS) chips that store your private keys and sign transactions as separate pieces of hardware.
Besides, Nano Ledger S users can protect their coins by setting up a PIN code to unlock the device, as well as a passphrase used to grant access to the user's wallets.
Even today, there has been no reported case of Nano Ledger S device being hacked remotely. However, this makes it critical to keep your seed phrase offline and hidden so that no one has access to it. Do not record or store it online, as it may compromise your device's security. The most secure way to save your seed phrase is by using a dedicated robust mechanism like CryptoTag.
Even if your hardware device gets broken or lost, you can quickly recover it using its seed phrase. See the video below for instructions on how to restore your device from the seed phrase.
Ledger Nano S Review: Device Design
The device itself comes with a handy and easy-to-use interface. There is a screen and two navigation buttons on top of the device. Together, they all work to help you to access the device's menu, enter a pin code, select apps, and input recovery phrases. Although two buttons make it slightly tedious to enter PINs and seed phrases, Ledger OS guides you through the setup of your device. All you need to do is follow on-screen and Ledger Live (desktop app for Ledger devices) messages.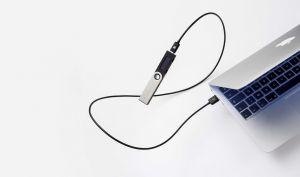 It is also easy to connect your Ledger Nano S to the computer by using the provided micro-USB cable. Nevertheless, the tiny screen does get in the way sometimes, especially when you need to confirm long receiver addresses when making transactions. However, it's a minor inconvenience - it does get easier once you get used to it. It is what makes Ledger Nano S reliable and secure - it is simple and has limited internal space capacity and screen, but these limits also leave no room for error for hackers to steal your funds, which is why Ledger Nano S is admired for its design and security.
Hardware Wallet Price Comparison
Unless you're a cybersecurity guru, having a secure cold or an encrypted hardware wallet is a must in your crypto game plan. As the brief history of the industry has already shown multiple times, you cannot trust third-party service providers. They are not banks, so when things go south, you would be naive to expect a reimbursement.
As of 2022, the Ledger Nano S cryptocurrency wallet is by far the most affordable option in the market and is one of the most recommended hardware wallets out there. Here is how the most popular hardware wallets compare with each other:
| Device | Price | Release Date | Supported Cryptocurrencies |
| --- | --- | --- | --- |
| Ledger Nano S | $59 | 2016 | 1100+ |
| Ledger Nano X | $119 | 2019 | 1100+ |
| Trezor One | $78 | 2014 | 1000+ |
| Trezor Model T | $170 | 2018 | 1000+ |
| KeepKey | $79 | 2015 | 40 |
Ledger Nano S Review: Conclusion
As we've learned by reviewing the Ledger Nano S hardware wallet, simple is the new secure. Despite its low price, it's the lack of extra features that makes Ledger Nano S the most secure hardware wallet option. By keeping it simple, Ledger Nano S constitutes an affordable, simple, safe, and yet versatile hardware wallet for both new and seasoned cryptocurrency fans.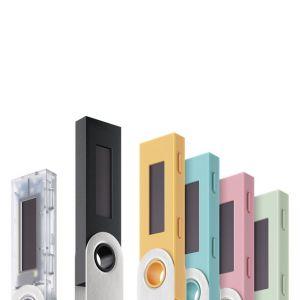 How to set up a Ledger Nano S hardware wallet?
Here is a step-by-step guide on how to set up and configure your brand-new Ledger Nano S device.
Plug in your Ledger Nano S into the computer to turn it on. Use the provided micro-USB cable that came with it in a box for a secure connection.
Set up a PIN code. The device's screen will light up and will ask you if you want to configure it as a new device. Use the top buttons to confirm that, and set up a 4-7 digits PIN code. Every time you select a number, confirm it by pressing both top buttons at once. Memorize the code, as you will need to enter it every time you'll need to use the device.
Record your recovery (seed) phrase. Next, Ledger Nano S will show you a series of 24 words. Record them in a secure, offline place. You can use the provided recovery phrase sheets that came with the device in the box. Make sure that every word is recorded correctly. Be careful because if you lose your recovery seed, there will not be any other way to recover your funds. Use a device like Cryptotag for the most optimal recovery seed.
Confirm your seed. Once you are done writing your seed, the device will ask you to confirm it by asking for two random words from your seed phrase. For instance, it may ask you to confirm word no. 12 from the sequence. Use the top buttons to navigate towards the 12th word from your recovery phrase and confirm it.
Install Ledger Live App on your computer. Ledger Live is a companion app to your hardware wallet. Download it directly from Ledger's website. If you want, you can install Ledger Live on your phone, too.
Set up Ledger Live and install apps for your coins. Follow the on-screen instructions, set up a strong password, and install the apps for cryptocurrencies you want to hold on your Ledger Nano S. Note the Nano S has limited space when it comes to these apps, so you can install 3-5 of them until it runs out of internal memory.
Create wallets and send cons. Follow the on-screen instructions to create wallet addresses for your coins and send them there. Here you have it, your own secure cold cryptocurrency wallet!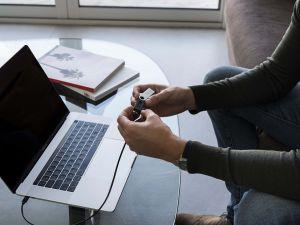 Click here to get a brand new, authentic Ledger Nano S directly from the Ledger's store.
---
Other Cryptocurrency Guides