July Sees Surge in Bitcoin NFT 'Ordinal' Inscriptions, Approaching 3.6 Million Monthly Mark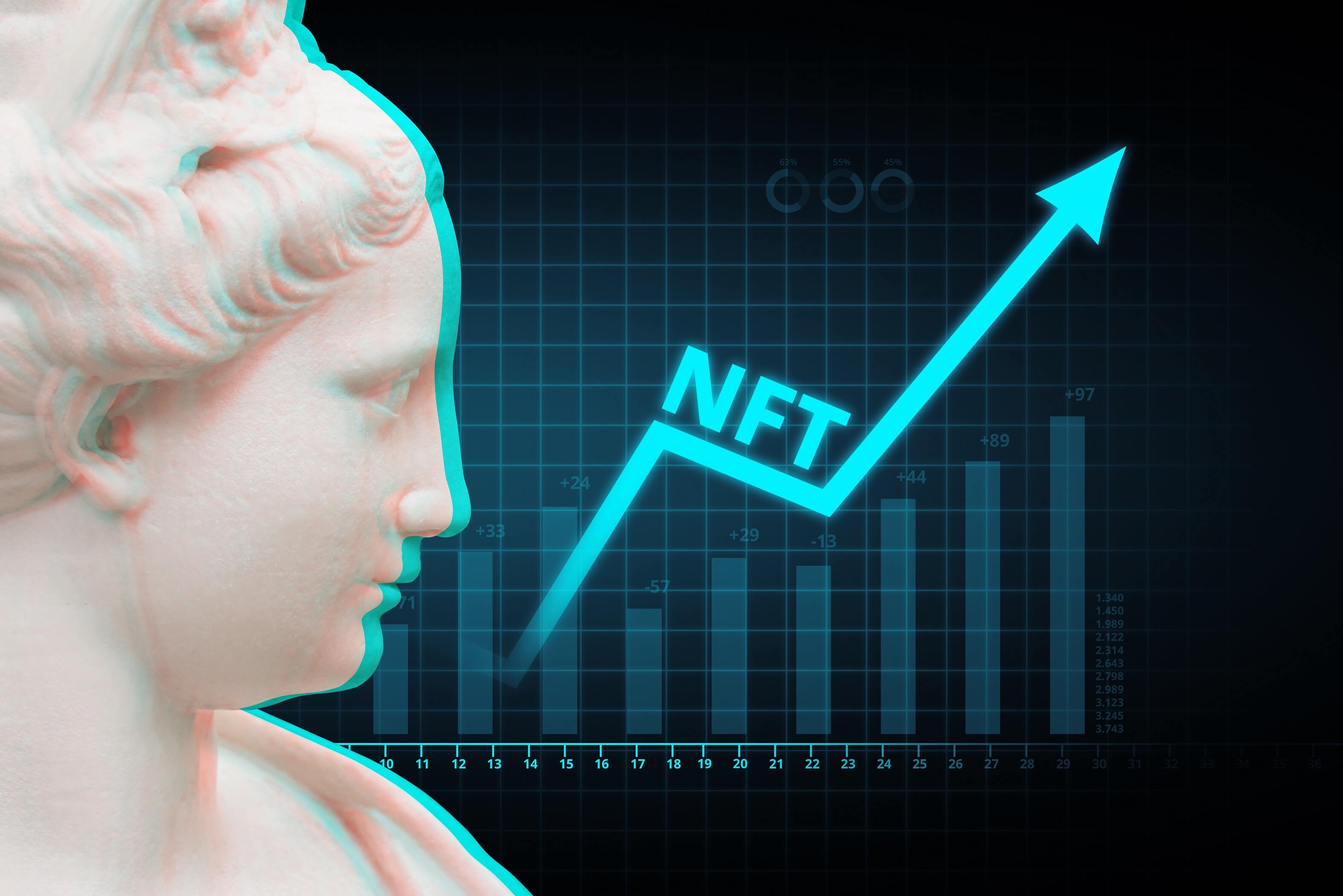 Bitcoin Ordinal inscriptions volume has recorded a significant rise in July, with the month so far seeing nearly 3.6 million of them, pushing the total number to nearly 18 million.
According to Dune Analytics, following a somewhat calmer period in June, the inscriptions volume has jumped again this month.
Notable daily spikes can be seen during the past two weekends: July 8-9, followed by July 16.
Saturday, July 8 marked 350,524 daily inscriptions. The day after, Sunday, saw a jump to 385,920. Compared to this, the following Sunday, July 16, recorded a slight drop to 385,604.
The daily inscriptions volume hit its record high of 400,091 on May 7 - the highest point since Bitcoin Ordinals came onto the scene in December 2022.
Therefore, the July 9 and July 16 peaks are the second and the third highest points, respectively.
Looking further into the July numbers, the last weekend (July 15-16) was quite busy, with 647,664 inscriptions over Saturday and Sunday together.
The weekend before that (July 8-9) recorded 736,444 inscriptions.
In total this month, until July 18, there have been 3,577,123 daily inscriptions recorded.
In comparison, the entire month of June had 3,916,627.
Meanwhile, May saw 7,732,127 inscriptions. Notably, crypto exchange giant Binance started supporting Ordinals in May.
That said, there have been 17,992,824 total inscriptions to date.
Ordinals - Inscriptions (Overtime)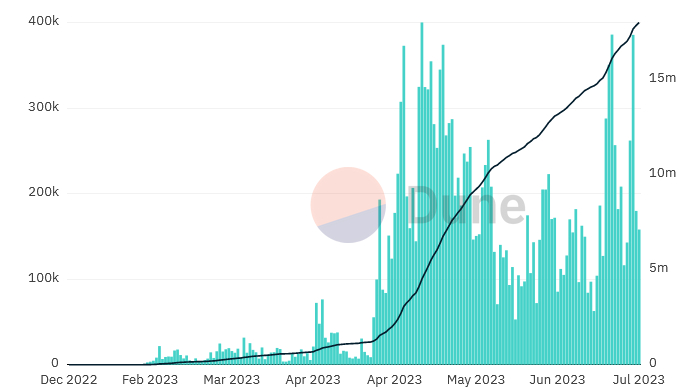 $55M Paid in Fees
Bitcoin Ordinals is a new protocol designed by former Bitcoin Core contributor Casey Rodarmor, launched at the end of 2022. It took off in February 2023.
The Ordinals protocol allows users to embed data into the Bitcoin blockchain. It uses "inscriptions," which are arbitrary content like text or images that can be added to sequentially numbered satoshis to create unique "digital artifacts."
Basically, the protocol provides a new way to put non-fungible tokens (NFTs) on Bitcoin, given that it's cheaper to do so now.
To date, some BTC 1,838, or nearly $55.4 million, has been paid in ordinal fees.
Ordinals Fees Paid (Overtime)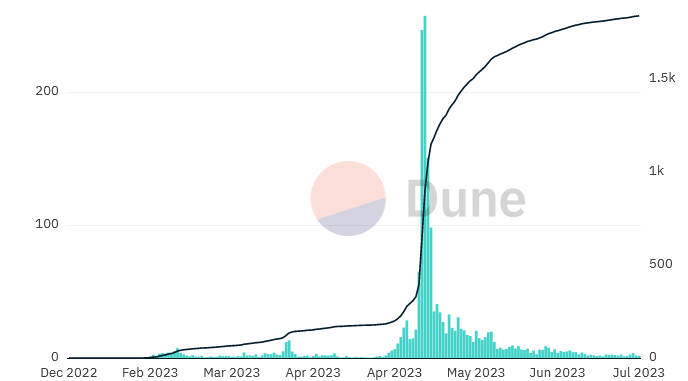 Finally, looking at specific categories, we see that the most popular one in July has been 'other'.
On the other hand, up until late June, the busiest category by far was 'text'.
Ordinals by Type (Overtime)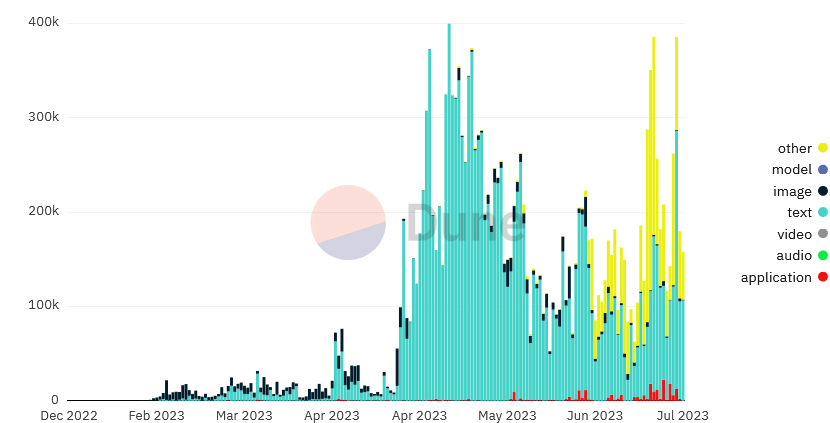 Meanwhile, according to CryptoSlam, NFTs minted on the Bitcoin network have seen sales worth $121 million in the past 30 days, $16.6 million in the last 7 days, and $1.15 million in the past 24 hours until the time of writing (10 UTC).
____
Learn more:
- How Ordinals Proved Bitcoin Can Evolve With the Times
- Yuga Labs' Experimental Collection

- Bitcoin Ordinals Launchpad Introduces BRC-69 Standard, Promising 90% Cost Reduction
- Ethereum Founder Vitalik Buterin Credits Ordinals NFTs for Reviving a "Builder Culture" on Bitcoin
---