Is It Too Late to Buy Bitcoin Cash? BCH Price Spikes Up 4% as Green Crypto Chimpzee Surges Past $1 Million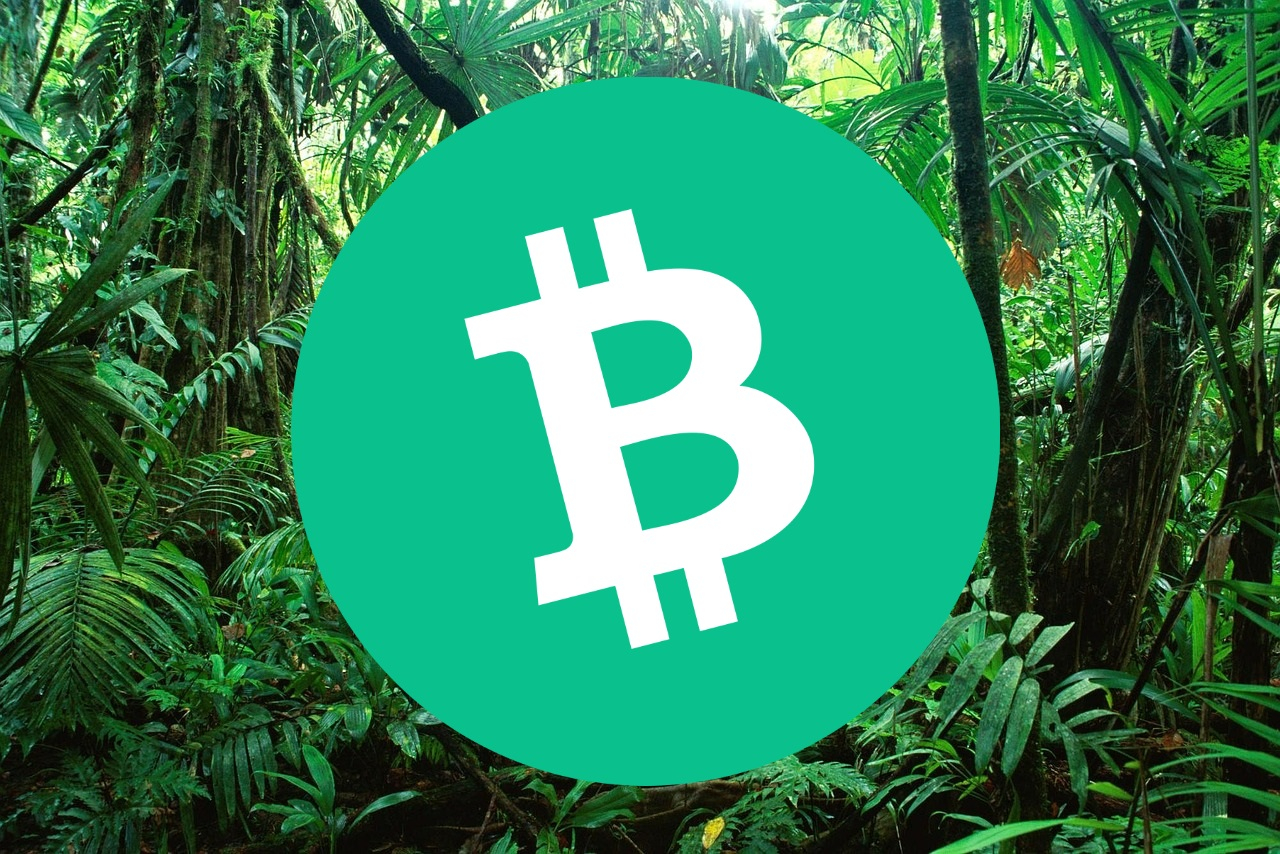 Bitcoin Cash (BCH) is once again on the climb, after a strong consolidation period sets stage for latest push-up, but how high could BCH go - find out in BCH price analysis.
So far Bitcoin Cash holders have endured a tumultuous July, with price action bleeding out -18.4% in a month long retracement move driven by recovery rally rejection at $330 on June 30.
BCH Price Analysis: Can Bitcoin Cash Resume Recovery After Strong Consolidation?
But now BCH appears to be bouncing back, with BCH currently trading at $252 (24 hour change of -0.36%).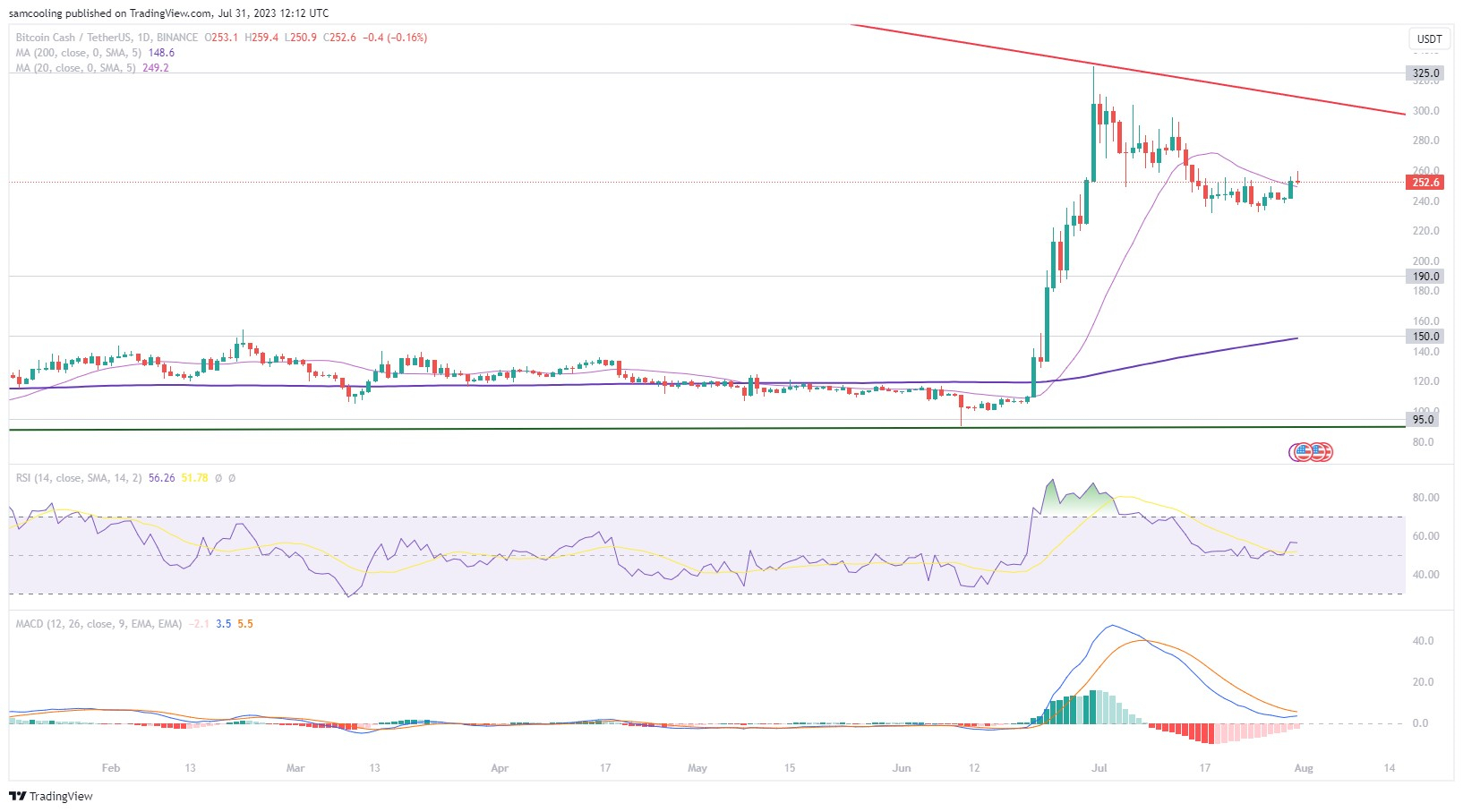 Upside movement was ignited on Wednesday 26, as two weeks of consolidation around the $250 price level finally gave way to buy pressure.
In the week since Wednesday, BCH has gained +7%, crucially reclaiming strong technical structure with a foothold just above the 20DMA around the $250 price level.
This vital stake in the ground could mark a resume to the impressive rallying structure seen in late June - which saw BCH climb +190% in less than a fortnight.
However, there could be some cause for concern, with BCH's upside move ringing alarms on key altcoin indicators.
Bitcoin Cash's RSI has heated up on the recent move, rising to showcase minor bearish divergence with an overbought signal at 55.86.
This view receives confirmation from the MACD, which also signals bearish divergence at -2.1.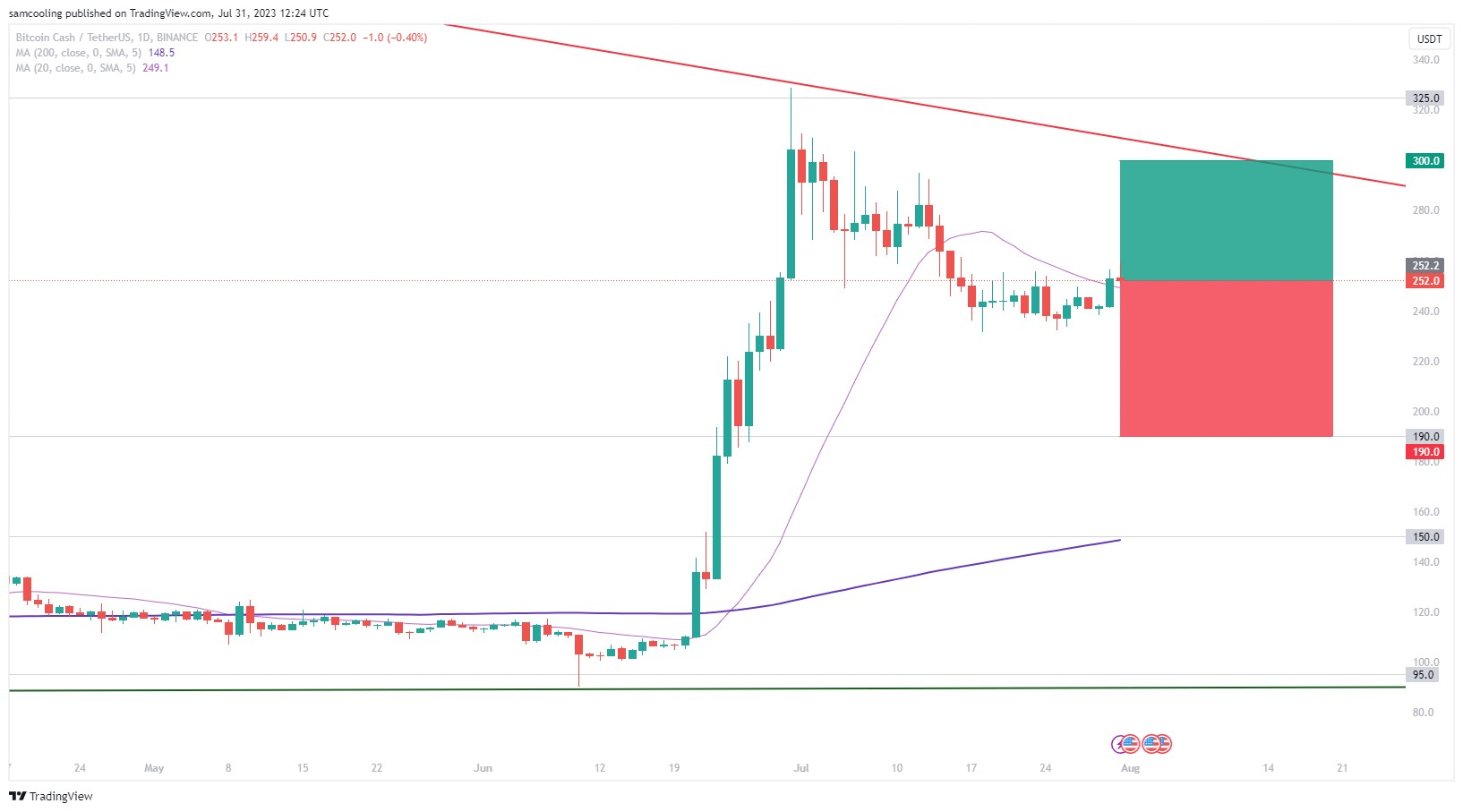 And despite the apparent recovery, BCH is facing a tough risk: reward profile, with upside potential here limited by a significant resistance level at $300 (limiting local upside moves to +18.95%).
Worse still, downside here remains significant, with a rejection of support from the 20DMA likely to drive a crash down to lower support at $190 (creating downside risk up to -24.6%).
This leaves BCH with a challenging risk: reward ratio of 0.77 - an entry characterized by looming downside risk.
Best Bitcoin Cash Alternative? Meet Green Crypto Chimpanzee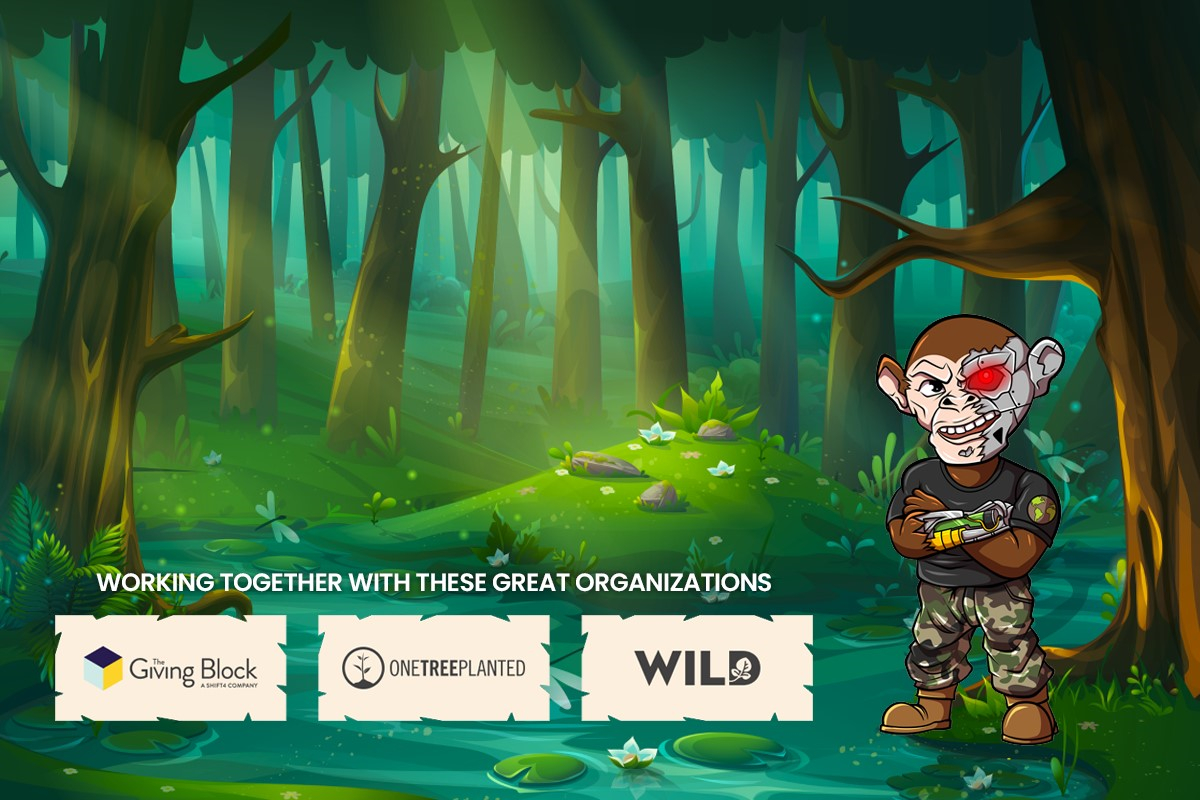 As a cutting-edge crypto project, Chimpzee, or Green Crypto Chimpanzee, has already hit a major milestone, raising an impressive +$1m during its $CHMPZ token presale.
This eco-centric platform offers a unique opportunity for investors to become part of an environmentally conscious project while benefiting from lucrative returns.
Green Crypto Chimpanzee's central ethos involves environmental sustainability and wildlife conservation.
It harnesses the power of blockchain to reward users who contribute to these goals, in doing so the platform boasts a broad spectrum of features, including an online shop, an NFT marketplace, the Zero Tolerance Game, and a novel NFT passport system.
The online shop serves as a marketplace for users to purchase goods, earning $CHMPZ tokens in the process, and what's more? Every sale contributes to green initiatives, adding an additional layer of value to each transaction.
The NFT marketplace allows users to trade eco-friendly NFTs and earn passive income, while the Zero Tolerance Game is an engaging way to educate players about wildlife conservation and climate change, rewarding them with tokens as they progress.
In addition to these features, Green Crypto Chimpanzee has incorporated a unique NFT passport system, providing its holders with access to additional earning opportunities.
There's also an AI-powered Avatar generator mobile application, enabling users to create personalized Chimpzee avatars.
Green Crypto Chimpanzee: Combining Sustainability with Profitability

The presale of $CHMPZ tokens is currently at stage 8, trading at a discounted price of $0.000775 per token.
This makes it a highly attractive opportunity for both retail and institutional investors, allowing them to acquire $CHMPZ tokens at a lower price point before it reaches the next stage.
The ongoing presale, dubbed "Save Black Jaguar," aims to raise $1.5m to support the conservation of this endangered species.
With just $21,000 remaining to meet this goal, now is the time to invest, the Green Crypto Chimpanzee team is offering a 300% bonus for each investment made towards achieving this fundraising target.
Contribute to a Sustainable Future with Green Crypto Chimpanzee
As a potential investor, the Green Crypto Chimpanzee presents a lucrative and socially responsible investment opportunity.
The $CHMPZ token stands at the center of a fast-growing economy, powered by the fight against climate change and the preservation of wildlife.
So why wait? Join the presale today, invest in a green future, and enjoy the rewards that come with it.
---