Immediate Vortex Review – Scam or Legitimate Trading Software
Disclosure: Crypto is a high-risk asset class. This article is provided for informational purposes and does not constitute investment advice. By using this website, you agree to our
terms and conditions
. We may utilise affiliate links within our content, and receive commission.

Disclaimer: The text below is an advertorial article that is not part of Cryptonews.com editorial content
Immediate Vortex promises to help investors chart the crypto frontier with confidence. Helping with that, according to the website, are info-focused tools that include market research and analysis facilities, tutorials, updates, and charting modules.
But how true are this platform's claims of helping investors "stay a step ahead at all times"? Assessing the veracity of these claims is the subject of our Immediate Vortex review for 2023.
Immediate Vortex Summary

The marketing content given on the official website portrays the platform as user-centric. But before we get into assessing these claims, here are the key elements to know about it:
| | |
| --- | --- |
| Supported Crypto | Cryptocurrencies, CFDs, Stocks, and more |
| Accuracy Rate | Not specified |
| Available on Mobile | No mention of an app |
| Fees | Not mentioned |
| Customer Support | Available 24/7 |
| Withdrawal Speed | Claims to be instant |
| Minimum Deposit | $250 |
Cryptocurrencies are unregulated. Trading with unregulated brokers will not qualify for investor protection
What is Immediate Vortex?

The crypto space is changing rapidly, with volatile trends increasingly becoming the norm and making it difficult to navigate the market. In light of that, Immediate Vortex promises to be a trading system that, in addition to having all the "bells and whistles" of a standard trading platform, claims to have in-depth analysis, customized charts, and a "thorough reporting system."
This approach, according to Immediate Vortex, will help "streamline crypto trading" and let investors engage with simple to complex trades with ease.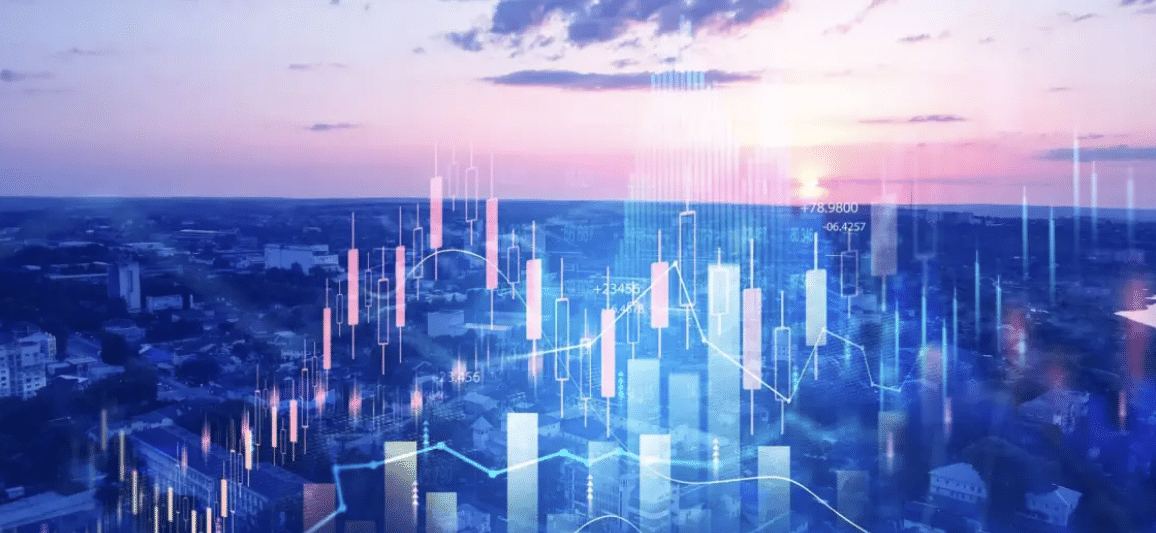 These tools consist of standard charts such as candlesticks and bar charts that give a holistic view of the market in real-time. For more in-depth analysis, Immediate Vortex also claims to deliver multi-monitor support. The third tool that the platform has listed consists of histograms that give a long-term view of an asset's performance.
To deal with the complex nature of these tools, the platform also claims that 24/7 customer support is always on standby. The FAQ section of the website also hints at there being updates and tutorials to help investors consider sentimental indicators when trading.
None of what is written on the website seems to indicate the presence of a crypto trading bot. All trading is manual, which means most of its features are conventional.
That said, it is only to this extent that we know how the site might work. There are no details given about the fee or the minimum deposit. While the site mentions a "simulation trading facility for strategy testing," it is only available for registered users who have deposited the required amount.
Due to the general lack of information on the website, we recommend being careful when trading on the platform. Invest only what you can afford to lose, and remember that profits are never guaranteed when buying and selling crypto.
Immediate Vortex Pros and Cons

Here are the pros and cons we deciphered upon reading the marketing copy of the website:
Pros
Claims to provide a simplified trading experience
Asserts that it helps beginners go through the steep learning curve
Offers in-depth market research and analysis tools
Charting tools are available – per the claims
Apparently, it features a robo-advisor
Supports multiple forms of trading
It is an info-focused platform
Cons
No details about the fee or the minimum deposit
Offers no information about the team members
How Does Immediate Vortex?

As we read through the entire content available on the website, we found that its offerings are not so different from a standard trading system. Most of what's written on the website says it has manual trading functions.
You log in to the website and might encounter a standard utility where you can analyze the charts, see the updates, and buy and sell tokens. And since it has been mentioned that users can also engage in complex trades, it might also have options trading available as well.
However, much of what the website tells us falls short regarding information. It does not discuss its features or the analytical tools it offers. So, as a standard, you may want to think of it as a standard crypto trading system with no features remotely similar to an AI crypto trading bot.
That said, there is a demo account available, per the claims. This account lets users test their trading strategies before starting. This feature is locked behind a deposit requirement, but there is no information about what that deposit requirement is. We recommend talking to the customer support team for answers.
Immediate Vortex – Top Features

Listed below are the top features of Immediate Vortex:
Simple to Use Platform
Immediate Vortex claims to have been designed for beginners and novice investors. Per the claims, anyone can use the website as there are tutorials available to help investors through the steep learning curve.
Market Analysis and Charting Tools
Per the website, users can access charting and market analysis tools to analyze the market and make informed trading decisions. This feature allows users to develop strategies before starting trading.
Demo Account
Per Immediate Vortex, users can get access to simulation trading for testing strategies, allowing them to test their trading strategies before implementing them on live markets.
Multiple Cryptocurrencies Supported
There are multiple cryptocurrencies supported on the platform, according to the claims. While the names of assets have not been given, we guess popular cryptos like Bitcoin, Ethereum, Cardano, and more can be bought and sold. CFDs, stocks, and indices are also available on the website, apparently.
Desktop and Mobile Trading
Per the website, Immediate Vortex is supported on both desktop and mobile phones. While the site does not mention a mobile app, the platform is accessible on all devices.
Cryptocurrencies are unregulated. Trading with unregulated brokers will not qualify for investor protection
Immediate Vortex – Fees

Upon going through the website, we found nothing about any fees. The table given below the platform's home page clearly states that there is no fee involved. Here, there is mention of payment method – so the fee-less attribute might only be for marketing purposes. We recommend talking to the customer support team to get this information.
Immediate Vortex – Minimum Deposit Requirement

While Immediate Vortex doesn't state what its minimum deposit requirement is, we recommend considering it to be around $250-$300. This is a common minimum deposit range for platforms like this. For more info, talk to the customer support team.
Is Immediate Vortex a Scam?

One of the questions that many might ask upon reading the minimalistic content of the official website is – is it a scam? The answer to this question, however, isn't that clear.
There are positives about this website that make it not be the case. The home page looks good, the site is interactive, and signing up is simple. The content, while not thorough, paints somewhat of a clearer picture of how the site might perform. Another plus point is the lack of any large claims. It doesn't guarantee profits; it doesn't claim to have a high win rate. All it claims is to provide a simplified trading platform.
However, it is verifying these claims that makes it difficult for us to assess this website fully; there are no reviews of this platform available online – which might be because it is quite new. Customer testimonials are also absent. We could have assessed these claims through testing, but even that requires a minimum deposit, information about which is unavailable on the platform.
These factors give us a mixed image of Immediate Vortex. Our recommendation would be to invest a minimum amount to check out the site's effectiveness. Invest according to your risk tolerance, and remember that profits are never guaranteed.
Immediate Vortex Customer Support

Customer support is available on Immediate Vortex, but only for those who register. Others will have to contact the team via the Contact Us page. However, we weren't able to verify if it works. However, Immediate Vortex says registered users can access the support team 24/7.
How to use Immediate Vortex?

If Immediate Vortex is a site that meets your requirements, here are the steps to start using the platform:
Step 1 – Create an Account
Go to the official Immediate Vortex website and start creating an account. Enter the necessary details to get started. Provide a burner number if you're prefer that the team reaches out to you only via email.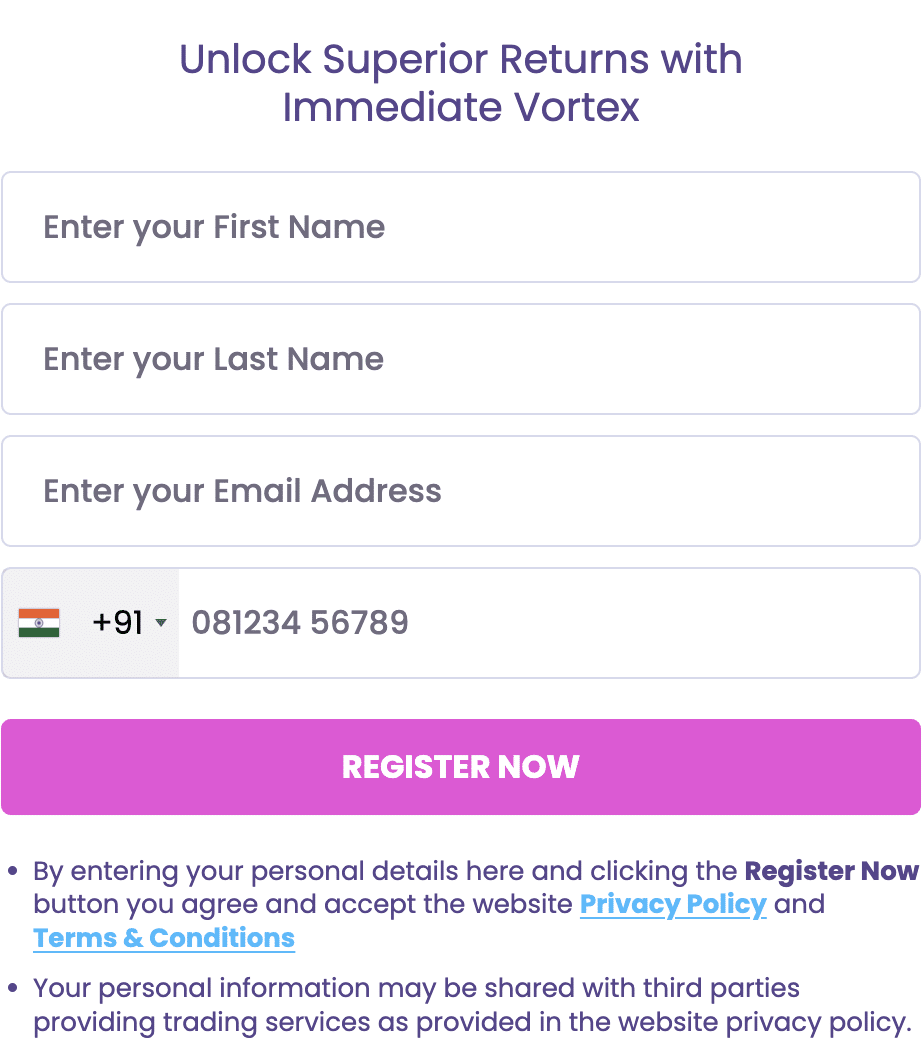 Step 2 – Deposit the Minimum Amount
An account manager will contact you during the account creation process, informing you about the minimum deposit. Deposit the required amount using the available methods, which apparently include credit card, PayPal, wire transfer, and others.
Step 3 – Start Trading on Immediate Vortex
Open the website once you have created an account. Log in and check the site's demo trading features – if available. Only move forward after fully comprehending how the platform works.
How to Delete an Immediate Vortex Account?

There is no information available online that could tell us about how the Immediate Vortex account can be deleted. We recommend reaching out to the customer support team for answers. Or, you can look in your dashboard and find the account deletion button in the settings.
Have Celebrities Endorsed Immediate Vortex?

No celebrity has endorsed Immediate Vortex. No claims are made about it, and third-party sites don't discuss it.
Who is the Founder of Immediate Vortex?

Immediate Vortex has no founder if you go by the information available on the platform. The About Us page says nothing about the developers, and there are no social media pages for us to look into. That said, it won't be out of the norm for a crypto trading platform to have anonymous founders.
However, Immediate Vortex doesn't look decentralized. Therefore, take caution when going to the platform.
Latest Bitcoin News

Since Immediate Vortex is an info-focused website, it is best to stay updated with Bitcoin-related news. Here are the key points about Bitcoin for the week ending on 5 October 2023.
While Bitcoin has climbed above the $30k mark in anticipation of the US SEC approving spot Bitcoin ETF applications, some experts worry that Bitcoin might have a bleaker future if the spot Bitcoin ETF application is not approved.
Bitcoin is closing in on the $35k mark with its recent climb. However, the market conditions are still volatile.
New cryptocurrencies are looking more appealing due to the recent trends in the market.
The Verdict

Immediate Vortex is an info-focused platform that claims to provide users with charts and analytical tools to make the right trading decisions. It makes no large claims, and all its features are conventional.
However, care must still be taken since, even in this case, there is no information available that could give us hints about the legitimacy of this platform. We recommend exercising caution. Invest only what you can afford to lose, and know that when trading crypto, profits are never a guaratee.
Cryptocurrencies are unregulated. Trading with unregulated brokers will not qualify for investor protection
FAQs

What is Immediate Vortex?
Immediate Vortex is a crypto trading platform that claims to offer a streamlined trading experience through simplified tools. It supposedly features charting tools that make trading cryptos profitable for traders of all types.
Has Elon Musk endorsed Immediate Vortex?
While the doge-father, Elon Musk, has now become more receptive towards cryptocurrencies (especially Bitcoin), he has made no mention of ever using Immediate Vortex.
---