ICOs Visualized: Explosion at its Finest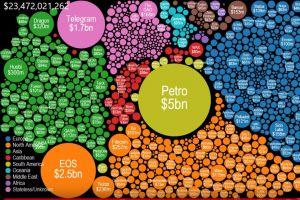 Initial coin offerings (ICOs) are the most popular new way to fund your startup, regardless of whether it is blockchain-based - although the majority is. Exactly how popular is hard to explain using just words and numbers, in spite of the numbers reaching unimaginable heights.
Blockchain startup Elementus released a video on their YouTube channel that shows the token sale explosion visualized, from January 2014 until March 2018. The ICOs are shown as bubbles, color-coded by area of origin (pink for stateless/unknown) and their size correlates to how much money they raised. Watching the bubbles pop out of the blackness is a strangely satisfying feeling.
ICOs first started in 2013, when the first one was held by Mastercoin. Ethereum has also held one of the earliest ICOs, as theirs happened in 2014, and they raised 3,700 BTC in the first 12 hours, equal to approximately USD 2.3 million at the time. But the increase in popularity held low for the first few years, with 2018 being dubbed "the year of the ICO" as the total amount raised only in the first quarter of this year already exceeded all of 2017. Even excluding Telegram, a messaging app, (which only had two pre-sales, in which they raised a total of USD 1.7 billion), on average, an ICO raised 29 percent more this year.
The best-performing ICOs for the first quarter of the year are also a sight to behold. Best understood through the infographics embedded in the article, ICOs in the first quarter have performed better than the S&P 500, the American stock market index based on the market capitalizations of 500 large companies.