How to Buy C+Charge Token – Step-by-Step Guide for Beginners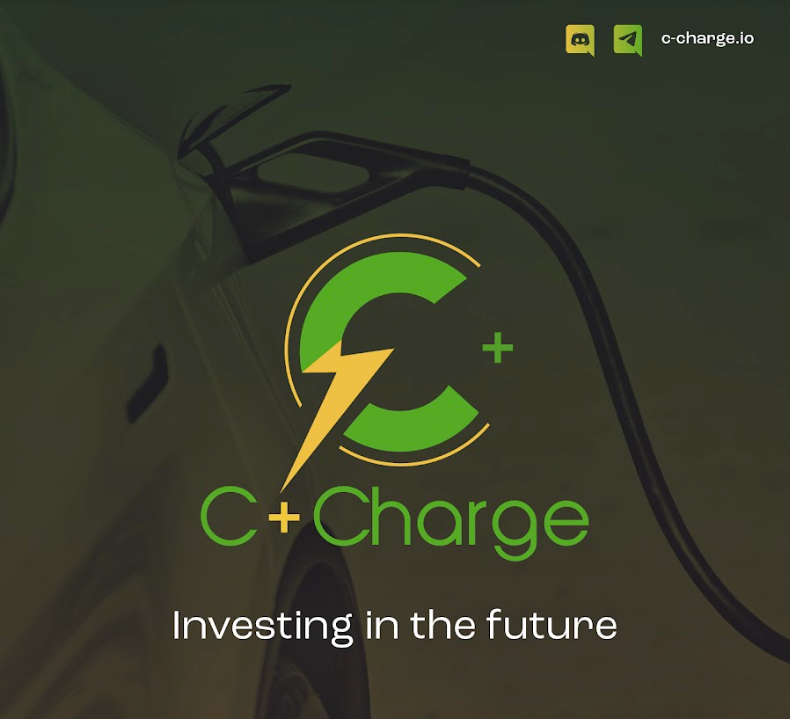 Disclaimer: The Industry Talk section features insights by crypto industry players and is not a part of the editorial content of Cryptonews.com.
We're witnessing massive growth in the EV industry. Together with it came countless solutions that rely on new and eco-friendly technologies.
C+Charge is built on blockchain technology that aims to reduce carbon pollution and create a cleaner and healthier environment for future generations, making it one of the most sustainable crypto projects on the market.
Its ecosystem relies on C+Charge tokens, designed to incentivize people to take care of the environment and get potentially substantial financial benefits in return. This guide will show you why C+Charge tokens are a potentially wise purchase and how to buy them.
Potential investors should note that there is now extremely limited time remaining in the CCHG token presale, which is due to close on Wednesday, March 29, 2023, with the IEO taking place on BitMart on Friday, March 31, 2023.
What is C+Charge?
C+Charge is a revolutionary Move-to-Earn (M2E) ecosystem that aims to utilize blockchain technology to promote new and advanced solutions for reducing air pollution by maintaining a healthy and clean environment. At the same time, C+Charge entices people to join the movement by offering them lucrative rewards in return.
C+Charge gathered a team of devoted experts to identify the main weaknesses of the existing EV system. Lack of transparency, regulation, payment solutions, and inadequate incentives for people who use EVs have been marked as the main drawbacks of the existing system.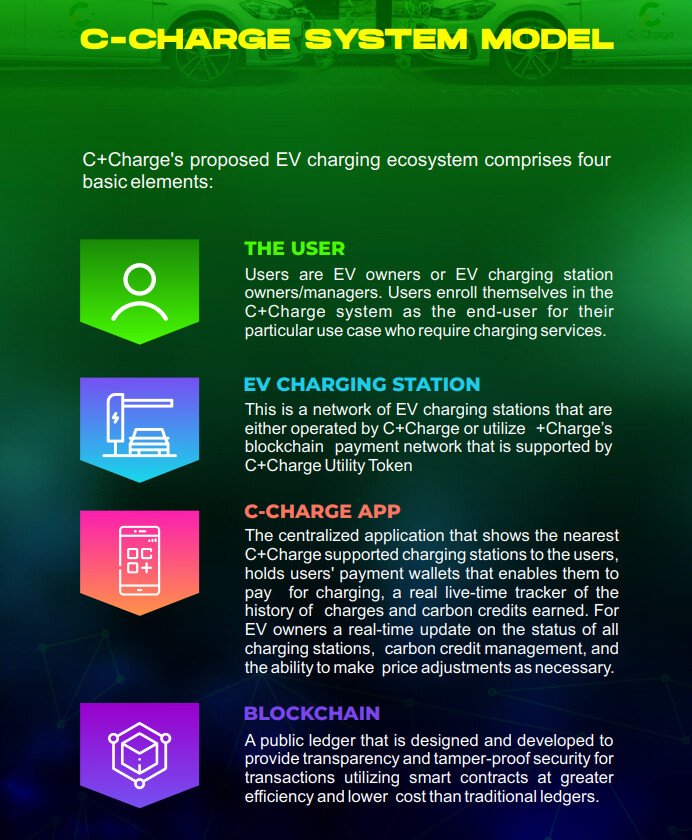 By partnering with the leading organizations in the EV sector, C+Charge aims to deliver a solution for all existing problems and help drive the industry forward. Together with Flowcarbon, the platform created a unique credit carbon token - the Goodness Nature Token (GNT). The idea is to allow users to collect tokens and pay for EV charging services at partner stations.
C+Charge is also working toward creating a revolutionary Peer-to-Peer payment system with the C+Charge token (CCHG) at the center of its ecosystem. Consequently, token holders will be able to make use of carbon credits, making it one of the greenest crypto projects.
We'll explain more about the token in subsequent sections. For now, keep in mind that the CCHG is available in presale. At the moment, crypto lovers have a unique opportunity to grab C+Charge tokens at a discounted price.
Simultaneously, note that there are limited tokens available for presale, around 40%, with a token burn in place after each presale stage is complete.
The public offer of the token started on December 25, 2022, and is currently in the closing stagea of the presale with more than $3.5 million already raised. With that in mind, here's how you can buy this promising token.
How to Buy C+Charge - Full Tutorial
The CCHG price is at its lowest in the beginning presale stage, which is critical to note if you're looking to obtain this token. The interest in this project was high even at the beginning of development.
Consequently, the C+Charge team decided to use the hype created around CCHG and offered the token early in what we've already dubbed one of the best crypto presales of 2023.
The main goal of the public offering is to help the company gather the necessary funds and further promote this token. The presale will have eight stages and, at the time of writing, C+Charge is in its final stage with tokens on sale for $0.0235.
Buyers can purchase tokens via various platforms - your home computer, laptop, tablet, or smartphone. Here are the steps to obtain CCHG tokens:
Step 1 - Set Up a Crypto Wallet
If this is your first rodeo, keep in mind that you need a crypto wallet to be able to purchase C+Charge. Much like your physical wallet, which you use to keep our money, you use your crypto one to store your CCHG (and other assets). You can use virtually any crypto wallet to purchase and store CCHG tokens.
However, C+Charge recommends using Trust Wallet for mobile users and MetaMask if you prefer desktop computers. This is the most secure and, by far, the easiest and fastest solution.
For example, if you wish to use MetaMask, all you need to do is to visit the official website and select the "Download" option. Choose your operating system (Windows, Linux, or any other you prefer) and follow the instructions. Once you download the wallet and create a strong password, you're good to go.
Step 2 - Get ETH, BNB or USDT
You can purchase CCHG tokens using ETH, USDT or BNB. Every ecosystem supports specific cryptocurrencies, meaning you won't be able to purchase C+Charge with BTC. However, you can swap your BTC for USDT and then purchase C+Charge tokens easily and with no fuss.
Also, it is important to note that C+Charge cooperates with Binance Smart Chain and recently added interoperability with Ethereum. All you need to do is to connect your wallet to one of the chains and select the corresponding option. Once you do that, you only need to specify the amount of C+Charge tokens you want to obtain.
Step 3 - Link Your Crypto Wallet to C+Charge Presale
This step is straightforward and requires you to visit the official page of C+Charge and choose the option "Connect Wallet." A new window will pop up and ask you to choose between two options: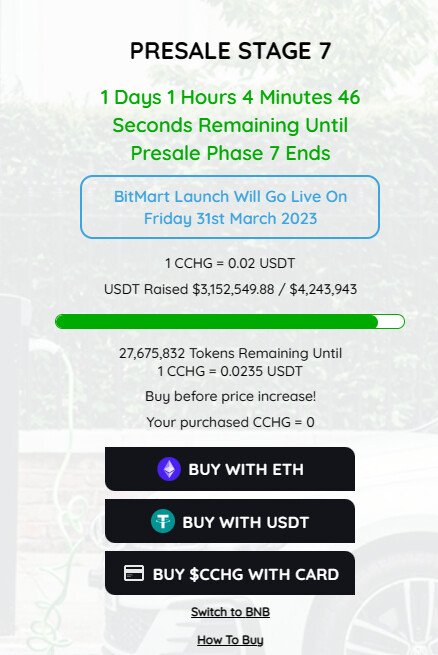 The website will provide you with detailed instructions on whichever option you choose.
Step 4 - Buy CCHG Tokens
The C+Charge website allows you to connect your wallet in no time. You'll notice an order box immediately once the link is established. From there, you need to insert the amount of CCHG tokens you wish to buy and confirm the transaction with the crypto wallet provider.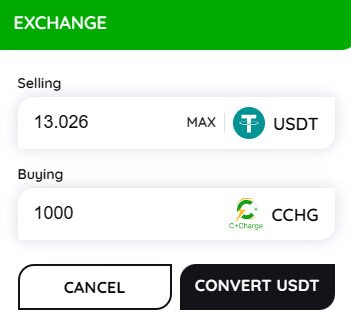 Note there is a minimum purchase of 1,000 CCHG ($23.50 at the time of writing).
Step 5 - Claim Your C+Charge Tokens
To clarify, presale means you can get your tokens at bargain prices. However, that does not mean you will be able to use your CCHG tokens immediately after the purchase simply because they don't exist yet.
Once the presale process ends, a Token Generation Event (TGE) will take place. This process will create your tokens, and they will be ready for you to claim. You claim your CCHG tokens by visiting the official C+Charge website and selecting the "Claim" option.
A Closer Look at C+Charge
What is C+Charge, and how does it work?
Based on blockchain technology, C+Charge aims to improve the EV industry by enhancing the user experience and incentivizing people to contribute to the environment. Using the app, EV users will be able to earn rewards while driving and charging their cars.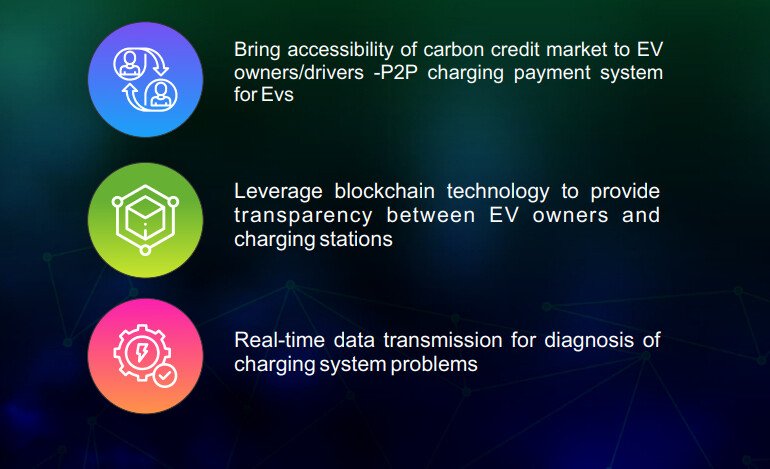 The lack of existing EV charging stations is just one of many issues. This project intends to build more stations and make them available to everyone through cooperation with several reputable partners within the industry.
In contrast to existing EV stations, C+Charge aims to develop a unique platform to deliver accurate and on-the-spot information about charging prices and stations' operating state.
Most EV users feel irritated by the lack of price transparency, meaning you learn about the price only after visiting the station. Not to mention that, most of the time, you find out whether the station is working only after you attempt to charge your vehicle.
To tackle this issue, the C+Charge platform will deliver price information to all its users, including the available locations and operating state of each charging station. Users will know exactly when, where, and at what price they can charge their EVs.
Carbon credits are probably the most controversial topic within the EV industry now. At the moment, earning carbon credits is almost exclusively a corporation affair. In other words, these credits were unavailable to "ordinary" people. The C+Charge app aims to revolutionize this segment by introducing its one-of-a-kind token - CCHG.
Consequently, users can earn carbon credits while driving and charging their electric vehicles. They can accumulate tokens and use them to pay for the charging services. Also, the C+Charge aims to create a unique peer-to-peer payment solution integrated with different payment options, and CCHG is at the center of it.
Here are the key details of the presale:
| | |
| --- | --- |
| Presale Started | December 25th |
| Purchase CCHG with | USDT, BNB, ETH |
| Chain | BEP-20 |
| Min. Purchase | None |
| Max Purchase | None |
CCHG Tokens - The Driving Force of the C+Charge Ecosystem
CCHG is a fungible token built on the Ethereum blockchain (ERC-20). Drivers can use the C+Charge native token to pay for the charging services within the app. On top of that, the token has real-life utility. Users can earn by accumulating carbon credits and holding their tokens.
CCHG inherited all the best blockchain features. For example, it uses smart contracts to charge its payment systems. It means that users can receive their funds once they complete a specific condition, which is charging and driving in this case.
Users' funds' safety is paramount for C+Charge, which is why CCHG tokens are hash encrypted. Furthermore, the token's distributed ledger uses the most secure hashing algorithm (SHA-256) to protect sensitive information. Ultimately, it makes transactions more secure.
You can use the C+Charge mobile app to keep track of your token balance and request additional payment information. C+Charge is also working on developing a unique NFT program in cooperation with major EV car manufacturers. This sector will mainly focus on the branding and promotion of EV companies.
The world is rapidly embracing the EV industry as the main solution for maintaining a healthier environment. Together with it, many experienced crypto-holders look at CCHG as a perfect opportunity to grab a valuable asset. If you consider that C+Charge plans to list their token on major exchanges like CoinMarketCap and CoinGecko Listings, it's understandable why many believe that CCHG's price could surge in 2023.
Should You Purchase C+Charge?
If you ever searched for any information about CCHG, you would have noticed a lot of talk about this token as the future of the EV industry.
If this trend continues, there is no doubt that the CCHG token's price will skyrocket in the coming months and years and will be among the best long-term crypto projects.
However, let's see if it is worth buying this token now and, if so, why.
Solving the Charging Stations Issue
One of the critical problems that C+Charge points to is the insufficient number of EV stations. As the number of electric vehicles increases, this problem will become more and more evident. The lack of stations causes unnecessary stress to many EV users that need to charge their vehicles, as the distance between two stations is often not enough to satisfy users' needs.
The idea of implementing the C+Charge ecosystem means promoting building more charging stations to enhance drivers' experience. The US currently has around 56,000 EV stations, with around 148,000 charging ports.
C+Charge's goal is to increase this number in the future, making it on of the most energy-efficient projects of 2023.
Allowing More Transparent Pricing
Drivers often only learn the cost of charging their vehicles once they pull up to a charging station. It's a massive problem in the EV industry that has existed for a long time. Conversely, this is not the case with petrol stations, which have accustomed drivers to clear and transparent prices.
The lack of transparency alienates potential EV users and is a major deal breaker for those considering making the leap from fossil fuels to EV vehicles. C+Charge offers a list of all EV stations and charging prices through its app so that users can choose the most convenient solution.
Real-Time Information
Only electric car drivers know how it feels when you have to charge your vehicle and the EV station isn't working. C+Charge will introduce real-time monitoring of charging stations, and users will have information about stations that are not in operation.
Earning Carbon Credits
The concept of earning carbon credits is not new and has been around for decades. As mentioned above, countless companies receive carbon credits as a reward for lower gas emissions.
However, the problem that C+Charge points to is precisely that carbon credits are exclusive to large corporations. One of the main reasons for the development of the C+Charge application is to give everyday drivers the opportunity to be rewarded for their contribution.
Better Payment Solutions
EV charging station owners have subscription plans. Depending on your location, you can usually choose one or two different plans. On top of that, every owner implements an intermediary payment system. As a result, many people that aren't local might have difficulty charging their vehicles.
C+Charge aims to make EV charging more regulated. The goal is to create a unique subscription system that'll make charging stations available and accessible to everyone regardless of location.
Because of that, C+Charge aims to build its peer-to-peer payment system and eliminate any intermediaries between users and EV charging station owners.
Everything You Should Know About CCHG Price Action
The C+Charge token has yet to be publicly listed but will do at the end of March. If you wish to become the owner of CCHG tokens, you can buy them directly from the project's website via the presale.
The price of one CCHG token differed between stages, where the price increased from $0.013 in stage 1 to $0.0235 in stage 8 - at the time of writing, the presale is in its final stage.
Furthermore, C+Charge announced it will implement a token burn on any unsold presale tokens from stage 2 on, with more than 130 million tokens burned since that announcement - that means that 13% of the total supply has been reduced, which will increase the price of each individual token.
Here are more details about the presale token price:
| | | | | | | | |
| --- | --- | --- | --- | --- | --- | --- | --- |
| Phase | Price | % of presale tokens | Number of Tokens | $ Value | Stage End Date | Stage Tokens Burned | Total Tokens Burned |
| 1 | $0.013 | 15 | 60,000,000 | $780,000 | Feb 8 | 0 | 0 |
| 2 | $0.0145 | 15 | 60,000,000 | $870,000 | Feb 15 | 35,658,291 | 35,658,291 |
| 3 | $0.016 | 15 | 60,000,000 | $960,000 | Feb 22 | 35,815,716 | 71,474,007 |
| 4 | $0.017 | 15 | 60,000,000 | $1,020,000 | Mar 1 | 33,880,043 | 105,354,050 |
| 5 | $0.018 | 10 | 40,000,000 | $720,000 | Mar 8 | 3,900,000 | 109,254,050 |
| 6 | $0.019 | 10 | 40,000,000 | $760,000 | Mar 15 | 23,995,768 | 133,249,818 |
| 7 | $0.020 | 10 | 40,000,000 | $800,000 | Mar 22 | | |
| 8 | $0.0235 | 10 | 40,000,000 | $940,000 | Mar 29 | | |
| TOTAL | 80% increase | 100% | 400,000,000 | $6.85 million | - | | |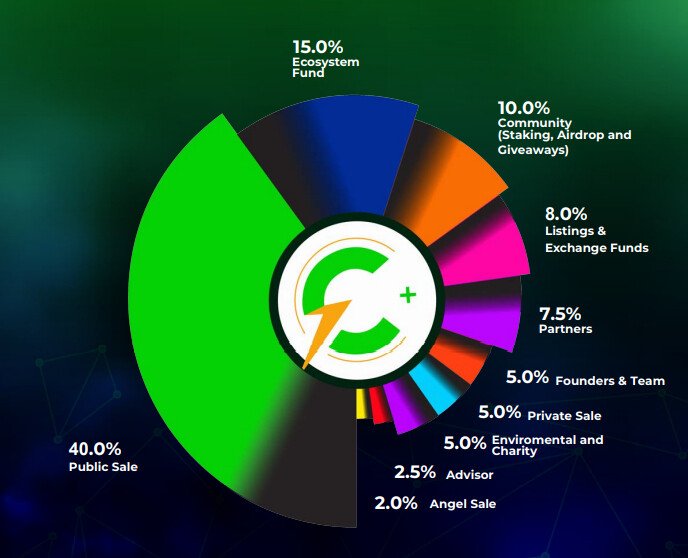 The total supply of CCHG tokens is 1 billion. A significant portion of tokens (40%) will be allocated to public sale (IDO) - which is also now subject to a token burn to reduce supply.
Another 10% will be available for staking, airdrop, and giveaways. Interestingly, around 15% of the total number of tokens will be distributed toward the ecosystem fund.
Right now, the company is running a lucrative giveaway. Those who purchase at least $250 worth of CCHG tokens will have a chance to participate in this unique event. The luckiest person will win a whopping $50k worth of CCHG tokens.
What Is the Future Price of the CCHG Token?
The crypto market is extremely volatile, and thus, unpredictable, meaning it is impossible to predict the exact value of any digital asset. However, it is possible to note whether or not a token has the potential to grow.
The C+Charge ecosystem is built on solid foundations, as it points to real problems within the EV industry and offers concrete solutions.
Then there's the fact that the CCHG token will be available on public exchanges. If past experiences are anything to go by, its price can only go up from that point on.
Predictions indicate that, in 2023, CCHG will have over 1,000 holders who will be able to buy this token via fiat currency. This should significantly affect the demand, and therefore, the price of CCHG.
Presale tokens are generally a treasure trove for crypto-owners - If you remember what happened to Ethereum in 2014, all tokens were sold within 24 hours and Ethereum gathered around $17.3 million, which was unprecedented at the time.
Consequently, experienced crypto-buyers believe presale tokens like CCHG can do well despite the current bear market.
The Verdict
Hopefully, this guide has shown you everything you need to know about the new and exciting C+Charge token. Also, we provided an in-depth explanation of what C+Charge is, and how you can benefit from buying this token.
Overall, C+Charge is a revolutionary platform for many within the EV industry and is one of the best cryptos to buy right now. Its ultimate goal is to promote electric vehicles by rewarding drivers for their contribution to reducing carbon emissions, thus helping humans create a healthier environment.
The CCHG token presale is now in its closing stages with the final date to purchase before its IEO on March 29, 2023 - more than $3.5 million has so far been raised in the presale.
BitMart will then list the token for its IEO on March 31, 2023, with crypto analysts expecting the price to surge after its CEX listing - making now the perfect time for you to grab a C+Charge token at a bargain price.
FAQ
How do I buy C+Charge tokens?
CCHG token is currently in its fifth presale stage, and you can buy these tokens by visiting the official webpage. Note that you can only purchase CCHG using BNB, ETH or USDT through virtually any crypto wallet, though C+Charge recommends MetaMask or Trust Wallet.
What is the price of a C+Charge token?
The CCHG price in the final stage of its presale is $0.0235. The price will be the same when the token is listed on BitMart for its IEO on Friday, March 31, 2023
Is C+Charge a good purchase?
C+Charge offers new and innovative solutions for the issues connected with the EV industry. The concept is fantastic and the project managed to draw a lot of attention even before its presale officially began. C+Charge has a solid roadmap and, if it meets at least 50% of its goals, the price of the token should skyrocket.
What's the total supply of C+Charge tokens?
C+Charge has allocated 1 billion tokens. Around 400 million tokens will be available for public sale, which is enough to cover the company's needs before they launch the project. C+Charge has also revealed a token burn of any unsold CCHG during each presale stage, with more than 130 million already removed from the supply.
---