How to Buy BTC20 Token - Easy Guide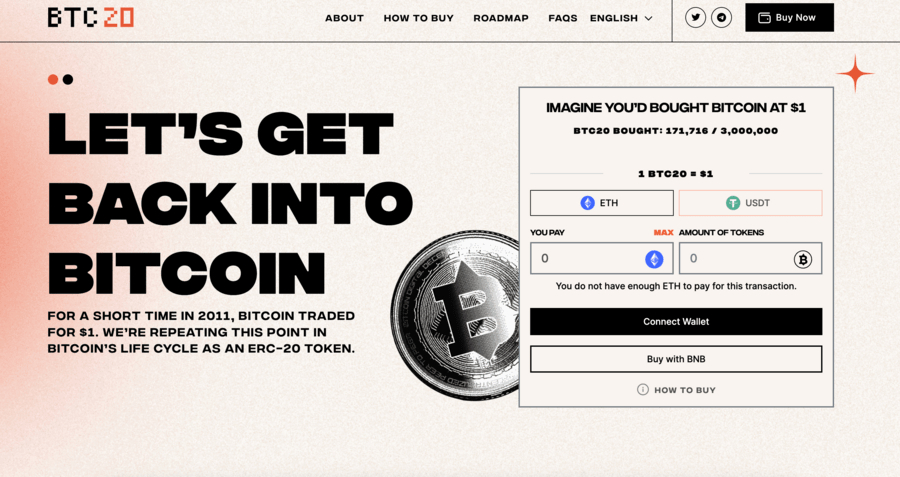 BTC20 is a brand-new Proof-of-Stake crypto that builds upon Bitcoin's technical base while leveraging the recent blockchain trends.
This easy-to-follow guide outlines a five-step process to buy the $BTC20 tokens on DEXTools. It also highlights the platform's use cases and future utility.
$BTC20 tokens are now listed on Uniswap, and still profitable from its $1 presale price, after witnessing near-600% growth after it first listed. The project successfully concluded its presale after raising its hard cap of $6.05 million in just a few days of its launch.
What is BTC20 Token?
BTC20 is an innovative Proof-of-Stake (PoS) crypto that leverages the Ethereum network's security to provide investors with a unique opportunity for passive income.
Drawing inspiration from the early days of Bitcoin when its price was just $1, BTC20 aims to improve Bitcoin's functionality to offer a staking mechanism.
The staking feature of BTC20 allows investors to earn high rewards, improving the token's inherent value while creating community engagement.
Similar to Bitcoin, the platform's supply cap is at 21 million. Phase one involved selling 3 million tokens. After being fully subscribed, another 3.05 million tokens were offered. Together, these 6.05 million tokens reflect Bitcoin's early circulation volume.
The remaining 14.95 million tokens will be securely locked within the staking contract. This contract enables BTC20 holders to stake their tokens and participate in the distribution of rewards.
The platform's presale quickly sold out after witnessing a strong investor response and raising over $6 million in just a few days.
Staking and Rewards
BTC20 adopts a PoS model, an energy-saving alternative to Bitcoin's Proof-of-Work (PoW), setting the stage for staking rewards.
As per the BTC20 whitepaper, the reward system mirrors Bitcoin's token release schedule. Each block confirmation releases a fixed number of BTC20 tokens to those who've staked.
The reward share an individual earns is proportionate to the number of tokens they've staked. So, staking more tokens means earning larger reward shares. This method promotes a community-focused ecosystem, promoting long-term investments, decentralization, and active community involvement.
According to the staking dashboard, more than 4 million tokens are locked into the staking pool at the time of writing, almost 70% of the circulating supply, highlighting investor confidence in the long term prospects of the project.
They are currently earning an estimated 60% annualized percentage yield (APY) with 50 BTC20 tokens rewarded per simulated block.
BTC20's Roadmap and Future Use Cases
The roadmap of BTC20 highlights a clear path for the token. The platform will create an immutable staking contract, offering a space for investors to start staking and earning rewards.
Following that, the project aims to form strategic partnerships and find use in decentralized apps, enhancing the token's value and usability. The increasing competition within the DeFi sector means that BTC20 needs to differentiate itself and prove its value to potential partners and users.
Future applications of BTC20 could also involve governance roles in the BTC20 ecosystem, ensuring investors can have a say in the platform's key decisions. This is partly why our BTC20 price prediction for 2023 - 2030 is so bullish at the moment, with potential highs of $13 forecasted by the end of 2030.
As the crypto market grows, introducing BTC20 into the broader blockchain ecosystem could be a game changer. Future interoperability with other chains could potentially broaden BTC20's utility, creating more diverse opportunities for holders. BTC20 isn't just mirroring Bitcoin's past - it's preparing for an innovative future.
Moreover, with a token release schedule spread over 120 years, BTC20 offers a steady, long-term investment opportunity, aligning with Bitcoin's approach.
Consider joining the BTC20 Telegram channel to get the latest updates.
How to Buy BTC20 Token - Detailed Guide
While the opportunity to get Bitcoin for a dollar was missed by most people, you can still buy $BTC20 tokens at a similar price now.
Let's break down the buying process on DEXTools into five easy steps.
Step 1 - Set up a Crypto Wallet
Install a digital wallet compatible with the DEXTools, like MetaMask, Ledger, or Trust Wallet. MetaMask has both a browser extension and a mobile app.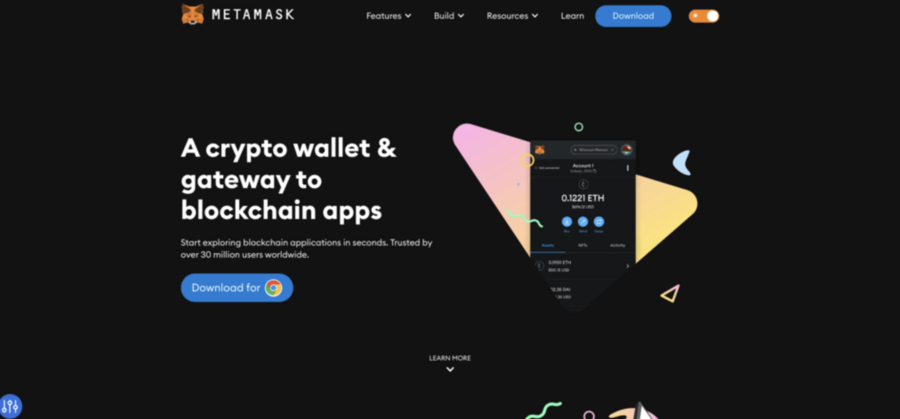 Binance Wallet, OKX Wallet, Trust Wallet, and Ledger are accessible on DEXTools via a widget called WalletConnect. Trust Wallet, linked to Binance, is a mobile-friendly option on the Google Play and Apple App Store.
Step 2 - Ensure You have Crypto To Swap
Go to DEXTools.io and look for the BTC20 trading pair. You can swap ETH/WETH/WBTC/USDT/USDC etc, for BTC20. You can get these via a crypto exchange. After buying them, send the crypto to your wallet or initiate the purchase directly.
Step 3 - Connect Your Wallet to Your Account
Now, you need to link your digital wallet to the DEXTools platform. Hit "connect wallet," select your preferred wallet, and choose the type of crypto you wish to trade for BTC20.
Step 4 - Buy $BTC20
With your wallet connected, specify how much crypto you want to exchange for BTC20. Click 'Buy $BTC20 Tokens' and follow the on-screen prompts to complete the transaction. Be mindful of potential gas fees.
For the latest updates on upcoming listings, you can follow BTC20's Twitter feed.
Another Bitcoin Clone Takes the Markets by Storm - BTCBSC Review
One alternative investment to BTC20 is Bitcoin BSC, another new cryptocurrency inspired by Bitcoin. Just like BTC20 and Bitcoin, the Bitcoin BSC cryptocurrency will also have a total token supply of 21 million.
Like BTC20 it also offers generous staking rewards as a proof-of-stake token - however while BTC20 improved upon BTC, BTCBSC improves upon the Ethereum-based BTC20 as has been developed on the Binance Smart Chain, which is even faster, cheaper and greener than Ethereum.
Thus, not only does the required energy decrease, but token holders can also generate a passive income.
Through the staking mechanism, token holders can currently earn anestimated APY of around 480%. The number will reduce as the number of staked tokens rises in the ecosystem. From the total supply, 6.125 million tokens have been distributed for the presale.
Each token is being offered for only $0.99 per token - the same supply and price as Bitcoin in April 2011, the last time it cost under $1. Since the presale started, Bitcoin BSC has raised more than $1 million in less than a week.
Therefore, interested investors should join the presale before the tokens sell out. The remaining token supply will be slowly unlocked over 120 years via staking rewards, the same cycle as Bitcoin. Any unsold presale tokens will also be added to the staking mechanism.
Users can connect their cryptocurrency wallets to the presale website and buy $BTCBSC after making a minimum purchase of $10.
For more information, read the Bitcoin BSC whitepaper and join the Telegram channel.
| | |
| --- | --- |
| Presale Started | September 5 2023 |
| Purchase Methods | ETH, USDT, BNB, Credit Card |
| Chain | BNB Smart Chain |
| Min Investment | $10 |
| Max Investment | None |
Conclusion
Ever asked yourself should I buy Bitcoin in 2023? BTC20 offers an appealing opportunity, selling tokens for $1, mirroring Bitcoin's early days' charm but with a twist of modern blockchain technology.
You can buy tokens by connecting your digital wallet to the DEXTools platform. The project has witnessed a successful presale after raising $6.05 million in just a few days and getting listed on Uniswap, where the price pumped by almost 600%.
Still profitable from the presale price, more than four million tokens have been locked into the staking pool - 70% of the circulating supply, proving investor confidence. Stakers are currently earning an estimated APY of 60%.
Always double-check the transactions you're approving and use only validated links. The sole authorized site to buy BTC20 tokens before they're listed on DEX and CEX is btc20.com.
Remember, it's crucial to scrutinize and understand the market trends before diving in. The initial stage provides a great opportunity to join BTC20's journey early, with the potential for solid returns over its planned 120-year token distribution.
Frequently Asked Questions (FAQs)
What is BTC20?
BTC20 is a new Proof-of-Stake crypto inspired by Bitcoin's early days and built on the Ethereum network. It has introduced a staking mechanism allowing holders to earn rewards. Its total supply is capped at 21 million tokens, emulating Bitcoin's structure.
How to invest in BTC20?
Investing in BTC20 involves a straightforward five-step process. First, set up a crypto wallet like MetaMask, Ledger, or Trust Wallet. Next, purchase ETH or USDT, which you'll use to buy BTC20 tokens. Connect your wallet to your DEXTools, then exchange your crypto for BTC20.
What is the market cap of BTC20?
BTC20 currently has a fully diluted market cap of $25 million, according to CoinMarketCap.
Disclaimer: The Industry Talk section features insights from crypto industry players and is not a part of the editorial content of Cryptonews.com.

---