How to Buy Bitcoin BSC - Easy Guide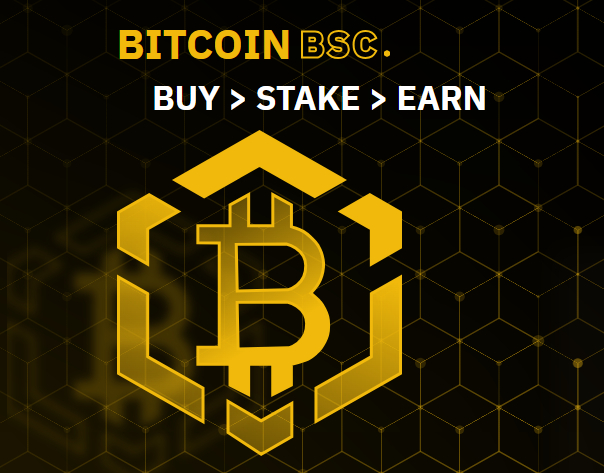 Bitcoin BSC ($BTCBSC) is a newly launched stake-to-earn coin that has just launched its presale and is already allowing holders to earn huge staking rewards.
The project mirrors Bitcoin as it was in April 2011, when it had a circulating supply of just six million and was available to purchase for less than $1.
BTCBSC is a Bitcoin mimic but offers several notable improvements on the biggest and most valuable cryptocurrency, its generous staking rewards being the most obvious one.
Follow our step-by-step guide below to enter the BTCBSC presale with ease and stake tokens for a passive return immediately.
What is Bitcoin BSC?
Bitcoin BSC is an improved version of Bitcoin - mirroring its price and supply in 2011 to offer latecomers a second chance at grabbing the top crypto in the space.
However, while BTCBSC follows BTC in many ways, there are some significant differences, the most obvious of which is that it is a BEP-20 token built on the Binance Smart Chain and operates with a proof-of-stake (PoS) consensus mechanism rather than with proof-of-work, like Bitcoin.
By being a PoS token, BTCBSC is infinitely more efficient, eco-friendly and cheaper than BTC and also allows for huge staking rewards to be generated.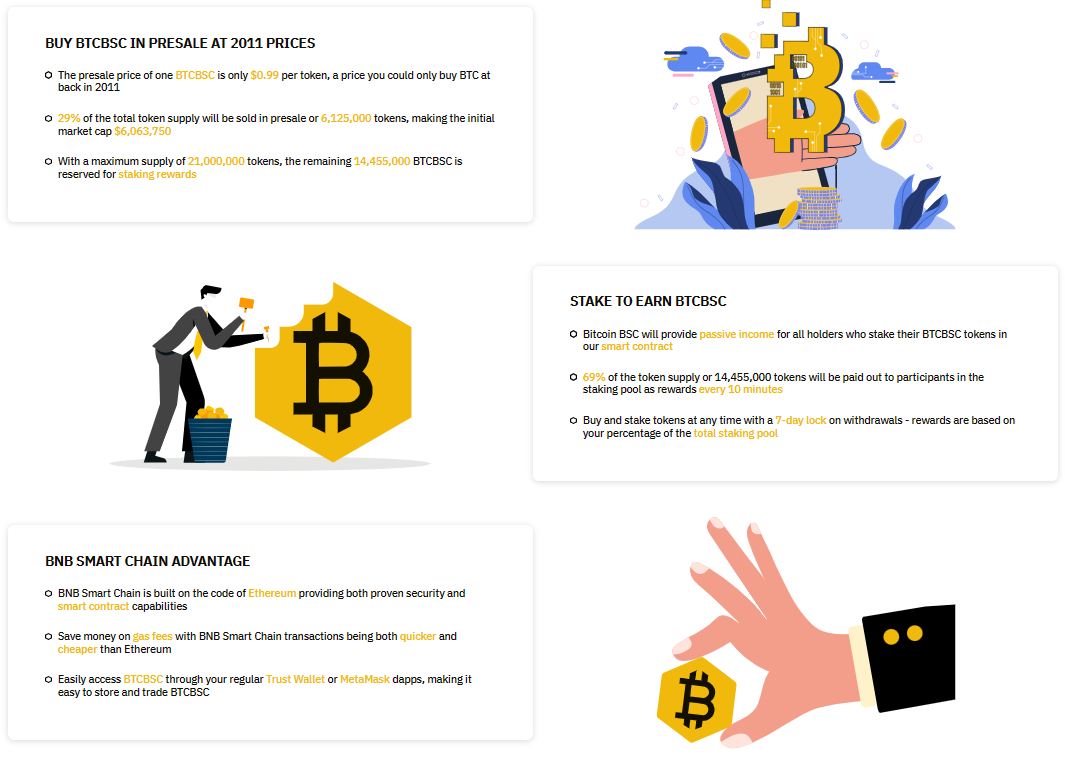 PoS vs PoW
While this is a complex topic, in essence, it is the way major cryptos secure their network and validate a block of transactions.
Bitcoin's PoW mechanism requires participation by miners, who use a huge amount of computer power to compete for the right to confirm new blocks and update the blockchain.
PoS, on the other hand, aims to improve on PoW and participants only need to stake (lock) the native cryptocurrency to secure its network, requiring much less computer power, making it faster, more scalable and more-eco-friendly.
Staking and Rewards
BTCBSC, therefore, has an immediate advantage over BTC because it is more scalable, cheaper and much more eco-friendly.
While Bitcoin has very few actual use cases, largely being used as a store of value, BTCBSC holders can also stake their tokens to earn huge rewards.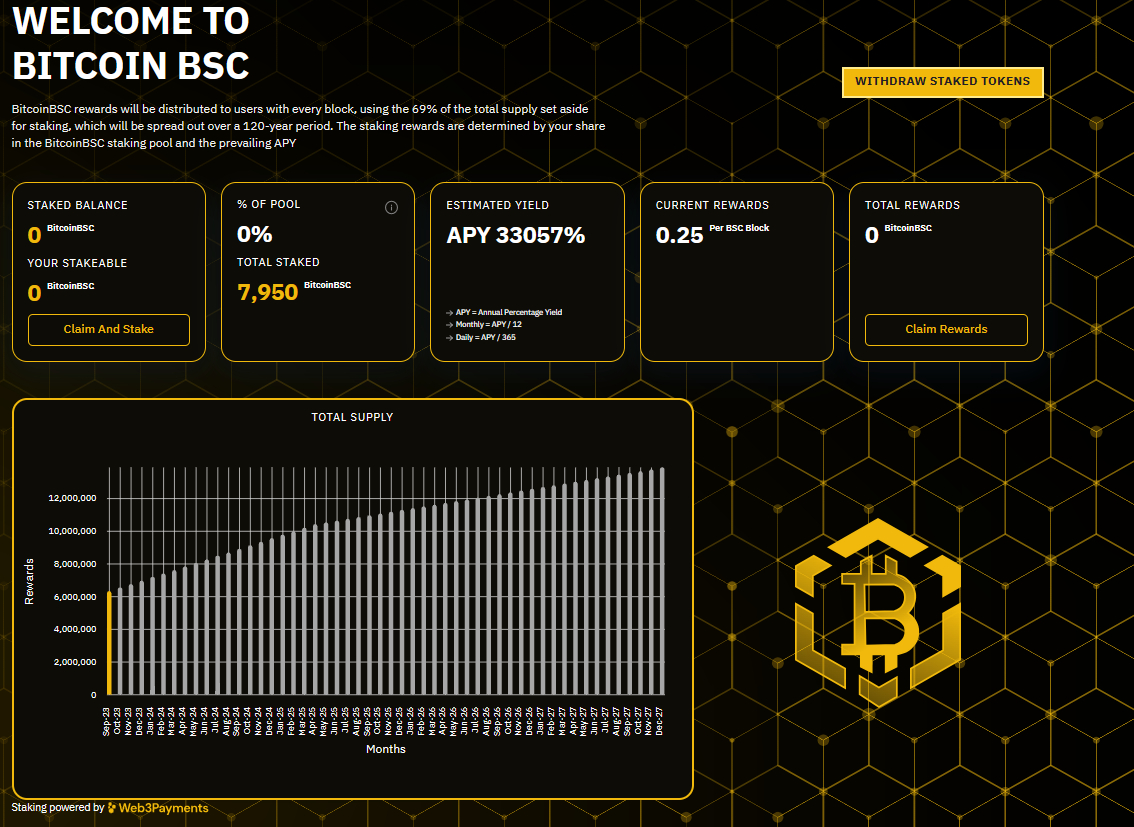 At the time of writing, the staking pool has only just opened and is very small - it is currently offering an estimated annualized yield percentage (APY) of 34,634%, but this will drop significantly once more tokens are locked inside.
Typically, large PoS tokens such as Ethereum, Cardano and Solana offer staking rewards of between 5% to 10%, but more recently launched staking tokens such as XRP20 and BTC20 have offered between 40% to 60% once they went live.
This project will offer 0.25 BTCBSC per block with 69% of its max supply allocated for the staking pool.
Like Bitcoin, BTCBSC will have a 120-year unlocking schedule, meaning the project has a huge future with investors having a reason to continue holding as rewards are received over the long-term.
Those staking should note that there is a minimum seven-day locking period.
Tokenomics and Presale Info
As outlined above, Bitcoin BSC mirrors Bitcoin's tokenomics - having a max supply of 21 million and a 120-year unlocking cycle.
It also mirrors Bitcoin in 2011, the last time it cost under $1, by having a circulating supply of 6.125 million tokens.

The presale, which will see BTCBSC tokens available for $0.99 through one round, will initially make 4 million tokens available with a hard cap of $3,960,000.
Should the presale perform exceptionally well and demand remain high, then a further 2.125 million tokens will be added as an oversupply - also priced at $0.99 - to raise another $2,103,750.
That makes up 29% of the total supply, with any unsold tokens added to the staking pool.
Another 420,000 pre-mined tokens have been reserved for liquidity on decentralized exchanges for when the token is listed after the presale.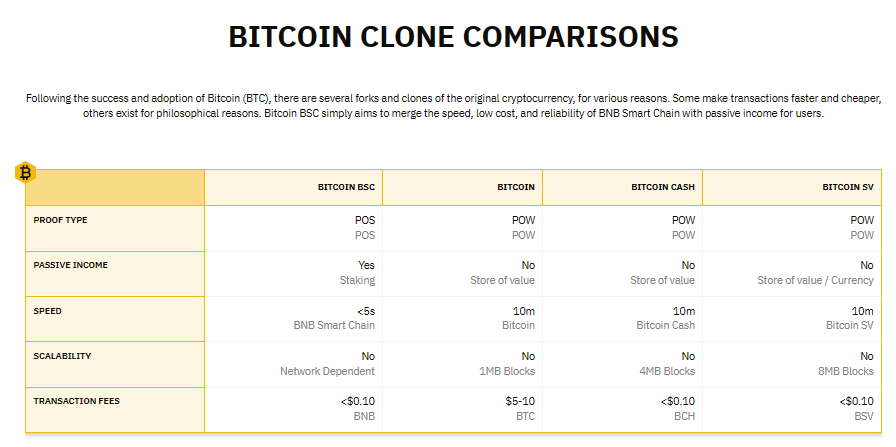 The remaining allocation - 14.455 million tokens or 69% of supply - will be vested over the 120 years and added into the staking pool to mimic Bitcoin's life cycle.
The project has also had a full audit completed by Coinsult.
A full outline of the project and its tokenomics are available in the Bitcoin BSC whitepaper, while more information and the latest news can be found in the Telegram group.
How to Buy BTCBSC Tokens - Full Step-by-Step Guide
While the chance to purchase Bitcoin for less than $1 is long gone, BTCBSC is offering investors a project that mirrors BTC but has also several distinct advantages.
Here are five easy steps to follow to purchase and stake Bitcoin BSC during its presale:
Step 1: Download a Crypto Wallet
To take part in the presale, a crypto wallet such as MetaMask or Trust Wallet is required. Both of these are highly secure and recommended and are available as either mobile apps or desktop browser extensions.
For the sake of this article, we will use MetaMask in our examples.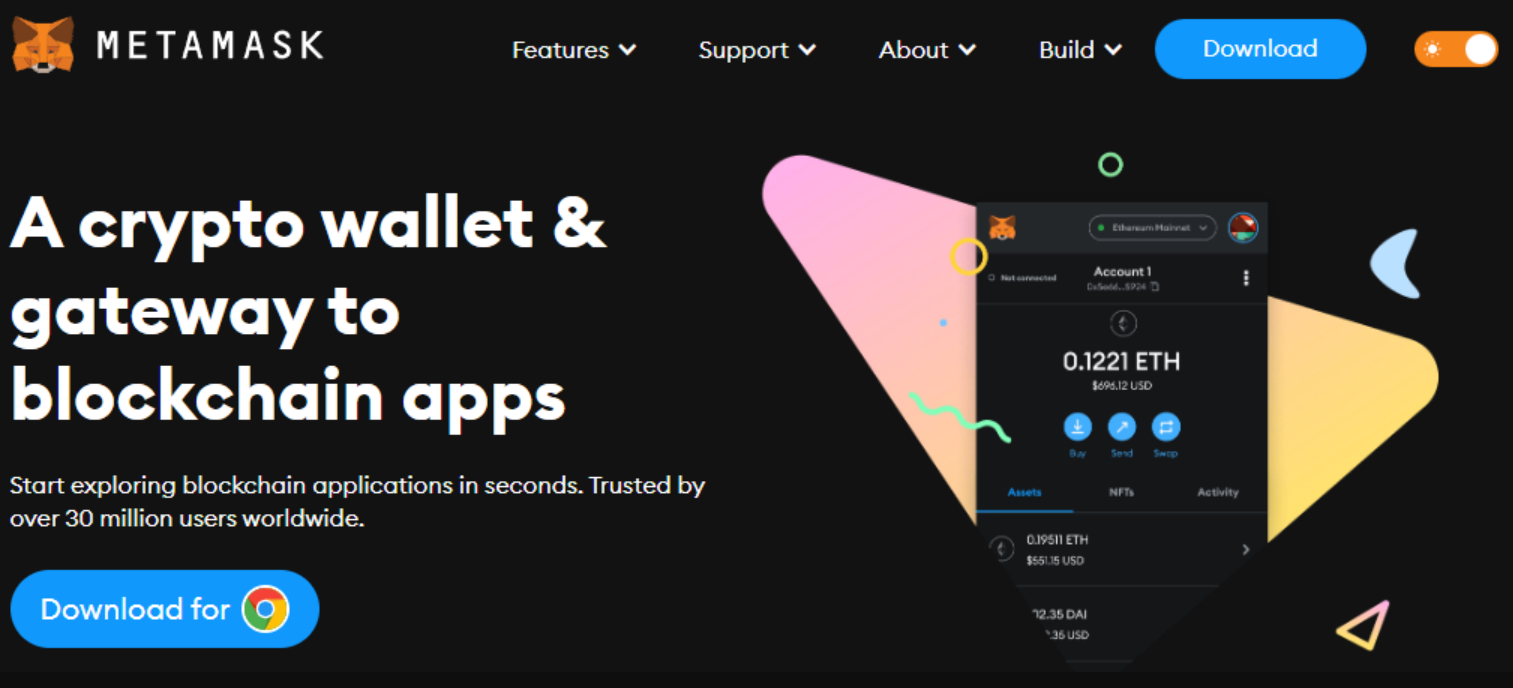 Step 2: Load Wallet with Crypto
Next, investors will need to carry crypto in their wallets to use to convert for BTCBSC later on.
BNB, ETH or USDT is required for that and MetaMask allows users to purchase those tokens directly on its platform - via trusted third-party apps such as MoonPay and Mercuryo - or by transferring from a crypto exchange.
Whichever crypto you choose, a small amount of BNB will also be required in the wallet to cover gas (transaction) fees and is recommended also to earn staking rewards.
Step 3: Visit BTCBSC Website and Connect
Then head to the bitcoinbsc.io website and select 'Connect Wallet'. Select MetaMask and enter your password unlock and then connect to the presale website.
The website should now look different and will give you the option to buy with BNB, ETH or USDT - when selecting BNB, it will also ask you to switch chain, which you must do.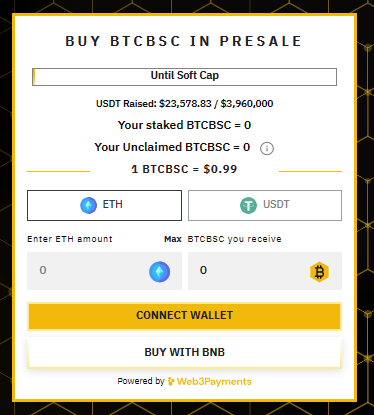 Step 4: Purchase BTCBSC
Enter the amount of BNB you wish to spend or the amount of BTCBSC to receive - there is a minimum purchase amount of $10 or 10 BTCBSC.
Once you have entered the amount, and allowed for gas (which should cost no more than $3), you can then either select 'Buy Now' or 'Buy and Stake'.
By selecting the first option, the tokens will not be added to the staking pool immediately and will be held in place until the presale ends, when they can then be claimed and held, staked or sold on exchanges after launch.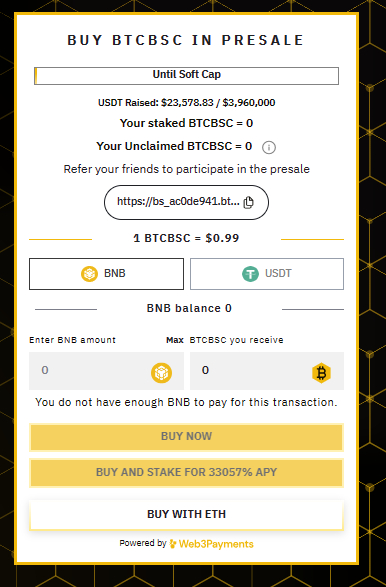 Step 5: Stake BTCBSC
The second option is to press 'Buy and Stake' which immediately adds your purchased tokens into the staking pool and allows for APY to be earned from the get-go.
As noted above, there is a seven-day minimum locking period on staked BTCBSC tokens.
Conclusion
Bitcoin BSC is an exciting new presale coin and a Bitcoin mirror that makes significant improvements on BTC.
It has the same 21 million supply and 120-year unlocking period but also is a proof-of-stake coin, rather than proof-of-work, and built upon the Binance Smart Chain, meaning it is much more scalable, efficient and eco-friendly.
As a PoS token it also offers incredible staking rewards for those that add their BTCBSC to the staking pool - currently the APY stands at 33,232%, although that will come down as more tokens are locked in.
The presale has already raised $25k in just 12 hours as it quickly spreads through Web3.
FAQs
What is Bitcoin BSC?
Bitcoin BSC (BTCBSC) is a new stake-to-earn crypto coin that mirrors Bitcoin but offers several improvements, including staking rewards. It is a proof-of-stake coin built on the Binance Smart Chain, meaning it is more scalable, efficient and eco-friendly, as well as offering cheaper transactions.
How to Invest in Bitcoin BSC?
Bitcoin BSC has just launched its presale with tokens priced at $0.99 - the same price as Bitcoin was in 2011. The presale is offering 6.125 million tokens and can be purchased with BNB, ETH or USDT.
What is the Bitcoin BSC Market Cap?
While on presale the project does not have an official market cap, however, if all presale tokens are sold it will have an initial market cap of around $6 million. The majority of tokens will be released over a 120-year cycle, like Bitcoin.
How Much Can I Earn Staking Bitcoin BSC?
The staking pool has only just launched and the current estimated APY is 33,000% - however, this will come down as more tokens are added to the pool. Other PoS tokens such as Ethereum, Solana and Cardano, typically offer 5-10% but BTC20, another Bitcoin mirror, offers 60% APY.
---