Here's What to Expect from This Year's Grit Daily House at Consensus Festival
Disclaimer: The text below is a press release that is not part of Cryptonews.com editorial content.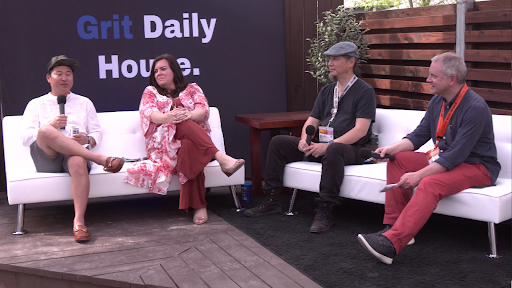 Consensus Festival's relevance in the tech world is not only due to it having some of the biggest companies attending but also to the great number of "Satellite Events" taking place around it. Consensus starts on April 26 in Austin. Among its official satellite events, Grit Daily House has gained a reputation for being one of the most established and important official satellite events, bringing quality panels and networking opportunities every year. And private chef, Juan, and the famed Ozzy the bartender, certainly help – if you can get an invite.
The event is hosted by Grit Daily and BlockTelegraph, media outlets focused on entrepreneurship and technology founded by serial entrepreneur Jordan French. The iconic media house routinely opens a space for entrepreneurs, media, and experts to connect during some of Austin's biggest events, all while gaining exclusive access to some of the most prominent thought leaders in the tech industry. John Biggs, Peter Page, Spencer Hulse, and Brianna Ruelas will join this year, from Grit Daily's team.
Core its role as a media house, former TechCrunch East Coast Editor John Biggs will emcee with a slate of moderators on stage for panels: Brad Keoun and Zack Seward of CoinDesk, Camila Russo of The Defiant, Turner Wright of CoinTelegraph, Lou Kerner from CryptoOracle, Joseph Raczynski of Reuters, Nikita Sachdev from CNBC's "On the Chain," Frank Chaparro of The Block, and Katie Canales, writer at the influential newsletter, The Milk Road.
Keoun will sit with Sean Judge, Partner at Castle Island Ventures, Richard Dewey from Proven, Himanshu Shahay, the CTO of Arch Lending, and Ken Berkowitz, Head of Product at Souq, to discuss how to rebuild trust in CeFi following multiple high-profile bankruptcies in the centralized finance space that injured retail and institutional trust.
Well-known crypto evangelist and public-company CEO, Lou Kerner, will walk through blockchain technology solutions to enable a better capital market for real-world assets, including institutional assets, staked assets, and even real estate, with Sid Powell from Maple Finance and JP Vega, from Souq.
Later in the day at 2:30PM, Camila Russo from The Defiant will take the stage to talk with Itai Turban of Dynamic, Antonio Garcia Martinez from Spindl, Ani Pai from Dragonfly, and Ken Berkowitz from Souq to cover how the industry will grow, especially to the eye-popping 1 billion crypto-users mark.
Volatility as a feature of programmable money – a perennially hot topic in the crypto sector – will feature Arisa Toyosaki from Cega and JP Vega from Souq, along with Nikita Sachdev, host of "On the Chain" on CNBC.
Katie Canales will go on stage with Ran Hammer of Orbs and Tom White, advisor at First Momentum Capital and a surprise guest who is one of the Blockchain industry's most prolific investors.
Ahmed Reza, who is Dr. Edward Zuckerberg's mentee and a leader of both San Francisco's and Miami's entrepreneurial ecosystems, will also sit with Thomson-Reuters' Joseph Raczynski, Adam Kagy from XRP Cafe and Johnney Zhang from USPC as part of a panel. All talks promise to be a valuable opportunity for attendees to learn from two prominent experts in the fields about the possibilities and challenges ahead.
Anne Ahola Ward, O'Reilly author and co-founder & CEO of CircleClick and Deborah Yao, AI Business Editor at Informa and the Associated Press, will be sharing their insights during the "AI: Crypto's Spoiler or Bulwark?" panel. They will be joined by another to-announce expert to discuss the impact AI will have in the world of crypto. Famed investor Gary Cardone from Card1 Ventures, Garrett Kinsman, Co-Founder of Nodle, and Dagmara Handzik from Cryptology will talk with Turner Wright of CoinTelegraph about "How Tokenization Is Moving Beyond Art Collectibles To Real-Life Applications."
Grit Daily house will also feature Irina Berkon, a financial leader and board director of Metallicus, a digital-assets technology company that is revolutionizing the financial services industry. Berkon is the driving force behind Metal Pay, a digital wallet that facilitates secure access to top cryptocurrencies and trading. With Berkon's leadership, Metallicus is committed to providing strong regulation, preventive security, verified identity, and a seamless customer experience.
Consensus Festival will take place in Austin, a city that has seen its startup and tech industries grow exponentially over the past years. Not only has the city quickly become a major tech hub comparable to San Francisco and Silicon Valley but it is also host to major events like South by Southwest (SxSW), Austin Tech Summit, Austin Startup Week, and of course, Consensus Festival.
Consensus Festival at the Convention Center will take place from April 26 to April 28, with top speakers Edward Snowden, Sriram Krishnan, Cynthia Lummis, William Shatner, Jeremy Allaire, and Daniel Alegre on the schedule. Get 25% off Consensus tickets or use the promo code GRITDAILY at checkout. Given that ticket prices go up as the event approaches, we recommend getting yours now.
Grit Daily House will be a one-day event taking place on April 26 from 10:00 AM to 6:00 PM CT, followed by an exclusive Media and Speaker's Dinner. To join Grit Daily House and get access to exclusive panels and networking opportunities from the hands of entrepreneurs, journalists, and investors, make sure to get your tickets here.
---