The Future of Recycling Meets Crypto: Discover the Startup That's Turning Waste Into Wealth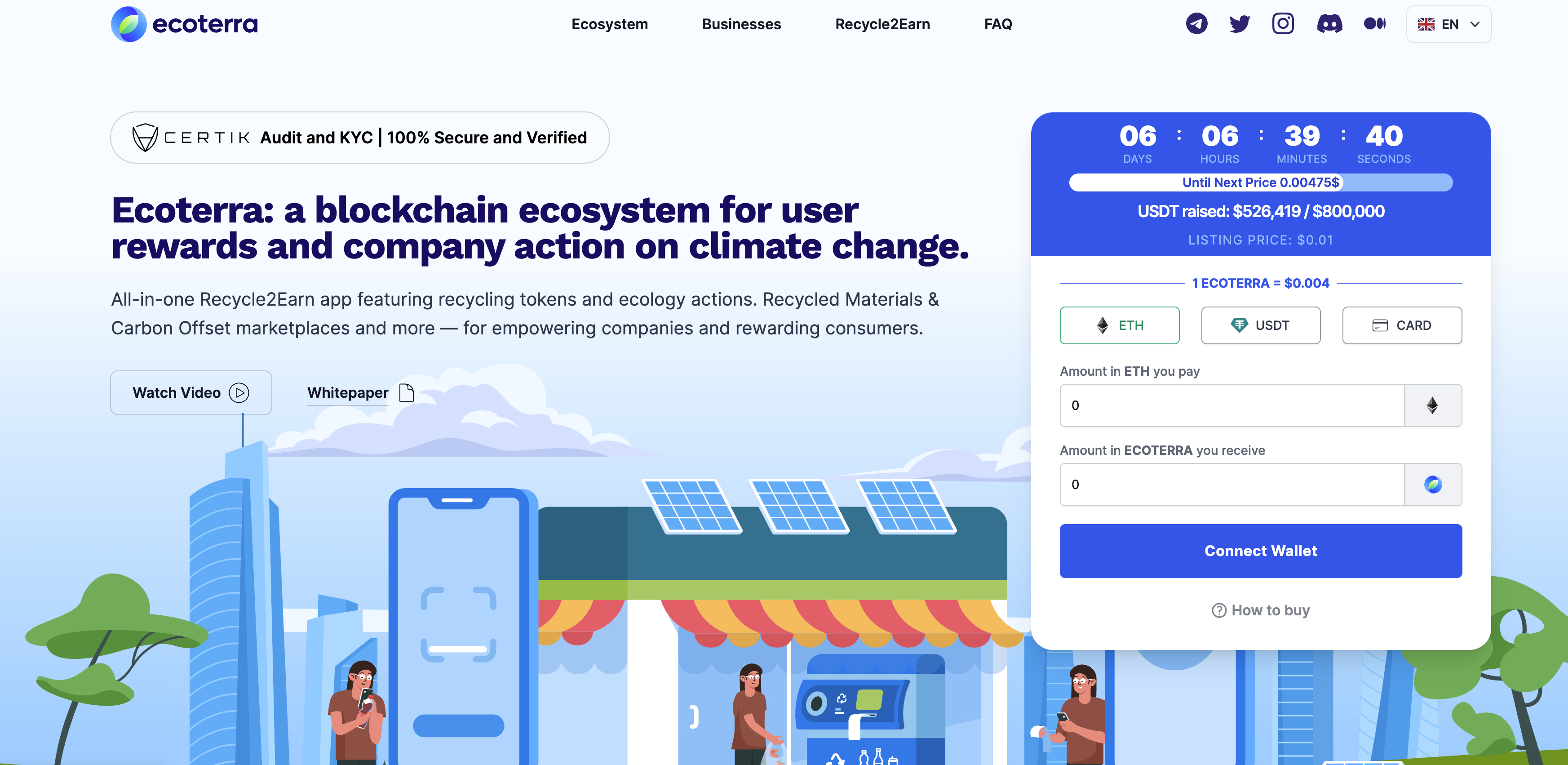 Creating an eco-friendly environment remains a critical topic of interest.
Research shows that improper waste disposal and burning fossil fuels contribute to the degradation of our planet, making it uninhabitable for future generations.
As a result, new solutions are being developed to reduce carbon emissions and address this pressing issue.
The cryptocurrency sector has taken a novel approach towards promoting a greener planet for everyone, and one of the standout projects in this regard is ecoterra.
This revolutionary platform features a unique "recycle-to-earn" (R2E) model that incentivizes users to participate in waste product recycling.
Already generating strong interest, the platform's ongoing presale of its native token, $ECOTERRA, aims to fund the innovative solution.
Here's how the project works and how it could help create a sustainable future.
The ecoterra Ecosystem: The Birth of a New Eco-Friendly Era
Prior to the debut of ecoterra's innovative ecosystem, several other innovations have been developed to mitigate fossil fuel consumption and achieve zero carbon emissions.
Success stories like electric vehicles (EVs) and green energy have seen massive transitions from traditional automobiles to EVs and other eco-friendly alternatives.
However, more solutions are needed to increase adoption rates in the eco-friendly sphere.
The recycling industry plays a significant role in climate change, but it has been surprisingly overlooked by individuals and institutional players.
Despite its novel approach to achieving a green environment, only a small percentage of people currently recycle.
Moreover, there are no means of a commercial venture to act as a form of motivation, hence why there's been a dearth of recycling.
The advent of ecoterra aims to change the conventional perspective of recycling waste products.
Ecoterra is a blockchain-powered platform that utilizes its recycle-to-earn (R2E) model to reward members for recycling waste products like plastics and glass bottles.
The eco-friendly project believes that through financial perks as a form of motivation, humans are the perfect tools to curb poor waste management and the use of fossil fuels to ensure a friendlier and green-conscious environment.
A Versatile Recycled Materials Marketplace
Now that members on the ecoterra platform can seamlessly dispose of plastics and glass bottles, recycle-based companies can leverage this opportunity and create more products for global use.
These companies can participate in the platform's ecosystem by purchasing raw materials from ecoterra's marketplace and motivating members with crypto payments, including $ECOTERRA tokens.
This development will give companies sufficient raw materials to create new products at a low cost and maximize profits accordingly.
Already, big production-based brands, including Dr. Pepper, Heineken, Vittel, San Pellegrino, Pepsi, Fanta, Evian, and Peroni, have integrated the ecoterra waste management ecosystem into their database.
Users of the ecoterra platform will be able to scan used glass bottles, aluminum cans, and plastics into its database and earn crypto rewards.
Ecoterra Robust R2E-Powered App
The ecoterra ensures recycling is balanced through its robust app. The innovative app will allow users to scan waste products before disposing them in Reversible Vending Machines (RVMs).
When this is done, the ecoterra app assigns crypto incentives – the more items scanned and disposed of, the more $ECOTERRA tokens users earn on the platform.
The platform's token and app act as pillars to drive users into working toward an eco-friendlier environment.
With ecoterra, everyone can create passive income as they strive to do their part toward sustaining the planet.
Earn Huge Gains Via $ ECOTERRA's Presale Event
The ecoterra ecosystem has infused core features to ensure users earn commercial ventures for participation in its ecosystem.
However, apart from its recycle-to-earn (R2E) feature, individuals, and companies can purchase carbon credits and earn incentives.
Ultimately, the eco-friendly project presents a once-in-a-lifetime investment opportunity via its presale event as it continues to soar in adoptions, impacting its token's price value.
So far, the project has raised an impressive $504,000 from investors.
At press time, $ECOTERRA is priced at $0.004 per token. Now is the best time to invest in the new era of blockchain-powered recycling.
Disclaimer: The Industry Talk section features insights by crypto industry players and is not a part of the editorial content of Cryptonews.com
---