Recycle-2-Earn Revolution Starts With Ecoterra Presale Today – Invest in the Circular Economy and the Future of our Planet Now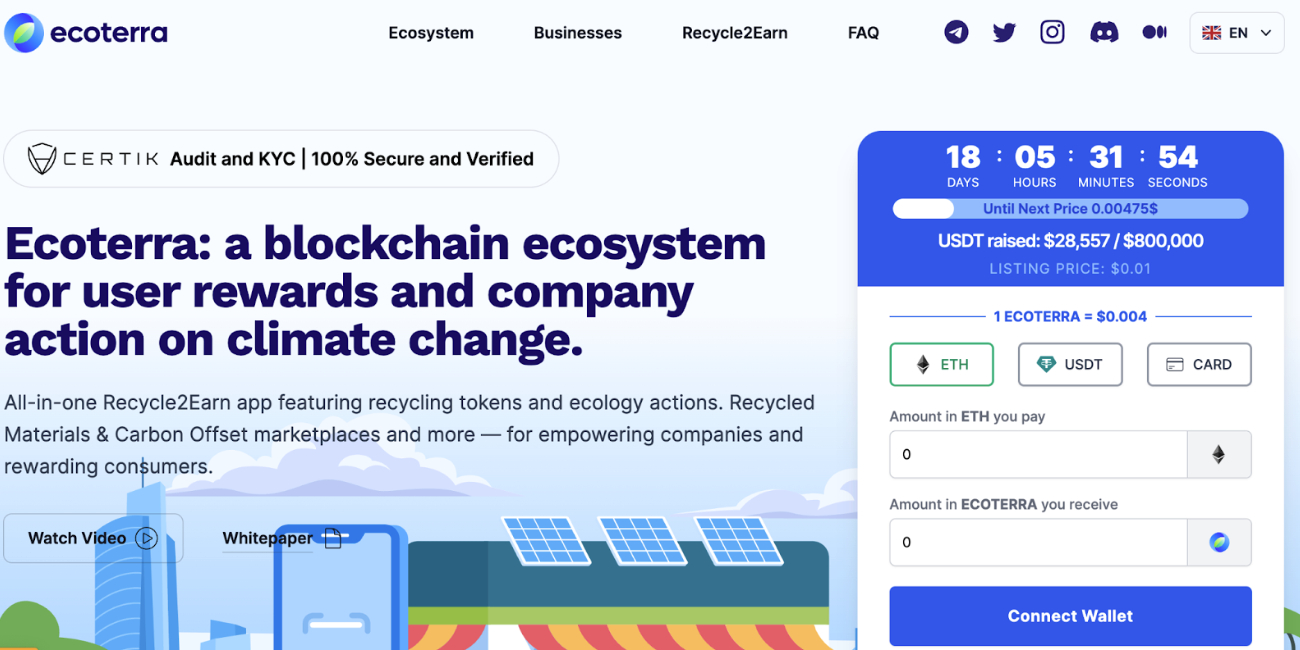 Friday March 31st 2023 – Blockchain technology is revolutionizing the recycling landscape, inspiring people and companies to actively participate, all thanks to ecoterra – an innovative, eco-friendly recycle-2-earn cryptocurrency project now available in presale.
Already the fundraising, which started yesterday, has raised $28,000 from excited investors.
The $ECOTERRA coin at the center of the ecosystem is on sale now for $0.004.
You can buy with either ETH, USDT (Tether stablecoin) or using ordinary fiat money with your card.
The coin will list for $0.01 in the third quarter of this year after the nine-stage fundraising ends.
Early bird investors who buy now, in Stage 1 of the presale, stand to make a paper gain of 150%, even before $ECOTERRA lists on an exchange.
Analysts have already spotted ecoterra and are predicting big returns from the project. There are 18 days to go before the Stage 2 price rise, so investors need to start their due diligence now.
At last the planet's inhabitants have an easy and incentivized way of making a difference in the battle against climate change.
Think about all those times when you just couldn't be bothered to be fully conscientious about recycling.
Well now, with ecoterra, every product can be scanned and logged as a recyclable material to earn you $ECOTERRA on its platform.
So how does it all work?
Making the circular economy work for everyone with recycle-2-earn
This week ecoterra laid out its masterplan to get everyone using its recycle-2-earn decentralized platform and it makes a compelling case.
Ecoterra's system is based around two marketplaces – one for recycled materials and the other for carbon credit offsetting.
The whole idea is predicated on the circular economy. If you haven't heard of that before, all you need to know is that it will be the essential element of a fossil fuel-free and sustainable industrial landscape.
At root we need to reuse the output of our production processes as new inputs for new cycles of production.
This is the holy grail of sustainable living and ecoterra is at the forefront of this new wave of ingenuity and innovation that encompasses the circular economy.
By harnessing the power of reverse vending machines (RVMs) ecoterra utilizes existing systems to potentially onboard literally hundreds of millions of consumers – and businesses – in the race to realize the circular economy.
Many supermarkets and waste disposal outlets around the world operate RVMs.
These machines allow you to insert a used plastic or glass container, aluminum can, or other recyclable items, in return for receiving a reward.
Recycle-2-earn enables users of the ecoterra app to earn tokens for each item recycled.
Tokens earned can then be staked or spent, or just held in a self-custody crypto wallet.
Spend $ECOTERRA tokens on impactful eco-activities or stake and hold them
Ecoterra will encourage users to spend their tokens on impactful ecological activities, such as funding beach cleanups, tree planting or supporting the development of green energy projects around the globe.
All of the climate actions that app users take part in or help to fund are added to the user's profile.
As your tally of activities builds up you will accrue milestone achievements and even NFTs.
Also, if you have solar panels on your roof or some other method of generating green electricity, you can earn $ECOTERRA tokens for this activity too.
Because ecoterra is built on blockchain technology it has a number of important advantages over traditional approaches to trying to incentivize recycling.
Onboarding consumers and companies in the circular economy
With ecoterra, there is no need for a centralized third party and, with the system's use of verified carbon units (VCUs), there is no need to worry about the fraud issues that have bedeviled the multi-billion dollar carbon credit industry.
The result is lower costs and a more secure system.
As well as consumers being able to track their good works in the circular and green economy, so too can companies.
This means that corporations will be able to showcase the work they are doing, making their sustainable actions a point of competitive advantage, thereby encouraging other companies to follow suit.
Investors can also be safe in the knowledge that the team behind ecoterra has a wealth of experience operating in the recycling industry in South East Europe.
Ecoterra has already partnered with major supermarket chain Delhaize (Lion), which has branch networks across Europe, North America and Asia.
Ecoterra is attacking a total addressable market of $63 billion
Finally, because ecoterra is compatible with all types of reverse vending machines, it is adaptable for a wide range of industrial sectors and companies of all sizes, from consumer goods to hospitality and technology.
Data from Statista shows that the global recycling industry will be worth $63 billion in 2023, growing to $88 billion in 2030.
By utilizing the power of the decentralized networks, ecoterra is helping us all to do the right thing.
But making it easy to recycle is a public good that has value, which means there is no need to feel guilty about the money you will make by investing in ecoterra today.
Ecoterra is facilitating consumers, companies and investors to come together to play their part in mitigating the impacts of climate change.
By putting in place the foundations of the circular economy, ecoterra aims to be a driving force in the sustainable and profitable future of humanity.
That's a big goal, but with ecoterra it is achievable. Investors don't want to miss this boat.
---