Frog Cryptos Pump as Pepe Price Dumps - Kermit, Memetic PepeCoin, PepeDerp Up
When the Pepe coin price retraced 80% following its Binance listing, several 'next Pepe' rivals rose in the price charts - are they scams or a good buy?
Kermit the Coin (KERMIT)
$KERMIT token is currently in the top ten most trending cryptocurrency assets on DEXTools, appearing on its 'hot pairs' list with a double digit bounce in the past day following an even more explosive pump over the weekend.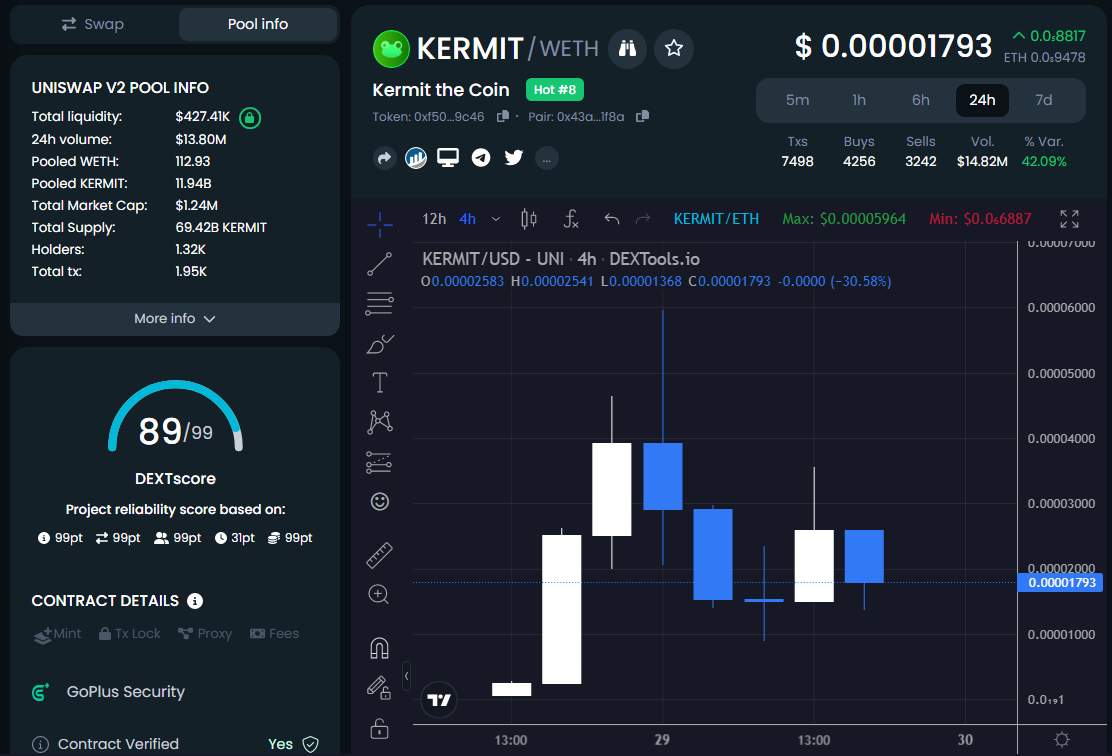 In past days it appeared in the DEXTools top crypto gainers. Unlike many of the biggest daily gainers that are scams with low liquidity - for example today TATE is up a large percentage with a 1/99 DEXTscore and only 17 holders - Kermit the Coin has an 89/99 rating.
Note there are two other Kermit coins with the same ticker on CoinMarketCap, which are separate projects. The Kermit the Coin page describes itself as a 'memecoin built on the Ethereum network that embraces laughter, innovation and financial empowerment. Ribbit your way to success'.
It could go the way of $RIBBIT however, and many other meme tokens that trended down to zero.
Memetic / PepeCoin (MEME)
$MEME token is up a more modest 6% in the past 24 hours.
The Memetic crypto project hosts a Layer-2 NFT platform and is powered by PepeCoin as its native currency - which is not to be confused with the Pepe launched in April 2023.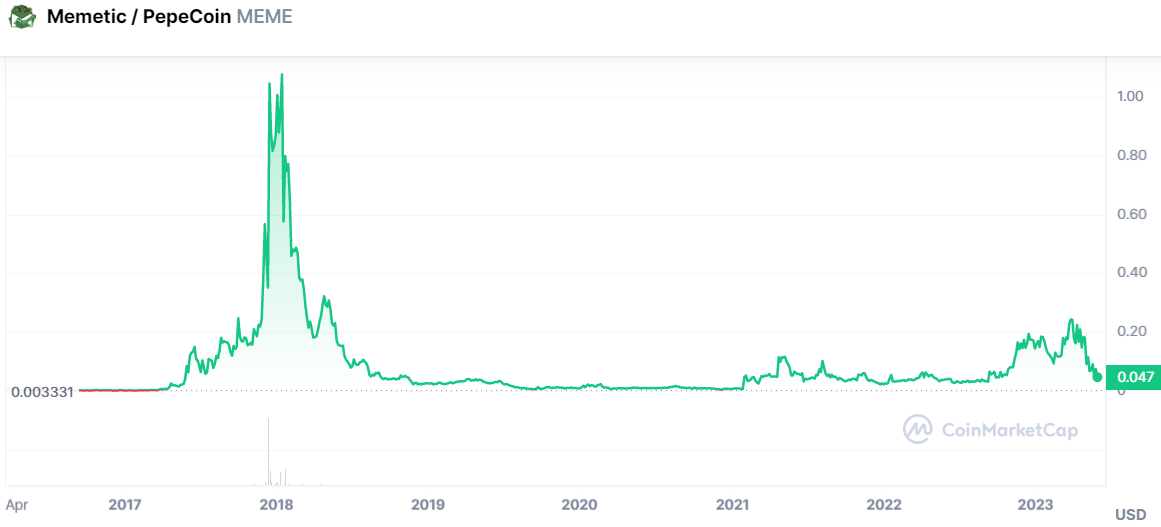 The Memetic / PepeCoin price history actually dates back to the last crypto bull run of 2017.
While it had an echo bubble this year when the Pepe price exploded, it has yet to really achieve a high valuation - today having a low market cap of just $1.3 million.
PepeCoin Cryptocurrency (pepecoin)
PepeCoin is the self-proclaimed 'real Pepe' and 'original Pepe', using that as its Twitter handle. Its DEXTscore is 99/99 and liquidity high, positive signs for a meme coin.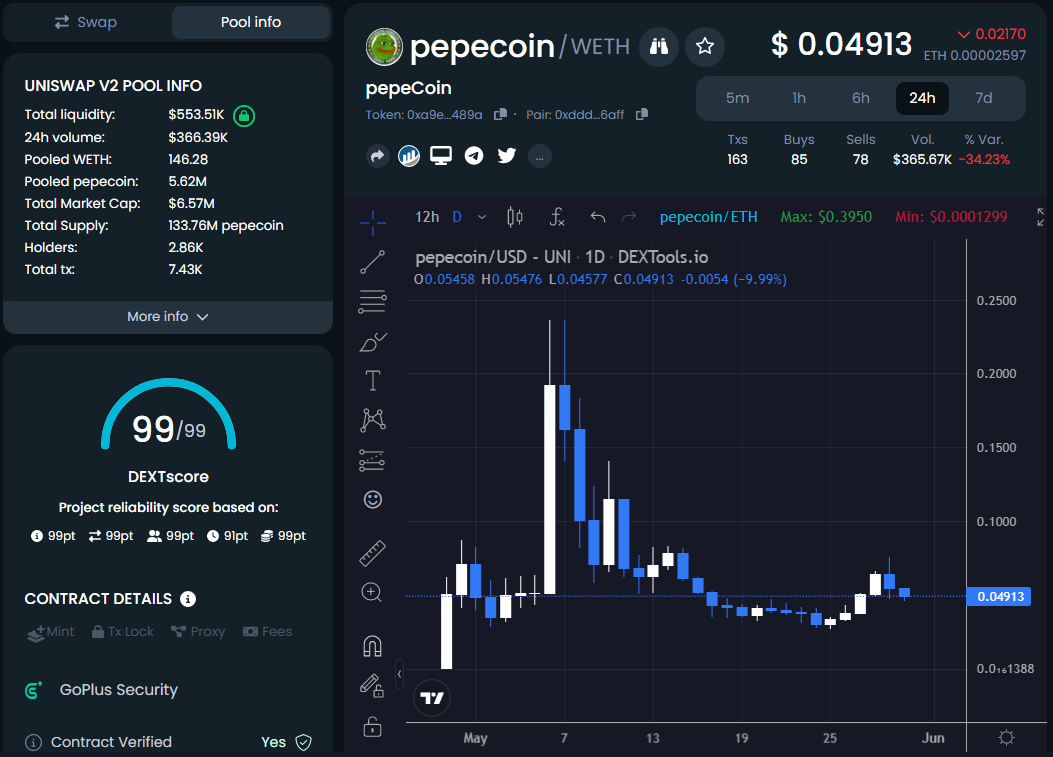 However the PepeCoin price has crashed 30% in the past day, a deeper selloff than Pepe which is down 2%.
Are its holders jumping ship to other meme coins? See our list of the best meme coins of 2023.
PepeDerp
PepeDerp is the top crypto gainer among frog cryptos today, and most meme coins - up over 130%.
However since PepeDerp appeared on CoinMarketCap market earlier this month, a commonly seen warning has appeared on the crypto price tracking site:
'Smart contract of the following asset can be modified by the contract creator (for example: disable selling, change fees, mint new tokens, or transfer tokens). Please exercise caution before taking any action and DYOR'.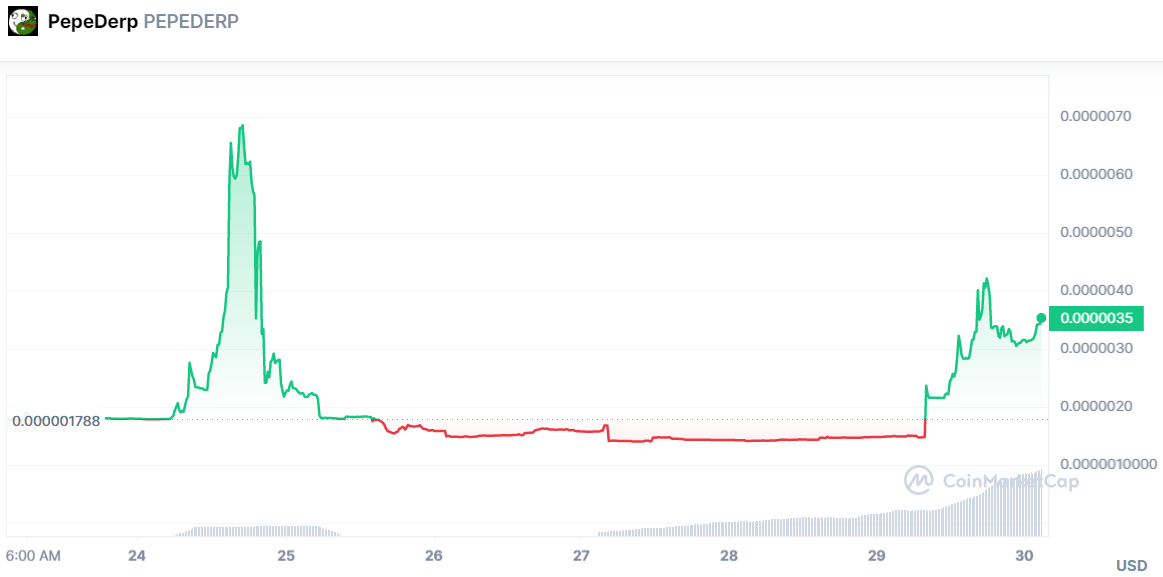 We'd agree doing your own research is vital, especially with PancakeSwap and Uniswap coins - anyone can list a fake token on a decentralized exchange, with manipulated smart contracts.
PepeDerp token is listed on one centralized exchange (CEX) - CoinTiger - but the platform has a low trust score on CoinGecko.
Best Crypto to Buy Now - Next Meme Coins to Explode
It can be difficult to trade meme coins as they rank among the most volatile cryptocurrency assets - investing in a new meme coin at the presale stage can offer higher upside potential as it offers the lowest priced entry point to buy and hold.
Two of the newest trending meme coin presales we've reviewed are AiDoge (AI) and Wall Street Memes (WSM).
$AI is set to be listed on exchanges in the coming days, now on an overfunding price round available to purchase at the listing price via its website, prior to its IEO.
Wall Street Memes launched its token sale just over 72 hours ago and has already raised $1 million from early buyers, thanks to its existing Instagram community and past success with NFT projects.
---