Ethereum Price Prediction as Bulls Hold $1,800 Despite Market Sell-Off – Dip Buying Opportunity?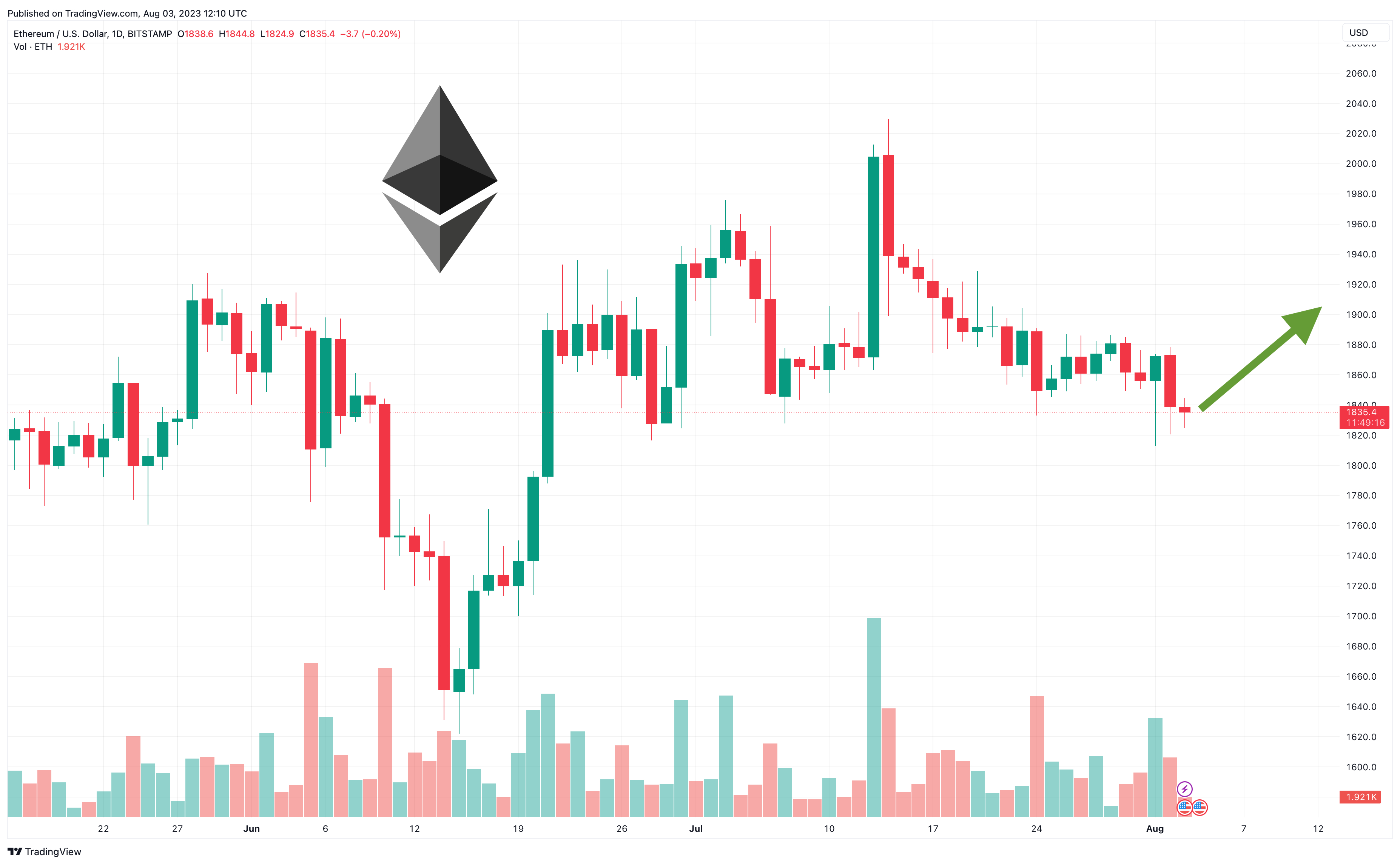 The Ethereum price has dropped to $1,835 today, representing a 1% loss in the past 24 hours that comes as the wider cryptocurrency market falls by a similar percentage.
ETH is now down by 2% in a week and by 6% in the past month, dragged lower by creeping market negativity that may come partly from investor concerns surrounding this week's downgrade of US government debt.
However, with ETH remaining up by 53% since the beginning of the year, and with the coin's fundamental remaining as strong as ever, there's little doubt that it will soon recover and that now may be a good time to buy it at a discount.
Ethereum Price Prediction as Bulls Hold $1,800 Despite Market Sell-Off – Dip Buying Opportunity?
Ethereum's chart reveals that the altcoin is nearing or at a bottom, and that it should recover very soon, assuming no more negative news in the next few days and weeks.
For example, ETH's 30-day moving average (yellow) is falling substantially below its 200-day average, and so is its actual price, indicating that the coin has lost a massive amount of momentum and is decidedly oversold.
In much the same vein, ETH's relative strength index fell below 30 at the start of this week and remains low, meaning that it doesn't really have anywhere else to go but up in the near future.
But traders should be mindful that the coin's support level has declined significantly since the middle of July, something which underlines how further price falls are still a possibility before the coin recovers.
As noted above, ETH and much of the cryptocurrency market has been affected by this week's downgrading of US debt, which has also seen stock markets around the world struggle, in a sign that the global economy continues to provide an uncertain climate for investors.
Such uncertainty has evidently hurt ETH and other coins, meaning that the bear market crypto has seen for the past year and a half is still ongoing, despite recoveries since the beginning of the year.
That said, ETH is primed to rise healthily once the market returns to bullish sentiment and growth.
This is largely because of its enviable fundamentals, with Ethereum remaining the biggest layer-one blockchain network in terms of total value locked in.
This represents just how much more Ethereum is used and adopted than the vast majority of its rivals, yet ETH's tokenomics are also highly bullish.
The introduction of staking last year now means that some 25 million ETH – or 20% of Ethereum's total supply – has now been taken out of circulation, effectively making the cryptocurrency scarcer and more in demand.
Taken together with the introduction of fee burning, this has resulted in a situation where ETH's overall supply (staked and unstaked) has actually declined by around 350,000 ETH since September 2022.
Such tokenomics is highly positive as far as Ethereum's future price is concerned, since greater adoption will lead to more staking of ETH and more burning, which will help push relative supply down and squeeze up the token's price.
As such, the market could expect the Ethereum price to reach $1,900 in the next few weeks, before potentially rising as high as $2,500 by the end of the year, assuming more bullish sentiment.
Presale Tokens Can Provide Profit in Bear Markets
While it may take some time for ETH and other major cryptocurrencies to fully recover, there are a number of newer altcoins in the market at the moment that could see market-beating gains in the near future.
This is particularly the case with presale tokens, which can often rally big once they list on exchanges for the first time.
One of the best presale tokens in the market at the moment is Shibie (SHIBIE), an ERC-20 coin that has inventively mixed memes from both Shiba Inu and Barbie.
With a total maximum supply of 2,107,202,300 tokens, SHIBIE began its presale earlier this week, with the sale offering 60% of the coin's overall supply.
SHIBIE's main draw is its unusual and playful mix of characters and memes, which by casting a wider net may help attract a wider pool of potential investors.
Indeed, this already appears to be the case, with the sale having raised more than $75,000 in only a couple of days, a sign that it could expand rapidly.
What such rapid growth suggests is that SHIBIE may prove highly successful in creating a sizeable community for itself, a community which will help to boost the token's price once it lists on exchanges.
New investors can join the presale by visiting Shibie's official website and connecting their software wallets, with SHIBIE costing $0.000167.
The sale is due to end in the next few weeks, at which point SHIBIE will list on decentralized exchanges, potentially making its early investors a generous profit.
Disclaimer: Crypto is a high-risk asset class. This article is provided for informational purposes and does not constitute investment advice. You could lose all of your capital.
---