Ethereum Price Prediction as $10 Billion Trading Volume Sends ETH Up 7% – Time to Buy?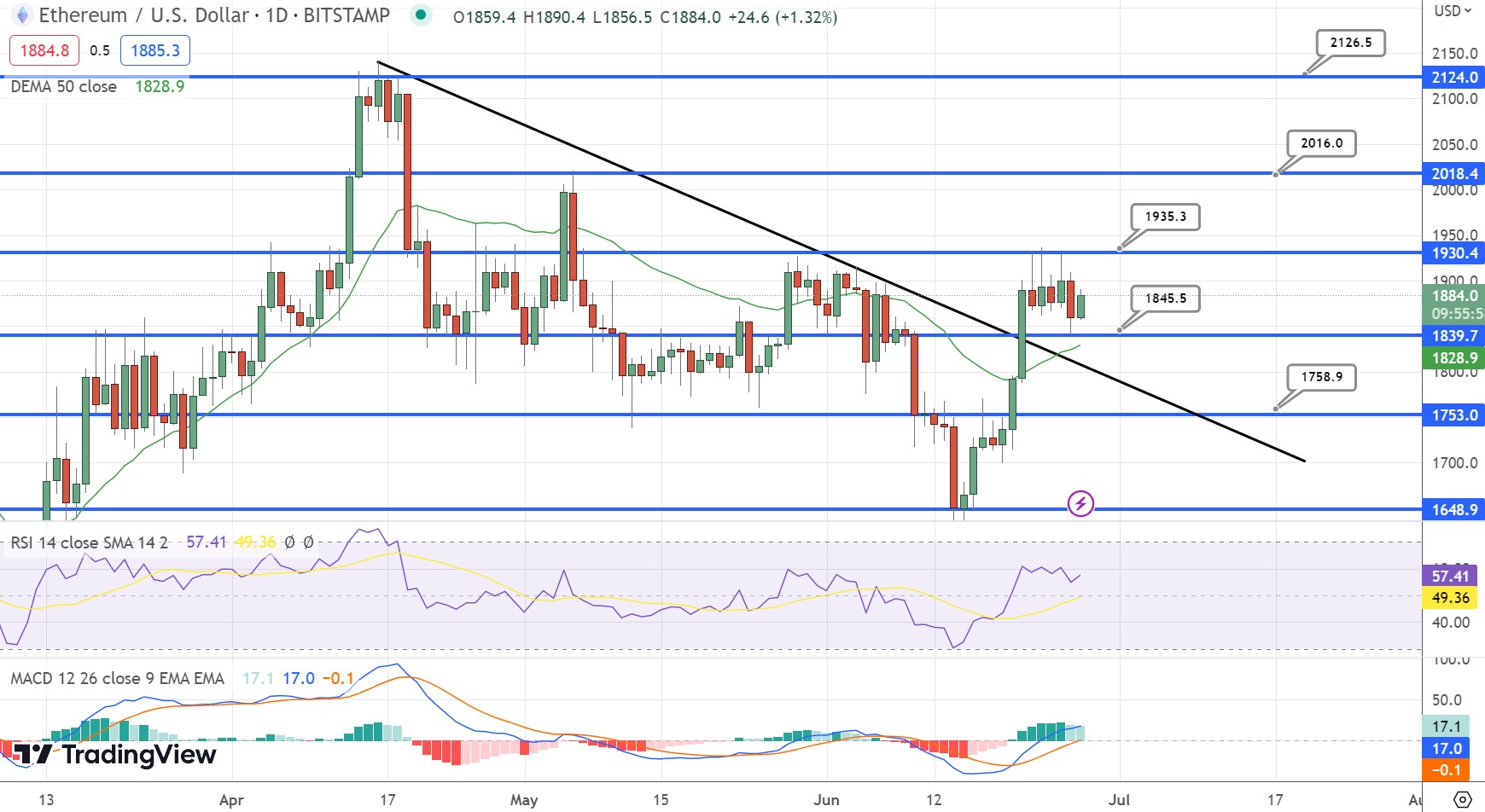 The price of Ethereum (ETH) has been on a remarkable upward rally, surging above the $1,800 level on Tuesday morning.
This surge has been accompanied by a significant increase in trading volume, reaching a whopping $10 billion.
One significant factor contributing to the surge in Ethereum's value is the recent development enabling HSBC Hong Kong customers to trade Bitcoin and Ethereum futures through Exchange Traded Funds (ETFs).
In this Ethereum price prediction, we will explore the factors behind this bullish momentum and evaluate the potential opportunities it presents for investors.
HSBC Hong Kong Allows Bitcoin and Ethereum ETF Trading
HSBC Hong Kong's recent decision to allow its customers to trade Bitcoin and Ethereum futures through Exchange Traded Funds (ETFs) is a significant development that expands the accessibility of digital asset derivatives in the fast-growing Asian crypto market.
As a major bank in Hong Kong, HSBC's move highlights the increasing acceptance and interest in cryptocurrencies.
By offering these ETFs, HSBC provides its investors with a regulated and convenient means to access Bitcoin and Ethereum futures.
This increased accessibility and acknowledgment of digital assets by a prominent financial institution like HSBC have the potential to positively influence the price and demand for Ethereum (ETH) in the market.
Ethereum Whales Accumulate, Fueling Bullish Sentiment
According to on-chain data, prominent Ethereum whales with substantial holdings of ETH in self-custodial wallets have been accumulating more coins, reaching a new record high.
This accumulation by influential entities reflects a bullish sentiment and signifies confidence in the potential of Ethereum.
Consequently, the heightened demand from these whales has the potential to influence the price of ETH positively. Their actions serve as an indication of robust investor interest and long-term optimism in the cryptocurrency.
Ethereum Price Prediction
After conducting a technical analysis of Ethereum against USDT, we can observe that it is currently in a consolidation phase, trading within a range of $1,845 to $1,945.
On the daily timeframe, Ethereum encounters significant resistance near the $1,935 level, which is strengthened by a triple-top pattern.
The close proximity of candles to this level suggests a potential waning of bullish momentum and exhaustion among buyers.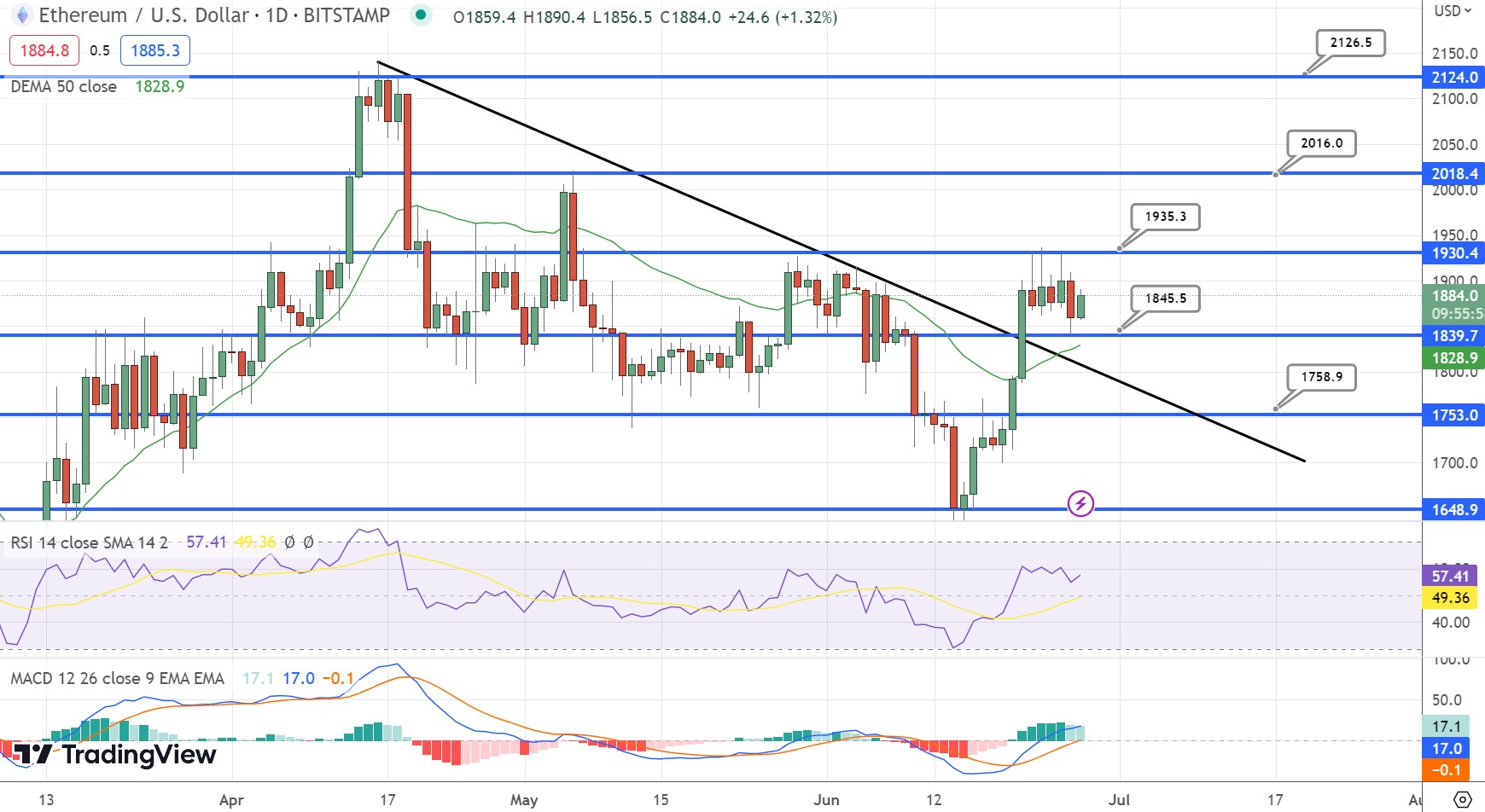 Moreover, the relative strength index (RSI) and moving average convergence divergence (MACD) indicators indicate a neutral stance, supporting a cautious perspective, especially after the breakout of a previous downward trend line that acted as a significant obstacle around the $1,845 level.
Currently, this level is anticipated to act as a support. Monitoring a potential breakout above $1,935 is crucial, as it could propel Ethereum toward the $2,015 level or higher, with a further upside target at $2,126.
Conversely, a bearish breakdown below the $1,845 level could trigger selling pressure, potentially driving the price toward $1,756 or $1,669.
Exploring Alternative Investment: yPredict
Navigating the fast-paced world of meme coins and cryptocurrency tokens can be daunting, but yPredict offers a solution.
yPredict is an innovative platform that utilizes artificial intelligence (AI) to provide crypto analytics and research.
Its primary objective is to offer traders and investors valuable insights and actionable guidance in the ever-changing market.
With advanced AI and machine learning algorithms, yPredict has developed predictive models that empower users to make informed decisions with increased confidence and accuracy.
yPredict has achieved a remarkable milestone, raising over $2.6 million in funding. Each $YPRED token is currently valued at $0.09, with an anticipated listing price of $0.12 when it becomes available on exchanges.
With the utilization of cutting-edge AI and machine learning technologies, yPredict provides investors with predictive models that enhance their confidence and precision when navigating the cryptocurrency landscape.
This advanced technology empowers users to make informed decisions and seize opportunities in the dynamic crypto world.
Disclaimer: The Industry Talk section features insights by crypto industry players and is not a part of the editorial content of Cryptonews.com.
---