Ethereum Price Prediction as ETH Sits on Long Term $1,800 Support – When is the Next Leg Up?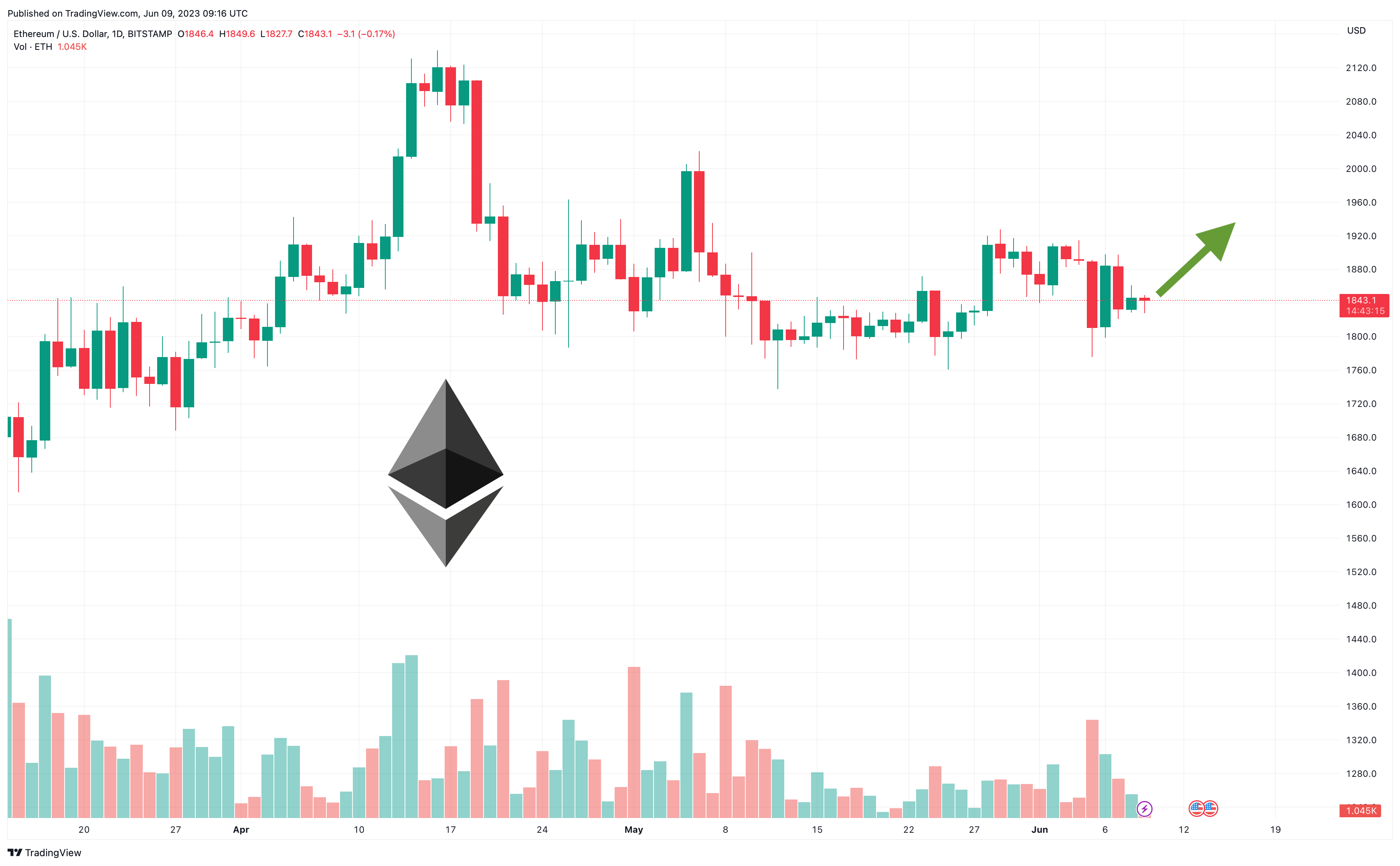 The Ethereum price has slipped by 0.3% in the past 24 hours, while keeping to the $1,800 support level it has held for several months now.
At $1,834, ETH is down by 2.5% in a week, following legal actions from the SEC that have served to depress pretty much the entire cryptocurrency market.
Despite its falls, the altcoin remains up by 53% since the start of the year, with its introduction of staking withdrawals and general development helping it to become one of the best-performing major cryptocurrencies in recent months.
And with the cryptocurrency holding to its support, the next few months could see it rise higher.
Ethereum Price Prediction as ETH Sits on Long Term $1,800 Support – When is the Next Leg Up?
ETH's chart suggests that it's nearing a point where, after the shocks of the past week, it will be ready to rise yet again.
In particular, its relative strength index (purple) has returned to the 50 level, several days after dropping close to 20, where it had been decidedly oversold.
ETH's 30-day moving average (yellow) is also falling towards its 200-day (blue), and when it drops below the longer-term average and reaches a bottom, the altcoin will be due a rebound.
This point may not be too far into the future, given that Ethereum's support level (green) has held to its long-term level of c. $1,800 and now appears to be rising a little.
As such, ETH may not fall much further than it has done this past week, and to be completely fair, its prospects currently look much better than those for numerous other layer-one utility tokens.
That's because more than 10 such cryptocurrencies -- including Solana, Cardano and Cosmos -- were cited as securities in the SEC's charges against both Binance and Coinbase.
In other words, coins such as ADA, SOL and ATOM may find themselves being delisted from various (US-facing) exchanges, while ETH is likely to remain open to trading for the foreseeable future.
This helped ETH to avoid much of the damage taken by many of its rivals this week, although it should be noted that the SEC does regard Coinbase's ETH staking service as an unregistered security offering.
For this reason, ETH holders should be mindful of the possibility of negative repercussions for the cryptocurrency somewhere down the line.
Still, this doesn't change the fact that ETH has had a good few months, most notably because of the successful introduction of staking withdrawals in April.
This update has actually resulted in an increase in staking, rather than the large-scale selling that some commentators had predicted.
According to data compiled on Dune Analytics, more than 22 million ETH is now locked up via staking, having risen from around 18 million ETH at the time withdrawals were enabled.
This suggests a strong demand for ETH staking, while it also means that rising amounts of ETH has been taken out of circulation, something which will squeeze the cryptocurrency's price upwards with rising demand.
And given that Ethereum enjoys more success in attracting significant adoption than its rivals, the next few months could see a substantially rising ETH price, assuming that no more regulatory curveballs are thrown by the SEC and/or other regulators.
From $1,800, it's likely to return to $2,000 in the next few months, before potentially ending the year somewhere between $2,500 and $3,000.
Presale Profit During Downturns
While Ethereum continues to boast some of the strongest fundamentals in the cryptocurrency sector, it may not see any significant rallies until the current period of regulatory attack and economic uncertainty has ended.
For this reason, traders may be tempted to diversify into other altcoins, especially those that are currently holding their presales and haven't even listed on exchanges (and experienced big rallies) yet.
One such altcoin is ecoterra, an Ethereum-based recycle-to-earn platform that has sold over $4.9 million of its native ECOTERRA token.
Due to launch in the second half of 2023, ecoterra's platform will reward users for recycling household waste at participating recycling points.
Users will receive ECOTERRA and limited NFTs for their efforts, enabling them to earn a profit for their efforts and incentivizing an increase in green behavior.
The platform will also reward users for generating their own green energy, and it will include a marketplace for NFT-based carbon offsets.
These interesting features account for why people have flocked to the ECOTERRA presale, with new investors able to join the presale by going to the official ecoterra website and connecting their software wallets.
1 ECOTERRA currently costs $0.00925, while in about 20 days, it will rise again to $0.01, a price which may end up seeming cheap when the token lists on exchanges in the next few weeks.
---