Ethereum Blockchain Transactions Reach Double that of Bitcoin
The Ethereum (ETH) network has managed to surpass Bitcoin (BTC) in one more way as ETH now transacting twice as much as BTC, according to crypto research and analytics firm, Messari.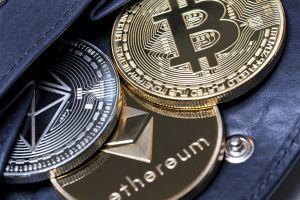 The Ethereum blockchain has recently overtaken Bitcoin in daily transaction volumes by a factor of two-to-one, their latest data showed. According to Ryan Watkins of Messari, this is due to an explosion in stablecoin usage and decentralized finance (DeFi) protocols, so much so that Messari sees Ethereum clocking USD 1tn or more in transactions by the end of 2020.
"This is what a cryptoeconomy looks like when it starts to find product-market fit," Watkins tweeted.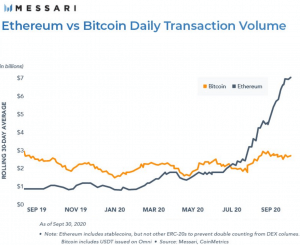 Stablecoin adoption has been rising at an almost near-constant pace since 2017, and in 2020, DeFi exploded, creating a new ecosystem, especially for leveraging stablecoins, with interest yielding protocols being a popular use of stablecoins such as tether (USDT), dai (DAI), and USD coin (USDC).
In September 2020, it was reported by Cryptonews.com that stablecoins were having an healthy post-summer rise, reaching new heights across almost every metric with almost USD 10bn of value locked in DeFi. Today, it's over USD 12bn.
Having grown by USD 3.8bn in Q2 to a market capitalization of USD 12bn, in Q3, the stablecoin monetary base was up a further USD 8.2bn, surpassing USD 20bn. It is believed to be dominated by stablecoins leveraged as collateral on the yield farming DeFi platforms.
The Q3 graphs put on display by Messari, decentralized exchange (DEX) platforms also witnessed a boom in line with DeFi and stablecoins, which according to Messari, now make up 13.6% of combined volumes across DEX and centralized exchanges.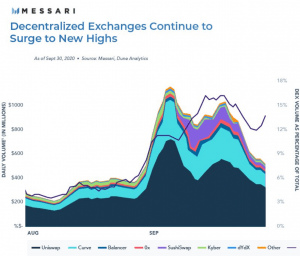 At pixel time, ETH trades at USD 412 and is up by 6.5% in a day and almost 10% in a week. The price jumped by 21% in a month and 159% in a year. At the same time, BTC trades at USD 12,896, or 1.5% more than yesterday. BTC also advanced by 23% in a month and 73% in a year.
___
Learn more:
Ethereum Miners Collected 6 Times More Fees Than Bitcoin Miners
DeFi Helps Ethereum Surpass Bitcoin in Adjusted Transfer Value
Ethereum is Close to Being Flipped on its Own Blockchain - Analyst
Bitcoin Is Better Than Ethereum At These Four Things
---