EOS is Not the 5th Largest Coin Anymore
The crypto market has just reshuffled the list of Top 5 cryptocurrencies by market capitalization. After a recent bull run of Stellar's XLM and drop of the EOS price, the latter has left the list, making XLM the 5th largest coin by market capitalization.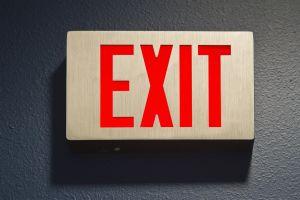 Top 5 cryptocurrencies by market capitalization:

_____
XLM price chart: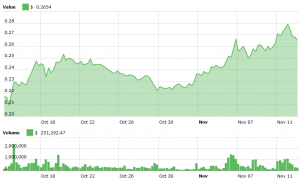 _____
EOS price chart: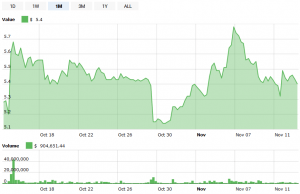 XLM has been on a bull run since October 31, starting from USD 0.22 and reaching almost USD 0.28 on November 11, before trimming its gains to USD 0.265.
Last week, cryptocurrency wallet and data provider Blockchain has announced an airdrop of USD 125 million in XLM, nearly half a billion tokens, in an attempt to boost crypto adoption. The Stellar Development Foundation, the organization behind the cryptocurrency, expects that the airdrop will bring numerous new users to its ecosystem.
However, despite the possible positive effect on the adoption, the news didn't elicit as much of a positive response as the company might have hoped: the community is not persuaded that this is the best way to foster adoption, arguing that it doesn't make sense.
Also, one of the possible reasons of the recent price increase is the anticipation for the cryptocurrency exchange Coinbase listing Stellar. The exchange announced in July 2018 that it is "exploring" XLM along with some other coins. Since then, Coinbase has already listed 0x and BAT, so the market estimated that it shouldn't be much time until Stellar Lumens can be traded on the company's platform. However, as the recent listings have shown, after the initial jump, price of a crypto asset tend to drop sharply a few days later.
On the other hand, EOS has recently received criticism for being centralized. On November 9, 2018, Reddit user u/auti9003 published a thread showcasing a screenshot that an EOS moderator has supposedly reversed a transaction after it has been confirmed. The case included a dispute, in which a perpetrator has allegedly acquired the private keys of a user and transacted a number of EOS coins without the owner's permission. According to the post, the "arbitrator" ruled that the coins in dispute should be returned to the original owner, despite that the transaction has been confirmed.
Moreover, Whiteblock, a blockchain testing company based in Los Angeles, recently said that one of the largest projects in the crypto space "EOS is not a blockchain, rather a distributed homogeneous database management system."
---