DeFi Winning 'Bullish' Fans, But Ethereum's 'Crown' In Danger – Survey
The Digital Currency Group has suggested that the decentralized finance (DeFi) movement could one day outgrow the blockchain network it was primarily built upon – Ethereum (ETH) – and claimed that its founders were "more bullish on DeFi than on its current technical underpinning," namely the Ethereum network.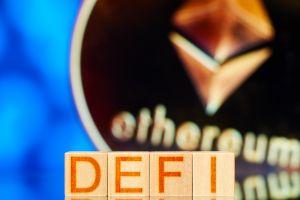 The group, which has invested in crypto industry heavyweights such as Coinbase, Ripple and Kraken, stated in its most recent State of Crypto report that other networks could eventually undermine Ethereum, which remains the go-to network for most DeFi ventures.
The authors wrote,
"Our founders were split on whether DeFi's current technical underpinning, Ethereum, will remain the dominant transaction-based blockchain."
Indeed, there was glowing praise for DeFi's potential. The report's authors noted,
"Our founders expressed that no matter the performance of DeFi token prices in the near-term (which have plunged recently) the protocol development and business growth of 2020 bodes well for the industry's future."
The authors said that they interviewed industry insiders who "were quick to contrast the DeFi movement with the initial coin offering (ICO) bubble of 2017, pointing to the talent and professionalism of today's innovators."
Larry Sukernik, the group's venture investments lead, was quoted as stating,
"The caliber of the [DeFi] founders is impressive; many left high-paying jobs to start companies in the DeFi space. They're more commercial, productive and ethical (than the 2017 crop)."
As for Ethereum, the group says that only 51% of the people it spoke to this quarter thought that the network would find stability "faster than new blockchains develop a community," with the remainder either answering in the negative or unsure.
The authors concluded,
"Those who believe Ethereum will retain its crown emphasized the tremendous time required for blockchain projects, even those that demonstrate superior transaction speeds, to build community and network effects. They argue that Ethereum's community strength gives it ample buffer to implement a scaling solution. Conversely, the Ethereum bears pointed to the fact that developers have been doggedly pursuing a fix to scaling issues since 2014, to no avail, with a lot of hyped solutions, like Plasma, sharding and roll-ups, seemingly falling short."
____
Learn more:
Decentralized Exchange on Ethereum Is Not Sustainable - FTX CEO
Ethereum To Keep Its DeFi Throne For At Least 3 Years - Survey
Ethereum Won't Give Its DeFi Throne to EOS, Tron Anytime Soon
---