Dash 2 Trade Price Prediction 2023 – 2030
Disclosure: Crypto is a high-risk asset class. This article is provided for informational purposes and does not constitute investment advice. By using this website, you agree to our terms and conditions. We may utilise affiliate links within our content, and receive commission.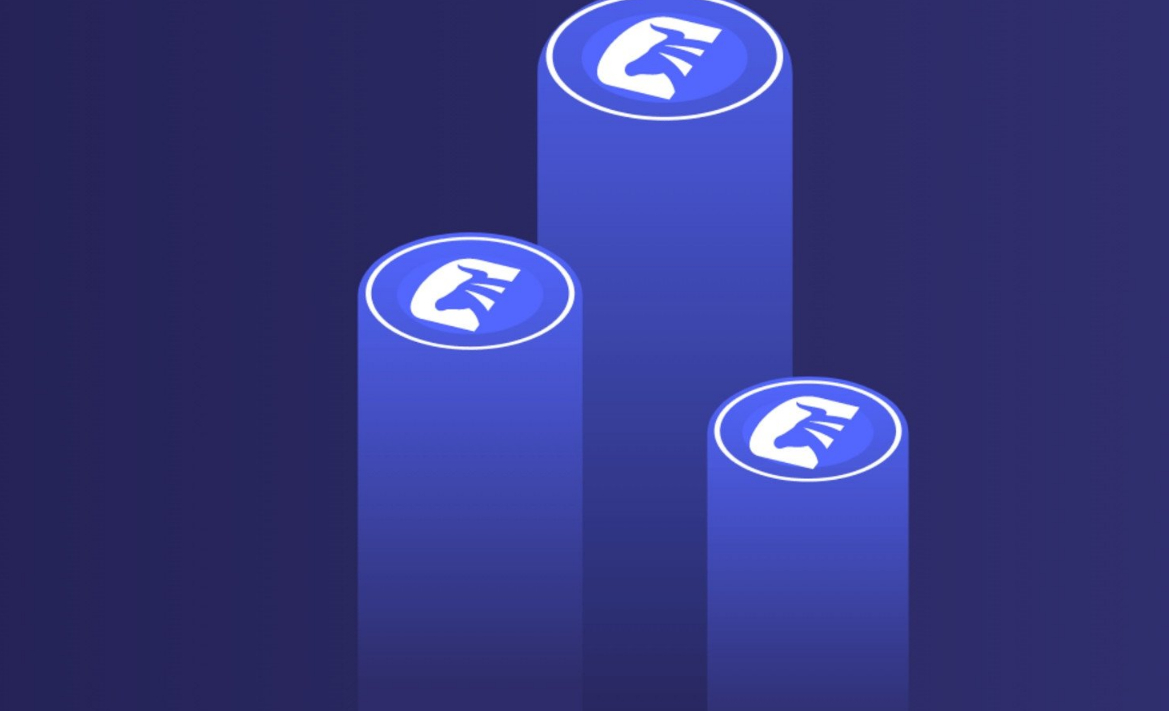 Disclaimer: The Industry Talk section features insights by crypto industry players and is not a part of the editorial content of Cryptonews.com.
Investors are on the hunt for a Dash 2 Trade price prediction after the crypto intelligence platform captured the attention of investors worldwide after its native D2T token raised over $5 million within the first weeks of its presale.
Throughout this guide, we'll be taking an in-depth look at Dash 2 Trade, discussing what drives the asset's value, and providing a Dash 2 Trade price prediction. Let's take a look.
Dash 2 Trade Price Prediction – Summarized
For investors looking for a quick Dash 2 Trade price prediction, we've highlighted our findings in bullet point format.
End of 2023 – If the market begins to show signs of recovery, D2T could soar to $0.30.
End of 2025 – With the release of Dash 2 Trade's core features completed, D2T might climb toward $0.65.
End of 2030 – With the adoption of cryptocurrency expected to increase substantially, D2T could touch $1.10. 
Visit Dash 2 Trade Presale Now
Dash 2 Trade Price History
Despite being a fairly new project, Dash 2 Trade (D2T) has had quite an exciting time since its release. With Dash 2 Trade offering a huge number of tools handcrafted to benefit crypto enthusiasts of every experience level, investors have rushed to the D2T presale in order to secure access to the crypto signals platform upon its release.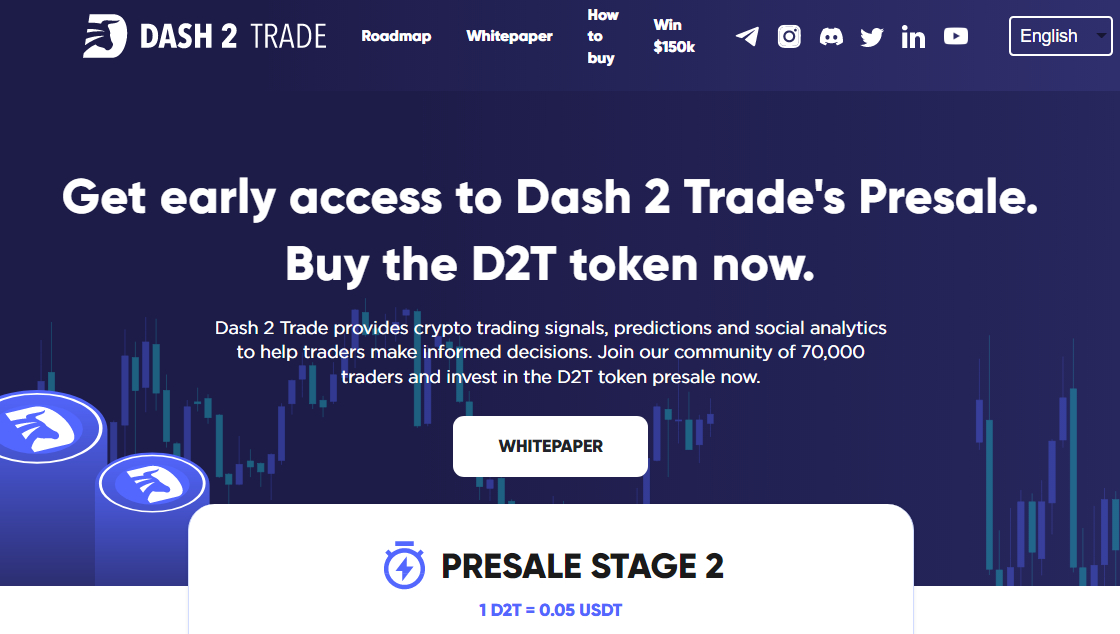 Dash 2 Trade was launched as a nine-stage presale with the price of the project's native ERC-based D2T token slowly increasing from stage to stage. Initially, D2T was sold for $0.0476. However, this first phase lasted only 72 hours, with investors scrambling to stock up on tokens at the lowest price possible. 
Now, during the presale's second phase, D2T tokens are available for $0.05, with this figure slated to increase progressively, rising to $0.0662 by the ninth phase. This will mark a 39% difference in price between the first and ninth phases and cement Dash 2 Trade as one of the best crypto ICOs to launch this year.
| | | |
| --- | --- | --- |
| Price Stage | Amount Raised In Stage | Token Allocation |
| $0.0476 | $1,666,000 | 35,000,000 |
| $0.0500 | $3,500,000 | 70,000,000 |
| $0.0513 | $3,591,000 | 70,000,000 |
| $0.0533 | $4,663,750 | 87,500,000 |
| $0.0556 | $4,865,000 | 87,500,000 |
| $0.0580 | $5,075,000 | 87,500,000 |
| $0.0606 | $5,302,500 | 87,500,000 |
| $0.0635 | $5,556,250 | 87,500,000 |
| $0.0662 | $5,792,500 | 87,500,000 |
In total, the Dash 2 Trade presale has a $40m market cap with 70% of the project's 1 billion token supply being reserved for the presale. Because the majority of the D2T supply is already being distributed within the ecosystem, we could see strong upward price action from D2T once it hits the open market as there aren't many additional tokens available to dilute the price.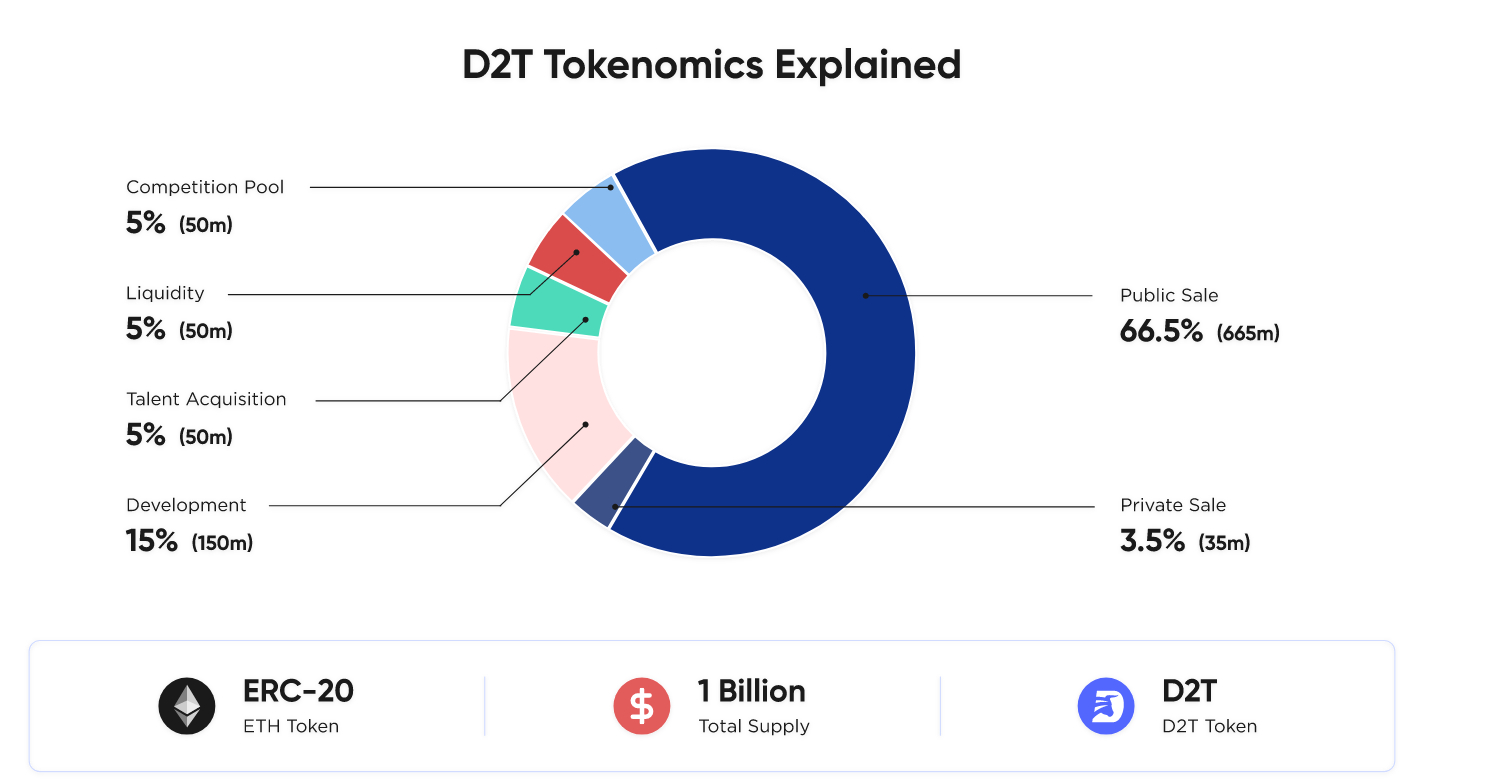 Dash 2 Trade is one of the best crypto presales currently available to investors. Boasting an array of analytics-driven tools to improve the overall crypto experience, it's no surprise that the project has been such a hit with investors. Check out Dash 2 Trade today to secure some D2T tokens for the lowest possible price. Join the Dash 2 Trade Telegram to stay informed of any updates and read the whitepaper for more details about this innovative project.
Visit Dash 2 Trade Presale Now
Dash 2 Trade Price Prediction 2023
2023 promises to be incredibly interesting for Dash 2 Trade. With the project having plenty of time to find its footing after its official release, a vastly increased number of users will likely be taking advantage of the tools offered by Dash 2 Trade, consequently providing a significant boost to demand.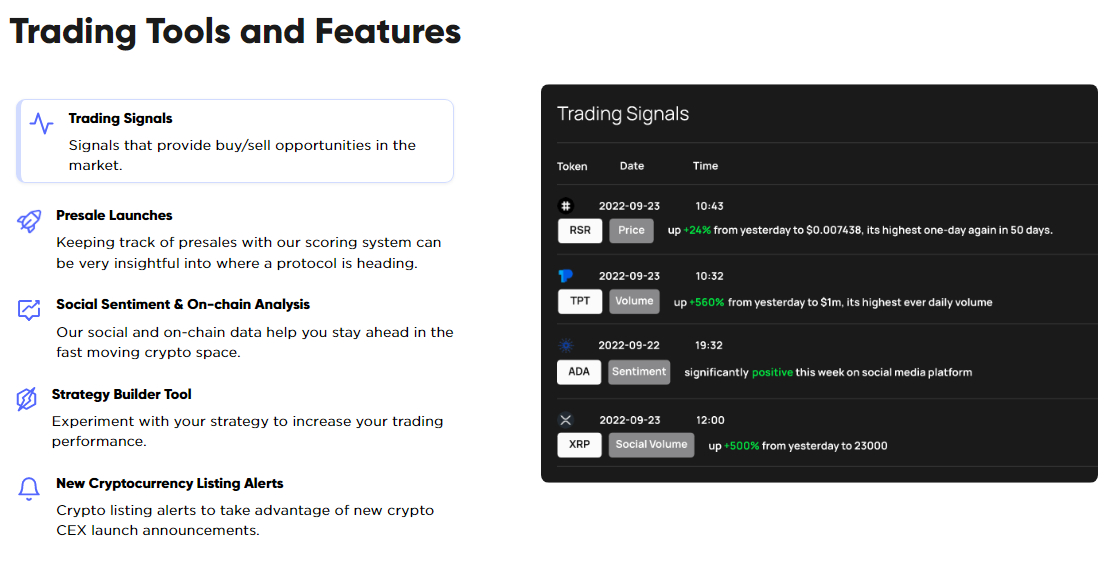 While the majority of Dash 2 Trade's core features will be released at launch, there are few expected to be in the months following. Touted for release in Q4 2023 are the trading strategy builder and backtester, a risk profiler designed to improve a trader's psychology, and a series of trading competitions for premium members.
Dash 2 Trade is expected to be a big hit amongst crypto enthusiasts but the team isn't relying solely on that for growth. Created by the established team responsible for Learn 2 Trade, Dash 2 Trade can capitalize on a 70,000-member community to fuel the growth of the new analytics platform.
Furthermore, an already-established audience of 70,000 people vying to gain access to Dash 2 Trade by stocking up on D2T tokens could cause demand to sharply outpace supply, leading to an uptick in the D2T price.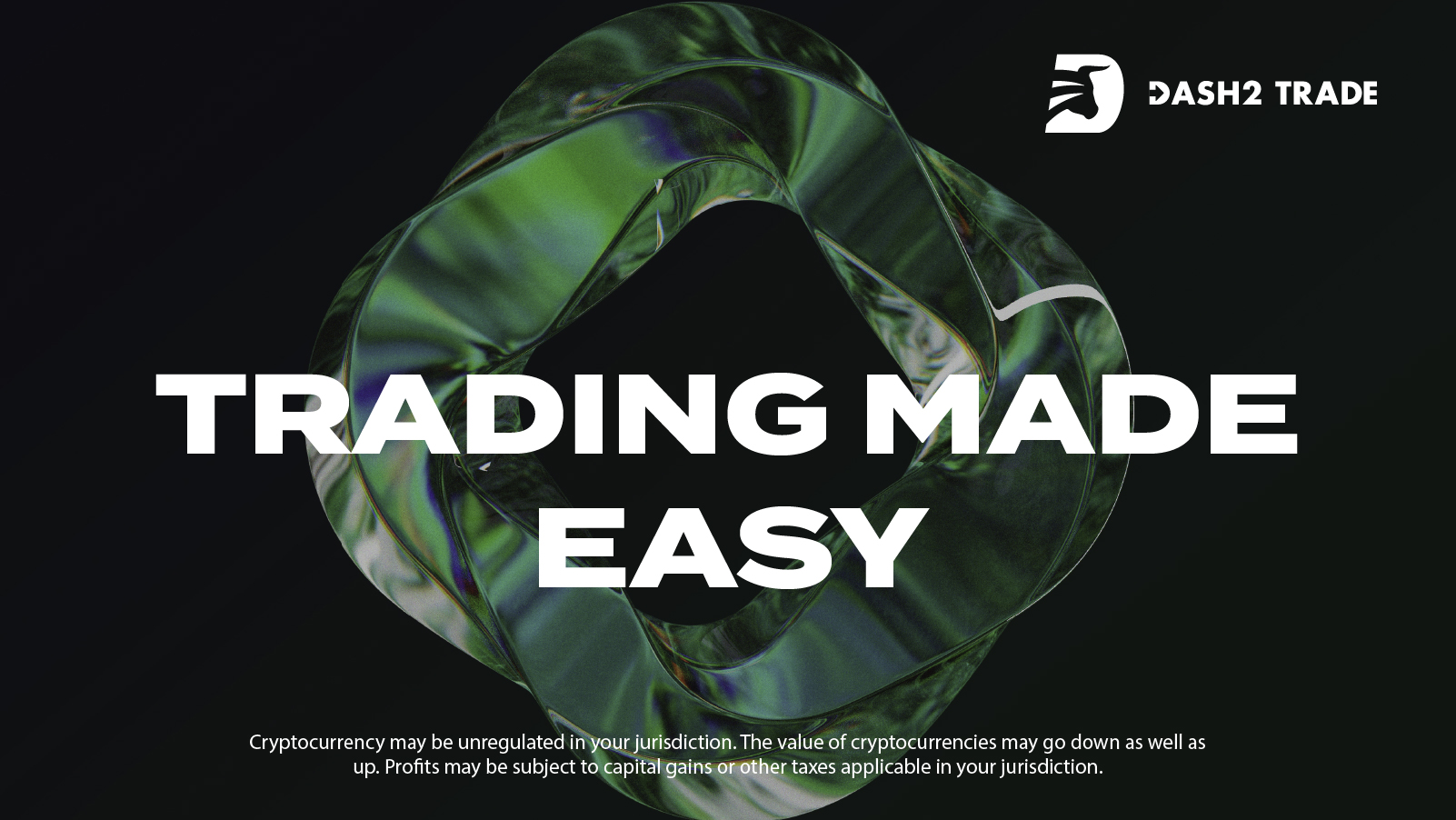 Throughout 2022, the cryptocurrency market has largely struggled to yield positive growth. However, with financial markets operating in cycles, we could see a shift in this trend by 2023. Such a change in market sentiment could further boost the growth from other areas, causing the D2T token to grow even faster than expected.
With Dash 2 Trade expected to quickly grow in popularity after its release and the release of additional features likely to bolster demand for the D2T token, we could see the asset climb toward $0.20 to $0.30 depending on the performance of the wider financial markets. 
Dash 2 Trade Price Prediction 2025
Further down the line toward the end of 2025, Dash 2 Trade will have had plenty of time to establish itself as the most feature-rich crypto analytics and intelligence platform. This would likely lead Dash 2 Trade to grow significantly in terms of user count.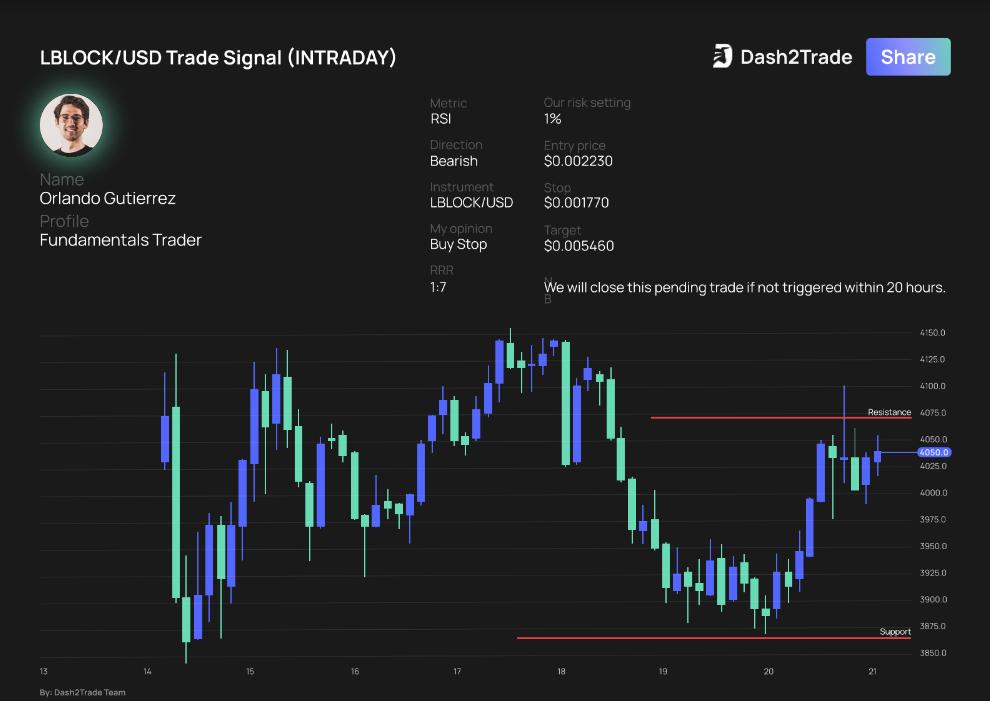 While 2025 will see every already-announced Dash 2 Trade feature released (such as the copy trading platform and auto trading API in Q4 2024), the project has allocated 15% of its supply to growth and development on a 5-year vesting schedule. This, in conjunction with any additional profits, will allow Dash 2 Trade to create and unveil new features, attracting more users.  
Further contributing to the growth of Dash 2 Trade is the continued increase in cryptocurrency adoption. As cryptocurrency becomes more commonly used in the world around us, there will be a large increase in the number of people wanting to improve their knowledge of the asset class. As a result, intelligence platforms like Dash 2 Trade will likely be in far higher demand. 
With a strong community and works on delivering new features to improve the platform, we could see some impressive growth from the asset many are crowning the best new cryptocurrency. While our conservative Dash 2 Trade price prediction estimates that D2T could hit around $0.40, a high of $0.65 could be possible if crypto adoption is greater than expected.
Dash 2 Trade Price Prediction 2030
As we head toward a new decade, things could get very interesting for Dash 2 Trade and its investors. The crypto analytics platform will likely have expanded its offerings, leading to a greater quantity of users. Furthermore, with the number of crypto traders increasing, the D2T token will likely experience new heights of demand.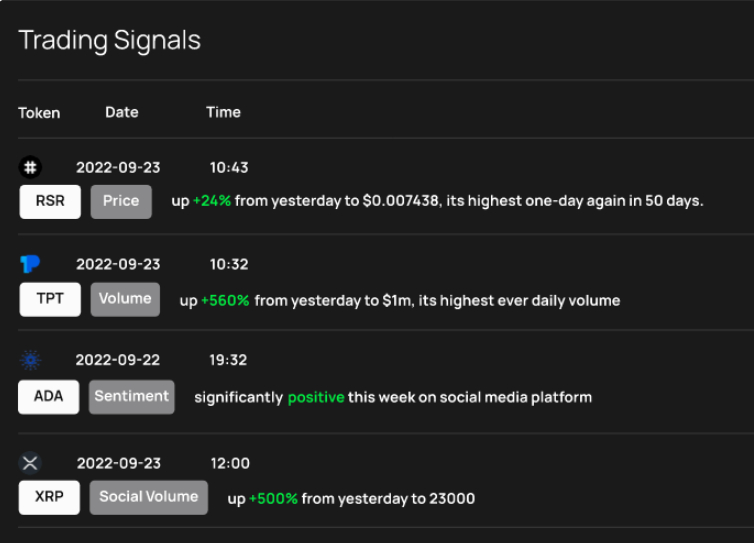 With the cryptocurrency market growing daily, we'll likely see authoritative bodies like the FCA and the SEC make every effort to regulate cryptocurrency. This will boost consumer confidence, causing far more money to inflow into the cryptocurrency market, with some naturally pouring into the Dash 2 Trade ecosystem. 
With the cost of living increasing yearly, we'll likely see far more investors hunting for the next cryptocurrency to explode. With Dash 2 Trade providing actionable information that can be used to find exciting opportunities within crypto, it could become a core part of every investor's arsenal. 
As the cryptocurrency market develops and new users join the space, we could see a drastic increase in the need for the services offered by Dash 2 Trade. With that in mind, our D2T coin price prediction places the asset anywhere between $0.95 and $1.10 by the end of 2030. 
Possible Highs and Lows of Dash 2 Trade
To make it simple for people to reference our article, we've outlined our Dash 2 Trade price prediction in the handy chart below.
| | | |
| --- | --- | --- |
| Year | Possible Low | Possible High |
| End of 2023 | $0.20 | $0.30 |
| End of 2025 | $0.40 | $0.65 |
| End of 2030 | $0.95 | $1.10 |
What Does Dash 2 Trade Do?
Ever wondered what the best utility token is? With Dash 2 Trade being a utility-centric project, potential investors are likely to wonder what it actually does. We've highlighted a few of our favorite uses for Dash 2 Trade.
Crypto Intelligence 
At its core, Dash 2 Trade is a crypto intelligence platform. This means that it provides users with useful tools and resources designed to provide insights into the direction of the market of even a particular asset. As such, Dash 2 Trade is an invaluable tool for anyone involved in the cryptocurrency space. 
Track Buyer Sentiment
One of the driving forces behind the value of an asset is buyer sentiment. If investors feel positive about a project's prospects, it's more likely to attract investment. Dash 2 Trade provides tools that make it simple to accurately track buyer sentiment and mentions of a project on social media, allowing users to spot trends in the market with ease. 
Low-Cost Investment
While the Dash 2 Trade platform provides a large number of useful tools, the D2T token also has huge merit as an investment. D2T tokens can currently be acquired for just $0.05 and with Dash 2 Trade seeming primed to perform well after its launch, we could see Dash 2 Trade become the year's best altcoin.
Presale Insights
One of the most intriguing features offered by Dash 2 Trade is its presale ranker. The team will painstakingly review new presales awarding each with a 'Dash Score' which highlights its risk and merit as an investment. With presales presenting some of the best opportunities in crypto, this tool is invaluable.
Improve Success Rate
With all the tools offered by Dash 2 Trade, the platform helps both investors and traders to visibly improve their success rate. With Dash 2 Trade making it simple to spot trends within the market, people within the crypto space can utilize the platform to make better-informed decisions, potentially boosting profits while lowering losses. 
What Affects the Value of Dash 2 Trade
As with any asset, there are a large number of factors that affect the D2T token price. We've highlighted a few factors that have the largest impact on the D2T coin price.  
Crypto Adoption – As we touched on earlier in our Dash 2 Trade prediction, the global adoption of cryptocurrency plays a large part in determining the value of an asset. As adoption increases there will be more funds within the crypto market, making it easier for a project like Dash 2 Trade to attain a larger market cap. 
D2T Presale – Dash 2 Trade is currently in its presale with the D2T coin price increasing during each phase. These presale prices will provide a nice range of lower support levels that the token could bounce off. Furthermore, the presale will attract the initial users to the project, stimulating the Dash 2 Trade ecosystem.
Supply and Demand – Supply and demand are the driving forces behind the value of just about everything commonly bought and sold. With Dash 2 Trade featuring a fixed supply of 1 billion tokens, which are used to pay for memberships to the platform, we could see demand outpace supply leading to an increase in the price of D2T tokens.
Is Dash 2 Trade the Best Crypto to Buy in 2023?
Dash 2 Trade has attracted a huge amount of interest after its presale sold out its first stage just 72 hours after its launch. Of course, this has led investors to wonder how Dash 2 Trade stacks up against some other popular crypto assets. 

While this media coverage caused demand for the ERC-based D2T token to increase, the platform's exciting features drew in even more investment. Dash 2 Trade offers users an automated trading API, a risk profiler, a presale ranker/tracker, a platform to build and test trading strategies, a host of on-chain analytics, and even a monitor for new token listings. 
The Dash 2 Trade token (D2T) is an innovative asset using the ERC-20 architecture. It boasts zero tax on transactions, something that will likely be important when it comes to getting the token listed on prominent exchanges. Furthermore, D2T will be used to pay for access to the Dash 2 Trade platform, likely boosting the value of the token significantly.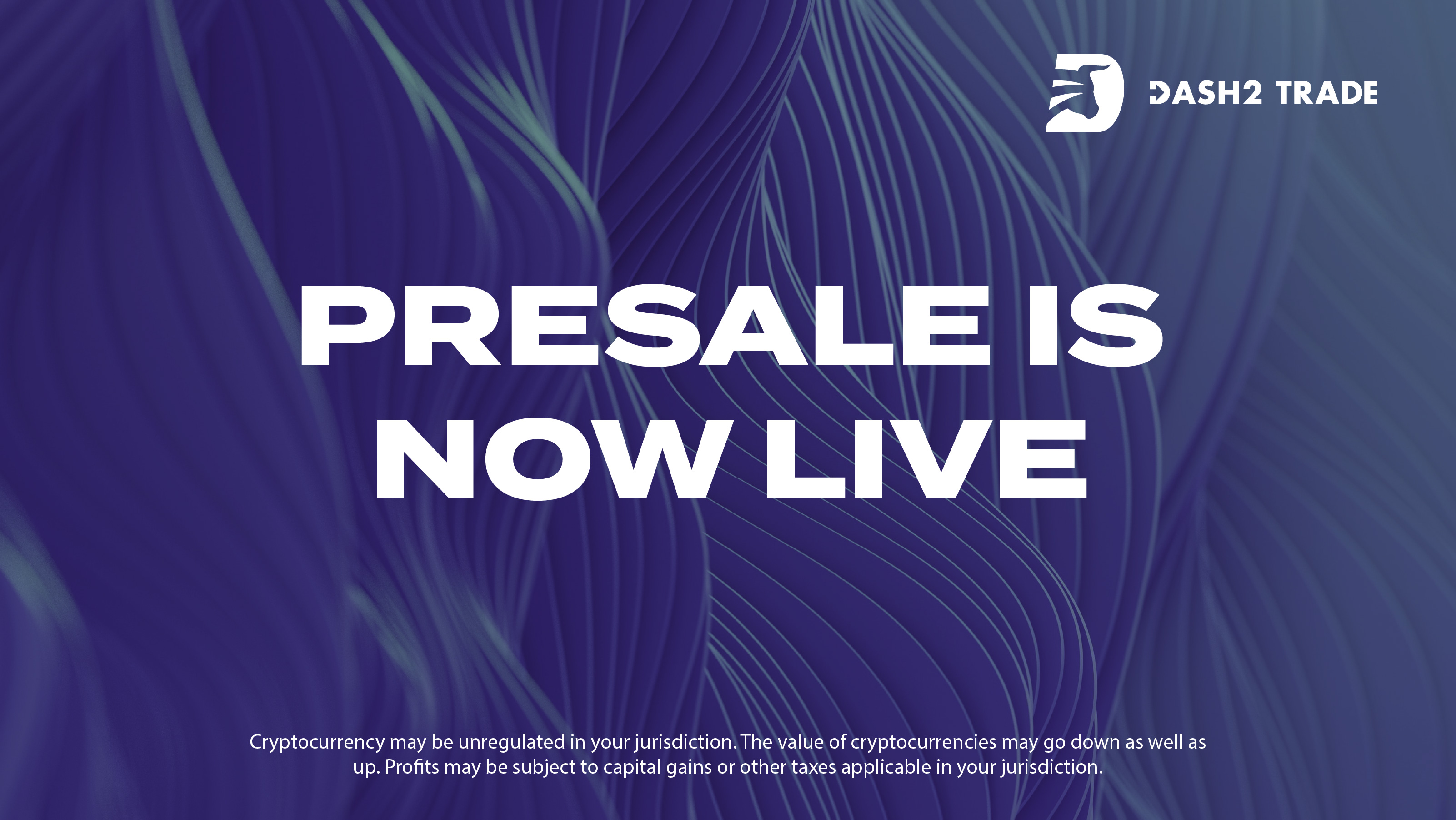 As highlighted in the project's whitepaper, the different Dash 2 Trade memberships include: 
Free – Provides limited access to Dash 2 Trade including basic on-chain metrics.
Starter (400 D2T per month) – Grants users the ability to use each Dash 2 Trade feature with access to foundational-level on-chain and social metrics as well as basic presale insights.
Premium (1,000 D2T per month or 9,600 D2T per year) – Premium members have unlimited access to every Dash 2 Trade feature including the most advanced analytics.
Overall, Dash 2 Trade is a massively exciting project that has the potential to perform very well after its release on the open market. The project is currently in its presale with prices slowly increasing. As such, it's the best time to stock up on D2T tokens and secure access to the best crypto signals platform.
| | |
| --- | --- |
| Presale Started | October 19 |
| Purchase Methods | ETH, USDT, Transak |
| Chain | Ethereum |
| Min Investment | 1,000 D2T |
| Max Investment | N/A |
Visit Dash 2 Trade Presale Now
How to Buy Dash 2 Trade Tokens
To make participating in the presale simple, we've outlined exactly how to buy Dash 2 Trade tokens.
Step 1: Create a Non-Custodial Crypto Wallet
Before buying any D2T tokens, it's crucial to create a non-custodial crypto wallet for storage. While there is a plethora of options out there, MetaMask tends to offer the best desktop performance whereas Trust Wallet is often touted as being the superior option for mobile investors.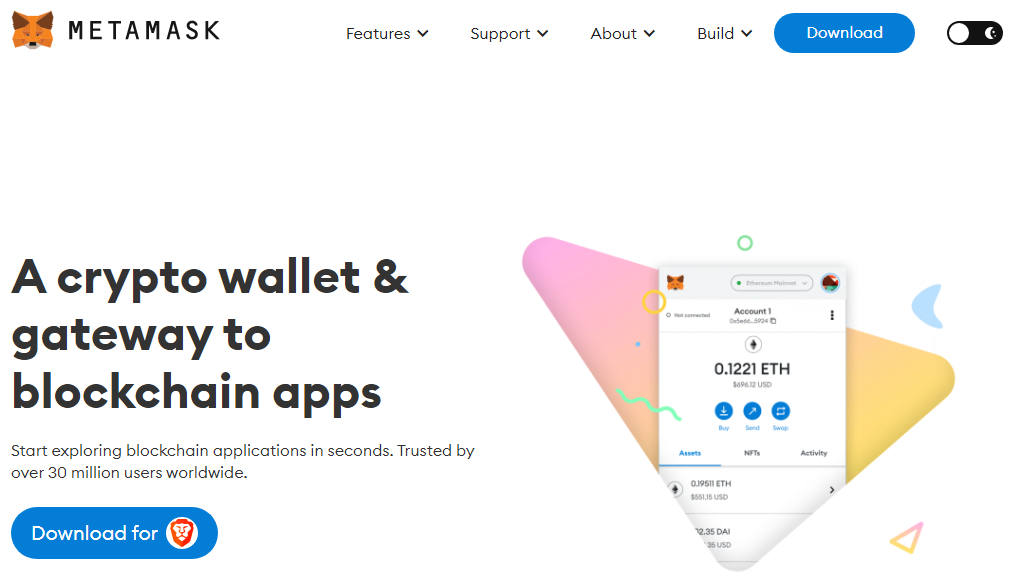 Step 2: Buy USDT or ETH
The native asset to the Dash 2 Trade ecosystem, D2T uses the ERC standard. Therefore, either ETH or USDT is required to buy tokens during the presale. Most regulated brokers stock the assets but Ethereum can also be acquired directly from the Dash 2 Trade website through Transak.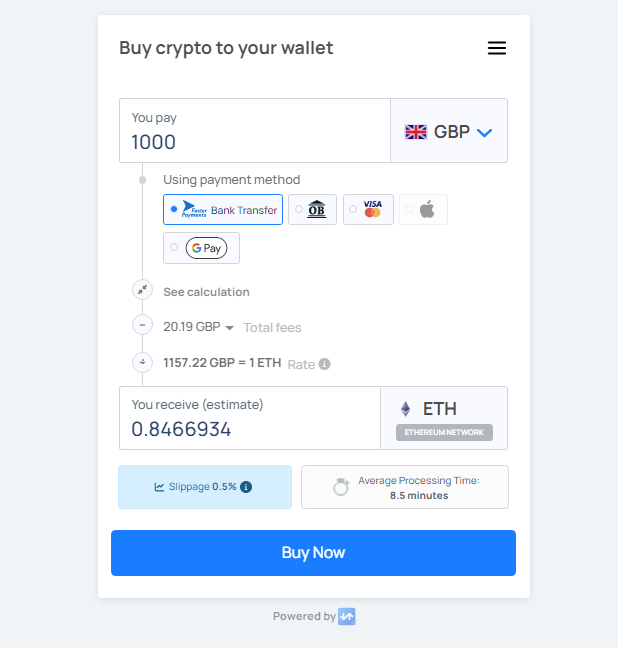 Step 3: Connect Wallet and Purchase D2T Tokens
Next, head to the Dash 2 Trade website and connect the newly created non-custodial wallet. After this, open up the purchase menu using the 'Buy With' button, then decide how many tokens to buy, keeping the 1,000 D2T minimum in mind, and then confirm the purchase. During this process, it's important to consider any gas fees prior to purchase.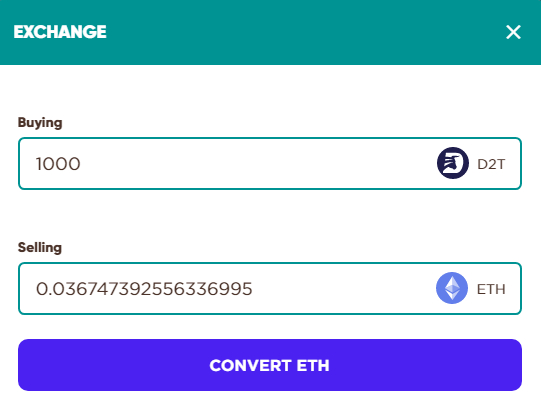 Step 4: Claim D2T Tokens
After the Dash 2 Trade presale has run its course, a date will be scheduled for investors to claim their D2T tokens.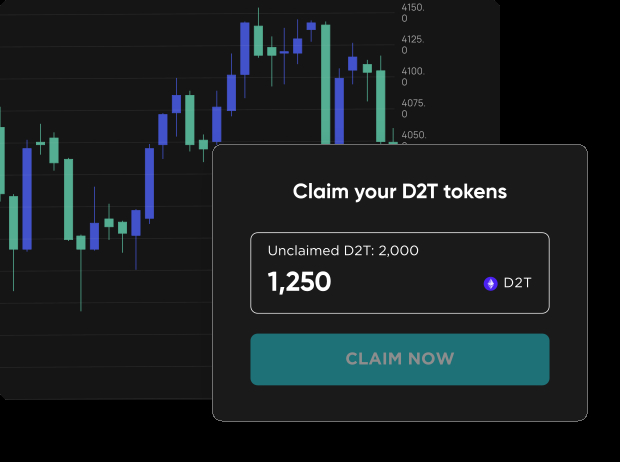 Best Place to Buy Cryptocurrencies
One of the top crypto exchanges investors can trade cryptos with is Binance. While Dash 2 Trade is not available to purchase directly through the exchange, investors can create a Binance wallet and connect to the website. 

Binance has the highest trading volume among all of the cryptocurrency exchanges in the world – and is used by more than 160 million people. On Binance, investors can buy and sell more than 400 cryptocurrencies. Through unique features such as swap farming – you can even pair hundreds of different crypto pairs through a liquidity pool. 
One of the reasons why investors choose Binance is due to the low trading fees – starting at just 0.1% per transaction. Investors can also get an additional 25% discount on trades when holding BNB – the native cryptocurrency. On Binance, you can also stake certain tokens to generate passive income. Through the flexible staking options, you can generate between 0.5% – 5% annually. 
Investors can either join Binance with a desktop or via iOS and Android through the mobile app. The platform supports demo accounts, and offers an online academy full of articles and journals. The customer service team is available 24/7, and works around the clock to help customers. 
With a minimum deposit of $50 (in the US), you can start trading on Binance. The exchange supports multiple payment methods including credit/debit cards, bank transfers, VISA, and Mastercard. 
Conclusion
Throughout this guide, we've taken a detailed look at Dash 2 Trade, discussed what moves the asset as well as what it's used for, and provided a Dash 2 Trade price prediction.
Dash 2 Trade is perhaps the most powerful crypto intelligence platform on the market. With its plethora of uses, strong tokenomics, and established community, D2T could be the best crypto project available right now. Check out Dash 2 Trade today to secure some D2T tokens for the lowest price possible. 
Visit Dash 2 Trade Presale Now
FAQs
What is Dash 2 Trade?
Dash 2 Trade is a powerful analytics platform that provides traders and investors with the tools needed to succeed in the crypto space. The project is currently in the second stage of its nine-stage presale with D2T tokens being sold for just $0.05. 
Is Dash 2 Trade a good investment? 
While anything can happen in the crypto market, Dash 2 Trade has all the markings of a crypto project set to explode in the near future. Boasting a huge amount of intrinsic value, an established community, and an experienced team, things are looking very positive for the project. 
---