Crypto Analysts are Bullish on These Altcoins – Here's Why
Disclosure: Crypto is a high-risk asset class. This article is provided for informational purposes and does not constitute investment advice. By using this website, you agree to our terms and conditions. We may utilise affiliate links within our content, and receive commission.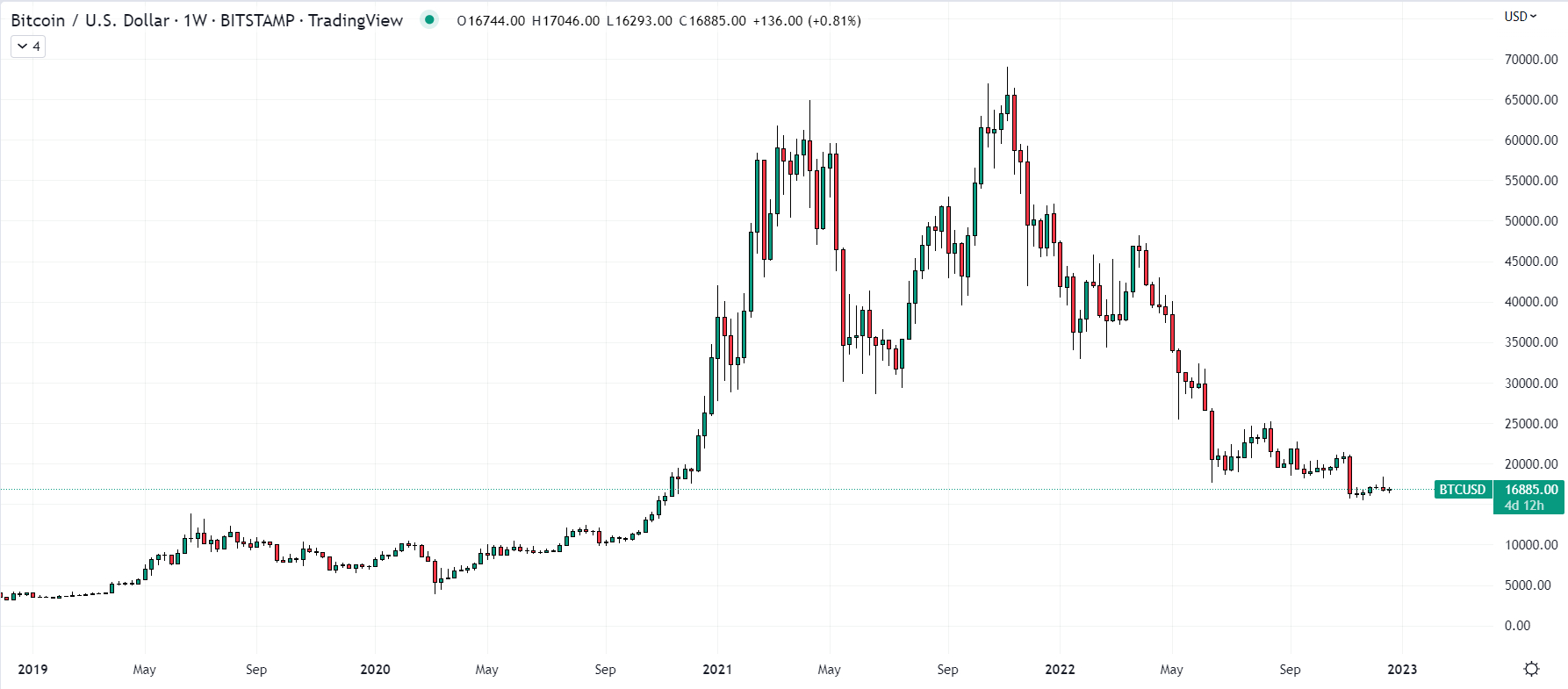 There hasn't been much to be bullish about in cryptocurrency markets in 2022. Bitcoin is down about 63% on the year. Ethereum is down about 67%. Price declines haven't been the only thing to batter confidence in the nascent asset class.
The collapse of the algorithmic stablecoin-dependent Terra Decentralised Finance (DeFi) ecosystem back in May triggered a cascade of bankruptcies across big leveraged players in the crypto space that eventually swept up the likes of Three Arrows Capital, Voyager Digital, BlockFi, and, most recently, FTX.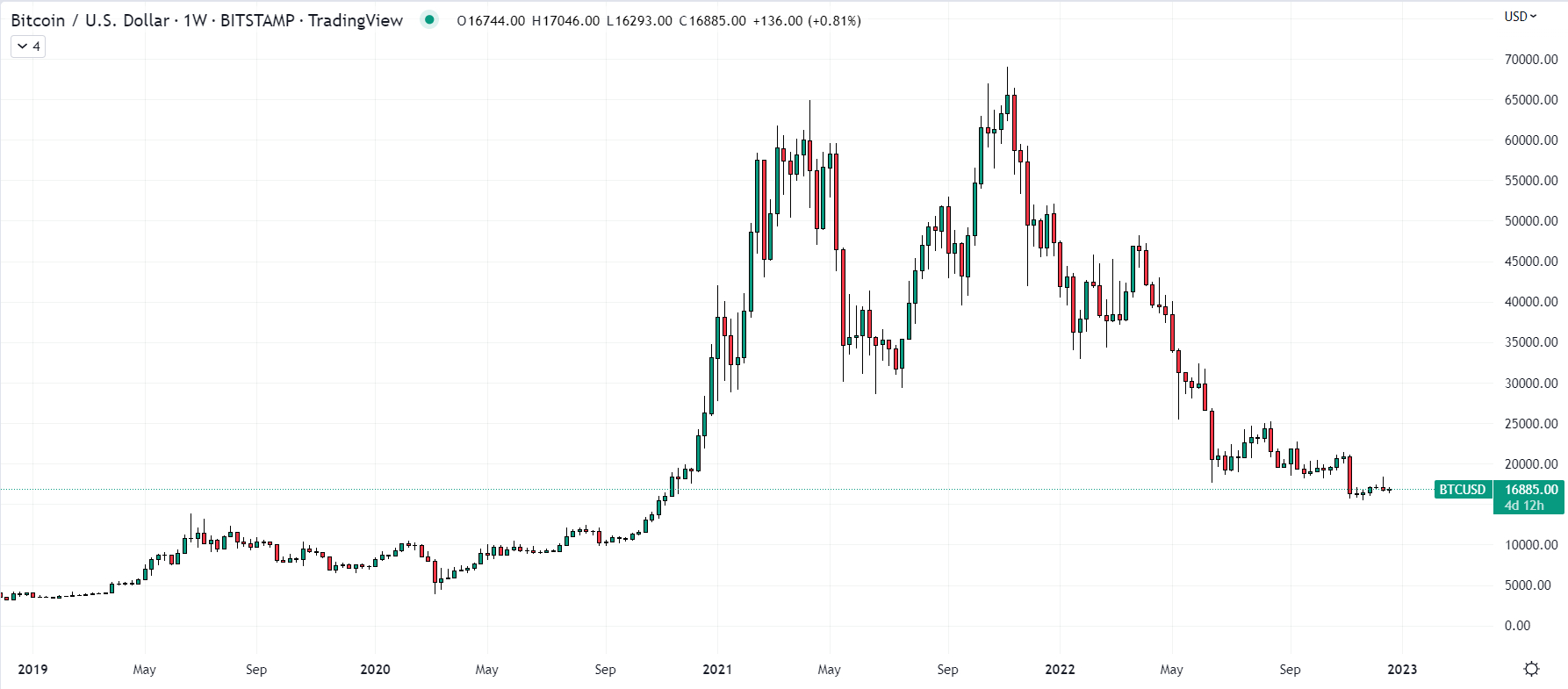 The main catalyst for 2022's bear market has been aggressive monetary policy tightening by major central banks like the US Federal Reserve in order to tackle a surge in inflationary pressures. The rapid rise in interest rates battered traditional asset classes (stocks and bonds), as well as cryptocurrency.
And with the Fed still talking a hawkish game at the end of 2023 (i.e. that rates need to remain highly restrictive for some time), the outlook for a broad crypto market recovery in 2023 doesn't look great.
But there is cause for optimism. While prices are down and a few big crypto companies have gone bust, developers keep building and innovating.
If investors can identify and invest in high-quality crypto projects in their early stages of development, they can still reap strong rewards, despite the ongoing cryptocurrency bear market. Here is a list of early-stage crypto projects that analysts at cryptonews.com are bullish on for 2023.
FightOut (FGHT) – Presale Now On
The young move-to-earn crypto niche has shown a lot of promise, but early success stories like STEPN have significant limitations that have, so far, prevented them from conquering the mainstream.
FightOut, which touts itself as the future of move-to-earn, wants to change that in 2023. FightOut is a brand new web3 fitness application and gym chain that rewards its users for working out, completing challenges and competing within a first-of-its-kind fitness metaverse.
While existing M2E applications such as STEPN only track steps and require expensive non-fungible token (NFT) buy-ins to take part, FightOut takes a more holistic approach to tracking and rewarding its users for their exercise and activity, and doesn't require any expensive buy-ins to take part. FightOut seeks to combine the physical and web3 worlds.
The project aims to eventually acquire gyms across all of the world's major cities, whilst simultaneously promoting an integrated web3 fitness experience. At the center of FightOut's digital ecosystem will be its smartphone application which, according to FightOut's whitepaper, is scheduled for launch in Q2 2023.
The FightOut app will harness smartphone and wearable technology to measure and track physical performance. The app will have its own in-house tokenized economy, where users can earn rewards for completing M2E tasks, and can mint their own soul-bound token avatar, through which the user will be able to interact with the FightOut metaverse.
FGHT is the token that powers the FightOut metaverse ecosystem. Users will pay to enter competitions and leagues with FGHT, and winning will be paid out in FGHT.
The FGHT token can also be used in peer-to-peer fitness wagers. FightOut's FGHT tokens are currently selling for 60.06 per 1 USDT, and interested investors are encouraged to move fast to secure their tokens, with the pre-sale having already raised over $2.25 million in just a few days. FGHT is the token that will power the FightOut crypto ecosystem.
Dash 2 Trade (D2T) – Presale Enters Final Stage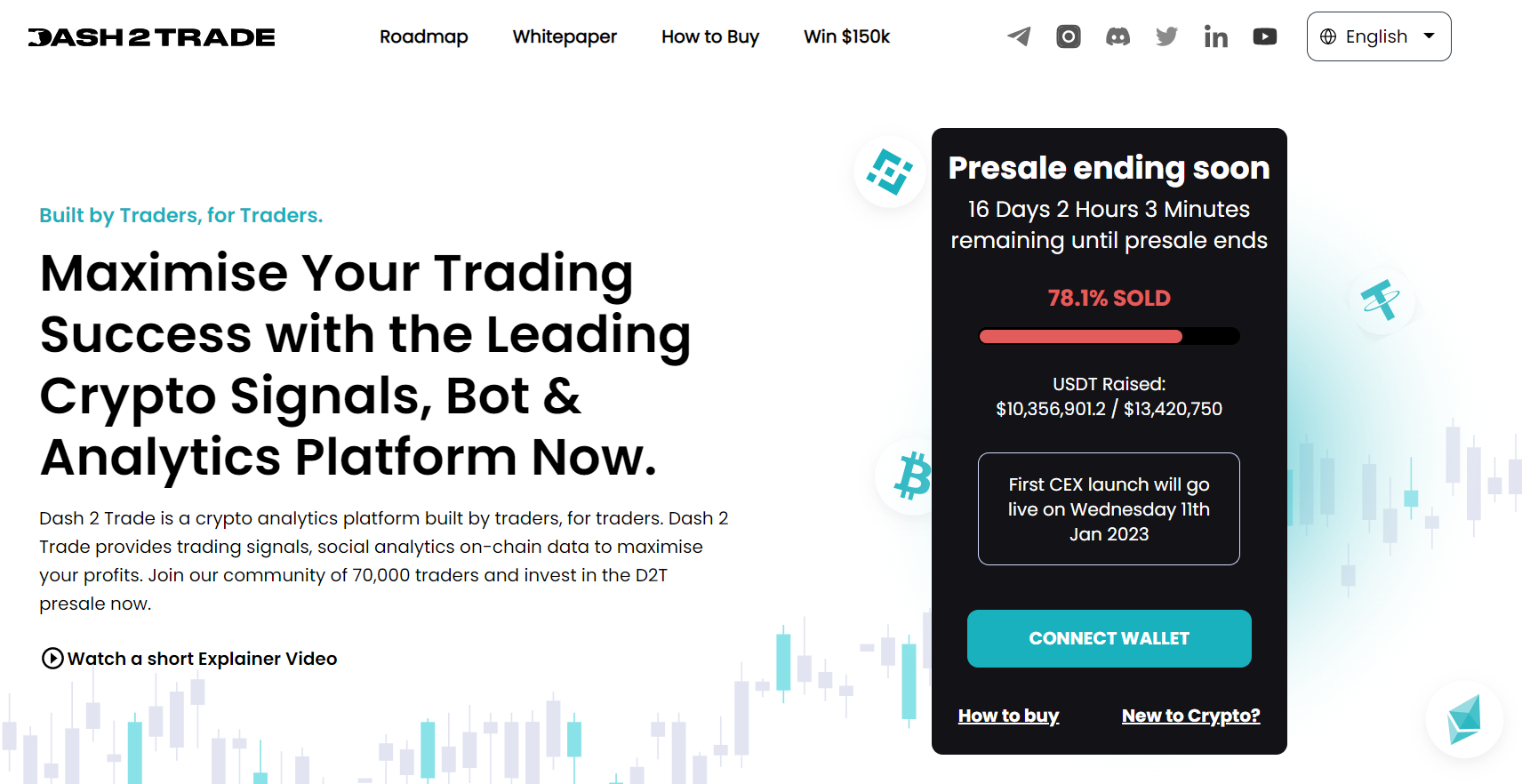 Those interested in investing in a promising crypto trading platform start-up should look no further than Dash 2 Trade. The up-and-coming analytics and social trading platform hopes to take the crypto trading space by storm with its host of unique features.
These include trading signals, social sentiment and on-chain indicators, a pre-sale token scoring system, a token listing alert system and a strategy back-testing tool. Dash 2 Trade's ecosystem will be powered by the D2T token, which users will need to buy and hold in order to access the platform's features.
Dash 2 Trade is currently conducting a token pre-sale at highly discounted rates and sales are approaching $10.5 million. The pre-sale dashboard is going to be released soon, with the development team currently running ahead of schedule. Tokens are currently selling for $0.0533 each and will be listed on multiple centralized exchanges in under one month.
C+Charge (CCHG) – Presale Now On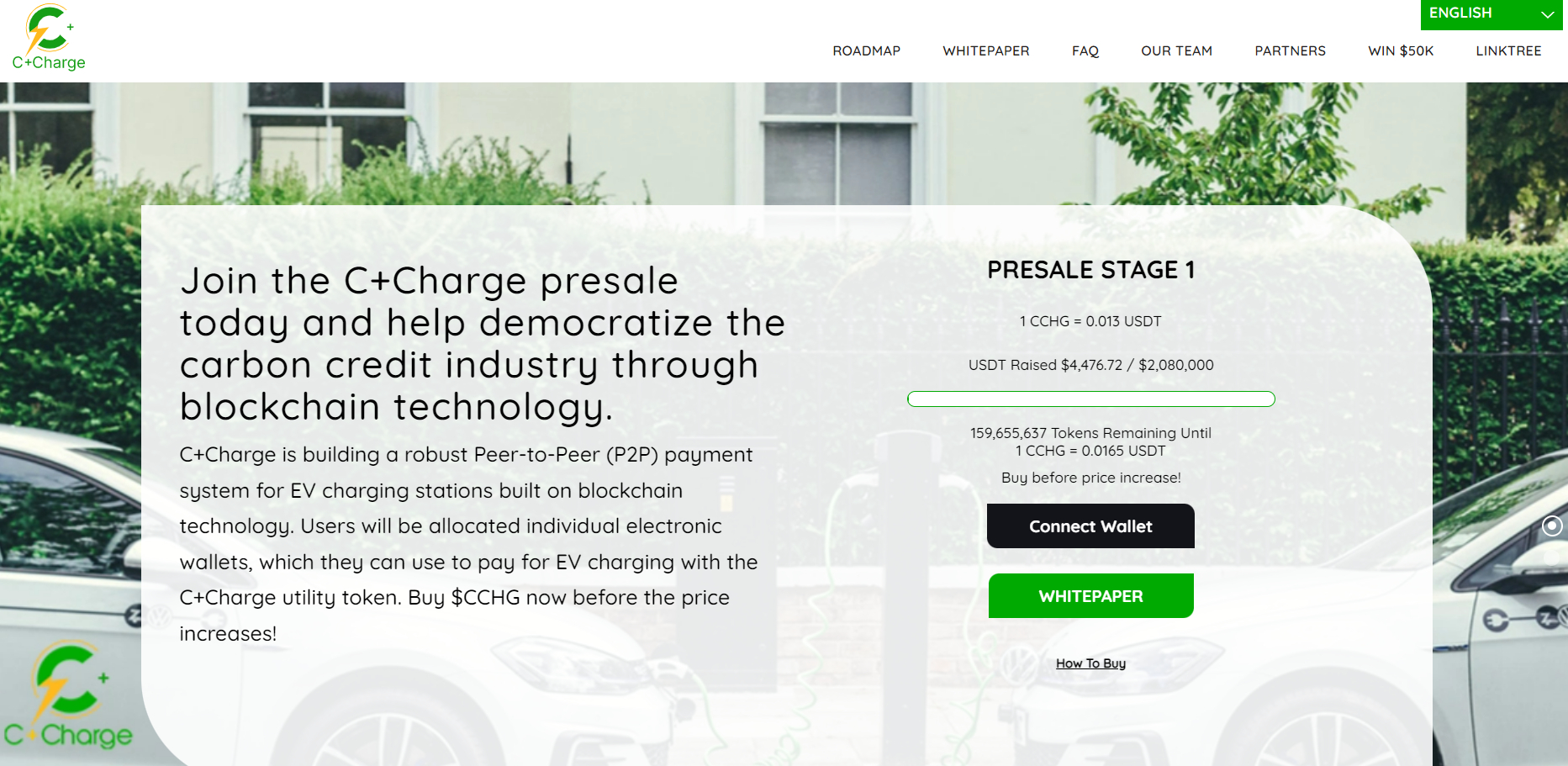 The carbon credit industry is projected to be worth $2.4 trillion by 2027. Democratizing access to accrue these benefits is going to massive business in the years ahead and this is something crypto start-up C+Charge hopes to achieve. C+Charge is currently building a blockchain-based Peer-to-Peer (P2P) payment system for EV charging stations that will allow the drivers of electric vehicles (EVs) to earn carbon credits.
C+Charge aims to boost the role of carbon credits as a key incentive for the adoption of EVs. At present, large manufacturers of EVs like Tesla earn millions from selling carbon credits to polluters. C+Charge wants to democratize the carbon credit market by allowing more of these rewards to find themselves in the hands of the EV owners, rather than just the big businesses.
C+Charge has just started its pre-sale of the CCHG token that its platform will use to pay at EV charging stations. Tokens are currently selling for $0.013 each, though by the end of the presale this will have risen by 80%. Thus, investors interested in getting in early on a promising environmentally friendly cryptocurrency project should move fast.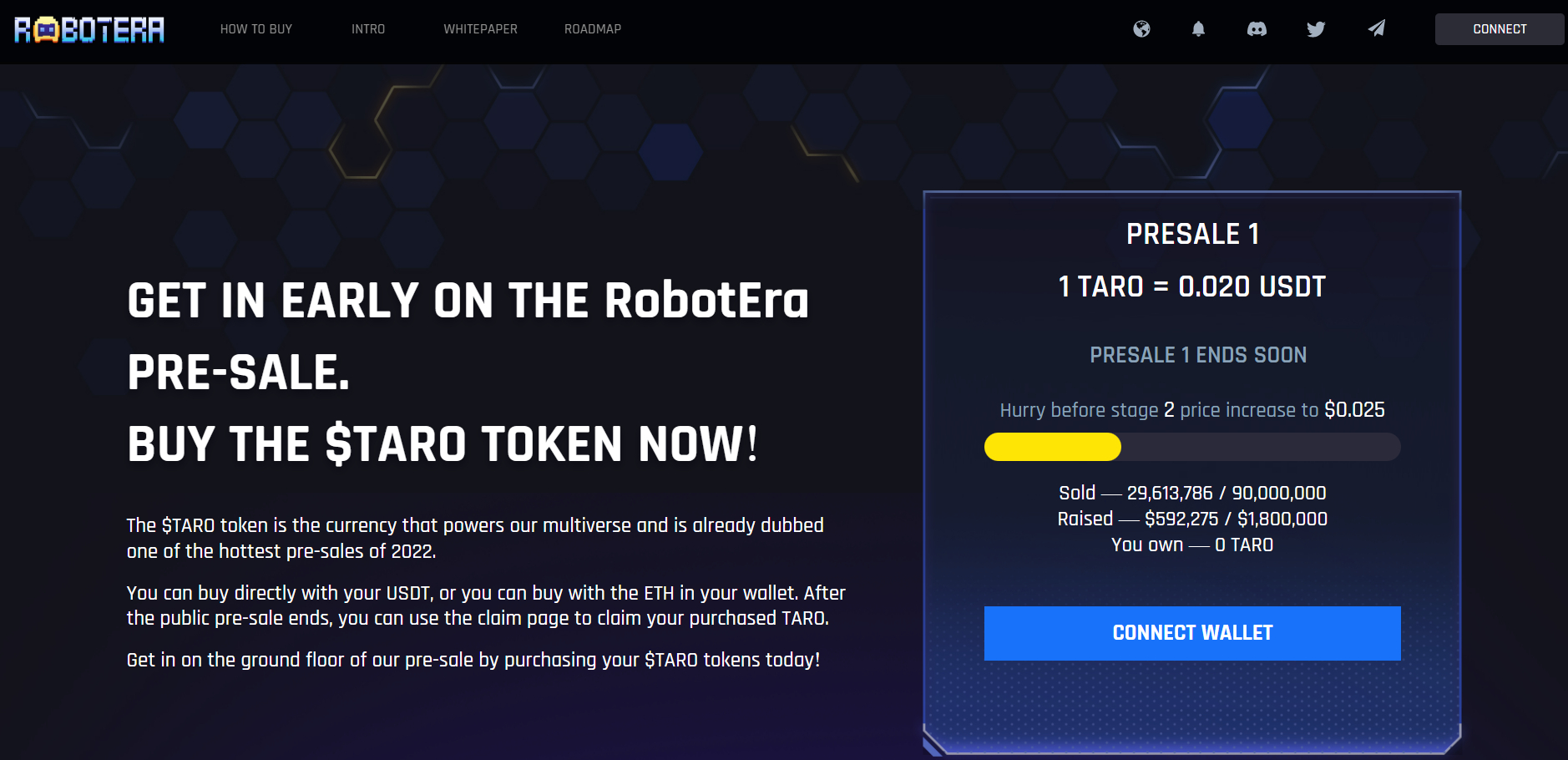 RobotEra (TARO) – Presale Price Rising Soon
Decentralized, crypto-based metaverse "games" are likely to form a key part of the future crypto/gaming space as technological trends push us ever more into the digital space. RobotEra, a soon-to-be-launched robot/space-themed gaming metaverse that plans to incorporate a mixture of play-to-earn and player-versus-player games within its interactive world, could be a great bet, with the platform scheduled to launch in 2023.
Ahead of its launch, RobotEra is conducting a presale of the TARO token that will be used as an in-game currency. In the few weeks since its launch, RobotEra raised over $592,000. Tokens are currently being sold for $0.02, but that price will soon rise to $0.025, so interested investors should get in quickly. RobotEra also plans to begin sales of NFT robots that players can use within its metaverse soon. Investors who have already bagged themselves some TARO should stay tuned.
---