Cardano Price Prediction as ADA Dips Below $0.30 – Here are Key Levels to Watch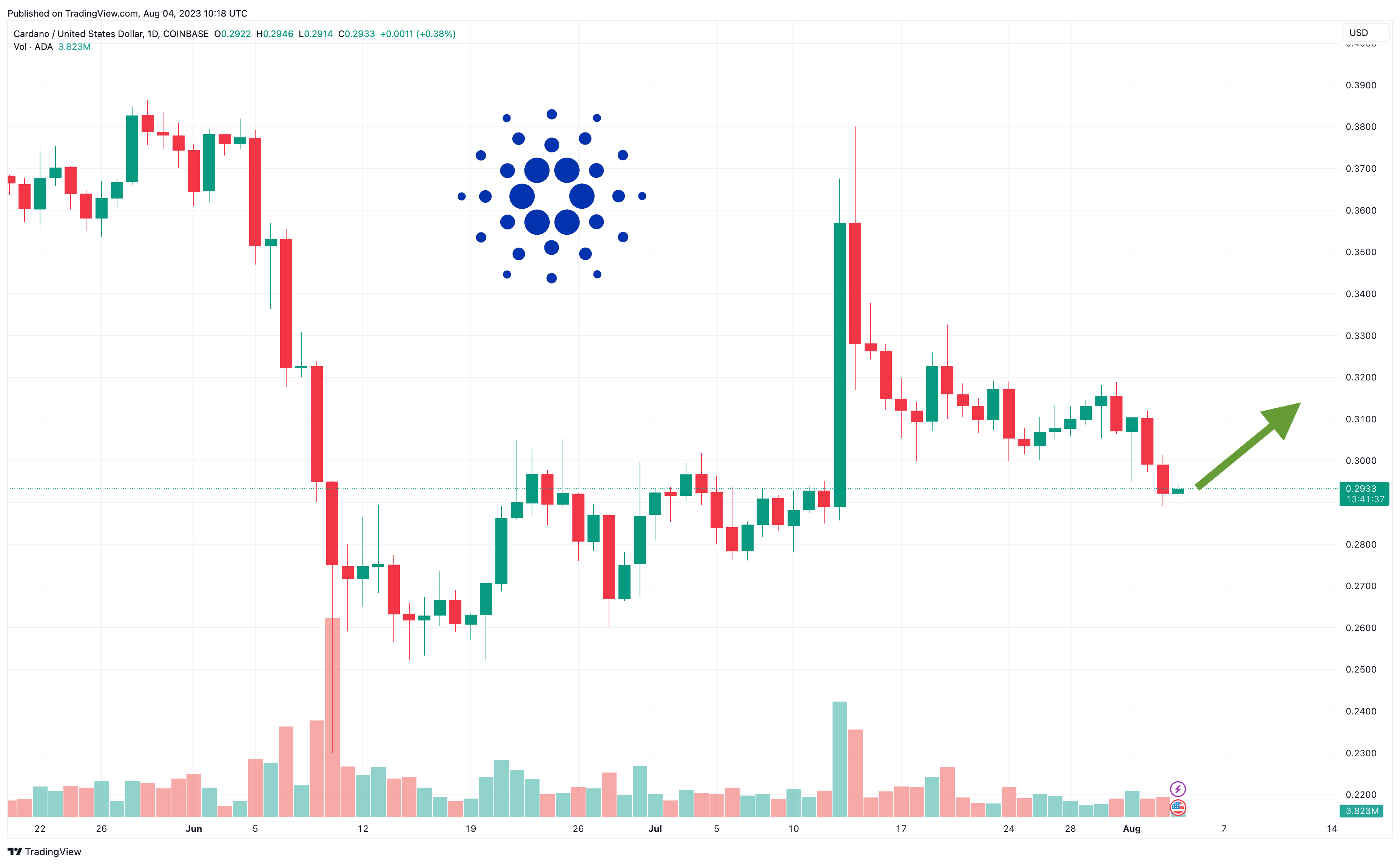 The price of Cardano (ADA) has dipped below $0.30 for the first time since June and early July, with its current price of $0.293809 marking a 0.2% decline in 24 hours and a 5% loss in the past week.
While ADA is also down by 6% in the past fortnight, the altcoin remains up by 19% since the beginning of the year, although many other major tokens have enjoyed bigger gains than this since January.
This arguably makes ADA a highly undervalued coin at the moment, implying that it could be sitting on signficiant potential gains, especially when looking at Cardano's underlying fundamentals.
Cardano Price Prediction as ADA Dips Below $0.30 – Here are Key Levels to Watch
If there's anything to be said for Cardano's chart right now, it's that it suggest the altcoin has to rebound sooner or later, with its relative strength index (purple) having bottomed out at 30 yesterday.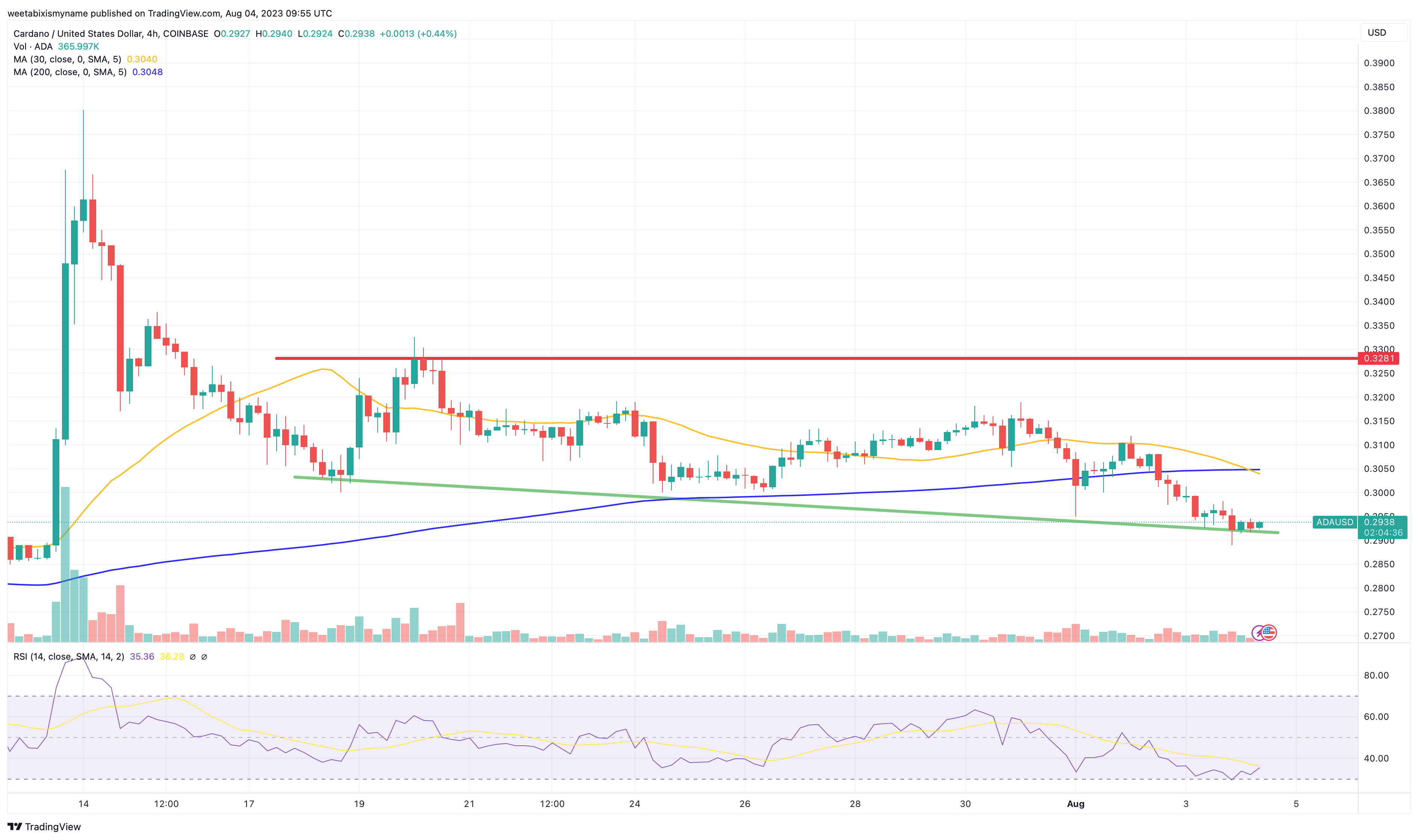 Likewise, ADA's 30-day moving average (yellow) has just fallen below its 200-day average (blue), meaning that a positive reserval shouldn't be far away now.
Having said that, it's concerning that the altcoin's support level (green) continues todecline, with the coin dropping below the all-important $0.30 support overnight.
This could be taken as a sign that some more falling is in order before ADA can begin rallying again, something which is certainly possible given that the downgrading of US government debt this week has also had a negative effect on stock markets worldwide.
For this reason, traders perhaps shouldn't be surprised if ADA drops down to $0.280 or even a little lower over the weekend, before potentially making a recovery.
But a recovery will eventually be on the cards, given how solid ADA's fundamentals are, with Cardano continuing to make steady progress as a rival to more established layer-one platforms.
Indeed, Cardano celebrated the successful deployment of the Mithril upgrade yesterday, which will enable nodes to sync more efficiently and thereby improve the stability and scalability of the platform's network.
It's also worth pointing out that Cardano's total value locked in continues to rise steadily, with the platform having seen a 250% increase since the beginning of the year.
This growth has been led by such apps as Minswap, as well as by the growth of the Djed stablecoin, which is enabling Cardano to grow its presence within the DeFi sector.
And it's also encouraging to note that more apps and projects are in the process of being brought online, with the latest update showing that there are more than 1,250 projects building on Cardano.
Ultimately, this all points to long-term growth for the Cardano price, which can be expected to recover back to $0.30 in the next couple of weeks.
And from there, it could return to $0.50 by the end of 2023.
High-Potential Presale Tokens
Because ADA is likely to see gradual rather than dramatic growth, some traders may prefer to diversify into newer altcoins, especially presale tokens which could be in line to rally massively once they list on trading platforms.
One of the newest presale coins in the market right now Cowabunga Coin (COWABUNGA), an ERC-20 meme token that takes the popular Teenage Mutant Ninja Turtles franchise – which has just released a new film in its long-running series – as its source material.
COWABUNGA began its presale this week, with the offering making 35% of the token's total supply – of 4 billion – available to anyone who wants to buy it before it rises on exchanges.
One key feature of COWABUNGA's tokenomics is that it will reserve 25% of its total supply for community rewards and airdrops.
This is important because it will help the meme token to encourage investors to join its online community, something which will be essential if the coin is to have a healthy lifespan.
And judging by early impressions, COWABUNGA has already made good progress in reaching its target of $500,000, indicating that investors are being won over by its playful use of memes related to the Teenage Mutant Ninja Turtles franchise.
Anyone interested in participating in the COWABUNGA presale can do so by going to its official website and connecting their crypto wallets.
1 COWABUNGA is selling at a price $0.000357, yet it could be on the brink of rising much higher when it lists on platforms in the next few weeks.
Disclaimer: Crypto is a high-risk asset class. This article is provided for informational purposes and does not constitute investment advice. You could lose all of your capital.
---