Cardano Price Prediction as $200 Million Trading Volume Comes In – Can ADA Reach $10?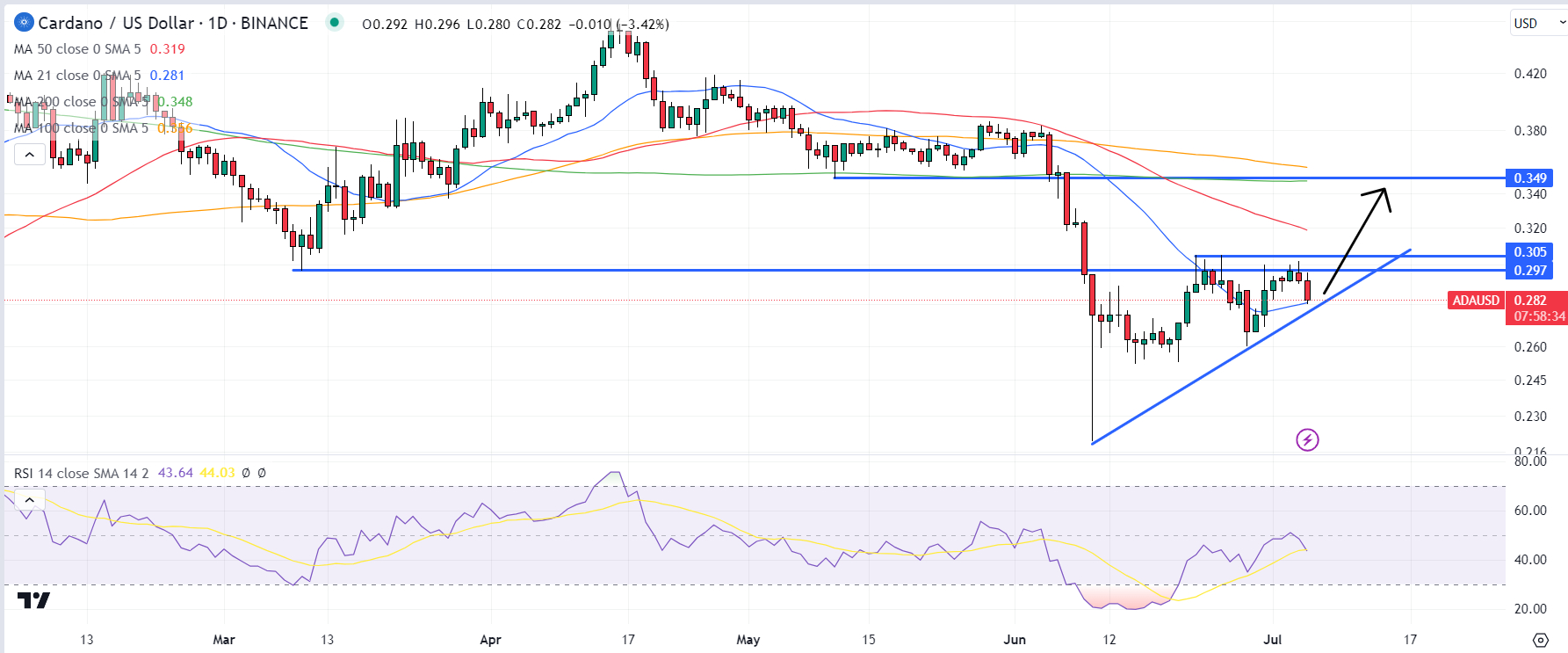 Cardano (ADA), the token that powers the decentralized smart-contract-enabled Cardano blockchain, has pulled back around 3.5% on Wednesday.
After a quiet Tuesday trading day thanks to US market closures for Independence Day celebrations, volumes have come back in force on Wednesday.
As per Coin Gecko, over $200 million in ADA has changed hands in the past 24 hours.
That has been enough to hold ADA above its 21-Day Moving Average (DMA) at $0.28 for now.
And bulls remain optimistic, given that Cardano appears to be in the process of forming a bullish short-term technical structure.
Short-term price predictions are thus bullish.
Price Prediction – Where Next for Cardano (ADA)?
ADA appears to be in the process of carving out a bullish ascending triangle formation, which typically form ahead of bullish breakouts.
If ADA can break above resistance in the psychologically important $0.30 area, this could open the door to a swift recovery back to its 200DMA and resistance in the $0.35 area.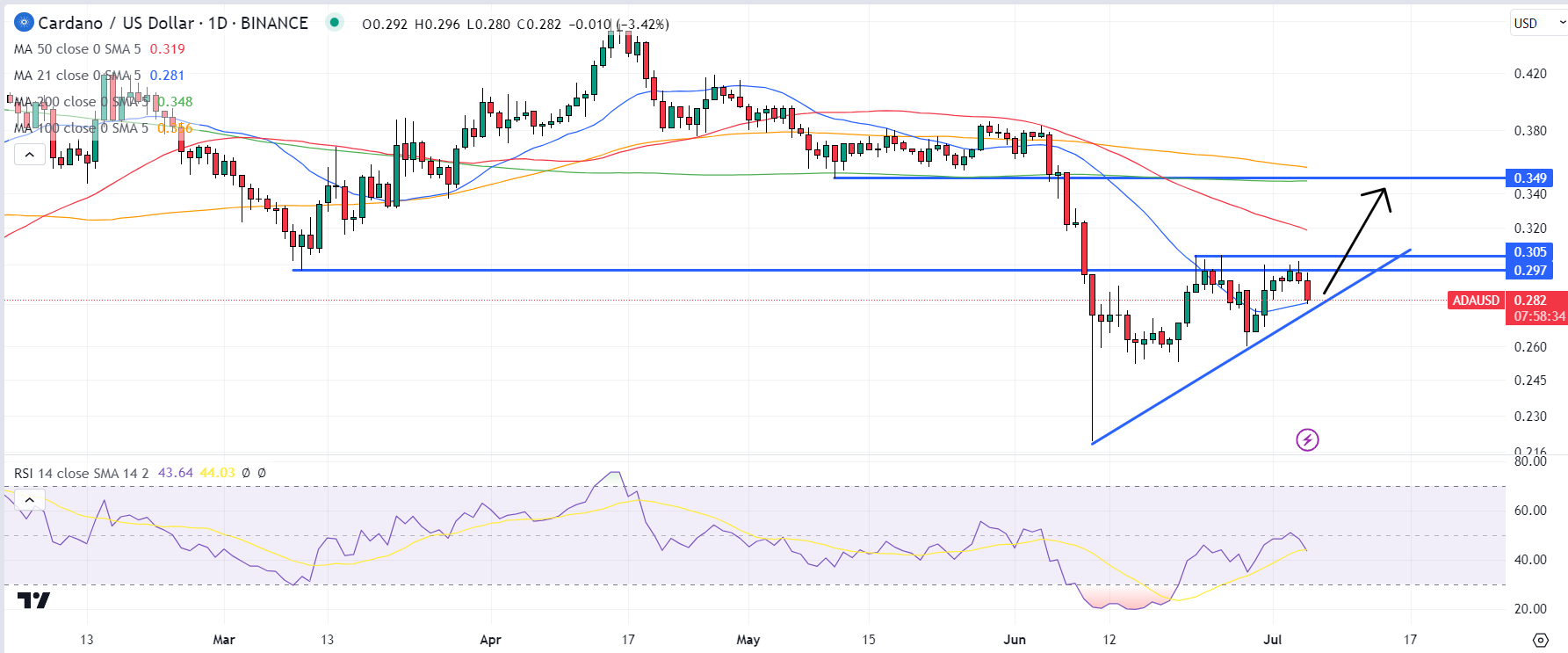 If ADA can pull of this rally, it would have recovered practically all of the ground it lost in wake of the US Securities and Exchange Commission's labelling of it as a security this time last month.
And its not just technicals that suggest an ADA recovery is on the cards.
The blockchain's Decentralized Finance (DeFi) ecosystem continues to go from strength to strength, despite SEC FUD (which stands for Fear, Uncertainty and Doubt).
As per DeFi Llama, the USD-denominated total value locked (TVL) of crypto locked in Cardano smart contracts (via Cardano Decentralized Apps) is back above $200 million and almost back to yearly highs.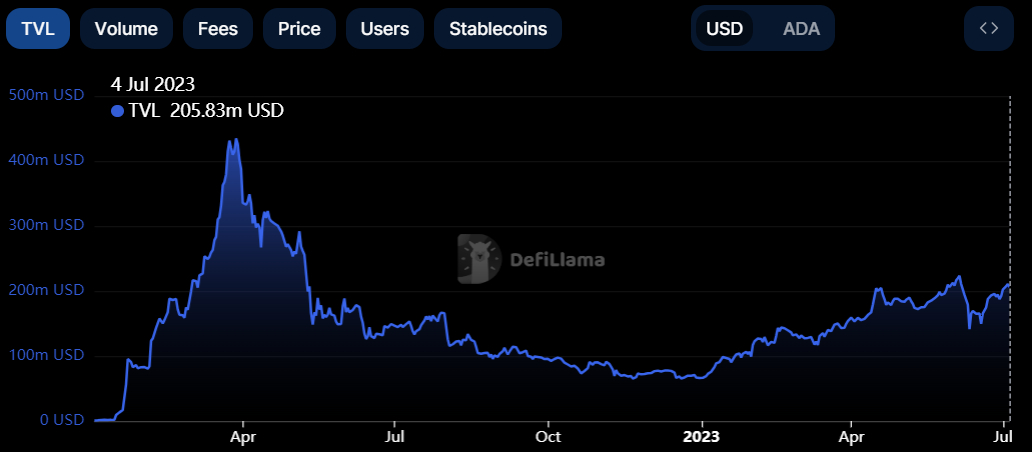 ADA-denominated TVL, meanwhile, continues to hit new all-time highs.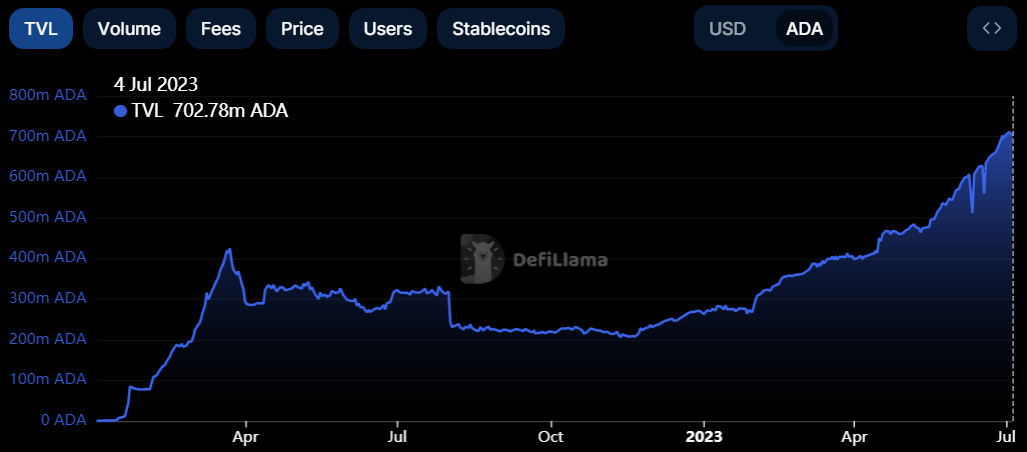 Can ADA Reach $10?
From the top of its 2018 bull market highs (at $1.31) to its 2020 bear market lows (at under $0.02), ADA lost a stunning more than 98%.
It then posted a more than 170x recovery to hit fresh all-time highs above $3.13 at the peak of the 2021 bull market.
When ADA fell under $0.24 last year, that marked a more than 92% drawdown from the 2021 highs.
If history is to repeat itself and ADA is to post 170x gains from these lows, that would imply the ADA price rallying above $40.
Now, this might be a little optimistic.
Along with the broader cryptocurrency market, Cardano is maturing as an asset, which means its swings between bull market highs and lows and back again will become less extreme over time.
But could ADA post 40x gains versus its 2022 lows to hit $10 per token during the upcoming bull market?
If the likes of Bitcoin pushes into the hundreds of thousands of dollars per token and Ether pushes above $10,000 in the coming years, there is no reason why Cardano can't post strong exponential gains.
Many bulls will be eyeing $10 as a long-term profit target.
Cardano (ADA) Alternative to Consider – yPredict (YPRED)
Investors should always be on the lookout to diversify their crypto holdings.
One high-risk-high-reward investment strategy that some investors might want to consider is getting involved in crypto presales.
This is where investors buy the tokens of up-start crypto projects to help fund their development.
These tokens are nearly always sold very cheap and there is a long history of presales delivering huge exponential gains to early investors.
Many of these projects have fantastic teams behind them and a great vision to deliver a revolutionary crypto application/platform.
If an investor can identify such projects, the risk/reward of their presale investment is very good.
The team at Cryptonews spends a lot of time combing through presale projects to help investors out.
One such project that they think has a lot of potential is an artificial intelligence (AI) powered web3 start-up called yPredict.
The platform is best known for its first-of-its-kind, institutional-grade financial price prediction system.
Observers think the tool, which is built on yPredict's in-house deep data analysis, will help crypto investors discover the next explosive crypto with ease.
The best part, yPredict's crypto price prediction system will remain free and open for all users to access – the price predictions will be made publicly available and require no login to see, the project's Whitepaper explains.
But yPredict offers investors much more than just crypto price predictions.
The project is "building a cutting-edge crypto research and trading platform that provides traders and investors access to dozens of AI-powered signals, breakouts, pattern recognition, and social/news sentiment features", the start-up says in yPredict's Litepaper.
The platform is also building a host of other AI-powered tools, including a ground-breaking content management system.
As AI continues to make waves in the crypto industry and beyond, projects like yPredict are expected to attract significant interest.
That's why many industry observers are tipping AI cryptos like yPredict's native $YPRED token, currently available via presale, to be amongst the next best-performing coins.
The $YPRED presale has been flying through the stages.
As of the 5th of July, the project has raised more than $2.7 million.
Investors need to move quickly to get in ahead of the next price rise when the presale hits $2.98 million.
Disclaimer: Crypto is a high-risk asset class. This article is provided for informational purposes and does not constitute investment advice. You could lose all of your capital.
---