Cardano Crypto Price Prediction – Can ADA Reach $5 by 2023?
Disclosure: Crypto is a high-risk asset class. This article is provided for informational purposes and does not constitute investment advice. By using this website, you agree to our terms and conditions. We may utilise affiliate links within our content, and receive commission.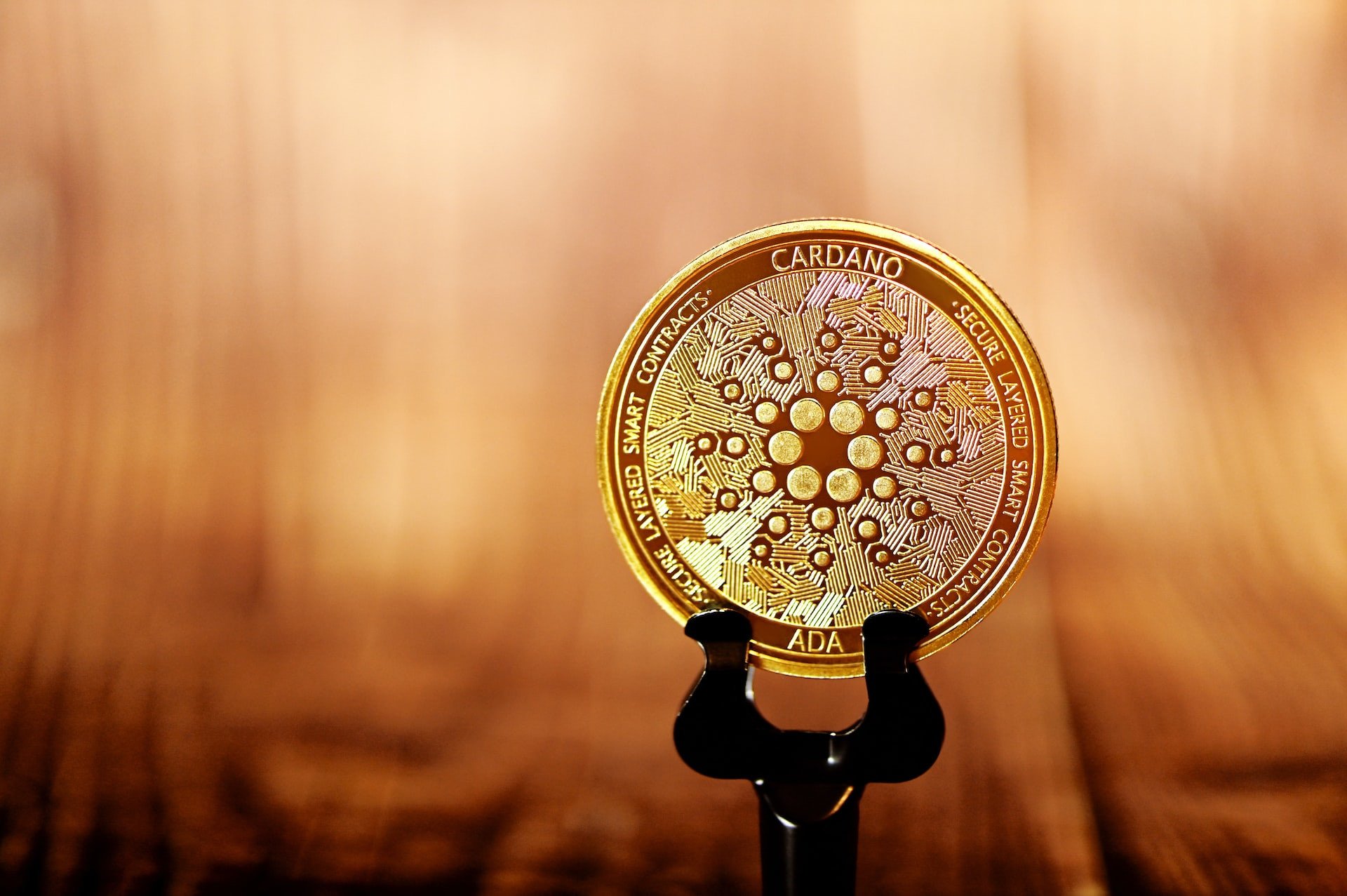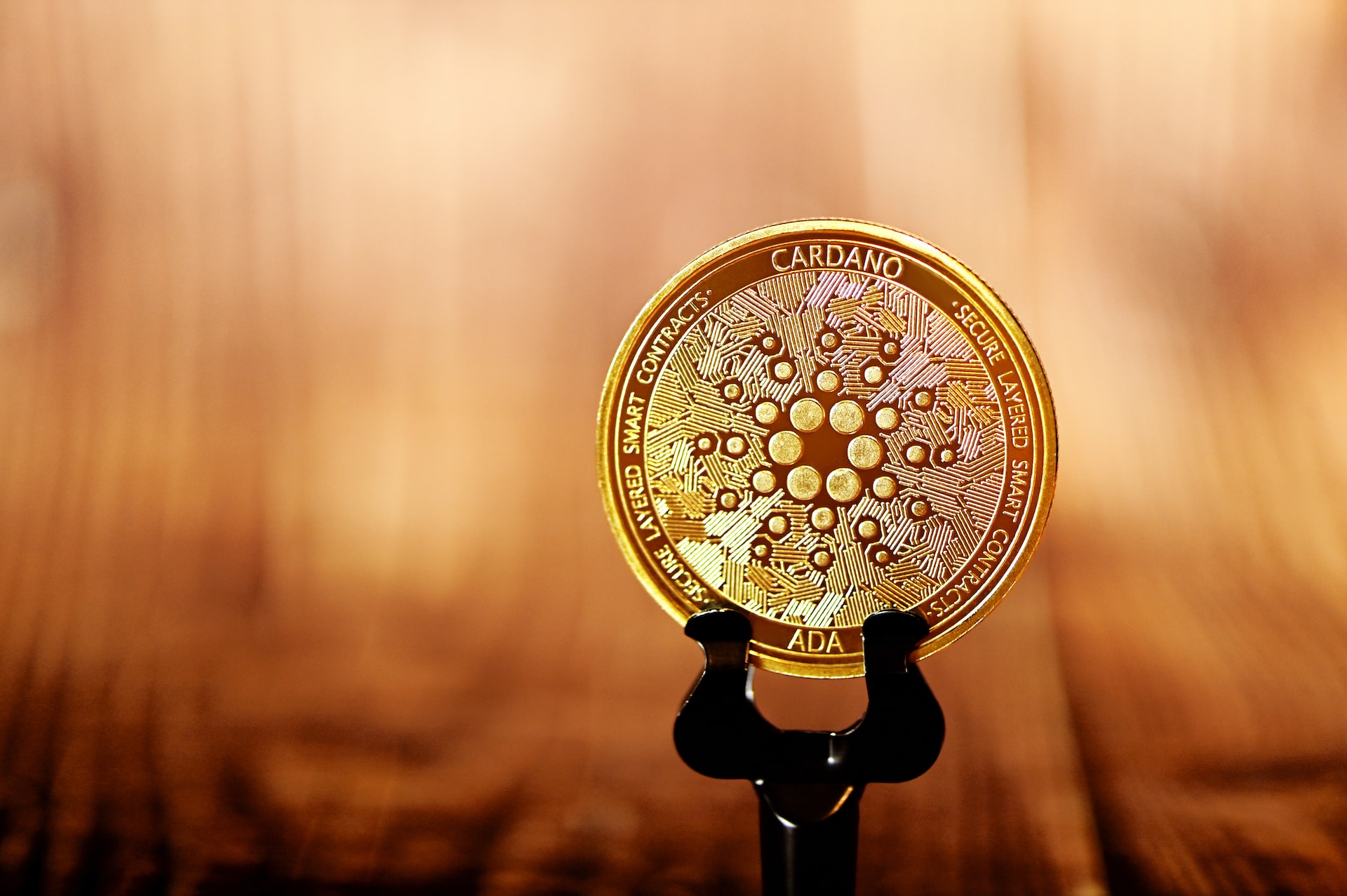 The price of Cardano (ADA) has risen by 2% in the past 24 hours, reaching $0.436895. This represents a 1% dip in a week and a 9% fall in a fortnight, with the macroeconomic backdrop of high inflation, rising interest rates and a potential global recession weighing down the altcoin's movement.
However, these external pressures aside, ADA's fundamentals remain in good shape. And with the altcoin's indicators pointing oversold at the present moment in time, there's a very good chance it could lock in some substantial gains in the medium-to-long term.
Indeed, not only does $1 seem like a realistic medium-term objective, but the more distant future could see ADA reach $5, assuming that Cardano continues on its current trajectory.
Cardano Crypto Price Prediction
ADA's current level of $0.436895 means that it's 85.5% down from its all-time high of $3.08, set back in September 2021. This is a relatively large come down, but it's actually slightly less than the declines of other coins such as SOL (87%), DOT (88%), and AVAX (88%).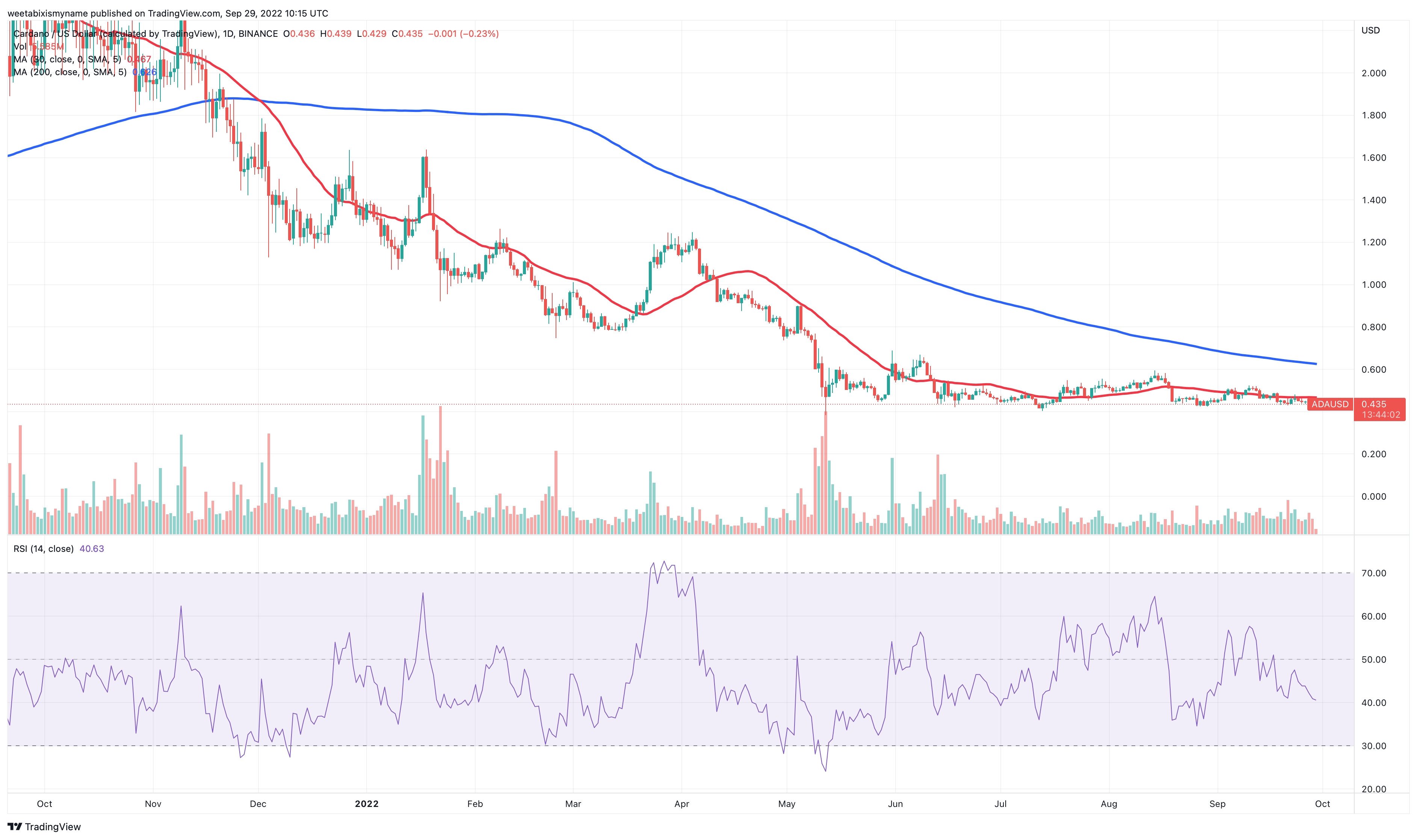 ADA's indicators confirm that it's on a low ebb right now. Its relative strength index (purple) has fallen to 40, while its 30-day moving average (red) is well below its 200-day average (blue).
Both of these indicators signal that ADA is oversold right now and going at a discount. They also suggest that, in the short-term, we could expect to see the ADA price move up a little, particularly after recent falls.
Looking at recent benchmarks, its seven-day high of $0.475899 suggests that it could post a 9% increase from its price at the time of writing. Even better, its 30-day high of $0.521808 indicates a potential gain of 19.6%, assuming a proportional upswing.
Turning to the medium and longer term, Cardano's fundamentals leave every reason to believe that ADA could enjoy substantial price gains towards the end of 2022 and into the start of 2023.
The new Plutus V2 cost model makes DApps more efficient and cheaper to run. The extent of these advantages will depend on the individual #DApp, but early reports from DApp developers are very promising.

— Input Output (@InputOutputHK) September 27, 2022
Most importantly, Cardano continues to see the steady development of its capabilities and ecosystem. Last week, it implemented the important Vasil upgrade/fork, which aims to improve its scalability while also making dapp development easier and more efficient.
The Vasil hard fork is only the latest in a fairly long line of updates stretching back at least as far as last September (when Cardano introduced smart contracts), all of which are contributing to making Cardano a more secure and capable network.
ICYMI: Our weekly #Cardano development update is live on #EssentialCardano!

Check out what our dev team has been up to and get the latest on our development progress. As always, we welcome your feedback and comments👇 https://t.co/qENO2cwpzu

— Input Output (@InputOutputHK) September 25, 2022
Judging by the numbers, developers seem to agree that Cardano has considerable potential as a blockchain network. For instance, the latest figures put the number of projects building on Cardano at 1,107, while 99 projects have already launched, in addition to over 3,000 Plutus scripts (i.e. smart contracts) running on the network.
Of course, Cardano's total value locked in remains relatively low, at $78m, yet this number has held relatively steady throughout 2022's bear market. In other words, users are sticking with Cardano and the declines in TVL are predominantly caused by declines in the price of ADA.
That ADA is already the eighth-biggest cryptocurrency with Cardano's TVL at only $78m is very, very promising. It suggests that, even with a modest increase in this TVL figure, ADA could post some significant gains in the coming months.
It's worth pointing out that Cardano TVL and ADA price rises/declines have been more or less proportional, if not 1:1.
Between the end of March and today, Cardano's TVL dropped from $326 million to $78 million, a 76% decline. Across the same timeframe, the price of ADA dropped by about 60%.
If Cardano were to increase its TVL to $1 billion, ADA's price could rise as high as $5.60. This assumes its price rising in direct proportion to TVL, which is a possibility.
The Next Bull Market
However, it's possible that when the next bull market comes, the price of ADA could surpass even $5.
ADA's high during the 2017/18 bull market was $1.18, while its (current) 2021 high was $3.08, representing a 161% increase from one record to another. Assuming a proportionate jump in the next bull market (whenever that may be), ADA would potentially rise to roughly $8.05.
This is feasible, although the question remains as to when macroeconomic conditions will improve.
---