How To Buy Evil Pepe Coin - Beginners Guide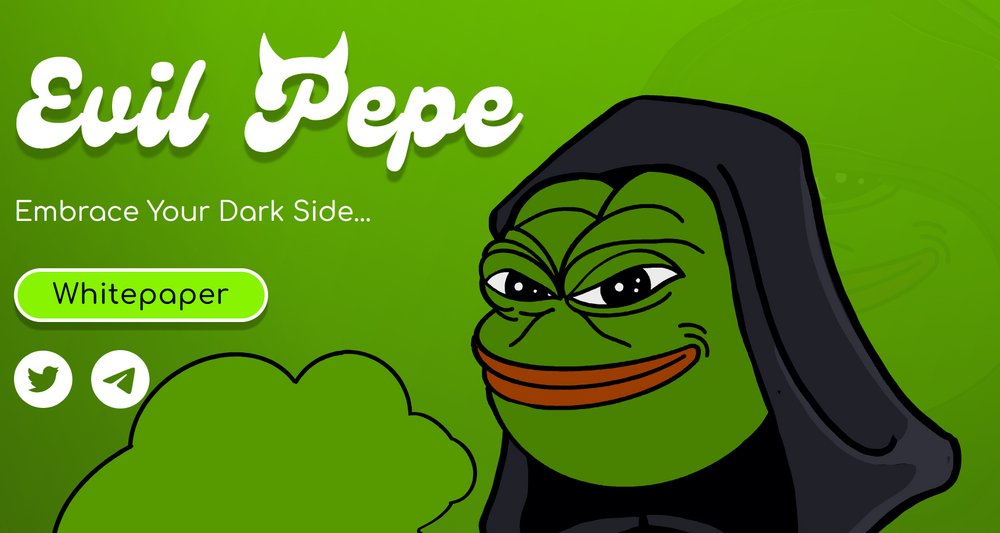 Evil Pepe is the latest token to drop in meme coin season. It builds on the continuing excitement for Pepe-themed tokens, following closely on the heels of Pepe v2.0.
Evil Pepe's $EVILPEPE token is available to buy on presale before it hits exchanges, offering investors a chance to reap potential gains after the token's launch. In this guide, we'll explain how to buy Evil Pepe token and cover everything investors need to know about $EVILPEPE.
What is Evil Pepe Coin?
Evil Pepe token is an ERC-20 meme coin that features the ultra-popular Pepe meme. It's the latest in a string of cryptocurrencies to feature Pepe the Frog after the original $PEPE exploded more than 10,000% in May.
There isn't a lot of difference between $EVILPEPE and $PEPE at first sight. Evil Pepe's frog mascot is wearing a black robe to suggest it has a darker nature. But neither token offers utility and both are designed primarily for price speculation.
Evil Pepe's stated goal in its roadmap is to reach a $100 million market cap. To get there, the project is kicking off with a one-stage presale that aims to raise nearly $2 million. $EVILPEPE will list on decentralized and centralized exchanges once the presale sells out.
How to Buy Evil Pepe Coin on Presale
Investors can buy Evil Pepe tokens during the project's presale, which is going on now. We'll break down how to buy $EVILPEPE into 5 quick steps.
Step 1: Get a Crypto Wallet
Investors will need a crypto wallet to purchase $EVILPEPE during the presale. We recommend MetaMask since it's free and highly secure.
Visit the MetaMask website to download the wallet to a computer, browser, or smartphone. Create a password and write down the seed phrase. It's important to keep the seed phrase somewhere safe since it's required to access the wallet if the password is ever lost.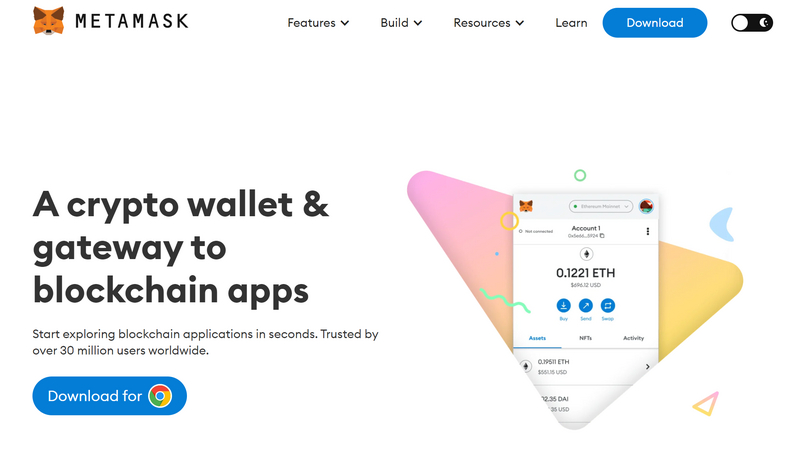 Step 2: Buy ETH or USDT
The Evil Pepe presale requires investors to swap $ETH (Ethereum) or $USDT (Tether) for $EVILPEPE tokens. Investors can buy $ETH or $USDT with fiat using a centralized exchange.
Sign up for an account with an exchange and follow the steps to deposit funds using a credit card, debit card, or bank transfer. Then purchase $ETH or $USDT and transfer the tokens to the MetaMask wallet.
Step 3: Visit the Evil Pepe Presale
Head to the Evil Pepe presale site. The site should automatically connect to the MetaMask wallet, but investors may need to provide authorization when prompted.
Step 4: Buy Evil Pepe Coin
Enter the amount of $ETH or $USDT to convert to $EVILPEPE. The presale site will calculate the amount of $EVILPEPE coins that the funds are worth.
Click 'Buy Now' to complete the transaction and purchase $EVILPEPE.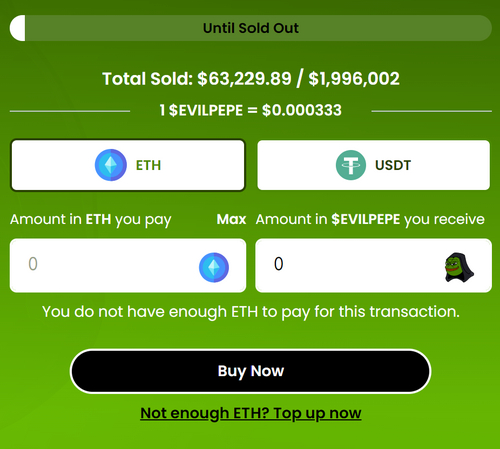 Step 5: Claim Tokens
$EVILPEPE tokens purchased during the presale will be released when the presale ends. Investors will be able to claim their tokens before the project's ICO.
When the presale ends, return to the presale site. Connect the MetaMask wallet and click 'Claim Tokens' to transfer them to the wallet.
$EVILPEPE Tokenomics
The $EVILPEPE token is an ERC-20 coin. It has a total supply of 6.6 billion tokens.
The presale has allocated 90% of the total supply (5.994 billion tokens) at a price of $0.0003330. There's only one stage to the presale and it has a hard cap of $1,996,002.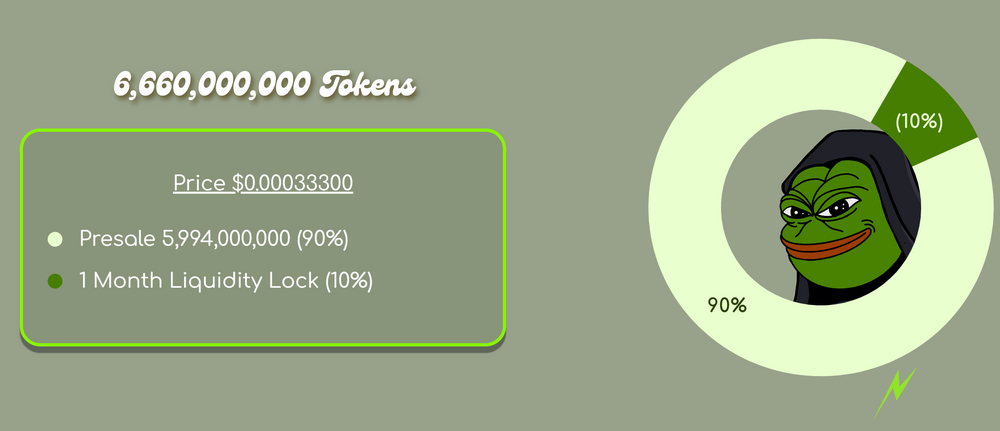 The remaining 10% of tokens are locked for one month after the project launches. This ensures that there is liquidity for early trading and makes it less likely the project team can execute a rug pull.
The list price for $EVILPEPE has not yet been announced. The presale launched only a few hours ago and so far has raised more than $60,000.
Is Evil Pepe a Good Investment?
Evil Pepe follows a line of meme coins that have been red-hot. Some, like $PEPE, have made fortunes for crypto traders who got in ahead of the pump. Recently, Pepe v2.0 climbed more than 2,000% within 10 days of listing.
That's not a guarantee that $EVILPEPE will generate 10x returns for traders, but it does appear to have 10x potential as can be seen in our Evil Pepe Coin price prediction. Investors are currently on the hunt for the next best meme coin, and that hunt could lead them to pile into $EVILPEPE and pump up the token's price after launch.
Evil Pepe could also benefit from broader bullish trends in the crypto market. A recent court ruling in the US found that not all crypto tokens are securities, opening up a path for further investment in the crypto industry in one of its largest markets. If cash is rushing into the crypto market at the same time that $EVILPEPE launches, it's likely that some of that money will go towards this new token.
One possible outcome—which would be good for presale investors—is that $EVILPEPE will follow the trajectory of other meme coins. Those tokens have notched huge price gains shortly after listing, usually within days or weeks. Early investors have an opportunity to cash out at the peak and earn triple-digit or better returns.
The massive price increases in those tokens have generally been short-lived, however, with prices falling back to earth quickly after the peak is reached. So, investors need to be fast and carefully watch for the best opportunity to realize gains on $EVILPEPE bought before the token's launch. While Evil Pepe could deliver big returns for early investors, it may not be one of the best long-term crypto projects.
Conclusion
Evil Pepe is the newest meme coin to build on the popular Pepe meme. Like other Pepe-themed tokens, it lacks utility but packs a lot of potential for rapid price gains. Investors who buy during the presale can potentially make significant returns on $EVILPEPE if the token's price action follows the trajectory of other explosive meme coins.
Investors can buy $EVILPEPE during the presale going on right now. It's raised more than $60,000 in just a few hours, so investors need to act fast if they want to join before the presale sells out.
FAQs
What is Evil Pepe crypto?
Evil Pepe ($EVILPEPE) is a meme coin that follows the trend of Pepe-themed tokens. It has no utility, but aims to achieve a $100 million market cap through hype and rapid price gains after launch.
How do I buy Evil Pepe crypto?
Investors can buy Evil Pepe coin during the project's presale, which is going on now. Investors must connect a crypto wallet with $ETH or $USDT to the presale site, then swap their tokens for $EVILPEPE. Purchased tokens will be available to claim at the end of the presale.
Is Evil Pepe on exchanges?
Evil Pepe is currently on presale and has not yet listed on any exchanges. During the presale, investors can buy $EVILPEPE with $ETH or $USDT. The project plans to list on exchanges once the presale sells out.
Can Evil Pepe 10x?
Evil Pepe has the potential to be the next big meme coin, following in the footsteps of $PEPE. Presale investors can lock in the best price for $EVILPEPE ahead of its launch on exchanges. However, there are no guarantees that $EVILPEPE will produce 10x returns.
---