BTC20 Rivals Pepe Coin and Bitcoin in Google Trends, Next Crypto to Explode – Raises $3.4m as Sellout Looms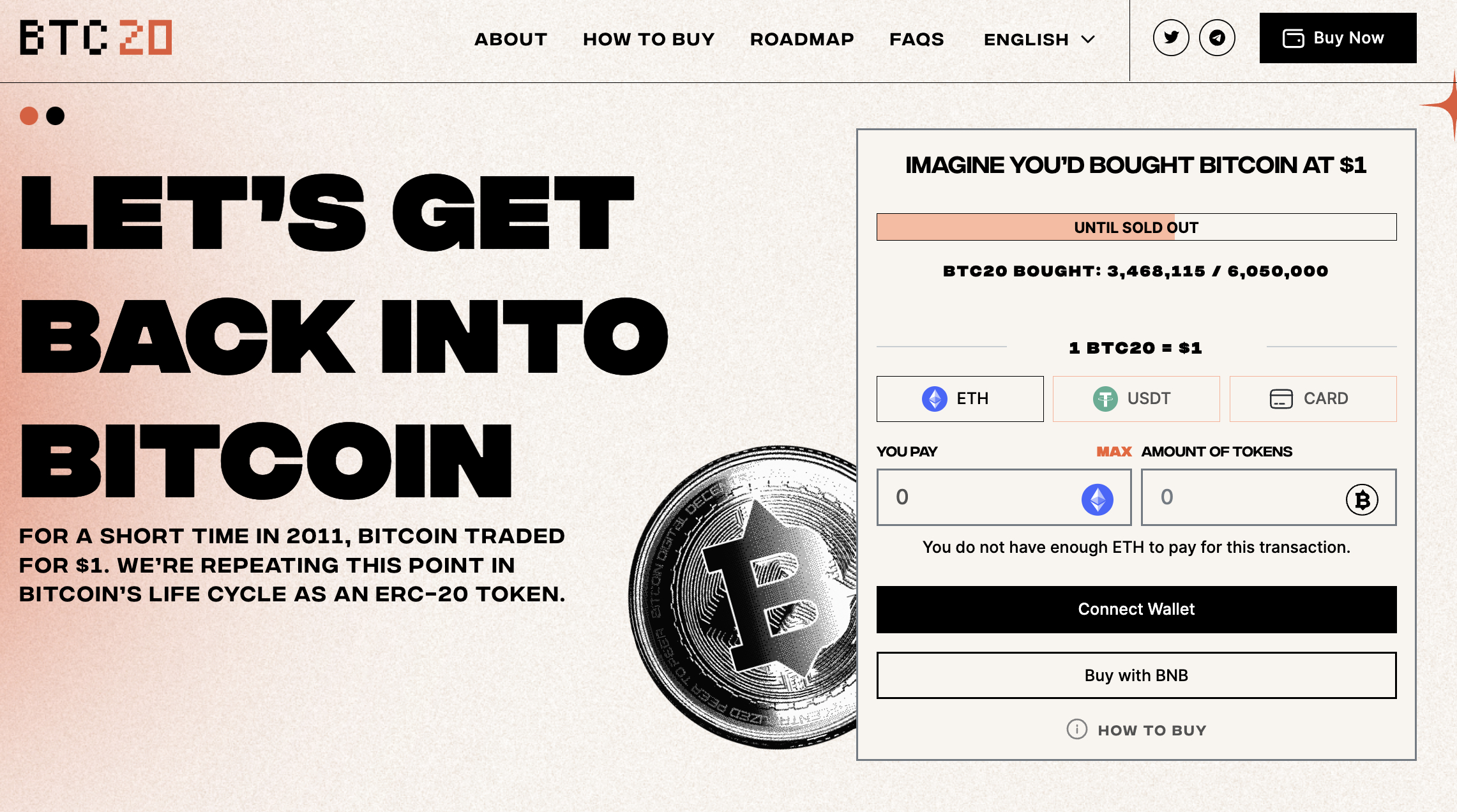 The next crypto to explode, BTC20, rivals Pepe coin and bitcoin in Google Trends search terms data, and for many geographies is outperforming both of them as it blasts past $3.4 million in its presale.
In only nine days, BTC20, which runs on the Ethereum blockchain as an ERC-20 token, has raised $3,412,753 million of its $6 million target.
Investors are excited about buying 'Bitcoin on Ethereum' at the original bitcoin's 2011 price of just $1.
However, other strong selling points are attracting buyers.
These include $BTC20's yield potential of up to 520%, its play on the bitcoin derivative and 'version 2' themes, and the potential to benefit from the bitcoin halving bull cycle.
Add to that the green credentials and other benefits of running on Ethereum, which is still the crypto industry's leading commercial and decentralized application layer, and buying BTC20 is a no-brainer.
BTC20 Beats Pepe Coin in Google Trends Search Interest During Active Trading Sessions
Google Trends measures search term interest over time on a scale of 0 to 100, with 100 being the highest level of interest.
Worldwide, over the past seven days, 'btc20' has been vying for supremacy with 'pepe coin'. In fact, at specific dates and times, BTC20 has seen greater search interest than Pepe, as the chart below shows: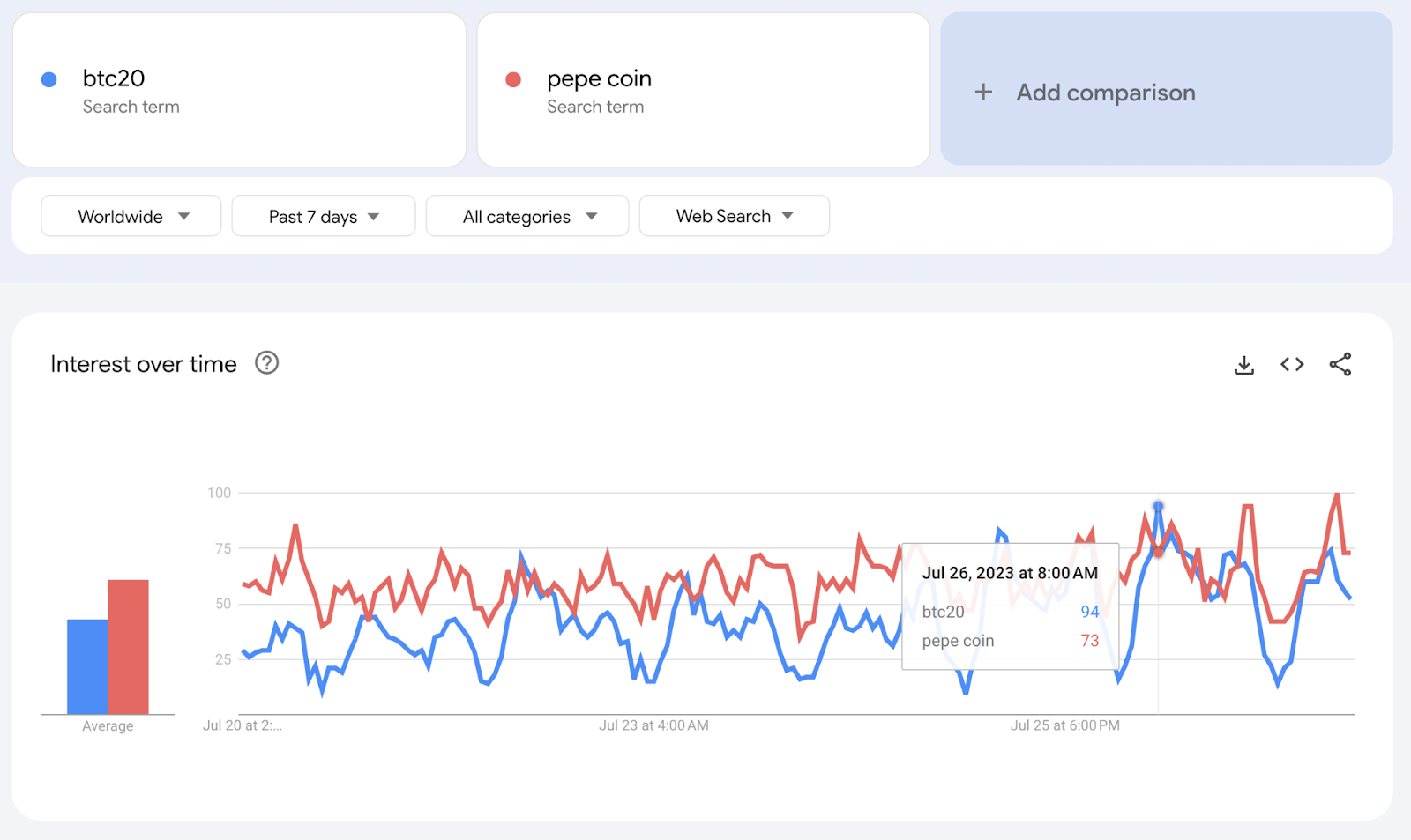 In 'regions' such as Germany and other parts of Europe – during the morning crypto trading session when this research was conducted, 'btc20' scores more highly than 'pepe coin' as the map below shows: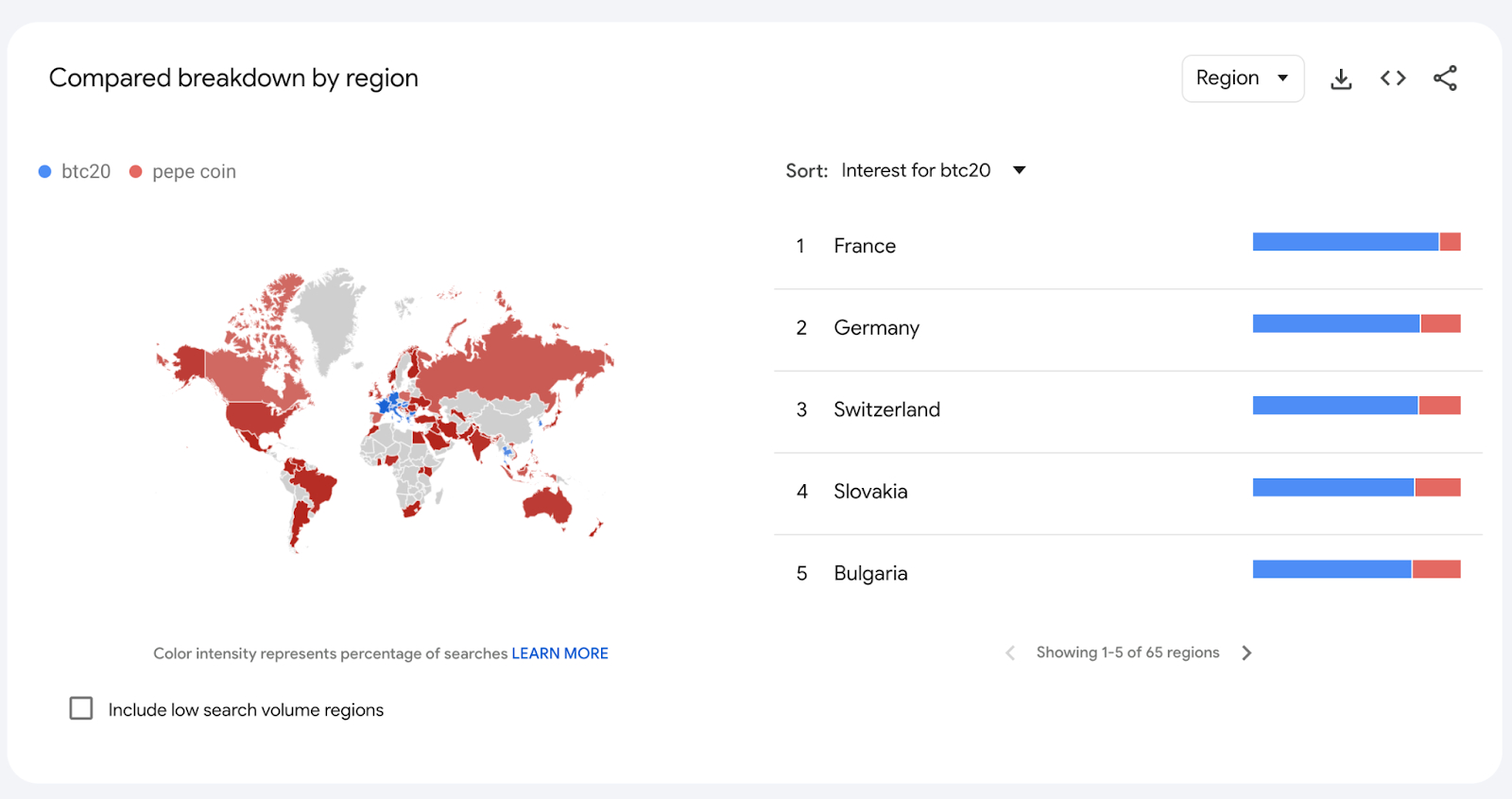 In Germany, again in the morning part of the trading session ('past 4 hours' search parameter), 'btc20' has often outperformed 'pepe coin'. On some occasions, 'btc20' even equals the search interest of 'bitcoin', as the chart below shows:

Again, looking at the German results, this time over the past seven days, 'btc20' consistently outperforms 'pepe coin', with the level of outperformance growing as interest in BTC20 mushrooms.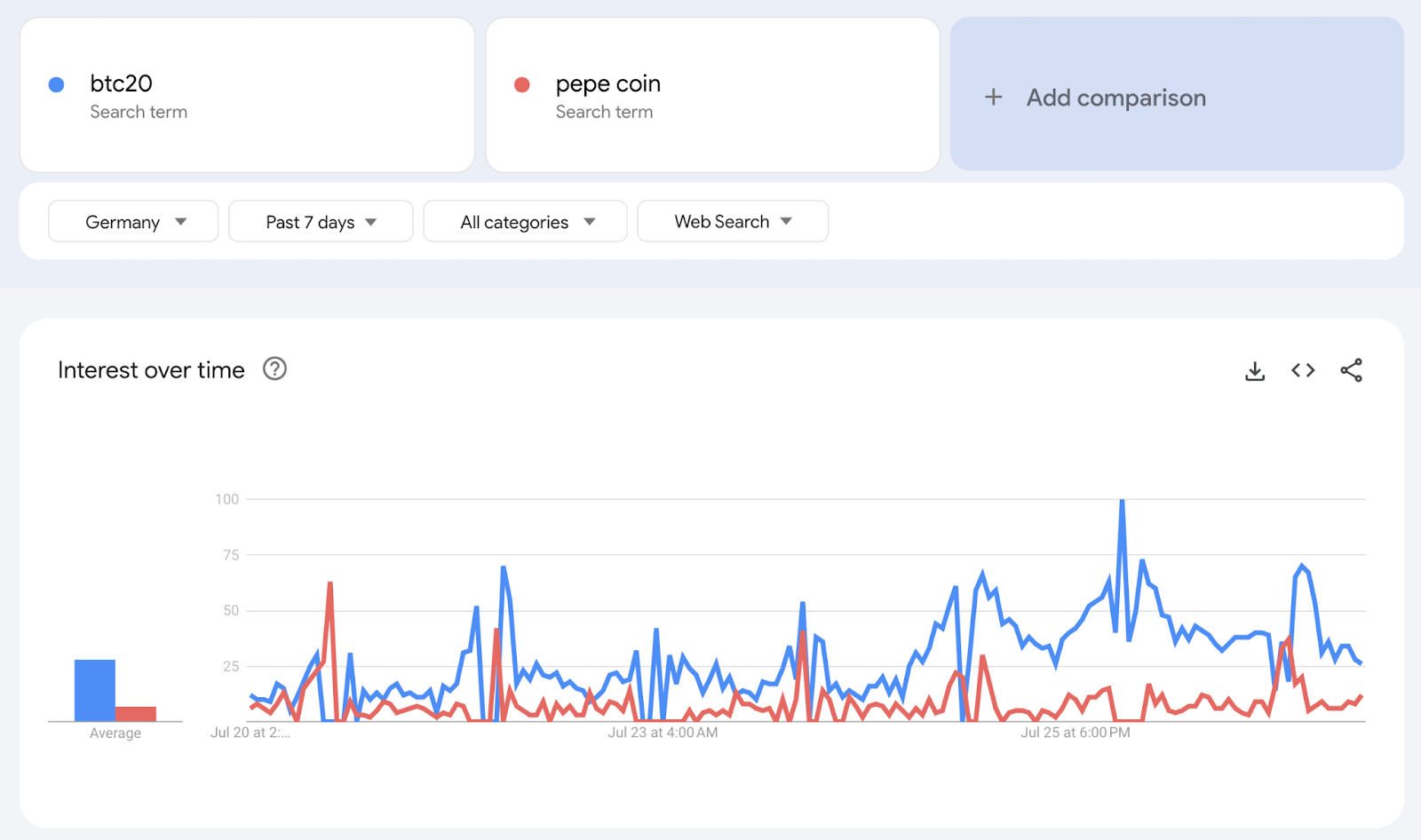 These results will likely be similar for other regions as the trading sessions begin in other parts of the world.
For example, here is the US Google Trends data for the past four hours, sampled at the start of the US morning trading session – BTC20 is beating 'pepe coin':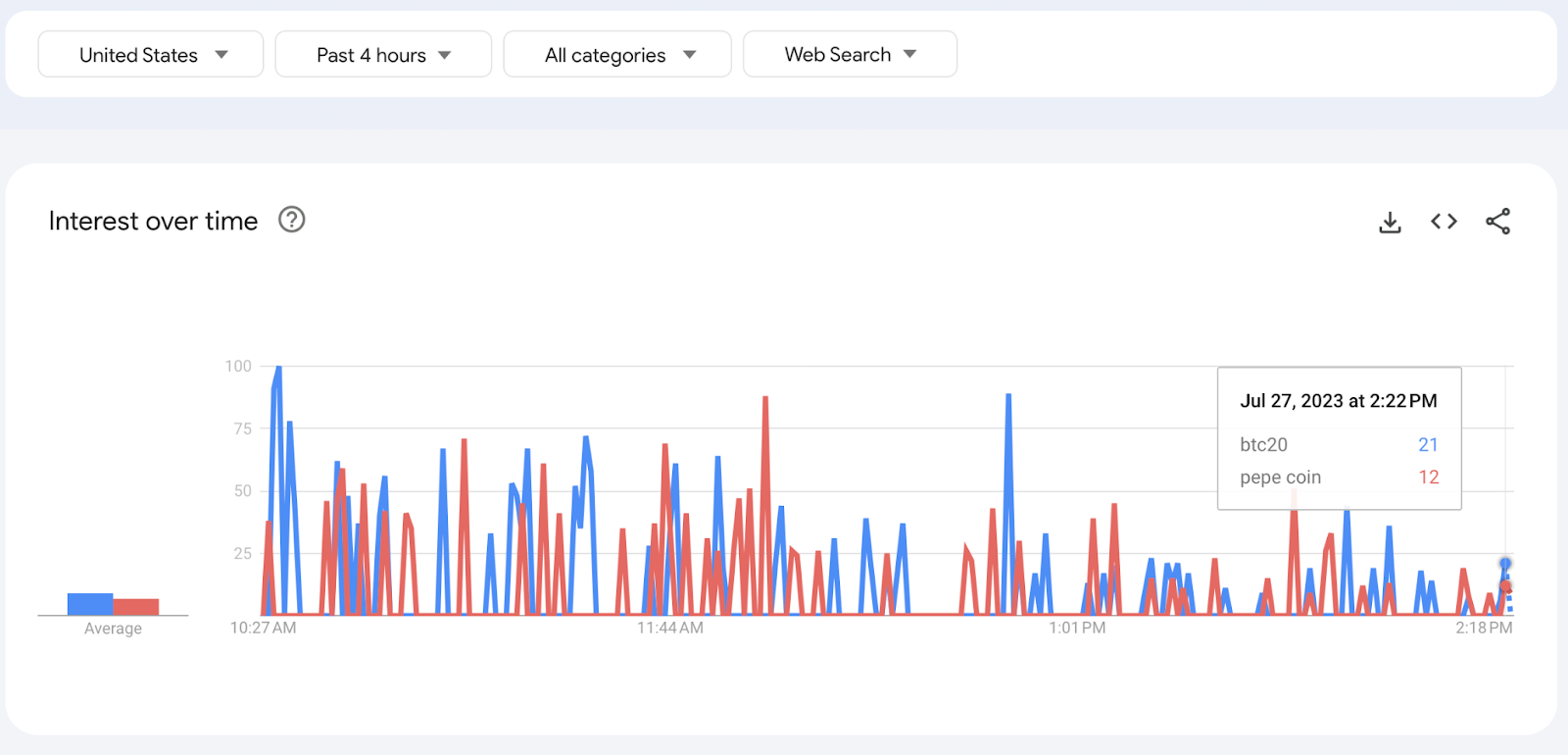 BTC20 Hits $3 Million in 9 days But Could Sell Out in Days
While it took only nine days to reach the $3 million milestone, BTC20 could hit its presale target of $6.05 million in a matter of days, given that it has raised over $1 million in just the last 24 hours.
BTC20 offers investors a chance to "turn back the clock" and purchase bitcoin when its price was $1 per token in 2011.
Given BTC20's multiple benefits over bitcoin – it exists on the Ethereum blockchain, meaning it is more eco-friendly, has a high staking yield, and has access to the world of Decentralized Finance (DeFi) – investors are keen not to miss out.
Unsurprisingly, BTC20 is catching the crypto community's attention.
The project has already been featured in major crypto news outlets like Cryptopotato, Finbold, Coingape, Beincrypto, Analytics Insight, and more. It has already attracted more than 2,600 followers on Twitter and 1,500 members of its Telegram group.
If the presale does sell out in a few days, as it is currently on track to do, that could set up the potential for an explosive launch on decentralized exchanges (DEXs) amid pent-up demand and FOMO.
Stake-to-Earn With BTC20 for 520% Yield Potential
A big reason why investors are rushing to bag their BTC20 tokens could be because the crypto token offers an exciting passive income opportunity.
BTC20's issuance schedule is set to mimic bitcoin's since 2011, but rather than rewarding "miners" (as bitcoin does), these newly issued tokens will be given to BTC20 owners who stake their tokens.
Given the fast pace of BTC issuance back in 2011, yields for BTC20 stakers could be extraordinarily high, depending on the size of the staking pool.
Here is an example of how BTC20 staking could work:
First, assume that 50 BTC20 are issued per block when BTC20 launches (the same as the BTC issuance rate in 2011) and that there are roughly 52,000 blocks per year, meaning total yearly issuance of 2.6 million BTC20.
Now imagine you purchased 5,000 BTC20 tokens and staked them all – this makes up 1% of a total staking pool of 500,000 BTC20 tokens.
In this example, your rewards would be 1% of 2.6 million, or 26,000 BTC20 tokens.
That would imply a yield of 520%.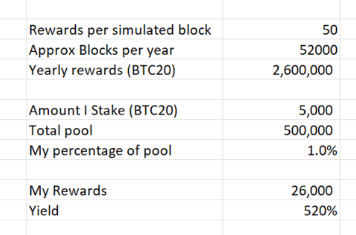 Of course, such high yields would undoubtedly attract more investors to stake their BTC20 tokens, increasing the size of the staking pool and pushing down the staking yield.
But the attraction of an excellent BTC20 yield should act as a strong incentive for investors to HODL the token, reducing the chance of a hefty price dump.
Here are BTC20's Benefits Over Bitcoin
The yields on offer are much higher for BTC20 stakers than in traditional bitcoin mining, but it's also much easier to generate a yield from BTC20 than in bitcoin.
Strictly speaking, bitcoin is a non-yielding asset unless used in its 'wrapped' derivative form in yield farming or lent out by a virtual asset service provider.
Getting involved in bitcoin mining requires investment in an expensive rig and (probably) paying some far-away centralized bitcoin mining service provider to set everything up and maintain it for you.
Staking BTC20 is as simple as depositing your tokens into the project's staking smart contract.
But BTC20's excellent passive income opportunity isn't the only reason BTC20 is superior to bitcoin.
Here are two further reasons:
BTC20 is an Eco-friendly Version of Bitcoin
The bitcoin network is notorious for its massive energy consumption and the associated negative environmental impact because of high CO2 emissions.
Any token that lives on the Ethereum blockchain (like BTC20) is much more energy efficient than bitcoin in the wake of Ethereum's switch to a proof-of-stake consensus mechanism last year.
The switch reduced Ethereum's energy consumption by around 99.95%.
BTC20 can be considered an eco-friendly version of bitcoin, which could help its appeal to environmentally-conscious investors in the future.
BTC20 Has DeFi on its Doorstep
Given it is built on the smart-contact-enabled Ethereum blockchain, BTC20 has immediate access to Ethereum's already highly developed decentralized finance (DeFi) ecosystem.
As a reminder, Bitcoin does not house any notable DeFi ecosystem, given its blockchain is much more simplistic.
BTC20 investors may be able to do things in the future, like use their tokens as collateral to take out loans on decentralized applications such as Aave or Compound.
A liquid staking market for yield-producing staked BTC20 tokens might also develop, akin to the markets for staked ETH tokens like stETH (Lido's staked ether token) and rETH (Rocket Pool's staked ether token).
All said this gives BTC20 owners a lot more flexibility.
Don't Miss Out on 2023's Hottest Presale
The stunning pace at which BTC20's presale is selling out suggests this is not a project to miss out on.
Popular crypto influencer Michael Wrubel thinks that BTC20 can make millionaires.
That could be the case if the token can follow in the steps of bitcoin, which is up over 29,000% versus its 2011 price of $1.
At the very least, BTC20 has 10x potential, as per the thoughts of Cilinix Crypto, an influential YouTube analyst with 31,000 subscribers.
To buy BTC20, fund your wallet with Ethereum or USDT and connect and purchase at the BTC20.com website.
Disclaimer: Crypto is a high-risk asset class. This article is provided for informational purposes and does not constitute investment advice. You could lose all of your capital.
---