BTC20 Emerges as Eco-Friendly Alternative Amidst 1Inch Network's Price Drop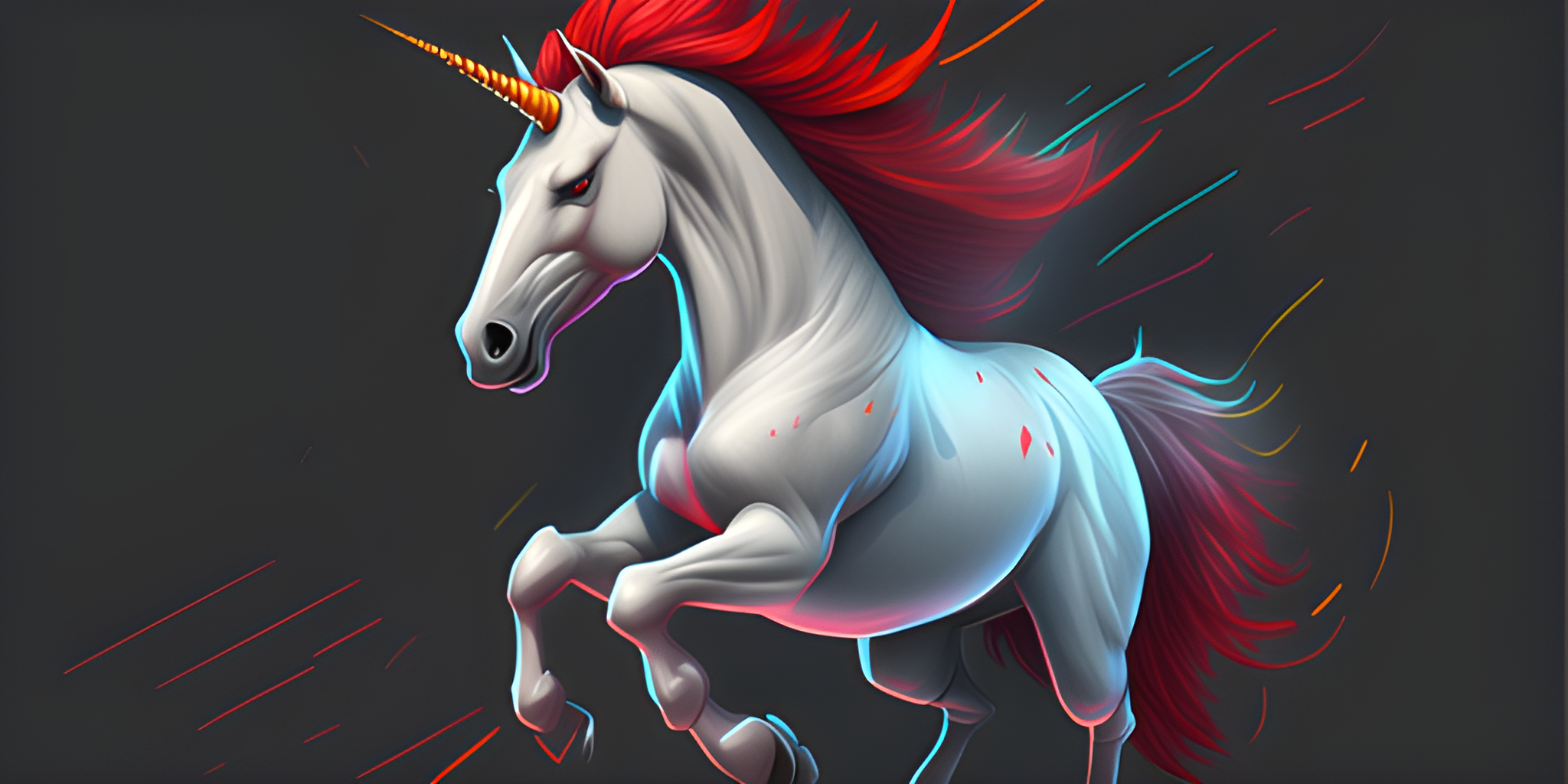 After staging a rally that saw 1INCH reach a multi-month high of $0.5935 on July 17, it is experiencing a drastic pullback to the current level of $0.3274, representing a 44.84% decrease from its recent peak.
1INCH Price Prediction and Technical Analysis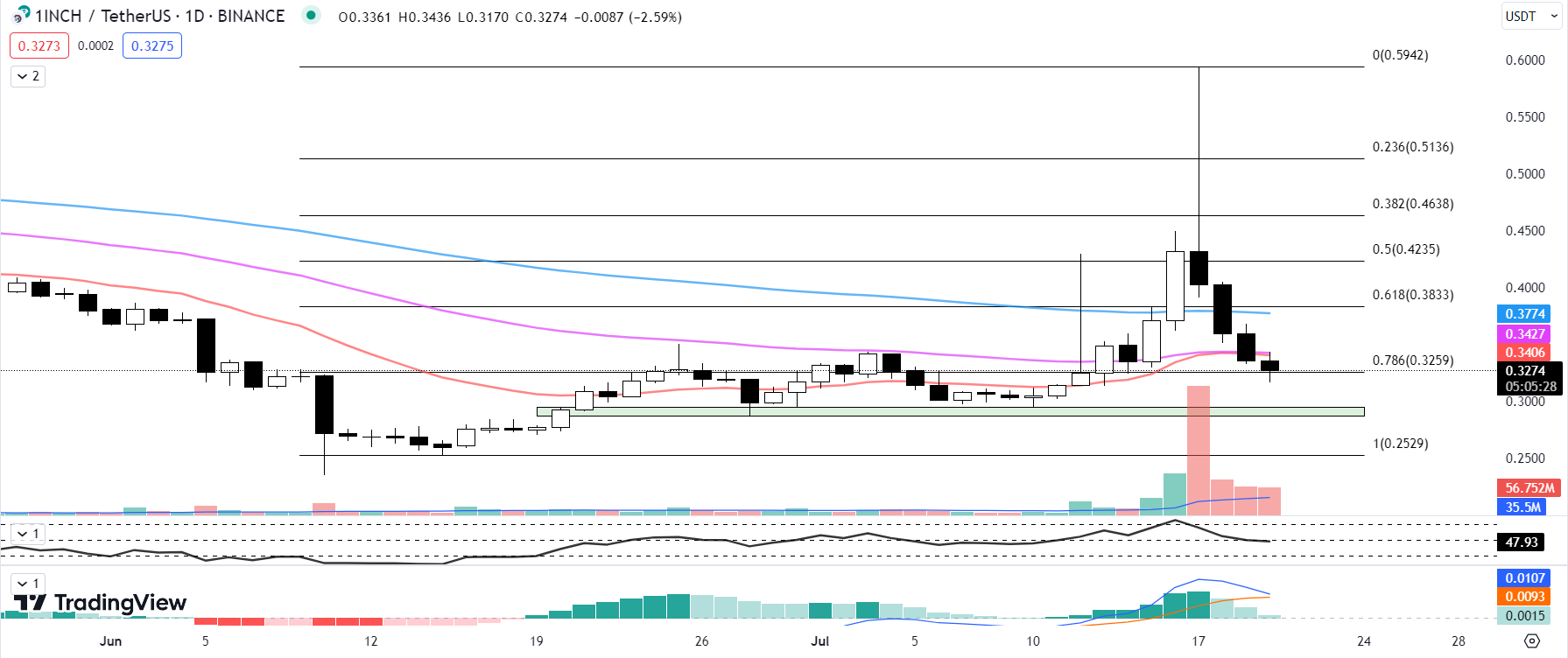 At $0.3274, the current price of 1INCH is lower than its 20, 50, and 100-day EMAs which are $0.3406, $0.3427, and $0.3774 respectively. With the current price underneath the short, medium, and long-term EMAs, it signals that 1INCH is presently in a bearish market phase.
As for the Relative Strength Index (RSI), it has slipped from 49.63 to 47.93 within a day, moving closer to the oversold territory. This trend suggests growing bearish momentum and might raise caution flags among potential buyers.
The MACD histogram also echoes the bearish sentiment. It is currently on the cusp of forming a bearish crossover, as it slid to 0.0015 from yesterday's 0.0048.
Another concern for investors would be the decline in the market cap, which dipped by 3.44% to $324 million.
Interestingly though, there is a spike in the 24-hour trading volume by 20.94% to $115 million, which could indicate an increasing interest in the asset despite the downward price action.
1INCH is currently grappling with crucial support and resistance levels. The immediate support is at the Fib 0.786 level of $0.3259, closely followed by a solid horizontal support zone ranging from $0.2878 to $0.2949. Should the digital asset slide further, this range could potentially halt the downtrend and induce a rebound.
Investors and traders should watch the 20-day and 50-day EMAs at $0.3406 and $0.3427, and the 100-day EMA at $0.3774 as key resistance levels to overcome for a bullish reversal.
Given the prevailing bearish market trend, traders are advised to approach 1INCH with caution and be prepared for potential further drops before any signs of recovery become apparent.
With 1INCH experiencing a bearish trend, investors are turning their attention to BTC20, a retro cryptocurrency that recreates the early days of Bitcoin on Ethereum, combining the best of both worlds.
BTC20: Nostalgic Beginnings with Modern Execution
Projected forecasts indicate that the price of Bitcoin might reach the benchmark of $50,000 in the subsequent year, 2023.
Yet, an emerging player in the cryptocurrency market, named BTC20, could possibly outshine Bitcoin's anticipated ascension.
BTC20 has been billed as the 'Bitcoin on Ethereum' and it presents the cryptocurrency community with the chance to purchase at the Bitcoin price of 2011 - a mere $1.
In less than four days since its presale began, BTC20 has already reached an impressive figure of $470,000 with ease.
The presale is attracting thousands of dollars in investment, and this trend is expected to continue and even accelerate in the coming days.
BTC20 has set a modest soft cap target of just $3 million, and given the strong momentum it has already built, it is likely to see a surge in the number of buyers in the near future.
Unprecedented Returns and Green Crypto Appeal
BTC20 has the potential to generate significant returns for early investors. To illustrate, an increase in the price of Bitcoin from $30,000 to $50,000 would represent a gain of 66%.
In comparison, a rise in the price of BTC20 from its pre-sale price of $1 to $50,000 would indicate an increase of 5 million percent, which is a significant amount.
This new cryptocurrency takes the essence of the original Bitcoin, often referred to as digital gold due to its Proof-of-Work (PoW) 'mining' consensus mechanism and scarcity, and refines it.
BTC20 plans to be even more scarce than the current Bitcoin by rolling back the blockchain.
The presale will only offer a maximum of 6.05 million tokens, reflecting the 6.05 million Bitcoin tokens in circulation back in 2011.
Running on the Ethereum blockchain that employs the Proof-of-Stake (PoS) method instead of the resource-intensive Proof-of-Work (PoW) consensus mechanism, BTC20 proudly wears the label of green crypto - an enticing point for the modern, environmentally conscious investor.
Staking for Passive Income
The stake-to-earn feature of BTC20 has the potential to captivate investors. Similar to the original Bitcoin, network participants can receive rewards for their contributions.
However, with BTC20, rewards will be accrued through a stake-to-earn system, deviating from Bitcoin's PoW mining system.
Those purchasing BTC20 might be able to enjoy not only capital gains from the projected rising price, but also passive income through staking their tokens.
Disclaimer: Crypto is a high-risk asset class. This article is provided for informational purposes and does not constitute investment advice. You could lose all of your capital.
---