BitMEX Founder Arthur Hayes Returns to Tout The Crypto Game
Arthur Hayes, the co-founder and former CEO of major crypto derivatives exchange BitMEX, has made a remarkable return to the public spotlight – emerging on social media for the first time since the US authorities indicted him and his fellow co-founders on charges of financial malpractice.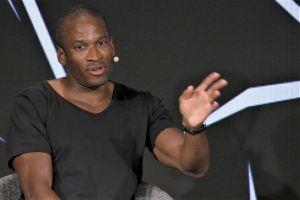 The outspoken Hayes dropped off the radar in October, but his sudden return has seen him post on Twitter to promote what he claimed would be a fortnightly blog post.
And it appears that almost five months of silence has left Hayes with plenty to say: His first post was almost 2,400 words long and covered a range of matters – chief among them the GameStop (GME) trading affair.
He urged investors to go solo and empower themselves, writing,
"Withdraw all your money from your broker. Stop trading. Stop paying the system that you believe treats you like a second-class citizen."
Hayes advised retail stock traders,
"Just make sure you have a cash account, use no leverage and refuse to lend out your shares unless you receive the borrow interest."
However, he also added that there was an "other game" that provided an alternative to the financial markets – namely crypto.
He wrote,
"It's risky for sure, but if your goal is to speculate your way out of COVID lockdown-induced boredom, or to augment your declining real wages, crypto can and does generate such outcomes."
He made scant mention of BitMEX, however – and did not write about the criminal charges he is currently facing in the United States.
"Centralised services certainly provide positive value to the ecosystem. In many cases, they use their profits to invest in the decentralized solutions that could render parts of their business obsolete in the future. But the constant pressure to remove trust spurs the centralized operators to provide superior services to their customers faster than a decentralized provider," Hayes wrote.
The Hayes juggernaut came to a screaming halt in the autumn of last year, when the FBI moved in, on charges filed by the United States Department of Justice and the financial regulatory Commodity Futures Trading Commission. The DOJ has accused Hayes and the other executives of running an unregulated trading platform and violating American anti-money laundering (AML) and know-your-customer (KYC) rules.
The filings revealed that Hayes and co had been accused of breaking the Bank Secrecy Act, claiming that they had "willfully" neglected AML protocols. If convicted, Hayes – whose location is currently unknown – could face multiple years in prison.
A recent expose of Hayes' rise and "fall" from grace in Vanity Fair suggested that he may be lying low in Singapore – and may have provided further inspiration for his sudden return.
Trading volume on BitMEX: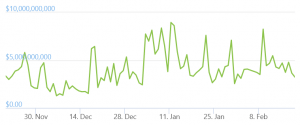 ___
Learn more:
- Crypto Traders Might Find Familiar Playbook In GameStop Hearing
- A Reddit Army Blurs The Line Between Crypto and Traditional Finance
- BitMEX Completes Accelerated Verification, Secures 'Vast Majority' Of Volume
- BitMEX's 100x Group Finds Replacement For Arthur Hayes In Europe
- BitMEX Crackdown Will Fuel DeFi, Industry Insiders Hope
---