Bitcoin Rallies to New Yearly High, Outperforms Ethereum; Chainlink Flips Litecoin
The most popular cryptocurrency, bitcoin (BTC), rallied to a new yearly high in early Monday hours (UTC time), outperforming all but one coin in the top 10.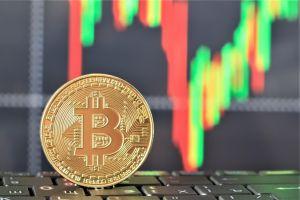 At pixel time (03:33 UTC), BTC trades at USD 12,037 and is up by 2.3% in a day and almost 8% in a week. Earlier today, it hit almost USD 12,043, compared with USD 12,041 reached on August 2 when it crashed in minutes.
The price is also up by 29% in a month and 5.7% in a year.
BTC price chart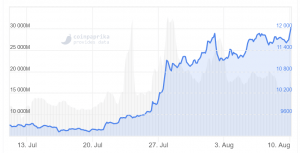 One of the best-performing tokens this year, ethereum (ETH), ranked 2nd by market capitalization, is unchanged in a day and is up by 4% in a week, trading at USD 397.
Other major coins from the top 10 coins by market capitalization are showing mixed results, with cardano (ADA) dropping the most (2.6%) and chainlink (LINK) rallying by 4%. LINK is now ranked 6th by market capitalization, leaving bitcoin SV (BSV) and litecoin (LTC) behind.
The whole market capitalization is up by 1.6%, to almost USD 371bn, while Bitcoin dominance, or the percentage of the total market capitalization stands at almost 60%, up by almost 0.5 percentage point in a day.
After the crash in the market a week ago, Marc van der Chijs, Founder of VC firm First Block Capital and publicly traded BTC miner Hut 8 Mining, warned that more BTC flash crashes are coming in this new bull market.
"Don't be alarmed if BTC crashes all of a sudden, there is simply too much leverage in [the] derivatives market and too many inexperienced traders are playing with money there. Do not sell!" he said last week.
Meanwhile, as reported, Grayscale, a major crypto asset management firm owned by Digital Currency Group, is set to launch a national crypto ad campaign in the US this week. It comes at the time of great socio-economic and geo-political uncertainties - which might be turning people's head towards financial and monetary alternatives.
---