1G Profit System Review - Scam or Legitimate Trading Software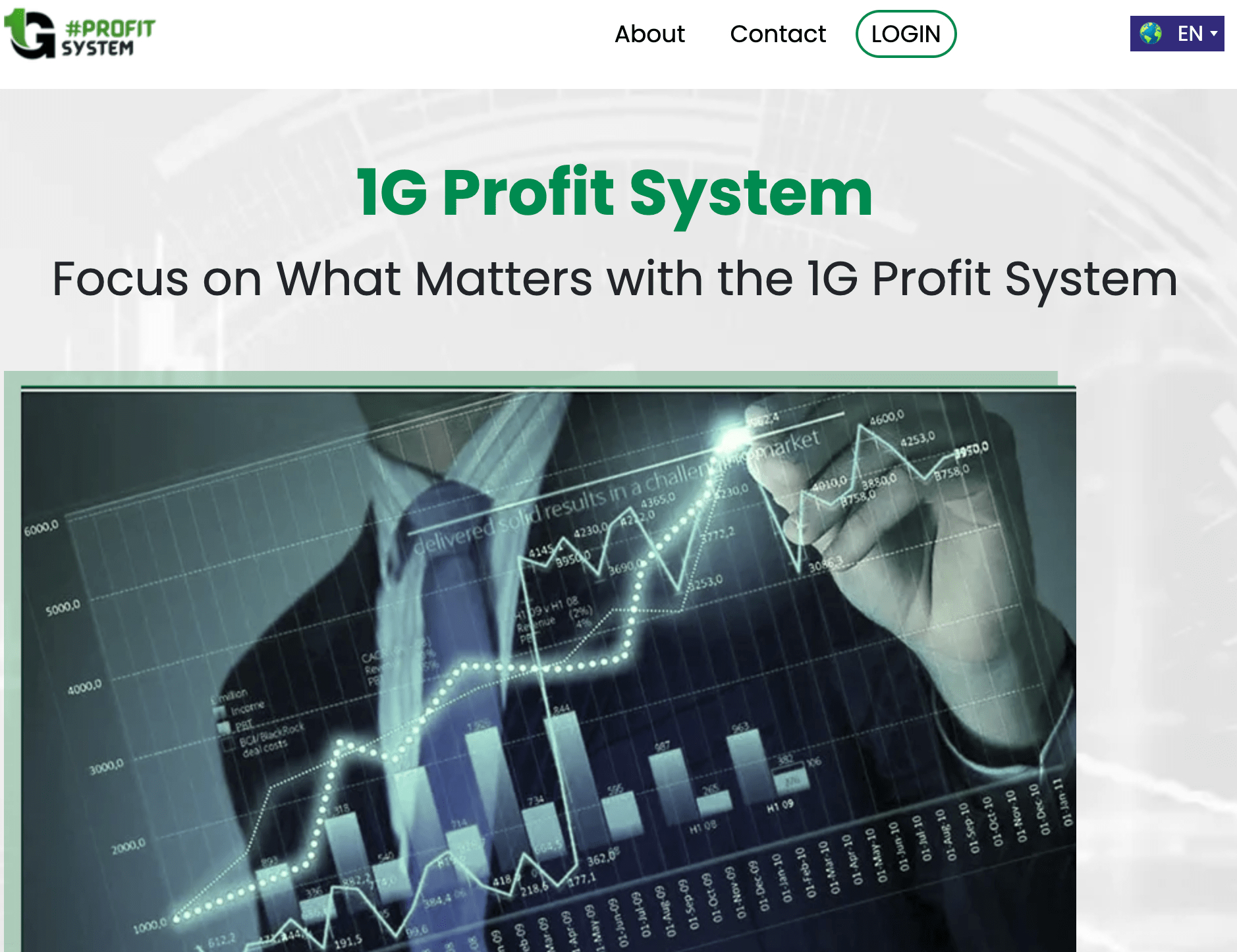 Disclaimer: The text below is an advertorial article that is not part of Cryptonews.com editorial content
The online trading platform market is a crowded space, and so are the number of indicators designed to analyze crypto price action. The 1G Profit System claims to provide a holistic system that allows users to focus on what matters and keep trading simple.
Its crypto trading platform states it can make market assessments easier by putting all the complex trading charts and indicators into a single digestible tool, with which users can then make better trading decisions. But is 1G Profit System worth the time and investment, or is it another scam meant to harm novice investors? This 1G Profit System review tries to answer these questions.
1G Profit System Summary
Here are the key details that we will look into in our 1G Profit System review:
| | |
| --- | --- |
| Supported Crypto | Cryptocurrencies, assets, and commodities |
| Success Rate | Not specified |
| Available on Mobile? | No application is available - but the platform works on mobile |
| Fees | None |
| Customer Support | 24/7 for registered users |
| Withdrawal Speed | 24 hours max |
| Minimum deposit | $250 |
Cryptocurrencies are unregulated. Trading with unregulated brokers will not qualify for investor protection.
What is the 1G Profit System?
1G Profit System is a crypto trading platform focusing on information and human-enabled trading. According to its official website, time is the relevant factor to trading profitably - but not all traders have it. So, with 1G Profit System's unique trading interface, users may be able to look at the market analytics in a holistic fashion to make trading decisions quickly and profitably.
The platform claims that users get access to full-dimensional analysis of the market conditions that they can then use to implement into their own trading strategies.
According to the platform, 1G Profit System has advanced trading tools that use algo-based strategies to combine all the technical and sentimental indicators driving the current market and create one parameter that users can rely on when trading.
This feature, if real, may make trading much more worthwhile for all types of traders - allowing them to generate huge profits.
But the issue is that there is no evidence to substantiate the claim that the platform has those features. The website has been very light when it comes to giving info about the elements of this utility that allows users to condense all the trading history and charts into one analytical report. One thing is certain, however, is that 1G Profit System is not an AI crypto trading bot project. That said, there are other websites of similar names that, in fact, provide autonomous trading services, but those aren't highlighted for the 1G Profit System.
Starting to trade on this platform requires one to deposit at least $250, which can be high for a novice trader. That's especially the case since the reviews for this site are few, and those that are available don't necessarily put that in a positive light.
Therefore, users must use a demo trading account that this platform seems to provide. That will give them an indication of the different strategies at play here.
Along with cryptocurrencies, 1G Profit System also claims to support commodities and asset trading. However, it hasn't provided any information about what those assets or commodities are. Some reviews have stated that the platform is hinting at coffee, crops, silver, and gold trading when it comes to assets and commodities – but things are not completely clear on that.
Users can get access to customer support, but only if they have registered.
1G Profit System Pros and Cons
Here are the pros and cons we found for the 1G Profit System
Pros
Claims to condense most market indicators into one market analysis report
Supports assets and commodities - according to the advertising copy
Offers demo trading account to those who register
Simple UI and signup process
The platform claims to help even novice traders generate profits
Cons
Not many reviews available for this website
No historical data about the platform's performance
Users must deposit $250 to start trading
Developer information not available
How Does 1G Profit System Work?
Many of the features that 1G Profit System claims it has makes it look more like a robo advisor rather than an autonomous trading system. The platform states that once users turn on live trading, they get access to all the market indicators they need to make informed investment decisions.
These indicators might be a collection of 100+ technical and sentimental properties that crypto markets influence, but the site isn't clear on them. Users may be able to use their own strategies and, after conversing with their account manager, conduct trades on the platform.
An account manager is an integral part of this platform, making it a human-assisted trading system. The 1G Profit System states that users can converse with the account manager and let them trade on the user's behalf.
While this approach is good, since a presence of a human element when crypto trading can help, it is not clear how helpful these account managers are - and how much information they have access to. That's an important question since scams on such platforms mostly happen due to these human entities, which is why it is critical that investors do their own research before trading.
Another factor to keep in mind is that having a human middleman can lead to biases that may not be conducive to an investor's profits. And since the cryptocurrency market is volatile - with trends changing rapidly, a standard trading bot might have been a better idea.
1G Profit System Key Features
Here are the key features that the 1G Profit System claims to process.
Note - the information below has been extracted from third-party reviews because the platform has been very light when it comes to providing key details.
Human-Enabled Trading
With platforms similar to 1G Profit System, the speculation is always about the autonomous trading systems that make quick decisions on an investor's behalf. 1G Profit System, however, has seemingly taken a more human route. Every market analytics a user reads and uses to put together trading strategies is then given to the account manager. The website states both the user and the account manager work together to make trading decisions, with the account manager being the one to execute it on a user's behalf.
Simplified Market Analysis
Putting together the right prediction by analyzing over 100+ technical and sentimental indicators is not meant for beginners. 1G Profit System claims to resolve that issue by condensing these indicators into one single parameter. That parameter offers all the critical information users need to make informed trading decisions. That said, while 1G Profit System has stated that the market analysis is full-dimensional, we didn't get to check out a sample of it.
Traditional and Crypto Assets Supported
1G Profit System doesn't pigeonhole itself into providing a single type of trading. According to the website, there are three levels of trading - commodities, cryptos, and assets. Commodities, according to 1G Profit System, are the simplest. Crypto trading is more volatile, and asset trading is the most difficult. The platform claims to offer facilities for all forms of trade without any issues.
Demo Trading Account Available
A demo trading account might be available for 1G Profit System. We say this because while the site hasn't explicitly stated it, some third-party reviewers have hinted at it. But that might be a speculation since none of the reviews have expanded upon how much virtual currency is given to users to try out this feature.
Free Platform
1G Profit System claims that anyone is welcome to use the website, and there is no charge for admission. The platform says that "it won't make sense." The signup process is not there, and there are no subscription charges. However, that is not to say that people don't need to deposit the minimum amount to start trading.
1G Profit System Account Fees
One of the highlighted features of the 1G Profit System is that there are no charges. The site claims that there is no subscription fee, deposit fee, or withdrawal fee. That said, the brokers - if any - are attached to this platform and might ask users to pay some fees.
| | |
| --- | --- |
| Trading Fee | None |
| Account Fee | None |
| Commission | None |
| Withdrawal/Deposit Fee | None |
1G Profit System Minimum Deposit
While the platform hasn't explicitly stated how much money one needs to deposit, some reviewers have reported that a $250 seed capital is needed to get started. This deposit requirement is non-optional since, without it, all the trading features of the platform aren't available.
1G Profit System Compatible Devices
We checked out the platform on multiple devices, including the following, and were able to see all the details clearly.
Desktops
Laptops
Android and Apple smartphones
Tablets
Note that this assessment is only for advertising copy that has a 1G Profit System. It doesn't reflect how the trading platform - which becomes accessible once users have deposited the minimum amount - would look like. However, if the home page is any indicator, users might be looking at a simple and robust trading interface.
But that still means users must be careful and do their own research before getting started.
Is 1G Profit System a Scam or Legit?
Time is indeed an issue when it comes to assessing the market conditions. And since the market is volatile, people have to prioritize between reacting to the changing market or learning about it. And 1G Profit System claims to offer a utility that allows users to learn about the market easily and react to market changes quickly. However, it hasn't been clear on the type of services it provides.
In many ways, it looks like an info-based site. And while that might have been the case, the reviews about it online talk about an autonomous platform of the same name. However, they have painted that as a scam site. Online reviews about this platform are few, and customer reviews are nowhere to be found.
And there are no balanced reviews about it online. Reviewers have either claimed the 1G Profit System to be one highly-profitable trading tool or have critiqued it as a scam.
Therefore, we can't say that we have enough information to mark 1G Profit System as either a scam or a legitimate trading platform. We recommend users do their own research and only invest what they can afford to lose.
Cryptocurrencies are unregulated. Trading with unregulated brokers will not qualify for investor protection.
1G Profit System Customer Support
There is customer support available on the 1G Profit System, but that is reserved for registered users only. Newcomers - users who are visiting the site for the first time - might not be able to inquire about the platform. They must signup, a process that generally involves talking to an account manager who can provide more details.
How to use 1G Profit System?
Here are the steps to start using the 1G Profit System.
Step 1 - Visit 1G Profit System Website
Visit 1G Profit System's official website and enter the necessary details. The details required include name, email, and phone number. Then proceed to verify your account to get onto the 1G Profit trading platform.
Step 2 - Deposit the required amount
Deposit the amount needed to start trading on the platform. It is $250. You can deposit this amount using the payment options available.
Step 3 - Start Trading
Once you have deposited the required amount, start trading. We recommend checking out the demo trading account to see how the platform works first.
How to Delete a 1G Profit System Account?
There is no information about how one can delete an account. We recommend reaching out to the account manager for assistance.
Have Celebrities Endorsed the 1G Profit System?
There are rumors swirling around that 1G Profit System has the support of major celebrities. However, there is no reason to believe them. For one, the site has no autonomous trading features, so the likes of Jeff Bezos would not be interested in it. And secondly, when it comes to Elon Musk, the Tesla Founder has only shown interest in Dogecoin and some other assets.
Who is the Founder of 1G Profit System?
There is no information about the founders of 1G Profit System. The website hasn't provided any information about it. Even little info like what their professions might be have not been discussed.
That aspect can be considered a red flag since, in this day and age, being transparent about the founders is important. Therefore, we recommend caution when using this trading platform.
1G Profit System Payment Methods
Below are the listed payment methods available on the 1G Profit System.
Debit Cards
PayPal
Credit Cards
Bank Transfers
The Verdict
We have assessed 1G Profit System based on the link we had access to. And since the information provided was small, we looked into third-party sites. We found that the 1G Profit System claims to simplify the trading metrics to make it easy to invest in cryptocurrencies, assets, and commodities.
However, the information verifying those claims is nowhere to be found. The site itself wasn't open to testing - which further doesn't provide us with a lot of insight into it.
Therefore, those looking for legit options, should look for better alternatives. Click the link below to learn more about 1G Profit System.
Cryptocurrencies are unregulated. Trading with unregulated brokers will not qualify for investor protection..
FAQs
What is 1G profit System?
1G Profit System is a crypto trading platform that claims to simplify the indicators and provide a full dimensional market analysis to traders to help them invest responsibility. One needs to deposit $250 before trading on this platform.
Does Jeff Bezos use 1G Profit System?
No, there is no indication or proof that suggests that Jeff Bezos, the founder of Amazon, might be using 1G Profit System.

---