Bitcoin Price Prediction: BTC to Dip Below $25,000 Before Bouncing Up, Whales Buy into Fight Out on Last Day of Presale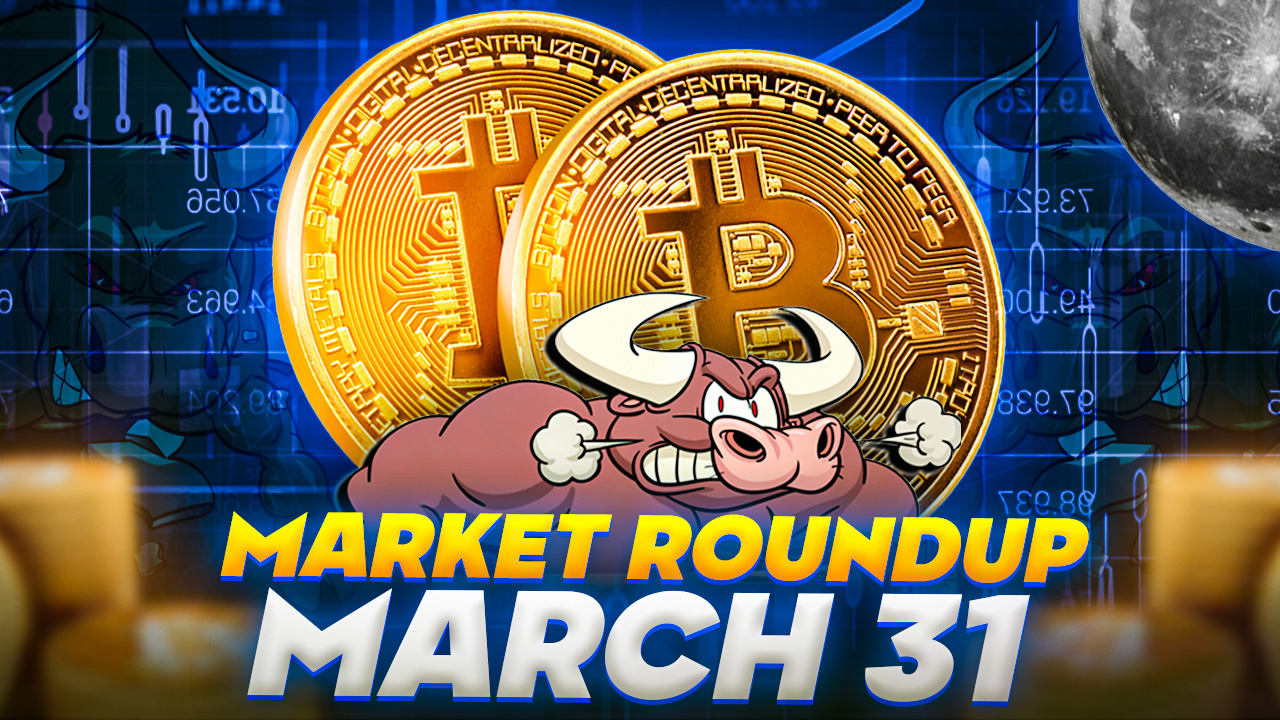 In the world of cryptocurrency, investors are always on the lookout for the next big thing. While Bitcoin has been the dominant player in the market for years, there is always speculation around its price movements. The technical analysis predicts that BTC will dip below $25,000 before bouncing back up.
Meanwhile, another altcoin called Fight Out has been gaining attention, as whales have been buying into the project on the last day of its presale. Let's take a closer look at these two trends and what they could mean for the cryptocurrency market.
Deribit Exchange Warns Upcoming Bitcoin Options Expiry May Impact Price
After reaching a high of over $29,000, Bitcoin has dropped to $27,500, signaling a decrease in its recent gains. One potential factor that may have contributed to the drop is the upcoming expiry of many Bitcoin options, totaling 141,000.
This expiry event is considered by some to be a key factor that could negatively impact Bitcoin's price.
The Deribit exchange has reported that a total of 141,000 Bitcoin options, valued at $4.1 billion, are soon set to expire. The put-call ratio for these options is 0.74, and the maximum pain point is $24,000.
This means that if the price of Bitcoin falls below this level, there may be additional downside risk for the cryptocurrency.
Aside from Bitcoin, a total of 1.746 million ETH options, valued at $3.1 billion, are also set to expire soon. The put-call ratio for these options is 0.33, and the maximum pain point is $1,600.
The expiration of such a large number of options contracts can cause market instability, and it has been known to lead to losses for Bitcoin.
Deribit market data suggests that the effect of options expiry on Bitcoin's price will depend on the selling behavior of various markets, with Binance Market BUSD leading the selling through futures selling.
Currently, the world's largest cryptocurrency is trading at around $27,965, but there could be significant price movements in the near future due to the expiration of these options contracts.
Examining the Relationship Between the Fed Balance Sheet Drop, PCE Inflation Data, and Bitcoin Price
The price of Bitcoin is being influenced by multiple factors, including the release of the US Federal Reserve's balance sheet, which indicated a $28 billion decrease this week after surpassing $100 billion the previous week due to banking-related problems.
Nevertheless, the Fed provided less funding to banks but more to BTFP, which caused traders to feel uncertain and resulted in a drop in the price of Bitcoin.
The US Bureau of Economic Analysis is set to release the PCE and Core PCE inflation data shortly. It's important to remember that in January, PCE inflation rose to 5.4% YoY, an increase from 5.3% in December, and Core PCE figures also experienced growth in the previous month.
As a result, this information will play a role in the Federal Reserve's decision-making regarding interest rate hikes. Traders are eagerly anticipating the data, which has been viewed as a significant factor contributing to the decline in Bitcoin's price. This is due to concerns about future inflation and the Fed's approach to interest rates.
If the inflation figures exceed expectations, Bitcoin's price could drop even further. However, if the data comes in below predictions, Bitcoin's value may experience some respite.
Bitcoin Price
According to technical analysis, the BTC/USD pair is displaying a volatile pattern at present, with anticipated resistance around $28,900.
So far, the technical perspective seems relatively steady, with Bitcoin oscillating around the $27,900 price point.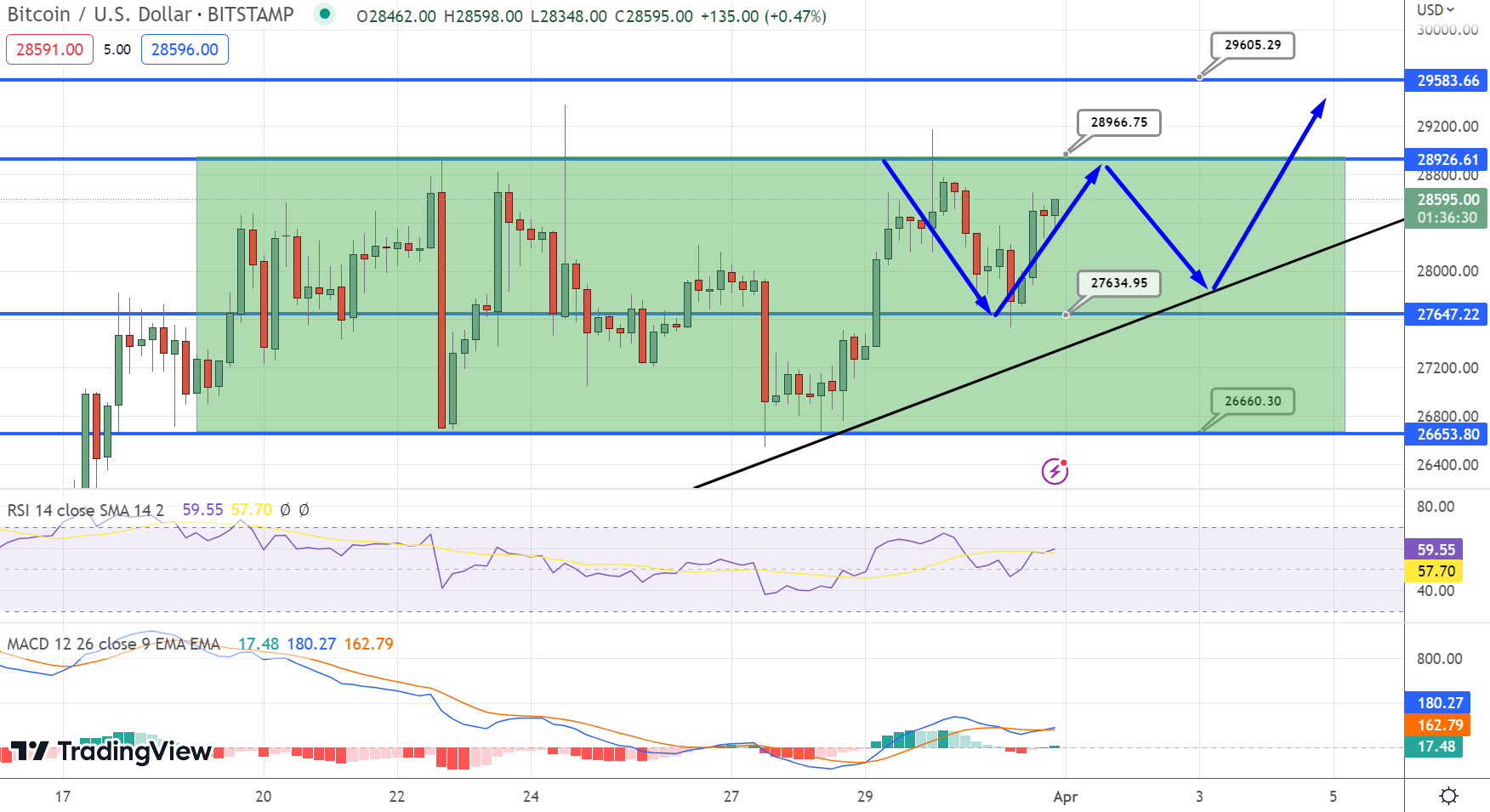 Should the BTC/USD pair manage to surpass the resistance level of $28,950, this could lead to a rise in Bitcoin's value, possibly reaching $29,200 or even $30,700.
On the other hand, if a bearish trend emerges, Bitcoin's price is likely to encounter robust support levels around $26,600 and $25,200.
Last Chance for Fight Out Presale: Ends Today
The Metaverse and play-to-earn (P2E) gaming app, Fight Out, has successfully garnered over $6 million from investors during its presale, which concludes today at 00:00 April 1st UTC.
In five days, on Wednesday, April 5th, the token will be listed on seven exchanges: XT.com, LBank, BKEX, Changelly Pro, BitForex, DigiFinex, and Uniswap.
Prospective buyers have just a few hours remaining to secure the $FGHT token at the discounted price of $0.0333, as the presale winds down and trading commences.
Top 15 Cryptocurrencies to Watch in 2023
To stay up-to-date with the latest ICO projects and altcoins, it's advisable to regularly consult the expert-curated list of the top 15 cryptocurrencies to watch in 2023.
Disclaimer: The Industry Talk section features insights by crypto industry players and is not a part of the editorial content of Cryptonews.com.
Find The Best Price to Buy/Sell Cryptocurrency

---