Fight Out Presale Must End Today, Lists in 5 Days – $6 Million Raised, Final Opportunity to Buy With 67% Bonus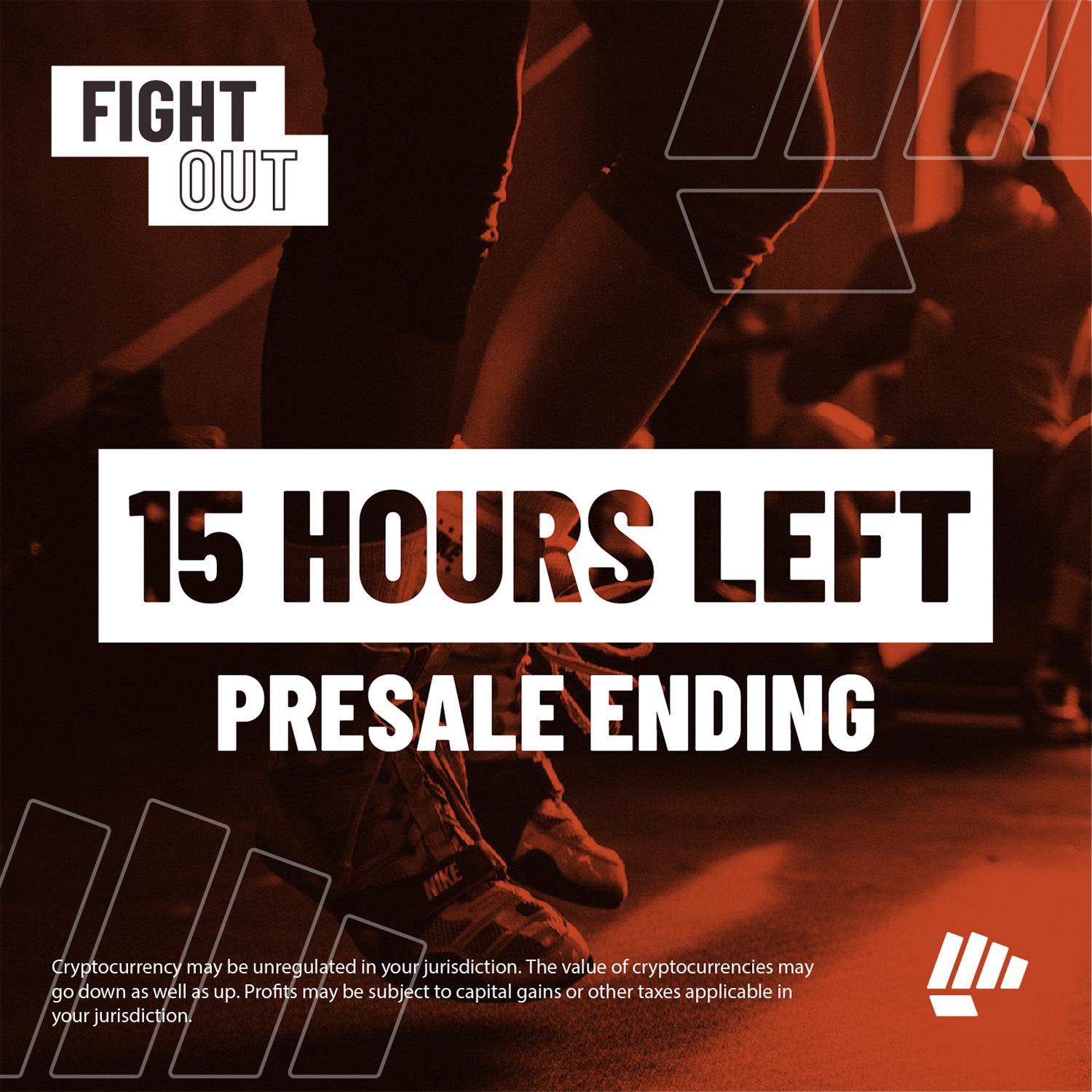 Friday March 31st 2023 – The presale for the Metaverse and play-to-earn (P2E) gaming app, Fight Out, has successfully raised over $6 million from investors, with the presale coming to a close today at 00:00 April 1st UTC.
The token lists on seven exchanges in five days' time, on Wednesday, April 5th: XT.com, LBank, BKEX, Changelly Pro, BitForex, DigiFinex, and Uniswap.
Buyers have a few hours left to acquire the $FGHT token at the low price of $0.0333, but there is no time to lose as the end of the presale approaches and trading begins.
There's also a bonus of an extra 67% of your purchase amount of FGHT tokens if you invest big and stake for the long term.
But the bonus is only available in the presale so there's no time for delay.
Strong interest in the project is evidenced in the 103,000 followers amassed on Twitter, so the price is expected to rocket when trading begins next week.
FOMO explodes in last chance to buy at cheapest prices
With just hours to go until the presale sells out, analysts are tipping Fight Out to be the best crypto to buy now.
Fight Out is a P2E game based on each user's 'soulbound' avatar, offering rewards for your training and other activity in and outside of the smartphone app.
You can also bet on events throughout the fight world.
Soulbound avatars are not tradeable and are used to link real world activity to the community and virtual world accessed in the app.
The integration of combat sports and the fight world into the gaming world is only just beginning – Fight Out is at the leading edge of that innovation.
Fight Out's mix of real and virtual worlds is what makes Fight Out different and sure to be a major success.
Get to the front of the Fight Out app line by buying in presale today
Owners and stakers of $FGHT receive and retain free membership to the Fight Out app's unique metaverse fight world.
Also if you stake tokens in the presale you will get your account pre-funded with $FGHT.
Add to that, simply by purchasing tokens in presale, you will gain early access to the benefits from the Fight Out rewards and experiences.
Those benefits include Masterclass-style app content with Fight Out's elite athlete ambassadors.
Fight Out has already signed up its first elite ambassadors: British boxing star Savannah Marshall, who fought Claressa Shields in the most-watched women's boxing match ever; UFC pair Amanda Ribas and Taila Santos, both ranked top 10 in their weight class; and American Ninja Warrior NBC star and online training guru Tremayne Dortch.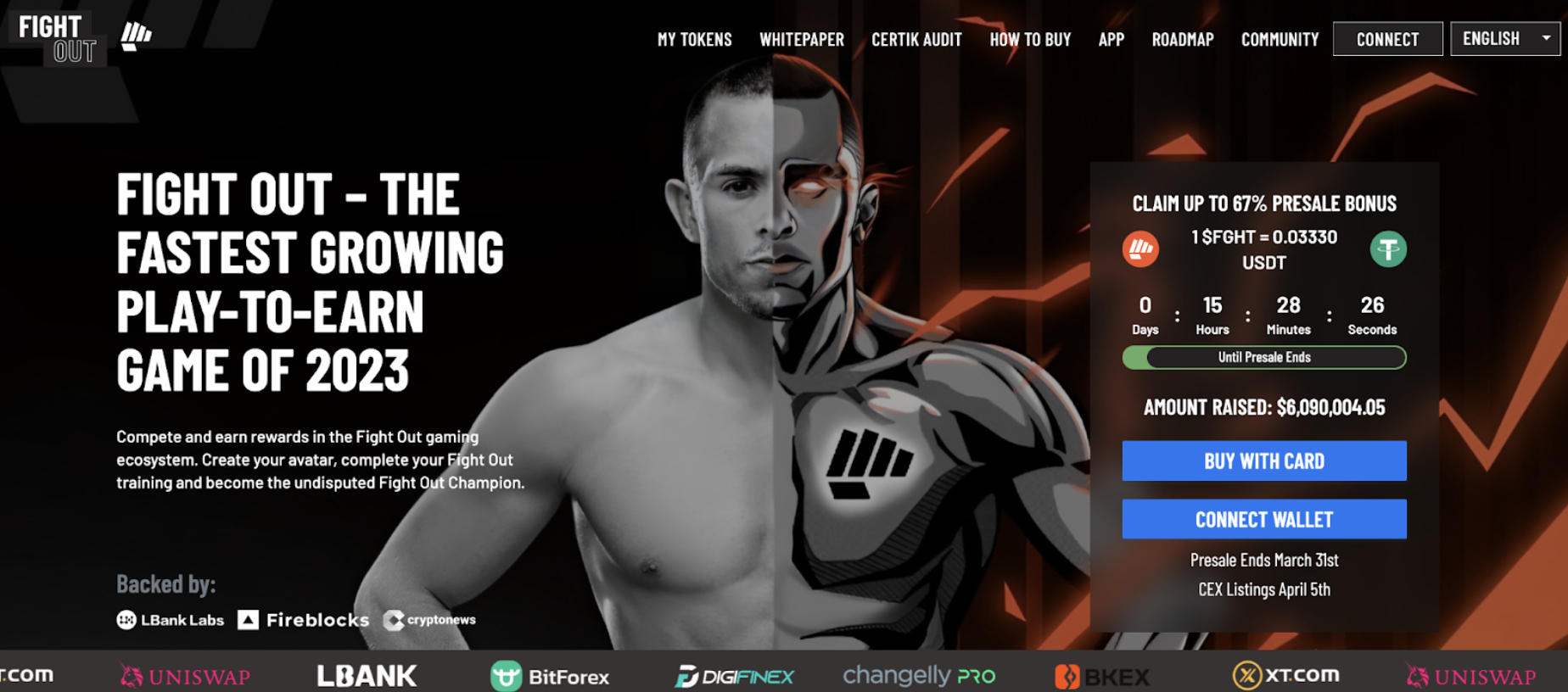 Making it easy to train, compete, earn and bet
Fight Out is about competing and being rewarded for it. On top of that is added the betting element covering in-app and wider fight world events and happenings.
If you don't fancy the big-time events, you can choose to play against friends in your own private leaderboard competition.
Or why not join a massive multiplayer by entering pool events with literally thousands of others?
And if competing to win is not your thing, with Fight Out you earn from just taking part, and you can play again and again – Fight Out calls this the train-to-earn model.
Fight Out has invented a new approach to training and gaming that connects gaming outcomes to what you do in the non-game-world environment.
Fight Out's unique offering – compete with friends or set up fantasy fights
Betting on sporting events is a huge industry – and it is Fight Out that will be the first to open up that business to the gaming and training world.
Fight Out enables users to create their own bouts and to set up shop as a bookie.
The platform will become a center for betting on the outcome of challenges of all sorts, with avatars connected to real-world individuals.
For instance, a virtual fight could be set up between Jake Paul vs Tommy Fury – the rematch of the century, if you will – or between ordinary members of the Fight Out community.
Data feeds updated in real-time will help determine how each fantasy fighter performs.
With no competitors in sight, getting in on the ground floor of the project could land investors with life-changing investment returns.
Last day to get FREE coins with Fight Out's 67% token bonus
Last-minute investors will be encouraged by the Fight Out bonus program, which ends when the presale is complete.
Fight Out is giving away free money. By vesting your token holdings and maxing out your investment, presale investors can get extra tokens up to 67% of the amount purchased.
To access the top-tier offering at least $50k worth of tokens must be bought and held for 36 months.
Those who have already invested and taken advantage of the previous bonus program design will receive an extra 10% token distribution.
If you don't want to lock up your tokens, you can also choose to buy without any vesting period and receive 100% of your tokens before exchange listings.
Invest in the hottest smartphone app of 2023
With a steady flow of investment funds flowing into the Web3 sector, Fight Out stands alone as the only play-to-earn gaming platform with a real-world angle.
Aside from competing in games, in the Fight Out fantasy gaming ecosystem, users can interact and socialize with the rest of the community.
As the community grows, it becomes a must-have utility – the place to stay connected as well as compete and bet.
With Fight Out, you train hard, fight easy, and win big.
The ecosystem is built to incentivize training, friendly but committed community competition, and betting.
Don't miss this opportunity to be an investor in what could be one of the hottest apps of 2023.
Fight Out is supported by Transak, LBank Labs, Block Labs, and Cryptonews.com.
---