Bitcoin Price Forecast – Has Bitcoin Bottomed Out?
Disclosure: Crypto is a high-risk asset class. This article is provided for informational purposes and does not constitute investment advice. By using this website, you agree to our terms and conditions. We may utilise affiliate links within our content, and receive commission.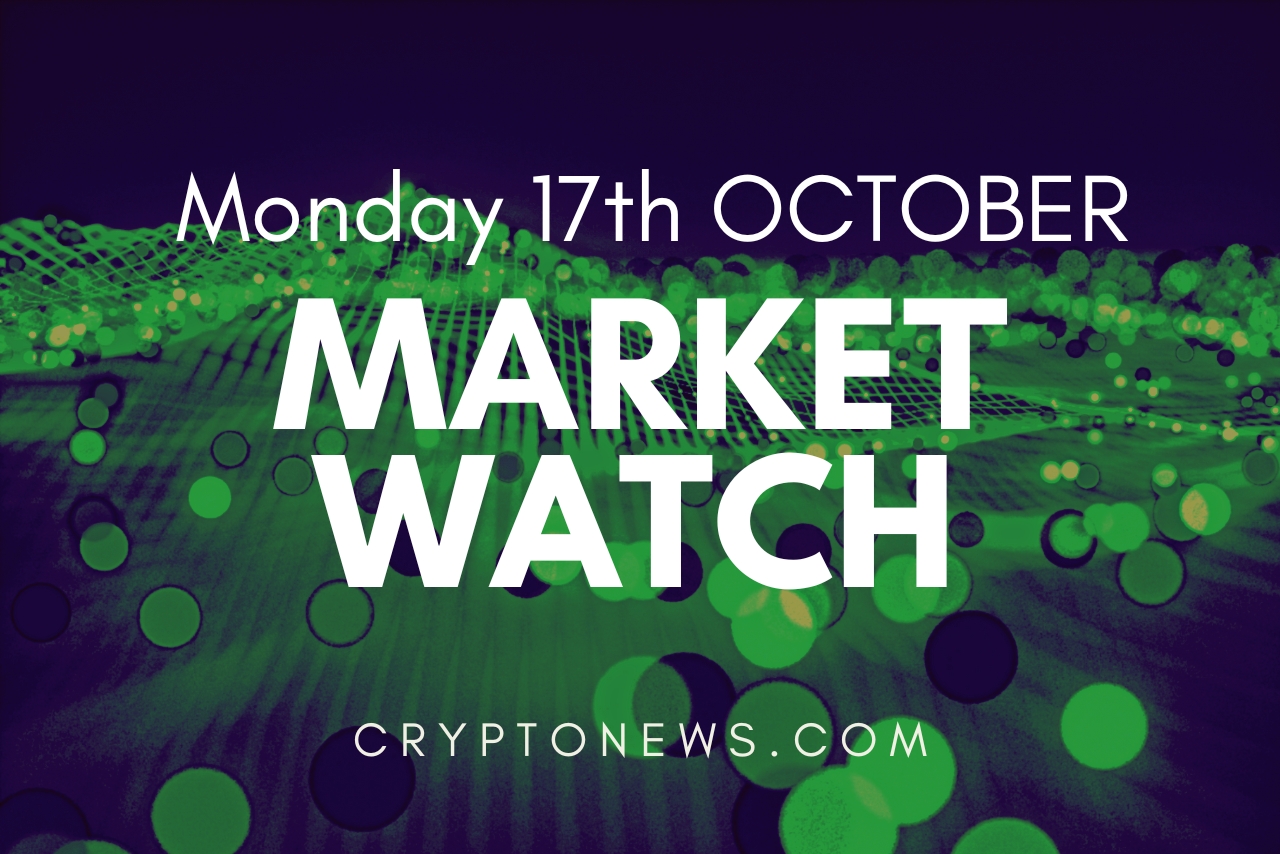 Bitcoin recovered slightly more than 1% during the US session to trade at $19,544. The BTC/USD pair opened the day at $19,266 and has since fluctuated between $19,444 and $19,168.
One of the reasons for the recent slowdown in BTC's upward movement can be linked to its latest fundamentals. On October 17, mining a block of bitcoin (BTC) took nearly an hour, delaying the confirmation of hundreds of transactions.
Bitcoin Produces No Blocks for Hours
According to on-chain statistics from various block explorers, the time difference between the two most recent blocks mined by Foundry USA and Luxor was 85 minutes. According to Mempool, over 13,000 transactions were pending before the recent block mining.
Furthermore, Bitcoin had to make a difficult adjustment last week to ensure that block confirmations continued to occur every 10 minutes.
It now costs more to mine bitcoin because the mining difficulty has risen to 35.6 trillion, putting pressure on an industry already struggling with skyrocketing energy costs and a cryptocurrency bear market. The cause of the most recent block confirmation delay is unknown at this time. It did, however, slow the rise in BTC/USD.
CFTC Regulation for Bitcoin
A new bill has been introduced in the United States Senate that would grant the Commodity Futures Trading Commission (CFTC) wide authority to regulate prominent cryptocurrencies. Senators Debbie Stabenow (D-MI) and John Boozman (R-AR) have introduced a bipartisan plan to strengthen US agricultural policy.
The public is interested in the ongoing debate over the need for a comprehensive US regulatory framework to identify opportunities and risks in the rapidly growing Bitcoin sector. According to recent comments made by Rostin Behnam, the head of the Commodity Futures Trading Commission (CFTC), effective regulation of the cryptocurrency industry may benefit market growth significantly, particularly for bitcoin.
According to the CFTC chairman, Rostin Behman, proper crypto regulation is the only way to broaden crypto adoption worldwide legally.#Adoption #Bitcoin #BTC #CFTC #Crypto #Cryptocurrency #Markethttps://t.co/L0aBs4C23E

— Blockchain Reporter (@blockchainrptr) October 17, 2022
Furthermore, Behnam made headlines around the world when he stated that if a CFTC-regulated market is established, the price of Bitcoin could double. Given his previous emphasis on the importance of regulatory clarity in the Bitcoin market, his remarks are not surprising.
Furthermore, bringing bitcoin under CFTC regulation could put an end to the entire securities debate. Because of the increased transparency and clarity, more institutional players who demand a clear regulatory framework for digital assets may increase their exposure to bitcoin, driving up the price of BTC/USD.
Price of Bitcoin Soars Due to Whale Accumulation
The September inflation rate, or CPI, in the United States is higher than expected. According to the CPI summary report released on October 13, the Consumer Price Index for All Urban Consumers increased by 0.4% on a seasonally adjusted basis in September after increasing by 0.1% in August.
Despite the fact that the CPI for September is lower than it was in July and August, the core CPI has risen to a 40-year high. The CPI summary shows an 8.2% increase from the year to September.
#Pepsi exposed the fraud of the #CPI by revealing YoY price hikes of 17%. That's double the government's official estimate. 17% likely represents a much better indication of the true annual rise in the cost of living than the 8% CPI gain. The #Fed's gonna need a bigger rate hike!

— Peter Schiff (@PeterSchiff) October 12, 2022
However, following the release of the higher-than-expected CPI data, the BTC/USD fell in line with the US stock market. It's worth noting that when Bitcoin's price fell, a Bitcoin whale opened long bets on the Binance and Bitmex futures markets. It has benefited Bitcoin's price.
The rise in the BTC/USD led to a recovery in the entire cryptocurrency market. The Bitcoin whale purchase, on the other hand, is sufficient to provide a short-term rally to profit in future markets.
Bitcoin has a Properly Engineered Monetary System
On October 16, Michael Saylor, the founder, and CEO of MicroStrategy tweeted a video comparing Bitcoin (BTC) to traditional forms of money and value, such as equities, commodities, and the fiat financial system. In the post's description, Saylor discussed how leaks in a closed environment could be disastrous and stated that "Bitcoin is the first properly engineered monetary system."
#Bitcoin is the first properly engineered monetary system. pic.twitter.com/bPv0I2G50E

— Michael Saylor⚡️ (@saylor) October 16, 2022
The CEO claims that Bitcoin (BTC) is the first well-designed financial ecosystem because no new Bitcoins can be added to the blockchain and no currencies can be burned within the BTC ecosystem. Michael Saylor's post benefits the BTC/USD price.
Bitcoin Price Forecast
The current Bitcoin price is $19,537, and the 24-hour trading volume is $27 billion. Bitcoin has increased by over 1% in the last 24 hours and around 3% in the last seven days. CoinMarketCap currently ranks first, with a live market cap of $374 billion.


Bitcoin has found immediate support near $19,000 and has bounced off this level to trade near $19,600 level. The BTC/USD has also crossed above the 50-day moving average, indicating a bullish trend.
A break below $19,440 may cause BTC to fall to the previous triple bottom support near $18,900, while another break may cause BTC to fall to $18,600.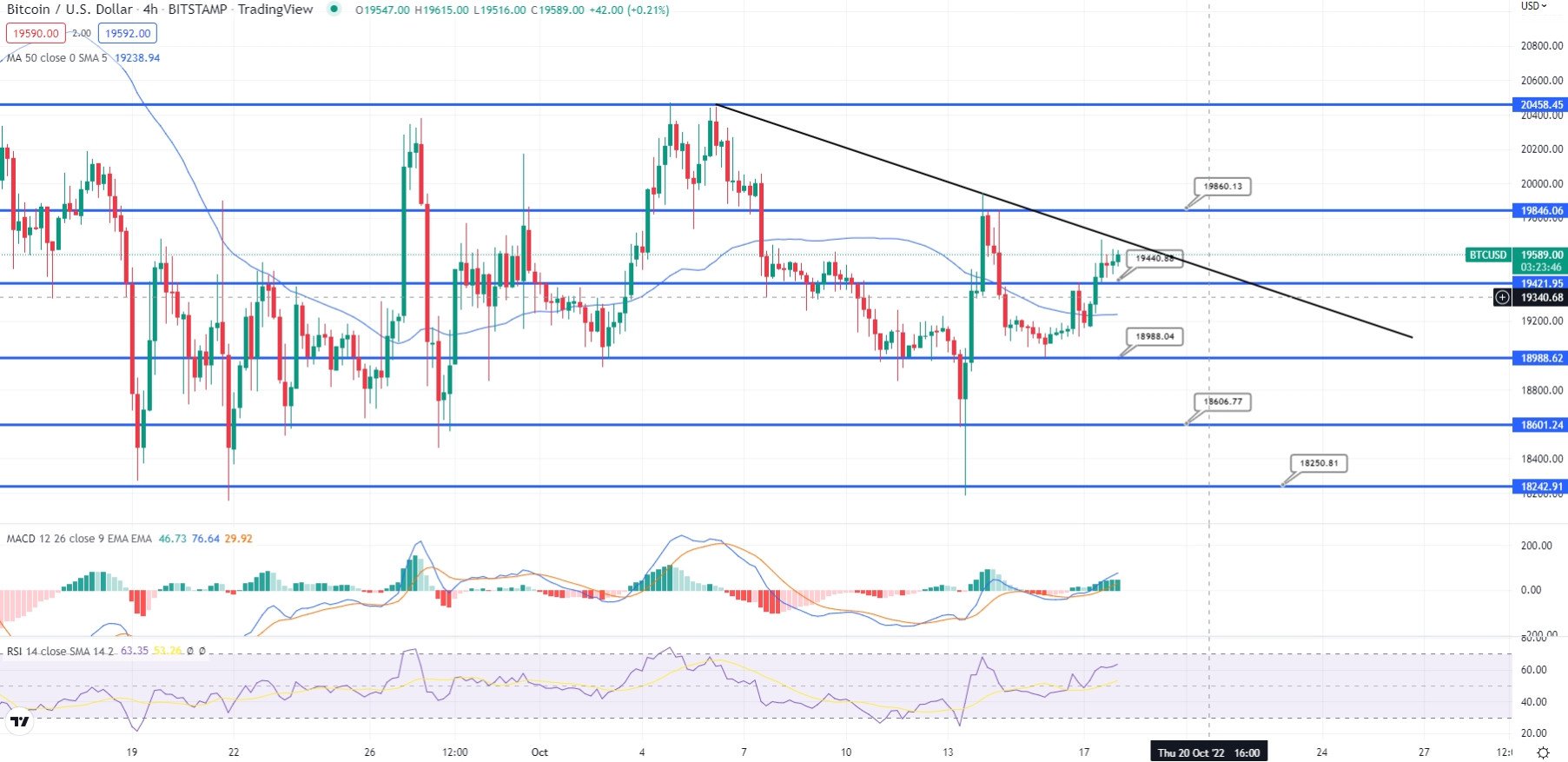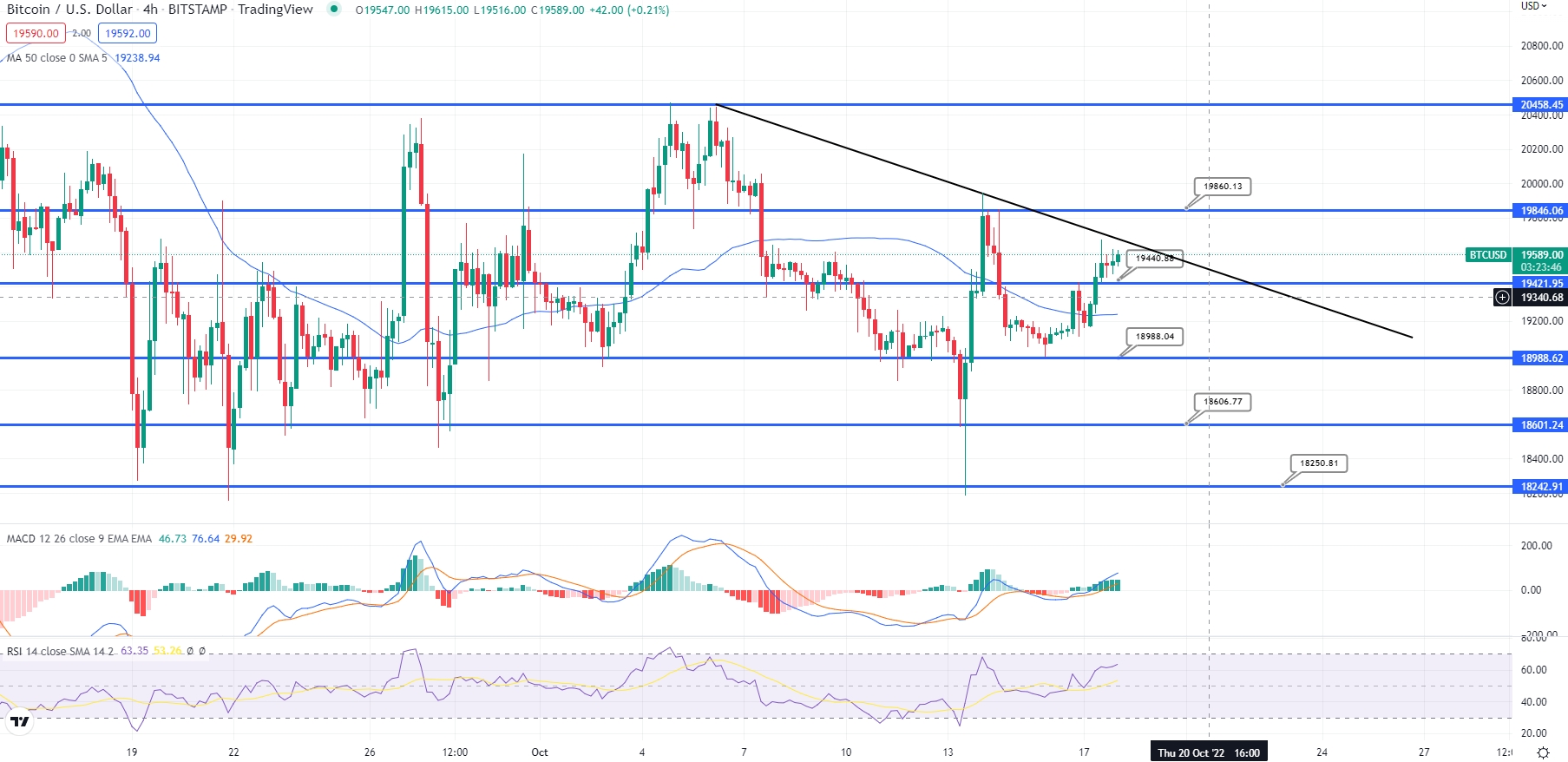 On the upside, resistance is located near $19,860. If the price exceeds $19,860, investors will likely consider buying until $20,450.
New Crypto Presales
Bitcoin price prediction indicates a strong bullish recovery. Alongside, presales and new altcoins are one area where more speculative traders can make a good profit quickly.
We've been keeping an eye on the IMPT token presale, a new cryptocurrency that recently raised over $5.3 million.
Find The Best Price to Buy/Sell Cryptocurrency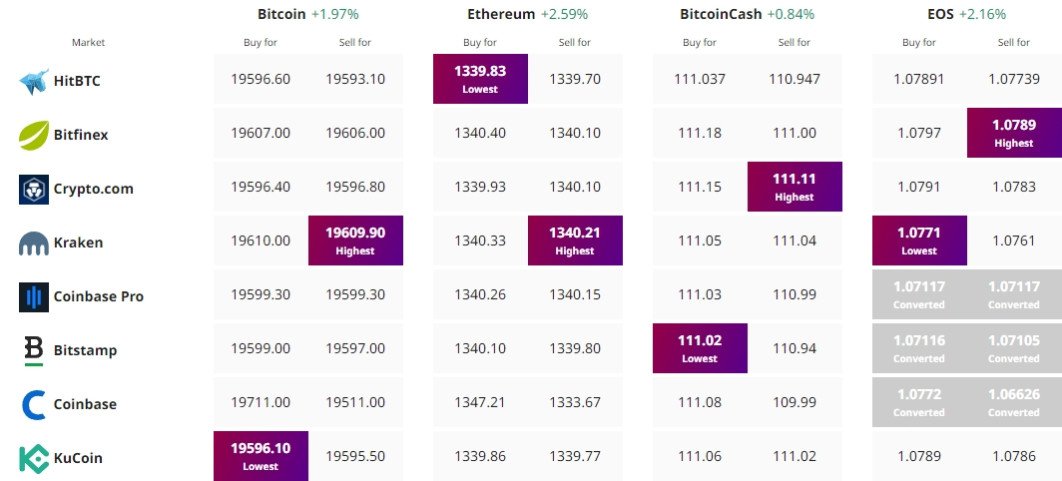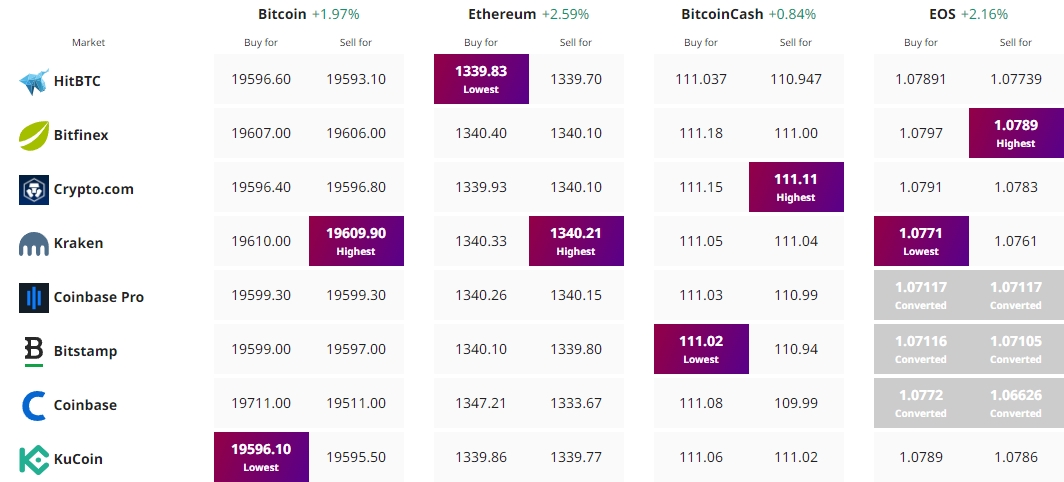 ---