Bitcoin and Ethereum Price Predictions: BTC and ETH Soar Over 6%, What's Next?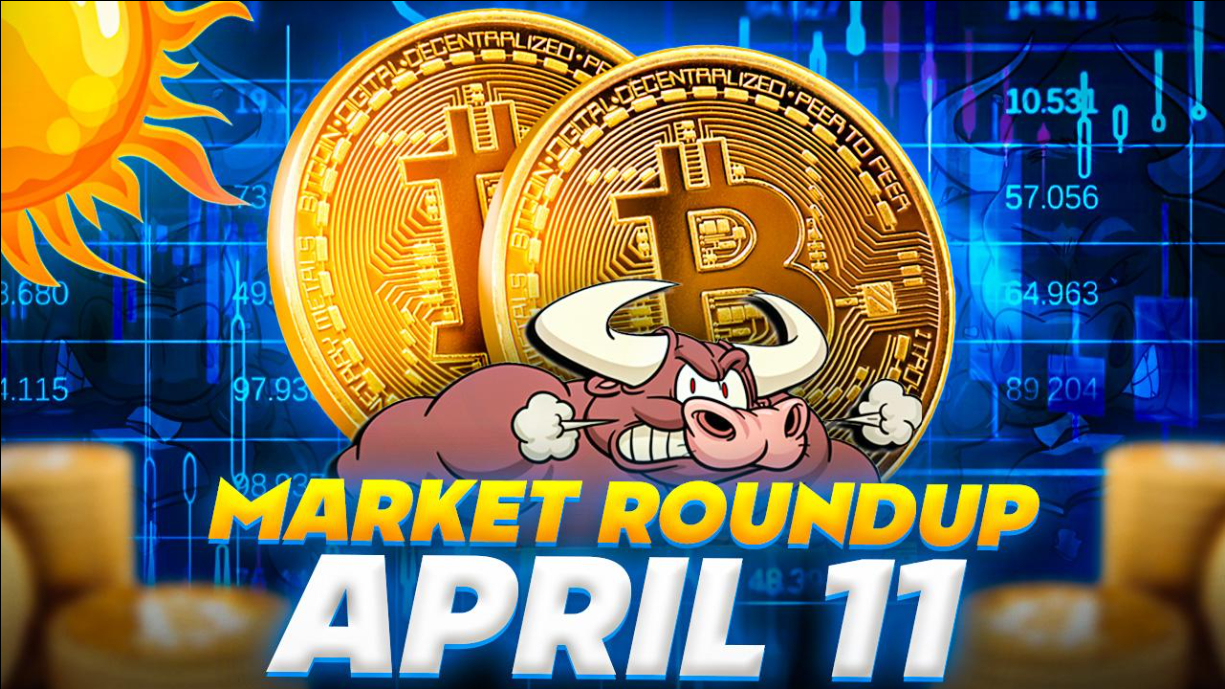 Bitcoin, the world's largest digital currency, maintained its upward rally, rising 7% to $30,193 for the first time since June. This occurred just before Consumer Price Index (CPI) data was released.
The CPI data is due out on Wednesday and is likely to show higher inflation, which raised the probability of a less hawkish Fed's stance in its coming meeting.
Meanwhile, Ethereum, the second most valuable currency, gained more than 3% to $1,925 for the first time since August as investors anticipated the Ethereum network's latest update, which is also scheduled for Wednesday.
It is worth mentioning that Consumer Price Index (CPI) measures inflation, or how much the prices of goods and services have increased. Thereby, traders and investors speculate that if the CPI report shows a high level of inflation, the US Federal Reserve will decide to pause or slow down their plans to increase interest rates at their next meeting.
This could be good news for assets like Bitcoin, which may see a further boost in value.
Furthermore, the state of Arkansas in the US has recently passed a bill to regulate Bitcoin mining activity. This was seen as another favorable news for miners because it protected them from high taxes and unfair rules.
This has ultimately helped cryptocurrency and contributed to the gains in BTC.
Moreover, the upticks in the BTC price were further bolstered by the multiple positive projections regarding BTC's future price. The Elliott Wave theory, a well-known technical analysis method, predicts that the price of Bitcoin (BTC) will increase to $130,000 by the end of 2023.
March US CPI Report Could Affect Bitcoin Prices Amid Interest Rate Hike Talks
The Consumer Price Index is set to be published on Wednesday and is expected to show higher values. The report will indicate how much prices have risen in the United States.
As per the forecast, prices have increased by 5.6%, which is higher than the government's target of 2%.
This may raise concerns about the effects of inflation on the economy as a whole and on the purchasing power of consumers.
Thereby, investors are awaiting the release of important inflation data, which may influence cryptocurrency values. Traders are betting that the next Consumer Price Index (CPI) data will show a level of inflation that would cause the US Federal Reserve to reconsider its intentions to raise interest rates.
This might lead to a spike in the value of assets such as Bitcoin. As in result, Bitcoin's price increased overnight and reached the milestone of $30,000 lately.
Arkansas Passes Bill to Regulate Bitcoin Mining and Protect Miners
The state of Arkansas has approved the Arkansas Data Centers Act of 2023, which intends to regulate Bitcoin mining. The Act defines terms related to digital assets, such as digital asset mining and digital asset miner.
It also outlines the necessary requirements that digital asset miners must consider to operate in the state, such as compliance with state and federal laws, payment of applicable taxes and government fees, and operating in a way that does not put a strain on the electric public utility's generation capabilities or transmission network.
Moreover, the Act covers home digital asset mining and allows individuals to utilize a node at their residence for this purpose, subject to relevant utility rules and rates.
It also specifies that a person may operate a digital asset mining business in an industrial-use zone that the local government has not designated for other purposes.
As a result, this news has implications for Bitcoin in that it clarifies regulatory concerns for Bitcoin miners based in Arkansas, guaranteeing that they possess the same rights as data centers.
This was viewed as a crucial factor that is likely to entice more Bitcoin mining businesses to Arkansas and contribute to the overall growth of the crypto industry.
Bitcoin Price
Bitcoin's current price is $30,126, with a 24-hour trading volume of $22.8 billion. Over the past 24 hours, Bitcoin has increased by 6.43%.
In terms of technical analysis, the BTC/USD pair is exhibiting a significant bullish tendency at the $30,000 mark. If this level is surpassed, there may be resistance at $30,000 before the BTC price moves towards $31,000 or potentially even $32,250.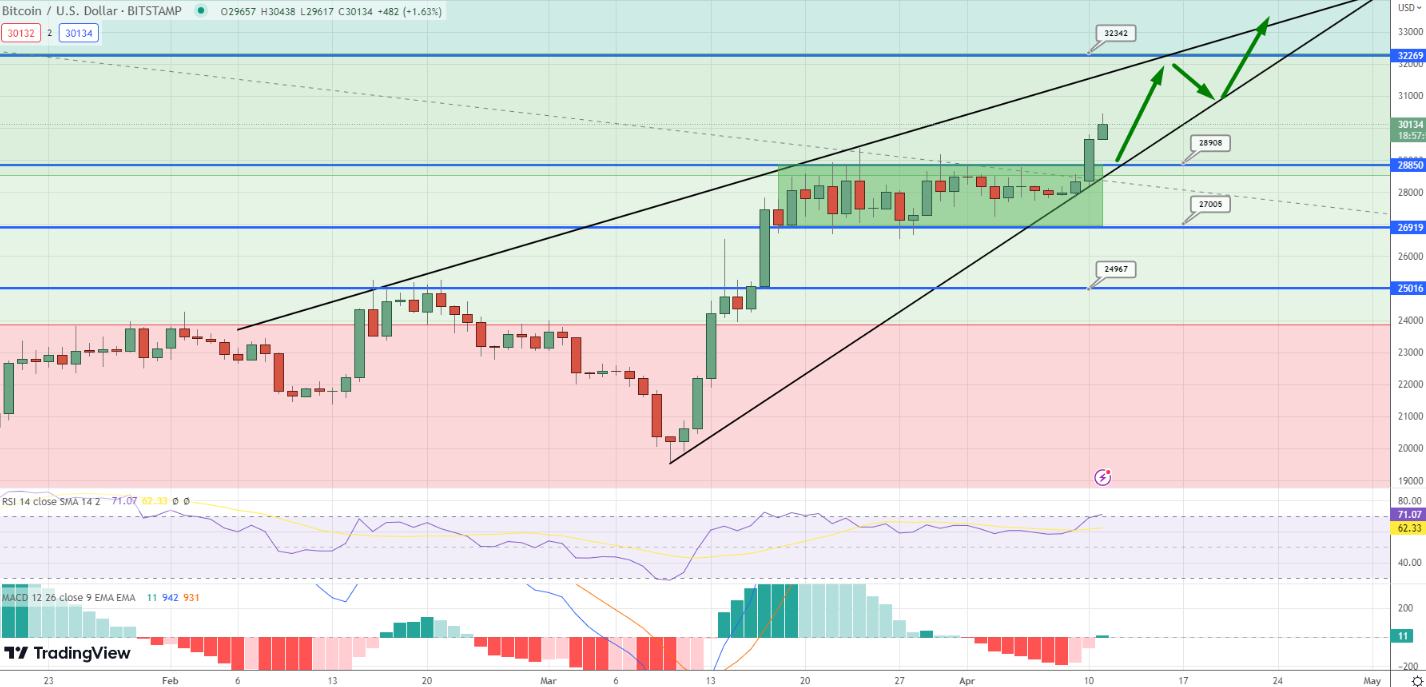 On the other hand, the support for Bitcoin remains stable around the $28,900 level.
Ethereum Price
The ETH/USD pair exhibits a solid bullish trend, approaching an immediate resistance level of $1,940. Breaking above the $1,940 level could propel the ETH price toward the $2,005 level.

Both the RSI and MACD indicators are in the overbought zone, suggesting that a minor correction may occur.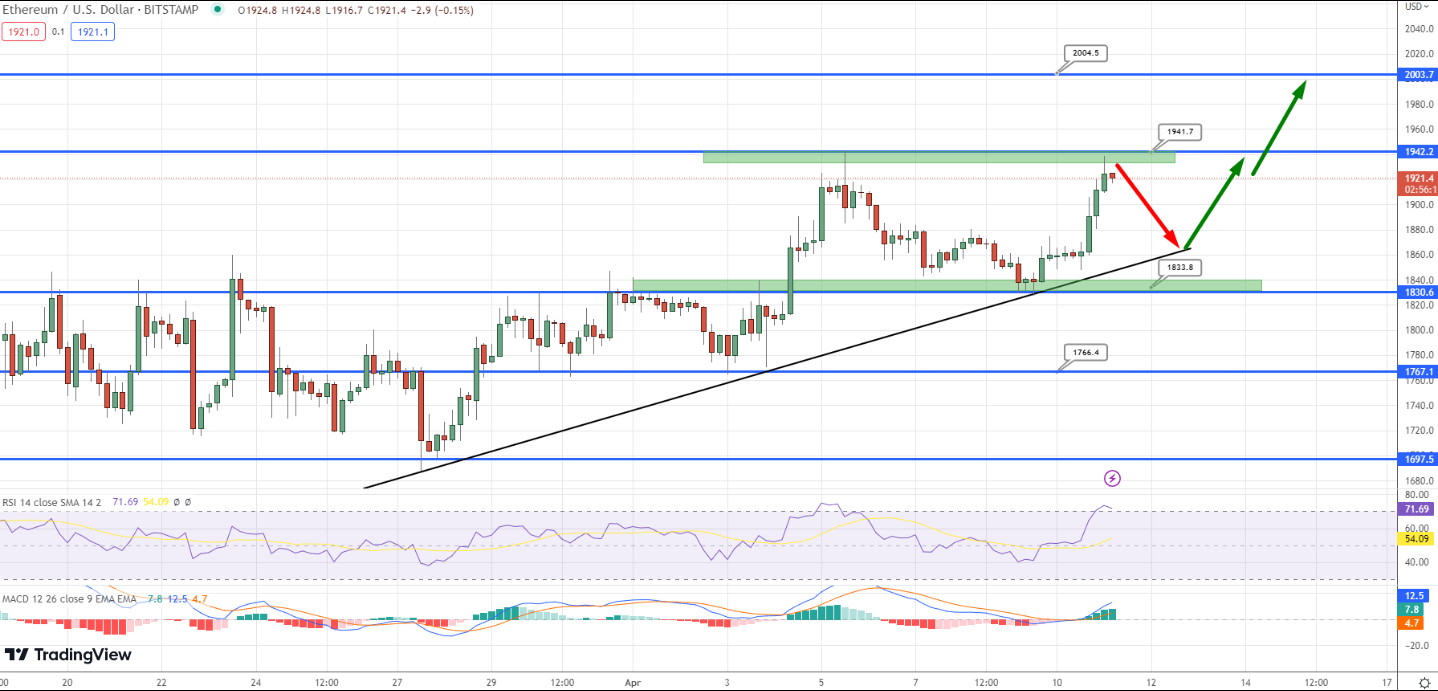 However, if the pair fails to break above the double top resistance level of $1,940, a downward movement toward $1,880 might ensue. A break below the $1,880 level could further push the ETH price toward $1,830, $1,800, or even $1,760.
Top 15 Cryptocurrencies to Watch in 2023
Stay up-to-date on the newest ICO projects and altcoins by regularly referring to the curated list of the top 15 most promising cryptocurrencies to watch in 2023, recommended by industry experts at Industry Talk and Cryptonews.
Disclaimer: The Industry Talk section features insights by crypto industry players and is not a part of the editorial content of Cryptonews.com.
Find The Best Price to Buy/Sell Cryptocurrency

---